When looking for earbuds, there are certain features you should be looking for to help find the right pair. `First, make sure you find earbuds that fit nicely in your ear. Make sure they stay in your ears when talking on a phone or while doing the activity you plan to do most with these earbuds. Check out the sound quality and can you adjust it? And lastly, how do the controls work on the earbuds? Are the touch pads to sensitive or not? All key features to look for in earbuds and ones we found in a new pair of earbuds we recently tested the past few months. Meet Saknip earbuds, the all-in-one ANC wireless earbuds.
Saknip all-in-one ANC 5.1 Bluetooth Wireless Charging Earbuds Review and Unboxing www.youtube.com
What are Saknip Earbuds?
Saknip earbuds are lightweight earbuds with active noise cancelling (ANC) and a secure comfortable fit. They also have a long battery life and work on a 5.1 Bluetooth connection.. The earbud's rechargeable batteries provide 30 hours of playtime on a single charge. You can also charge the earbuds in its wireless case. Each earbud connects to a pad in the case which is connected by a USB Type-C cable to a power adapter. Noe: type-C cable is included.
If you like to wear your earbuds outside, no worries. Saknip earbuds are waterproof. They come with a IPX6 rating and have a Nano-coating over each earbud to prevent any damage from sweat or water. Though you can't wear these earbuds swimming in a pool, you can use them for long runs or even skiing.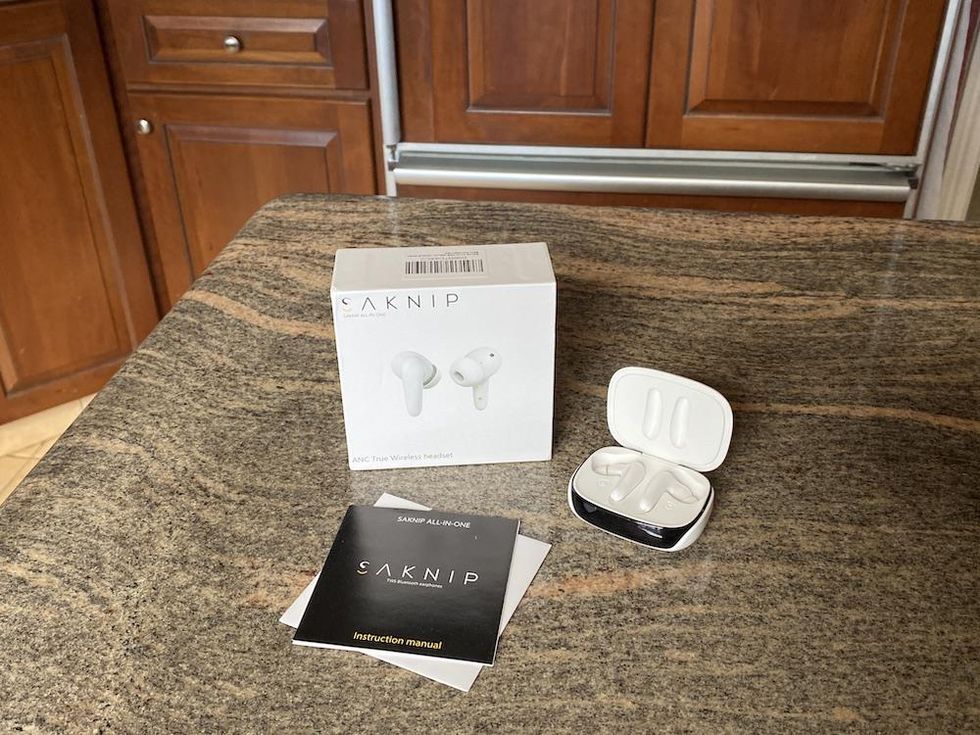 Saknip ANC Bluetooth Earbuds unboxedGearBrain
One of the unique features of Saknip earbuds is the battery display on the case. The earbuds connect to your smartphone via 5.1 Bluetooth. On the case there are three lead lights which display the amount of battery left on each earbud as well as the charging case. By opening the lid of the charging case your wireless earbuds will automatically connect to your smartphone.
Saknip earbuds also come with low latency. The ultra-low latency connection ensures a reliable transmission during games. The ear buds also come with a clear microphone which will provide a clear connection for phone calls on your smart phone.
The controls on your Saknip earbuds are done by touch. The touch commands include accessing Siri, play or pause music, activate or deactivate transparency mode, activate or turn on and off active noise cancelling, answer or reject incoming calls and going forward or backward while listening to music. You can also control the volume on the earbuds.
To set up these earbuds up is rather simple. First, you need to unbox the earbuds and charge the case with the earbuds inside. It will take you a couple hours to initially get a full charge for in the charging case. The good news is you don't have to wonder if your earbuds are fully charged. You'll be able to see on the case the power bars light up when everything is fully charged.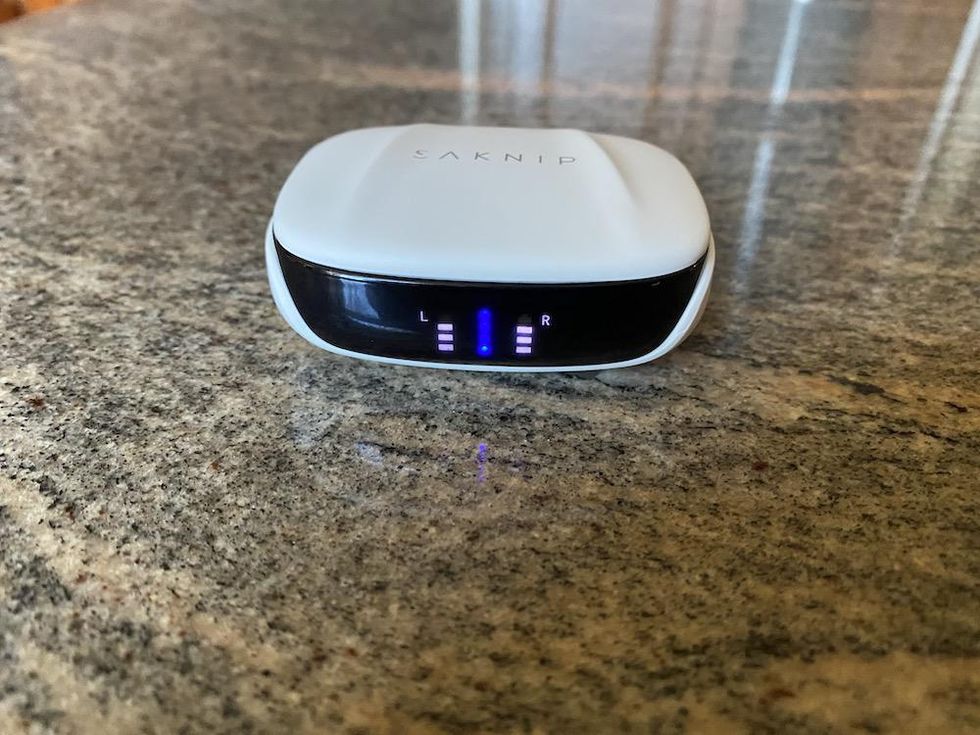 Saknip's charging case provides LED display of the battery life for each earbud as well as the charging case.GearBrain
Smart Integrations for Saknip earbuds
Saknip earbuds will work with either Siri or Google Assistant voice platforms on your smartphone. There are controls on the earbuds that allow you to activate these voice assistants.
Cost of Saknip Earbuds?
Saknip all-in-one earbuds with ANC and IPX6 waterproof rating cost only $79.99 and available on Amazon.
Performance
After testing the Saknip earbuds for several weeks, we like these earbuds. They are lightweight and have a good battery life. We were able to get one month on a single charge with just an hour of usage per day.
Another nice feature we found helpful was the battery life display on the case. The LED display helped us know when the case's battery was low as well as each earbud. We have not seen this on any other earbud cases. Many just have a single display. Also, using a wireless charging pad to charge the Saknip case was also a first. Yes, many wireless cases come with a USB Type-C cable but for the people on the run, it's nice having the option to put your Saknip earbuds case on a wireless charging pad in your car or desk.
We did run into some issues during testing of the Saknip earbuds. Though the earbuds are lightweight, we did have difficulties getting the earbuds to fit nicely into our ears. There were times when we were talking on a phone call and the earbuds fill out of our ear. We did try to adjust the pads which come with the earbuds, but it only improved the seal slightly.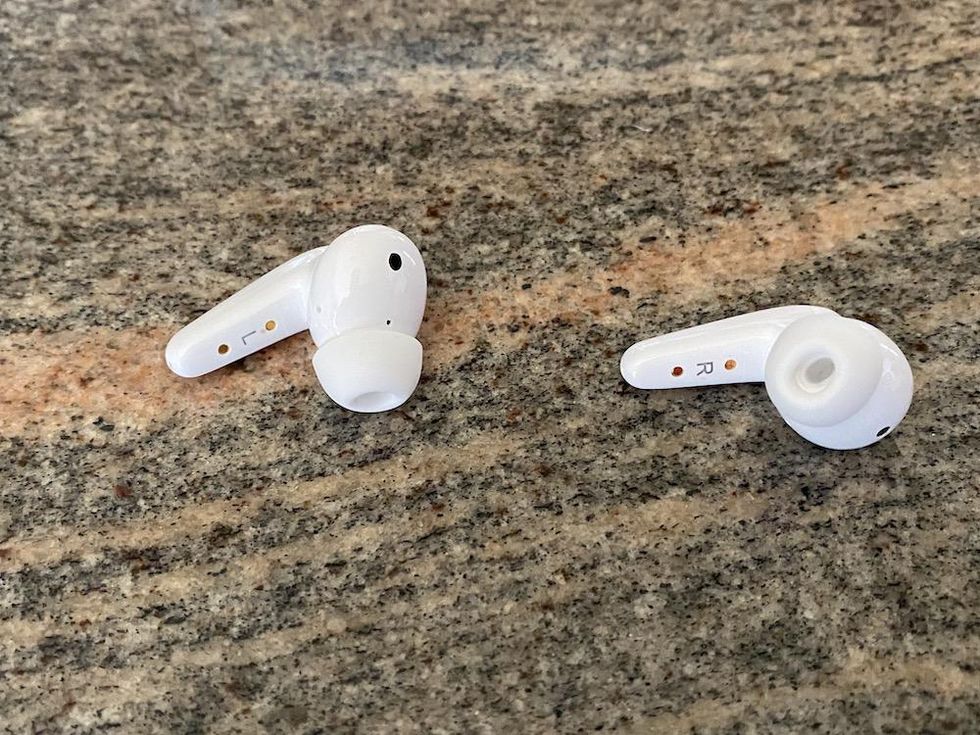 Saknip earbuds have a design that helps seal your earbud inside your ear. However, depending on the fit, the wind can distort the sound even when on ANC mode.GearBraiin
Another issue we had with Saknip earbuds was the wind noise. If you are running or just walking outside and it's windy, the wind is going to distort the sound in your earbuds. We have found this with other earbuds that have the same design as Saknip. The ANC will help reduce the wind noise a little, but it will not get rid of it. The only way to address this would be to either use earbuds with a molded shape, like Apple AirPods, or over the ear headphones. These type of earbuds and headphones provide a better seal in and around your ear, but you need to be careful. You might not be able to hear outside sounds which could be a problem if running outside on the road.
Regarding sound quality, the Saknip earbuds do have a full sound. There is no app for controlling sound quality, but we did like the set levels for the bass and treble sounds. The ANC helped enhance the sound quality of the music we were listening to inside. And the phone calls we made and received were clear and easy to understand both parties.
Lastly, like most earbuds, the features and sound of the earbuds are touch controlled. Some earbuds have very sensitive touch pads which can make it harder to control. With Saknip, we found the touch controls to be acceptable. Just make sure your careful when taking the earbuds out of the case. You might turn off ANC or advance a song without realizing it.
Summary
If you plan to use earbuds for mostly phone calls or want earbuds you can control the sound quality (i.e., EQ), you might want to consider another pair. However, if you are looking for a good lightweight pair of earbuds for working out or playing video games on your smartphone, Saknip we recommend you check out. They have a lot of good features, like ANC and wireless charging case, and come at an attractive price. And you can use voice commands with your smart devices while listening to your favorite podcast or artist.
Pros
Wireless charging case
Nice features: battery life and ANC
Price
Cons
Can't adjust sound quality
Wind noise
Had problems with earbuds falling out when talking on a call