Jabra's latest earbuds, the $230 Elite 85t, are one of the best pair of active noise cancelling (ANC) wireless earbuds we've tested and reviewed at GearBrain. But Jabra also has a set of ANC wireless earbuds, the Elite Active 75t, that are $30 less — and even more discounted if you pick them up during one of their sales. We reviewed these as well, liking them for how well they rivaled Apple AirPods Pro in every area but one.
With both featuring one of the most sought after features in earbuds, and headphones too, and one at least 10 percent less expensive than the other, which one should you pick up for yourself, or perhaps a gift for someone special?
Here's the breakdown of each pair so you can decide which one may be right for your needs.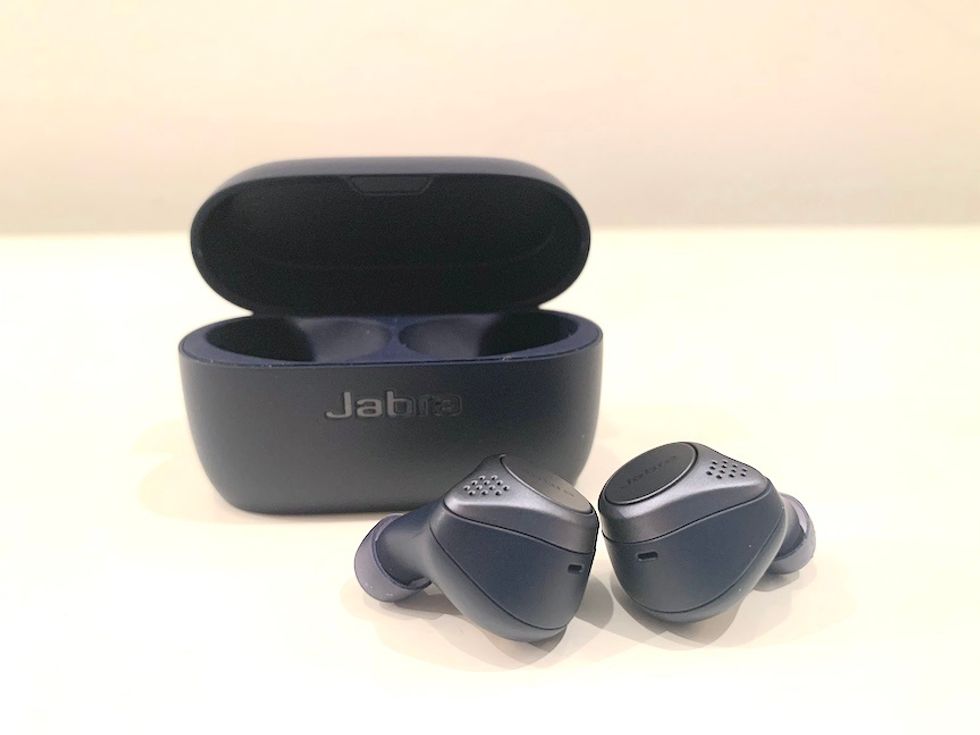 The Jabra Elite Active 75t are currently on sale for just $149.99GearBrain
Jabra Elite Active 75t

The Jabra Elite Active 75t launched in early 2020, are short and compact, and priced at $200. They come in six different colors, from a dark blue to a Sienna , black to a sea green. We had a good experience with them in terms of fit, finding they stayed put very well even through brisk walks in the city.
These wireless earbuds play in stereo, and can maintain a wireless connected up to 33 feet away. With the case, you get 28 hours of battery life — while the pair, on their own and in you ear, can work for about 7.5 hours while taking calls or listening to music or audio. It is key to know that you can't wirelessly charge these earbuds, but they do feature fast charging and you can get a full charge in about 140 minutes.
You get two microphones in each earbuds, and the Elite Active 75t can work with all of the three major smart assistants including Siri, Google Assistant and Amazon Alexa — meaning you can call them up and get them answering your queries quickly. And yes, they have active noise cancellation. That's a win.

In terms of rating, the Jabra Elite Active 85t have an IP57 rating which means it can handle being immersed in water — like dropped in a big puddle about three feet deep — for up to 30 minutes. And it's also got dust protection.
We did however find sound playback to be not as strong as we'd hope. Music sounded occasionally tinny, even when we played with the Jabra Sound+ app and the presets including bass boost, energize, treble boost and others. Sound quality on phone calls was however excellent, which was a plus.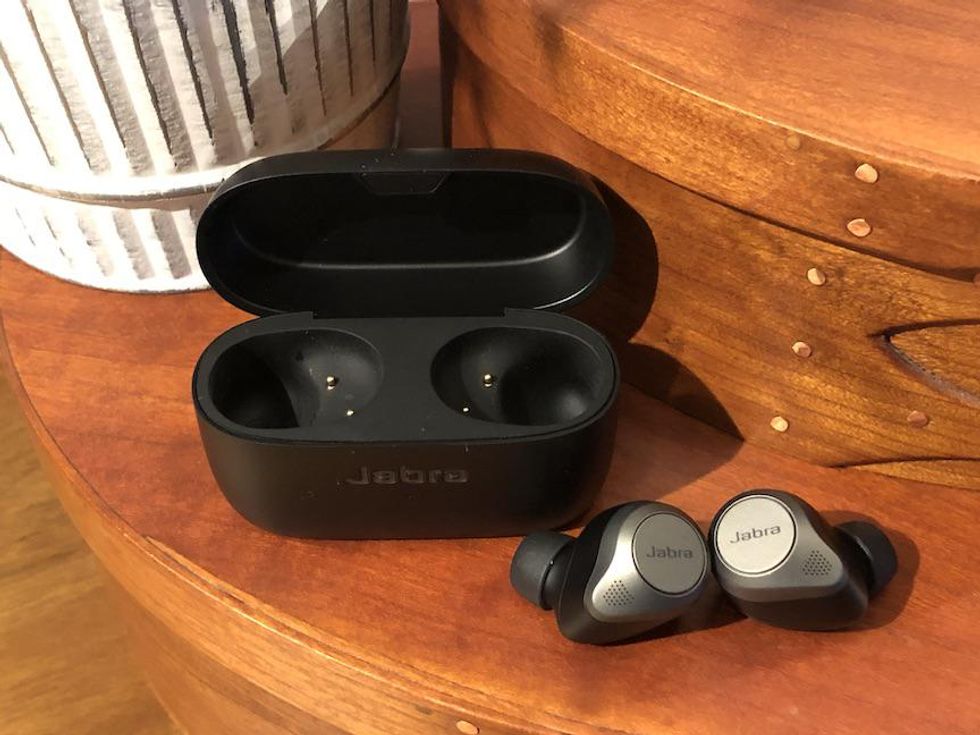 Sound quality on the Jabra Elite 85t was excellent GearBrain
Jabra Elite 85t

The Jabra Elite 85t are also short and compact, but are priced at $229.99 and come in just one color — black. In terms of fit, we had a problem with the Jabra Elite 85t which are almost identical in shape to the Elite Active 75t save for two details, weight and size.
The Jabra Elite 85t weigh 6.9 grams each, while the Jabra Elite Active 75t weigh 5.5 grams. That slight difference really should not make a difference, and yet we constantly felt the 85t did not stay on our ears as securely as the 75t — even with the extra ear gels which allowed us to make the fit in the ear more secure. The 85t also are a bit bigger in size, measuring 23.1 x 19 x 16.2 mm while the 75t measure 21.9 x 19.4 x 16.2 mm. Again, small and minute differences, but enough that may have impacted the fit for me.
These are also wireless earbuds as well, with active noise cancelling as well, and a wireless range of 33 feet too. With the case you actually get a bit less battery life than the 75t — 24 hours. And each earbud can play for about 7 hours. Charging time takes longer too, about 210 minutes, but there is fast charging as well.

In terms of water protection, the Jabra Elite 85t is rated IPX4, which means it can handle splashed water — like the kind that may hit you by a car racing through a huge puddle that backfires into your head. But you can't drop these in a sink of water and think they'll be fine, the way you can with the Elite Active 75t. The "X" in the rating means its resistance against solid items, from bugs to dust, is not known.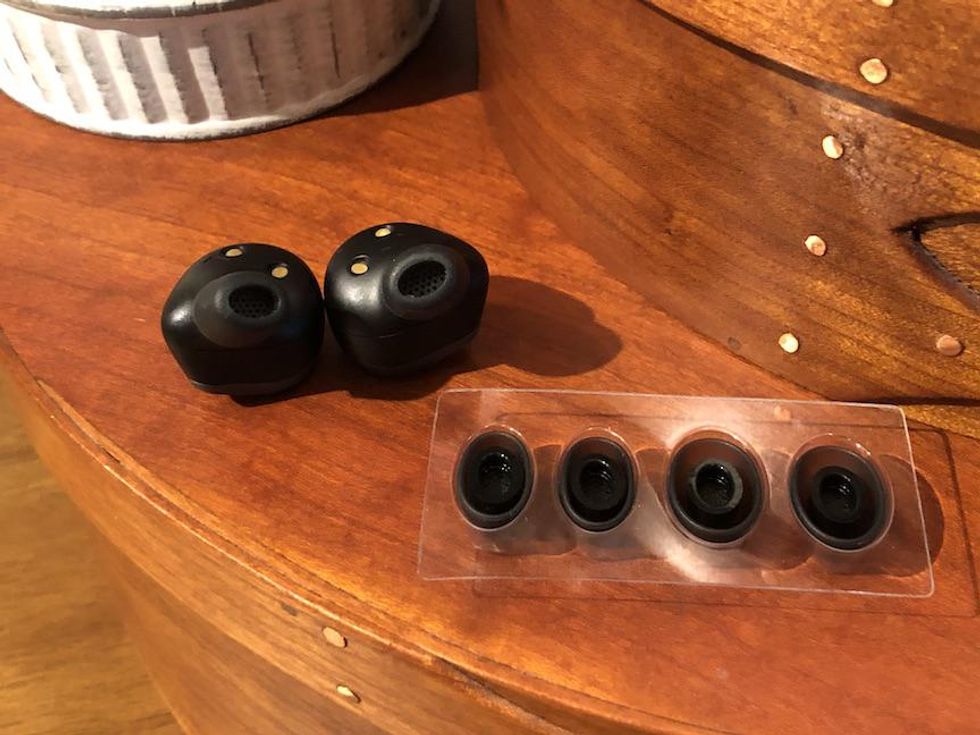 You get two extra pair of ear gels with the Jabra Elite 85t and the Elite Active 75t to help find a better personal fitGearBrain
One key difference — a big upgrade in fact — are the six microphones embedded in the 85t, rather than the two in the 75t. These make the sound around as you talk more clear, and are a huge advantage in terms of wind disturbance. One of the days we tested these in fact was one of the windiest in New York, and we could not believe the difference the microphones made to the clarity of our calls. Sound too was fantastic while playing back music or watching movies on a computer as well.

Yes, these feature ANC — like the 75t — but it's really not the same. The noise cancellation on the Elite 85t was next level outstanding, something akin to our Bose or Skullcandy over the ear headphones, but infinitely smaller and lighter. We were incredibly impressed by the quality of the noise cancellation in these, something that we haven't experienced in other earbuds we've tested in the past.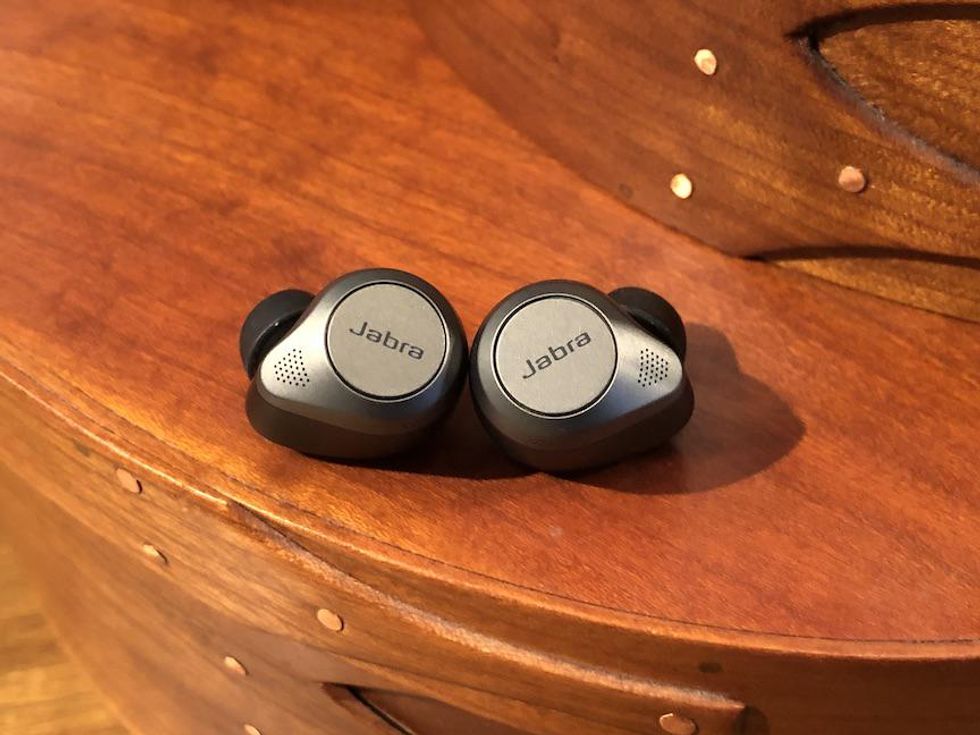 If your budget can swing it, the Elite 85t are excellent wireless earbuds — although you should be careful about their fit.GearBrain
Which should you buy?

Picking the right pair is up to which features are best for your needs. If you're someone looking for a solid pair of wireless earbuds with a good fit for active use, the Elite Active 75t make a great option. Currently, Jabra also has them on sale for just $149.99 — a price cut of $50, or 25 percent — and also $80 less than the Elite 85t. That's an incredible deal.
That said, if you're looking for top of the line earbuds with some of the best active noise cancelling we've tested in wireless earbuds, and excellent sound, it's worth considering the $222.99 Elite 85t. They're not a great fit for smaller heads (like this reviewer), although if I wasn't going to use them for exercise, and instead for work, I would be less concerned about that. They're almost identical own terms of battery life, and they have six microphones which really really proved excellent again heavy wind.
Both are solid wireless earbuds, and real Apple AirPods Pro contenders. The right choice is up to the features you need the most.