Like GearBrain on Facebook
Smart speakers are continuing to grow in popularity, as almost a quarter (24 percent) of US households now own at least one - and their owners' desire for them to do more is an open goal for smart home device makers.
The data, which comes from Nielsen and was published at the end of September, states that, while 75 percent of smart speaker owners want their devices to do more, very few are connecting them to smart home products like plugs, lights, locks and doorbells.
Read More:
The report also states that 40 percent of smart speaker buyers own at least two - evidence that consumers want to access voice assistant like Amazon Alexa and Google Assistant in multiple rooms throughout the home.

On a similar note, the report claims - perhaps unsurprisingly - that the living room is the most popular location for smart speakers, with 63 percent appearing there.
What's more of a surprise - given the speakers feature always-listening microphones which are known to sometimes make mistakes - is how the bedroom is the second-most popular room, at 35 percent. Next came the kitchen - a prime battleground for Google's Smart Display range and the Amazon Echo Show - at 28 percent.
That last figure may well rise over the coming year, as Google is widely expected to reveal a new smart device called the Home Hub at a media event on October 9. Following in the footprints of the Smart Display range made by Google's partners, the Home Hub is expected to be a Home smart speaker, but with a touch screen display - perfect for looking up recipes, watching YouTube videos, and checking in on the family calendar over breakfast.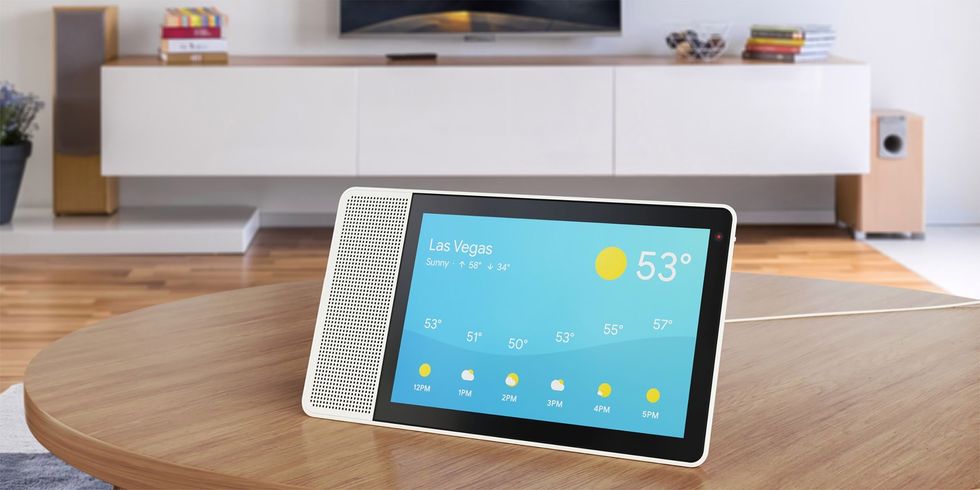 Smart Displays are expected to bring assistants into consumer's kitchens Lenovo
Until those use cases grow, music will likely remain the most popular use for smart speakers - Nielsen found 90 percent of users play music through their smart speaker in a typical week. After this, the most popular uses included looking up real-time information like the current temperature (81 percent), and checking factual information, like historical facts (75 percent).

Although it is easy to dismiss Alexa's ability to tell jokes as a useless gimmick, smart speaker owners enjoy speaking to their assistants for fun. Nielsen claims 68 percent of owners "use the device to chat with the voice assistant for fun" - good news for Amazon and Google's joke writers.
The demand for more

A full three-quarters of smart speaker owners said they would like to discover and use more capabilities with the devices. This is good news for the smart home, as beyond the features mentioned above - music playback, answering questions - the next major use case for smart speakers is controlling other devices, like smart lights, plugs, window blinds, thermostats and more. This presents something of an open goal for smart home device makers to push their products on the 75 percent of speaker owners who want to do more.
To work out how smart speakers are used in conjunction with home devices, Nielsen asked what products the speakers are synced with. The most popular device (32 percent) was of course the smartphone, often used to control the speaker. Next came the television (23 percent) and another speaker or sound system (18 percent).
Then came the smart home devices, led by light bulbs and thermostats (17 percent each), security systems (12 percent), refrigerator (eight percent), and smart power plug (also eight percent). There is clearly a lot of room for growth here, especially as the data claims smart speakers are as likely to be connected to a smart fridge as a smart plug - two devices whose prices bookend the smart home device market. Smart doorbells and locks each took a six percent share of devices connected to smart speakers.
If smart home device makers can position themselves in front of the 75 percent of smart speaker owners who want them to do more, the market will surely grow.
Check out The GearBrain, our smart home compatibility checker to see the other compatible products that work with Google Home and Home Mini as well as Amazon Alexa enabled devices.
From Your Site Articles
Related Articles Around the Web
Like GearBrain on Facebook