Like GearBrain on Facebook
At GearBrain, we have been testing several brands of earbuds lately. All at different price points and with unique feature sets. What are the features sets most common with earbuds? We look for battery life, the design and fit, type of Bluetooth connection, bass sound, does it come with an app to control bass/treble and does it have noise cancelling or transparency modes. We have also found that the more features and amount of playtime the earbuds have, the more expensive the earbuds get. Recently, we tested a pair of earbuds from a new brand, Soundpeats. They sent over two sets of earbuds for GearBrain to test: Mini Pro and the Free2 Classic. Though these two earbuds look very similar, they performed differently. Check out what we found while testing these earbuds.
What are Mini Pro Earbuds by Soundpeats?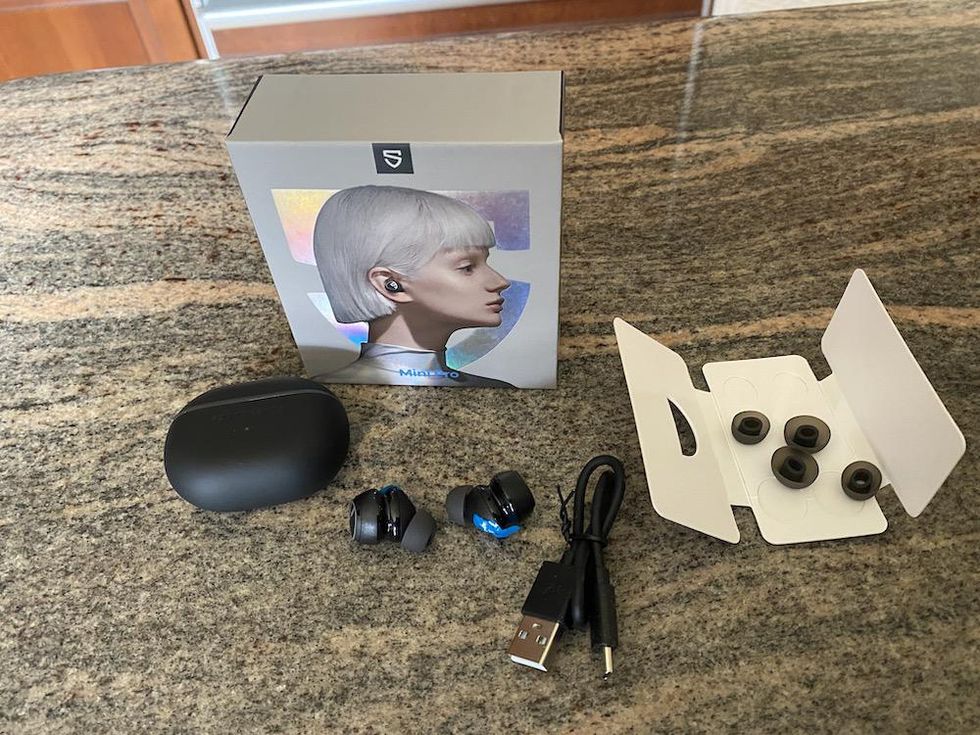 Soundpeats Mini Pro unboxed
GearBrain
Mini Pro are earbuds with Hybrid Active Noise Cancellation (ANC) and Transparency mode. They work on a Bluetooth 5.2 wireless connection. They also come with aptx-Adaptive. What is this? aptX-Adaptive is a Bluetooth audio codec that can combine premium audio quality with low-bit rate transmission to provide a more consistent sound experience from your smartphone. These earbuds also have CVC 8.0 Noise Redection Tech. This technology is used to help block out background noise while you are on your smartphone. The CVCC 80 can filter out up to 30 decibels of ambient noise. We will get into how much is really blocked in our test results.
Mini Pro earbuds also come with dust proof microphones and 7 Hours of single playtime on an initial charge. The earbuds are charged using the supplied USB-C cable. It will take you about 1.5 hours to full charge the Mini Pro earbuds which you will do using the charging case.
The charging case for the Mini Pro is compact and lightweight. There is a light on the front of the charging case with you tell you the amount of battery life for the case. A green light means 50 to 100%, Yellow is 10-49% and red is 10% or less.
Like all good earbuds, Mini Pro comes with touch controls. For the Mini Pro earbuds, you must either hold an earbud for a few seconds or just tap it a couple of times. For instance, to activate ANC mode, just touch the left earbud for 1.5 seconds and you will put the earbuds into normal mode the same way. Here is the list of touch controls for the Mini Pro:
Clear Pairing: place both earbuds in the charging case and hold both buttons for 10 seconds when the LEDs start flashing red and white twice. This means you have reset the earbuds.
For the left earbud:

Hold for 2 seconds for pairing mode.
Hold for 1.5 seconds will put the earbuds in ANC or Normal modes
Touch 3 times to put the earbuds in gaming
2 touches will answer a call or end it.
1 touch reduces the sound level.

Right earbud controls

1 touch will increase sound level
2 touches answer or end a call
3 touches will access your voice assistant on your smartphone like Siri if you have an Apple phone.
Hold for 1.5 seconds to forward to the next track or end a call
Hold of 2 seconds to go into pairing mode.
Setting up these earbuds is quite easy. Just charge the case and when fully charged, remove them from the case and start pairing with your smartphone. Once initially paired, the earbuds will automatically pair with your smartphone once they are taken out of the charging case. And they will turn off when you put them back into the charging case and close the lid. You can always manually turn off the Mini Pro earbuds before placing them in the case. Many do this for peace of mind.
The Mini Pro earbuds are IPX5 waterproof rated. This means you can wear them when you work out, but you can't wear them in the pool. The earbuds will get damaged.
How much does these earbuds cost? The Mini Pro earbuds come in white or black and cost $79.99 but are on sale for $59.99 on the company website. The earbuds are available on Amazon as well for the same price.
How do the Mini Pro Earbuds Sound?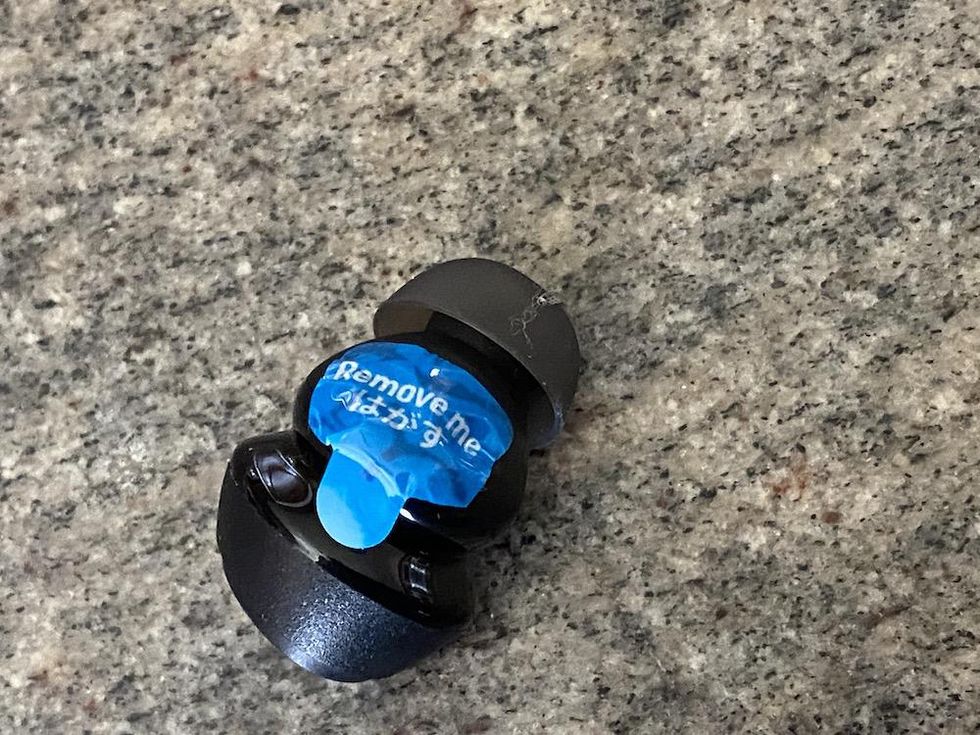 Each Soundpeats earbud comes with a protective tape over the contacts to keep the battery from draining. Make sure you remove it before initially charging your earbuds
GearBrain
In testing these earbuds, we found the sound quality to be good. We got a good full sound out of the earbuds in all modes. We prefer the ANC mode over the others. There were no issues with pairing the earbuds and the battery life was good. We listen to music a few hours a day and the battery lasted over a month on the initial charge.
The one issue you will have with these earbuds though is wind noise. The way the earbuds are designed, if you are outside on a windy day listening to music, you are going to hear noise from the wind in your earbuds. Even if you try to get the tightest fit on the ear tips in your ear, it's not going to work. We have found this to be common with earbuds that use ear tips. Even when in ANC mode, you will hear the wind.
Besides this issue, we had no other problems with these earbuds. It would have been nice to have "in-ear" detection, but they don't. (Note: In-ear detection is when the earbud knows it is no longer in the ear and will stop playing your music or whatever you were listening too.).
What are Free2 Classic Earbuds?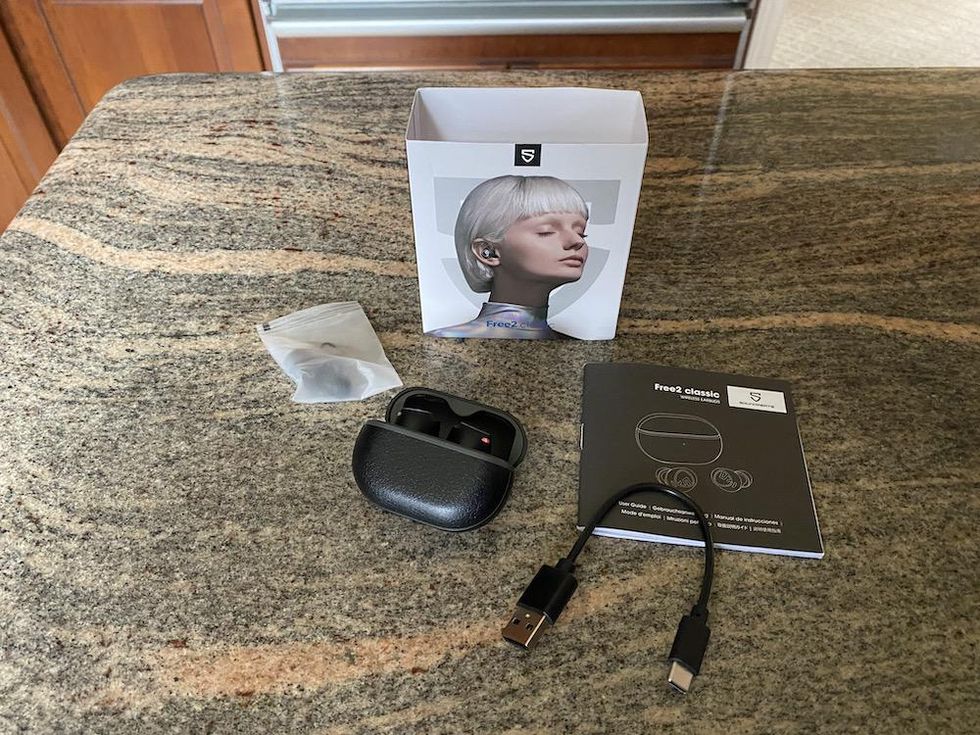 Soundpeats Free2 Classic earbuds unboxed.
GearBrain
The Free2 Classic are the perfect earbuds for the first-time user or a young listener. They cost only $30 and come with 8 hours of playtime per charge, decent sound quality, a charging case and a IPX8 waterproof rating.
Free2 Classic earbuds also have touch controls like Mini Pro earbuds. These controls are easy to use, except for the Free2 Classic earbuds there are no ANC or gaming modes. Here are the controls for Free2 Classic:
To turn on the earbuds, just open the case lid and take out each earbud. They will turn on automatically. If you want to manually turn the earbuds on, take them out of the case one by one and hold the earbud for 1.5 seconds in your ear. The earbuds will power on. To turn them off, you can just put them in the case or hold each earbud for 10 seconds.
Clear Pairing: place both earbuds in the charging case and hold both buttons for 10 seconds when the LEDs start flashing red and white twice. This means you have reset the earbuds.
Earbud controls:

Hold for 6 seconds for pairing mode.
2 touches will play and pause music
Single tap on the left earbud lowers volume
Single tap on the right earbud increases volume
Hold for 1.5 seconds on the left earbud will go to the previous track
Hold for 1.5 seconds on the right earbud will forward the music.
Double tap on either earbud will answer and hang up a call
3 touches will activate voice assistant
Press and hold either earbud for 1.5 seconds to reject a call
Press and hold for 2 seconds to switch between calls
The Free2 Classic earbuds come with a compact charging case with a light indicator to let you know the battery life of the case and earbuds. Note: the earbuds don't have a light to indicate its battery levels. You must rely on the case for the earbud's battery life. A flashing blue light means the charging case is charging. A solid blue light means the charging case is fully charged. If you get a red light, it means you must charge the earbuds and case.
It is important to make sure your case is charged. The reason is your earbuds will not turn off automatically when placed in the case if not fully charged. If you have any problems with the earbuds connecting to your phone or each other, we recommend contacting Soundpeats customer support. They are very helpful. Also, the Soundpeats site has good information and FAQs for you to use to help solve your problem.
Other features of the Free2 Classic earbuds include 6mm bio-compound diaphragm driver for quality sound, works on a Bluetooth 5.1 wireless connection and supports SBC, a Bluetooth codex. It's not as good as the codec for Mini Pro earbuds, but it works for the price.
How much do the Free2 Classic earbuds cost? The earbuds cost only $29.99 but are on sale for $19.99 on Amazon. This is an incredible price for earbuds with these features.
Performance of the Soundpeats Earbuds - Mini Pro vs Free2 Classic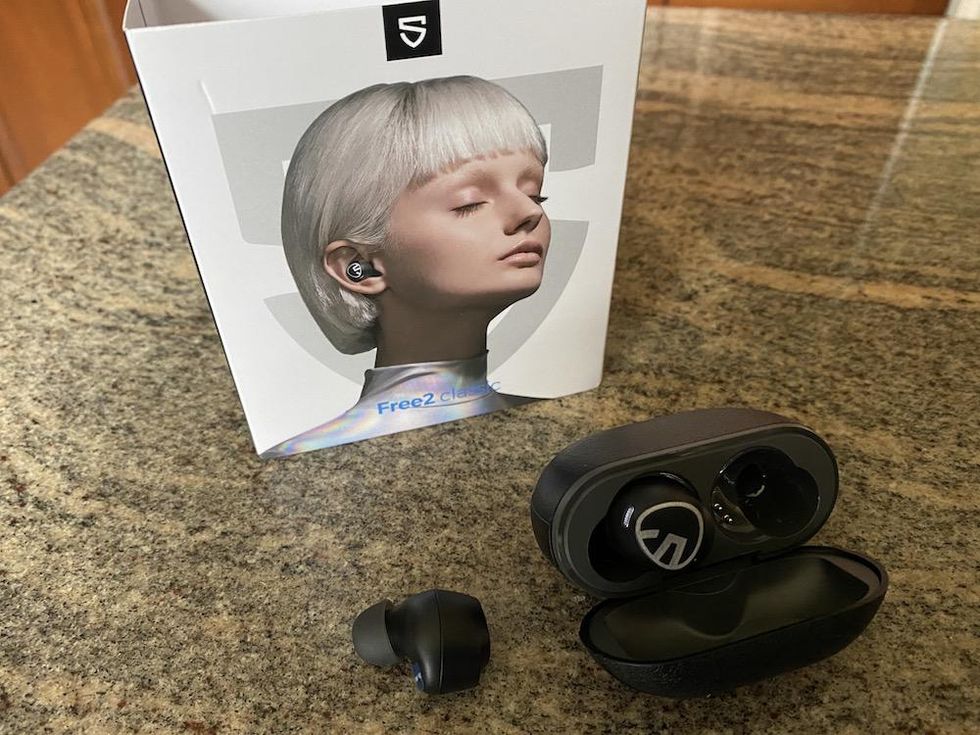 Each Soundpeats earbuds come with a charging case.
GearBrain
After weeks of testing these earbuds, we found the sound quality to be good in both. Though you can't adjust the sound quality with an app in either of these Soundpeats earbuds, you can activate ANC in the Mini Pro which will enhance the sound quality a little more than the Free2 Classic. Both earbuds' touch controls are sensitive. You really must hold the earbud for more than the allotted time to activate the control. For instance, you are supposed to touch the right earbud for 1.5 seconds to move to the next song. We had to hold our finger on the earbud for more than 2 seconds before the song changed. It's not a big deal but you need to learn how the touch controls work before you start using the earbuds. If not, you will get frustrating using them especially when out for a run or walk.
The sound quality for phone calls on both earbuds was good, and the dust proof mic worked. The Mini Pro had a slightly better phone call experience since it has ANC.
Who would like to use these earbuds? If you are a music lover who wants a full sounding earbud with the ability to adjust the sound quality, neither of these earbuds are right for you. These earbuds are more for the cost conscious who want a reliable earbud with good sound. For instance, the Free2 Classic earbuds are good quality earbuds for your kids or someone who is a first-time user of wireless earbuds. They are inexpensive and come with good battery life and decent sound quality.
The Mini Pro are good earbuds too but are for the music lover who wants a good quality sounding earbud with ANC and long-lasting battery life for under $75.
Summary
After testing these two earbuds, we can say Soundpeats makes good quality earbuds for various price points. The Free2 Classic earbuds are perfect entry level earbuds while the Mini Pro earbuds work for the person who wants a comfortable fitting earbud with ANC, is sweatproof rated and costs less than $75. Both are available on Amazon, and you can't go wrong with these easy to pair and use earbuds.
Pro
Price
Battery Life
Sound quality
Cons
Touch controls
No in-ear detection
Can't adjust level (no app to adjust bass/treble)
Don't forget to use The GearBrain, our compatibility find engine to find other smart headphones, earbuds or any smart device. You can even find ones that are compatible with your own smart devices.
How to Find Products in The GearBrain, Our Compatibility Find Engine for Smart Devices www.youtube.com
From Your Site Articles
Related Articles Around the Web
Like GearBrain on Facebook