Like GearBrain on Facebook
Skullcandy is a brand behind a wide variety of earbuds and headphones , at prices that can fit a number of budgets. But one of its most recent additions is a pair of earbuds that could not be more frugal friendly.

At just $25, the Skullcandy Dime True Wireless earbuds are easily the lowest-priced devices from the company, which can play music and even pick up phone calls.
We spent a month with the earbuds, sent to us by Skullcandy, and here's how they fared while trying them during runs, walks and during work.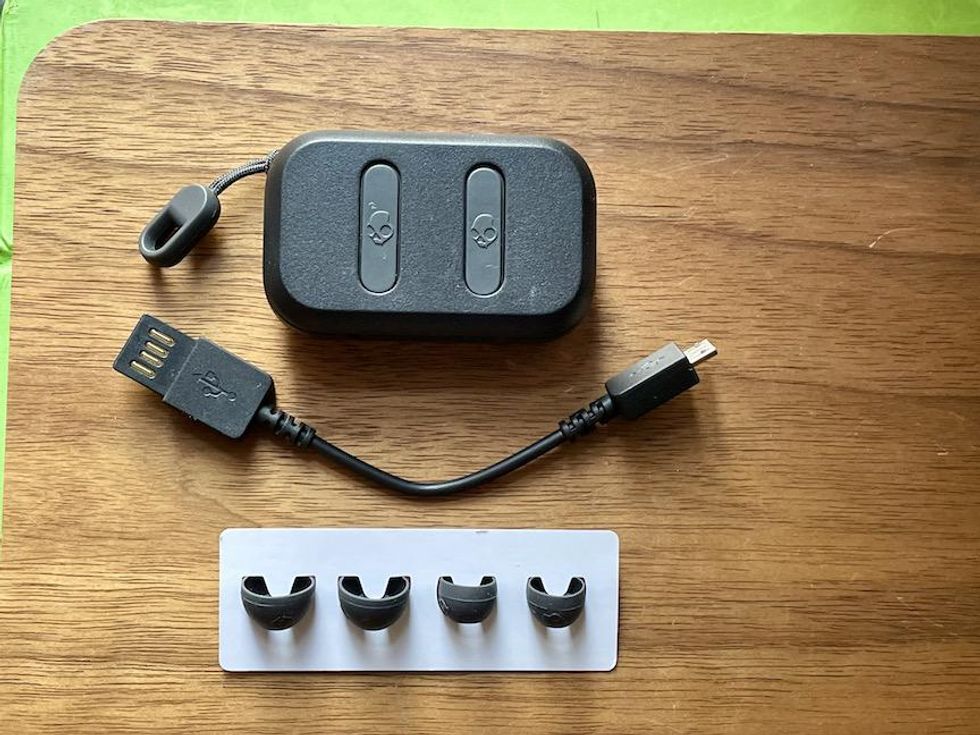 The Skullcandy Dime earbuds come with extra ear gels even at their budget price Lauren Barack/GearBrain
How to set them up

Setting these earbuds up are extremely simple. You'll get the earbuds and a hard case with a loop that can be attached to a keychain. You also get a set of ear gels for a better fit, and also a charging cord. Plug this into a USB charger and get the battery filled. That's about it.
Battery
While Skullcandy claims these have a 12 hour battery life, we found that after about seven hours of use they began to fall. You'll charge them through the case. But because the case does not work as a backup charger, as some earbud cases can, you're going to want to keep these plugged in at night likely to ensure you have full use of them during the day.
The earbuds do give about 15-20 minutes of warnings before completely turning off — and that's helpful if you're at your desk. It's not great if you're on a run. Another reason to consider keeping them plugged in to ensure you have a full charge.
But note that the battery life was much lower than the Skullcandy Jib True earbuds, which are just a bit more expensive at $30.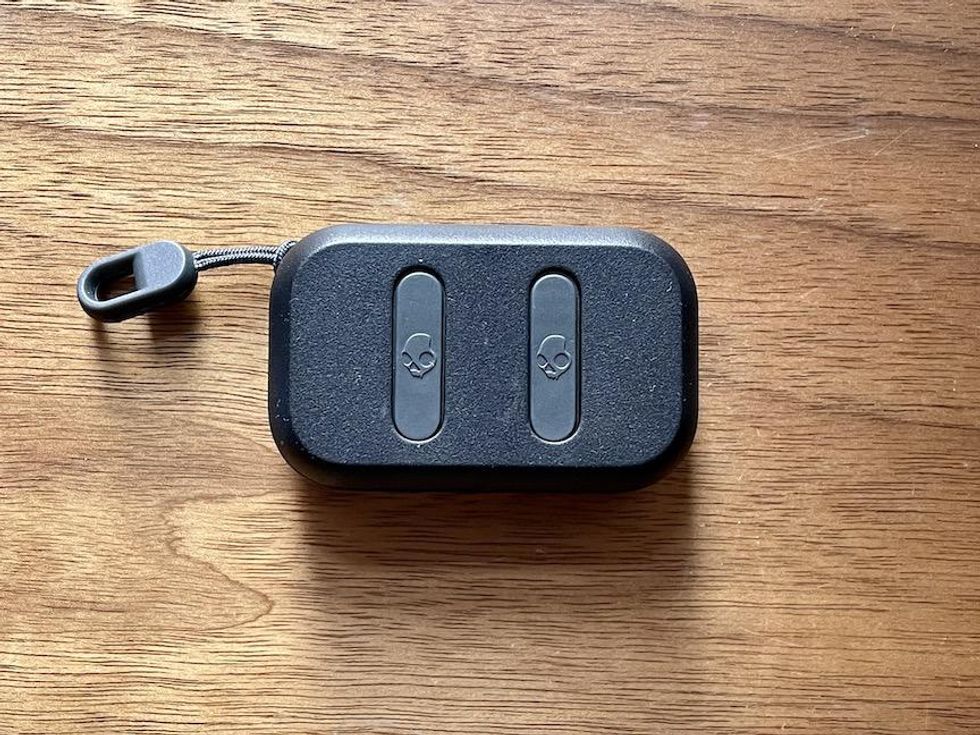 A small loop is attached to the case for the Skullcandy Dime earbuds Lauren Barack/GearBrain
How they worked

The Dime earbuds connected easily with my phone and computer — and I had no trouble picking up calls, nor connecting to web conferencing apps.
I did find the sound to be a bit flat — although it was clear, meaning details were delineated and not muddy. But they weren't at the level of other earbuds Skullcandy typically produces. There isn't a wide range here on bass, but you can absolutely listen to your playlist, and even watch a movie, and feel you're getting an good experience.
You can use both earbuds solo, this is fairly typical of Skullcandy's earbuds, and that actually proved useful when the battery ran down on one but not the other. The left earbud just kept going during a work call, lasting another 20 minutes — which was great.
The bigger issue I had with the earbuds were their fit. I found I couldn't get them to sit comfortably in my ear. You do luckily get a set of ear gels in the packaging and with those I was able to swap out for a smaller set — and a better fit. Still, I never got a complete seal with these, which meant there was a bit of sound leak from around me. But that wasn't terrible while running — and wasn't terrible really in general. But it's worth noting.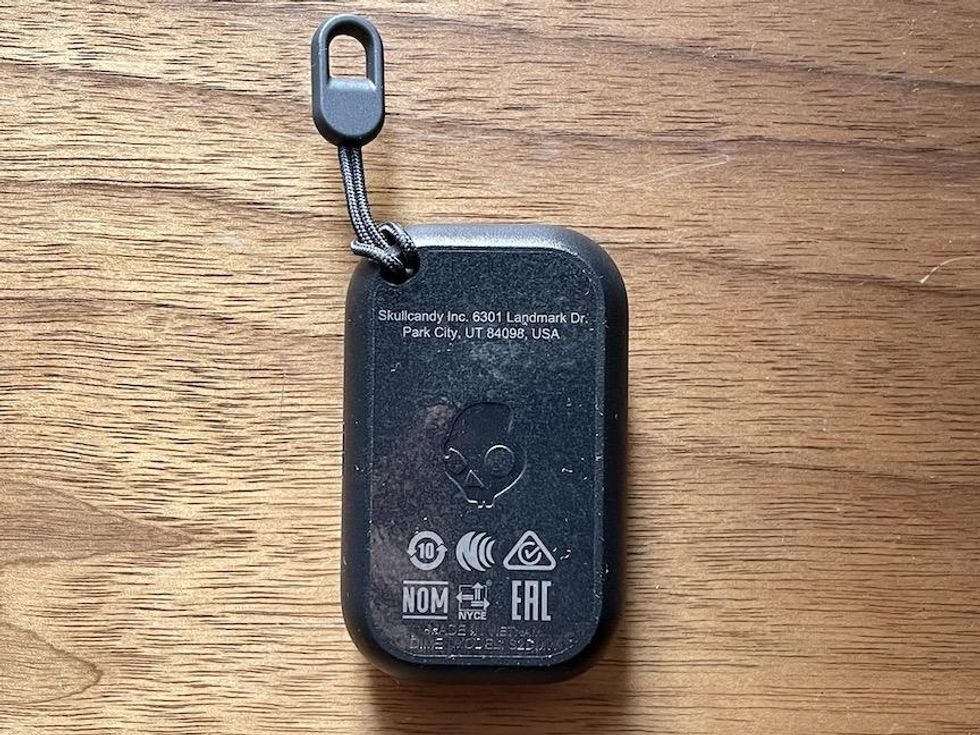 The Skullcandy Dime earbuds are small and can easily fit in your pocket Lauren Barack/GearBrain
But turning my head from side to side rapidly did make them fall out. And I was conscious of them slipping while running. This is not unique to the Skullcandy Dime though — and it happens often with my AirPods Pro . But as the Dime pair are wireless, without a connecting cord, you do want to be aware of this if you're planning to use them for activities outside.

I think the size is actually a plus here. Yes, they might be lost in a big bag, but better, they're easy to slip into a pocket. They're thicker than your smartphone, but even with the case they're about the size of two postage stamps — 2.45 inches by 1.53 inches. That's also about the size of the AirPods Pro , case and all — which is nice because you can slip the case into a pocket of running shorts, or just your jeans.
Price
The Skullcandy Dime True Wireless earbuds are $24.99 — although we're already seeing them for a bit lower online. And you can pick these up in four different colors including black, green, grey and a vibrant light blue.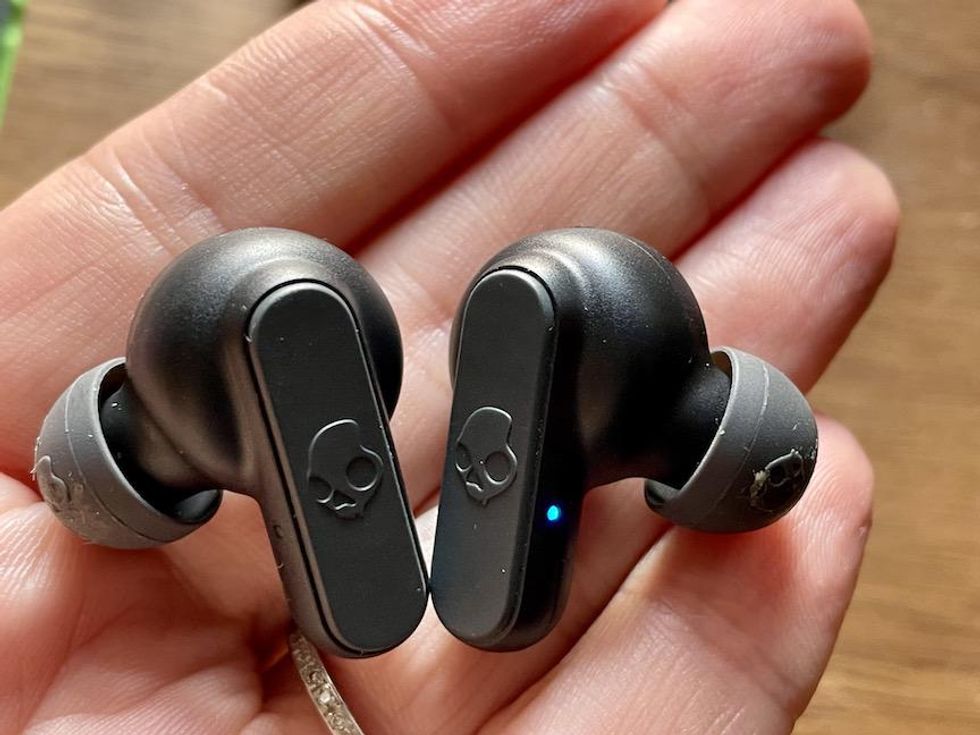 You can control volume on the stem of the Skullcandy Dime earbuds Lauren Barack/GearBrain
Worth picking up?

It's almost impossible to talk about the Skullcandy Dime earbuds without considering their price. At $25 (and remember, we're seeing this at lower prices online) these are a real bargain, and worth, at the very least, buying them as a backup. You won't worry or panic if you lose them, and with the clip, you have an even better chance of keeping them attached to your key chain.
Sound was clean even if was a little thin, and battery life wasn't robust. The fit is also not a perfect seal, even with the optional ear gels included. They sometimes flew out of my ear when I was running around. But the Skullcandy Dime wireless earbuds are also small, easy to tuck into a pocket, and crucially — $25.
Whether you're picking these up as a backup option, or even as your main device, the Skullcandy Dime earbuds are certainly — and easily — worth considering.
Pros:
Price
Small size
Includes a clip for attaching to keys
Cons:
Sound can be flat
Battery life isn't more than a day
Fit wasn't perfect seal
Skullcandy Dime True Wireless in-Ear Earbud - True Black
Like GearBrain on Facebook