Like GearBrain on Facebook
When looking for earbuds, it's important to find ones that are compatible with your smartphone. Earbuds connect via Bluetooth connection but depending on how old your smartphone might be, it might not be the right Bluetooth version. If it does, then you need to look for earbuds which provide the ultimate sound experience and easiest control. Ultimately, finding earbuds with active noise cancelling (ANC) and adjustable sound quality is a must. Recently we tested the new XFyro AI-Powered Noise Cancellation Pro True Wireless Earbuds. These earbuds come with ANC and a few new features we haven't seen in earbuds. See what we found during our testing of these earbuds over the past few months.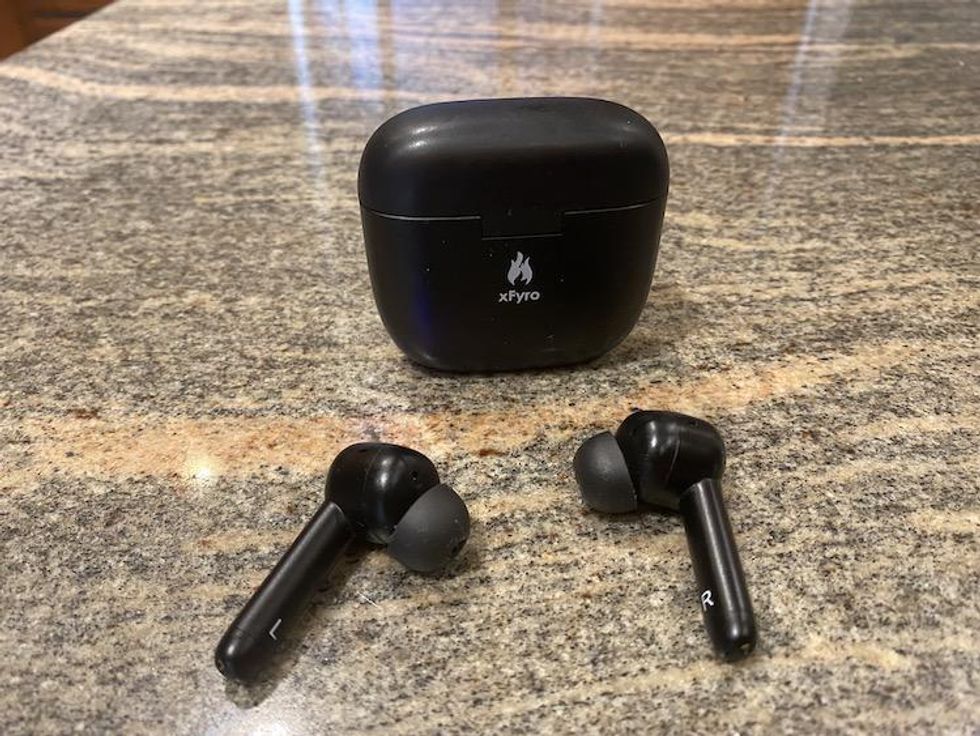 xFyro ANC Pro True Wireless Earbuds and wireless charging case.GearBrain
What are xFyro AI-Powered ANC Pro True Wireless Earbuds?
xFyro ANC Pro True Wireless Earbuds are the first AI-powered active noise cancelling earbuds we have seen and tested. They are lightweight and come with an ergonomic precision design to fit comfortably in your ears. They also have intuitive controls to help you manage your music and phone calls.
Other unique features from xFyro's ANC Pro Earbuds include 100-hour battery life, IPX5 water resistant, dual beam-forming microphones, Type-C quick charging and work on a Bluetooth 5.0 wireless connection. The range of Bluetooth connection is 30 feet which is good.
xFyro ANC Pro earbuds can access your smartphone's digital assistant. If you have an iOS or Android devices, you will be able to ask Siri or Google Assistant to send messages, dial a phone number, access the web or control your smart home devices if compatible with Apple HomeKit (iOS) or Google Assistant (Android) enabled devices. (Check out The GearBrain, our compatibility find engine to see the other compatible products that work with Google Assistant and Apple HomeKit enabled devices.)
Setup
Setup of your xFyro earbuds is quick and easy. Just unbox your earbuds and charge the wireless charging case with the earbuds inside. For the first charge, it will take a while to charge. Once fully charged, you can pair the earbuds to your smartphone and start enjoying 10 hours of continuous playing on a single charge. And when needed, you can get another 90 hours by placing the earbuds inside your xFyro wireless charging case.
To help you know when your XFyro earbuds are charged, there is a blue indicator light on the side of xFyro's wireless charging case as well as on each earbud. If you see one quick blue light flash, it means the battery has less than 25% power, 2 quick flashes mean there is 25-50% power remaining, 3 flashes mean 50-75% power left, and 4 quick flashes indicates you have 75-100% power. A solid blue light means your earbuds and charging case are fully charged. If not sure, open the wireless charging case and the indicator light will come on to reveal the current power level for both the case and earbuds. If you see a red light, it means you need a charge.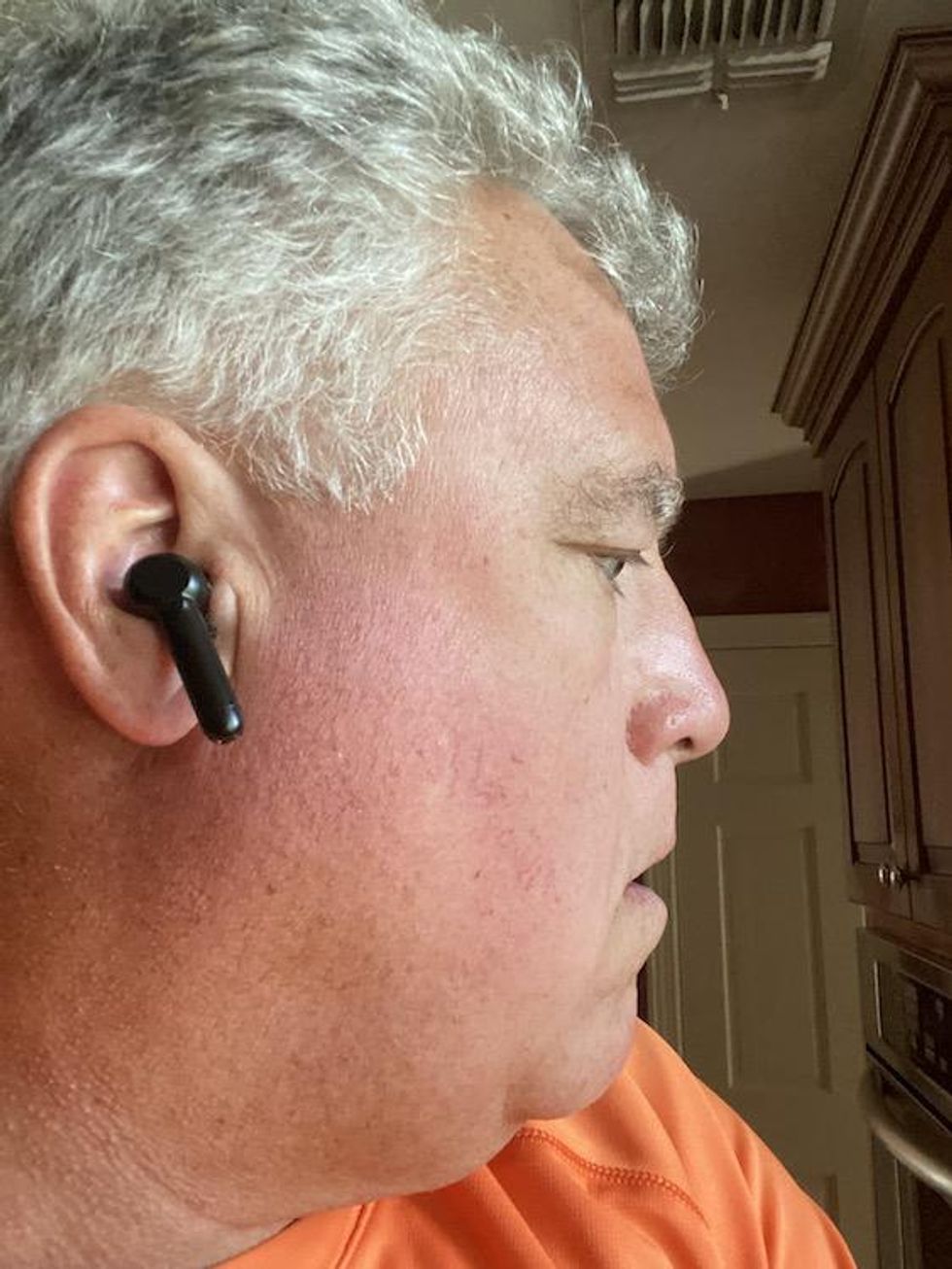 xFyro ANC Pro Earbuds fit comfortably in your ear and come with touch control.GearBrain
Controls
What makes xFyro AI-Powered ANC Pro Earbuds unique is its touch controls and self-calibrating phase cancellation technology.
How do the controls work? They work on touch. Using your finger, touch the outside of either earbud when in your ears. To help you learn what type of touch controls the XFyro earbuds have, here is a list we put together for you:
Answering or ending a call: 2x taps on L or R earbud
Repeat a call or make a call back: hold down either L or R earbud
Turn your Digital Assistant on or off: hold down L earbud
Volume control: 1x tap on L earbud decrease volume and 1x tap on R earbud increase volume.
Play/Pause music or video: 2x taps on L or R earbud
Play Previous track: 3x tap on L earbud
Play Next track: 3X on R earbud
The other unique feature of xFyro earbuds is it's AI-Powered technology. The AI in these earbuds learns what music you listen to and over time adjusts the sound quality appropriately. According to the company, after about 200-300 hours of use, xFyro's AI will improve your sound quality to fit your listening pleasure. They call this the "burn-in" or breaking-in" process.
Cost
xFyro AI-Powered ANC Pro True Wireless Earbuds have a MSRP of $299 but are on sale for $150 on the company's website. And they are available in black only. Is this a good price? We looked around and saw Bluetooth ANC wireless earbuds cost between $70 and $170. $150 is at the top of the range, but xFyro does come with built-in AI which none of the other earbuds with ANC have at this time.
Performance
In testing these new earbuds, we found the earbuds to be a good weight. They were not too heavy or bulky and fit comfortably in our ears. We also liked the sound quality, even in the beginning before the AI started to learn our musical taste.
However, there were a few issues with these earbuds. When we were outside and the wind was blowing, you could hear it against the earbuds. At times, the sound from the wind overpowered the sound of the music coming out of the earbuds. We tested other earbuds (i.e., Jaybirds and Apple Airpods) at this time to see if they had the same distorted sound experience with the wind blowing. It seems they didn't. We tried to adjust the ear pads on our xFyro earbuds (since xFyro comes with extra adjustable ear pads), but none of the pads seemed to be able to drown out the wind noise. This is something to be aware of before buying.
xFyro's ANC feature worked fine for us despite the wind noise. It drowns out the sounds around us, but not completely. We could hear the important sounds, like a car going by when we were running or when someone called us from a far.
Lastly, we found the touch controls to be excessively sensitive. You need to take your time when doing 1x tap or 3x taps. Sometimes the earbuds mistaken the number of taps and you get a result different than what you intended. This was frustrating at first, but once we got the hang of it, things got better especially when we wanted to skip to the next track. This type of control is nice to have in earbuds too.
The last issue was the battery life for the earbuds. xFyro says the earbuds will last 3-4 hours of continuous music on a single charge. Using the earbuds for short periods of listening while commuting, working out or just sitting at the beach is fine. Just make sure you put them back in the charging case each day so they can get powered up. However, if you are going to be listening to music or making calls with your xFyro earbuds for more than 3 straight hours, make sure the xFyro earbuds and wireless charging case are fully charged. You will be charging your earbuds a couple of times during the day.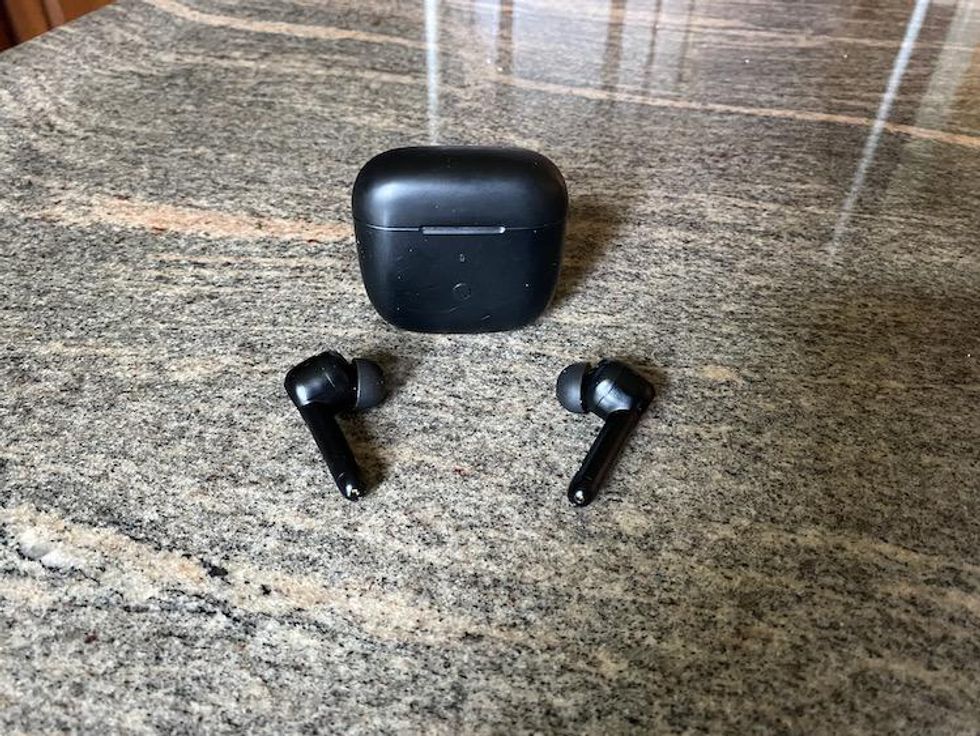 xFyro ANC Pro Wireless earbuds come with wireless charging case to provide up to 90 additional hours of listening.GearBrain
Summary
If you are looking for ANC Bluetooth earbuds that work with an iOS or Android smartphone, comes with a wireless charging case and costs $150 or less, xFyro ANC Pro earbuds are a good choice. A good pair of ANC earbuds cost between $120 (Apple AirPods) to $170 (Jabra Elite Active 75t). We like xFyro's AI technology but like all AI powered devices, it takes time for the AI to learn. With xFyro's AI, it will learn what is the best audio mix for you. However, since we tested these earbuds over the past 2 months, we did start to hear the improvements which was nice.
Overall, xFyro AI-Powered ANC Pro True Wireless earbuds have the touch to provide a good wireless music experience which improves over time and are priced right for either Android or iOS smartphone users looking for good ANC wireless earbuds.
Pro
Lightweight and durable
Touch control to forward or replay tracks
Quality sound with AI and ANC
Cons
MSRP is high. Look for sales price ($150)
Touch controls are very sensitive
AI takes time to learn (200-300 hours)
The GearBrain, First Compatibility Find Engine for Smart Devices www.youtube.com
Like GearBrain on Facebook