If one thing is a certainty for the end of 2020, it's the bounty of 5G phones making their way to the market — finally. We have Google, Samsung, Apple (of course) and also TCL which has broken in with a sub-$400 smartphone that works on the 5G network.
How good is the new TCL 10 5G UW? Pretty good, and when you factor in the price, even better. The phone, exclusive to Verizon right now, is available starting today. TCL lent us the phone to test for a few days, and here's our experience.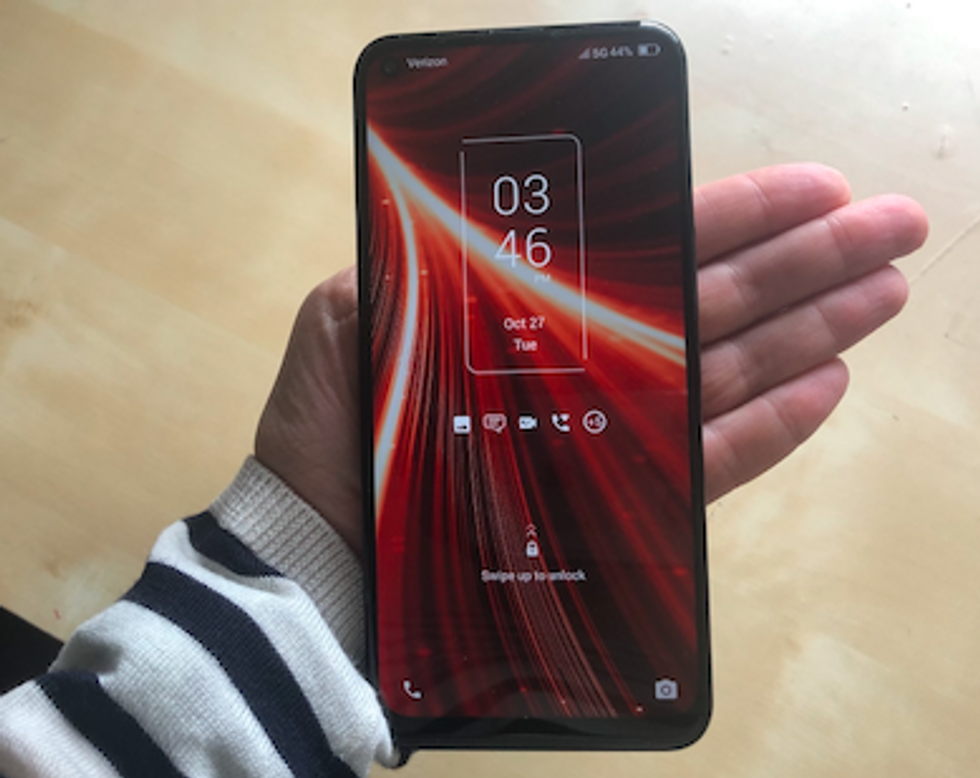 The TCL 10 5G UW has a glass front and back, with a hefty feelGearBrain
Design

The TCL 10 5G UW is a hefty smartphone, clocking in at 7.4 ounces and 6.44" x 3.01" and is .37" thick. It's got a slightly curved, 2.5D glass front and a 3D glass back, an FHD display, along with a three camera array in the back lined up neat, like soldiers, all in a straight line. Compared to the wide array of holes in the back of the new iPhone, for example, I approved.
A fingerprint sensor sits in the back as well — which you can use to lock and unlock the phone, but there's also a face unlock feature too. The volume and power buttons sit to the right of the phone, and there's an audio jack on the top. The USB-C charger is at the bottom.
The phone comes automatically with 128 GB of storage but you can expand to 256 through a microSD card. You also have 6GB of RAM and the Snapdragon 756G processor. As The Verge smartly pointed out, this is a repeat of the Google Pixel 4A 5G (which we're also reviewing at GearBrain.) Only the Pixel 4A 5G is priced at $499 on Google's site, and the TCL at $399.99. Then again, the TCL doesn't come installed with Android 11, like the Pixel 4A 5G, just Android 10 — although TCL has committed to upgrading the device to Android 11 (at minimum) and also security patch updates for a minimum of two years.
Battery
With a 4,500mAh battery, the TCL 10 5G UW runs for quite awhile on one charge, and longer if you're using it sparingly. You can compare that to the 3,800mAh battery on the Pixel 4A 5G and the 2,815mAh battery on the iPhone 12 Pro. Power up some 4K video though, and toss in one or two video calls, and you're going to drain the TCL fairly quickly, as you would though many smartphones.
It's good then that fast charging is an option on the smartphone. On one round, I plugged it in with 35 percent left on the battery. Within 11 minutes, the phone was up to 50, notifying me it would be fully charged in 35 minutes. It actually took longer — 75 minutes — which was significantly off its estimate. But the fast boost in 11 minutes was solid.
The phone also sports the ability to reverse charge — with an OTG cable — so you can grab a boost for headphones or a smartwatch or another smartphone if you choose. The cable is not included with the TCL in the box, but they can typically be picked up for under $10.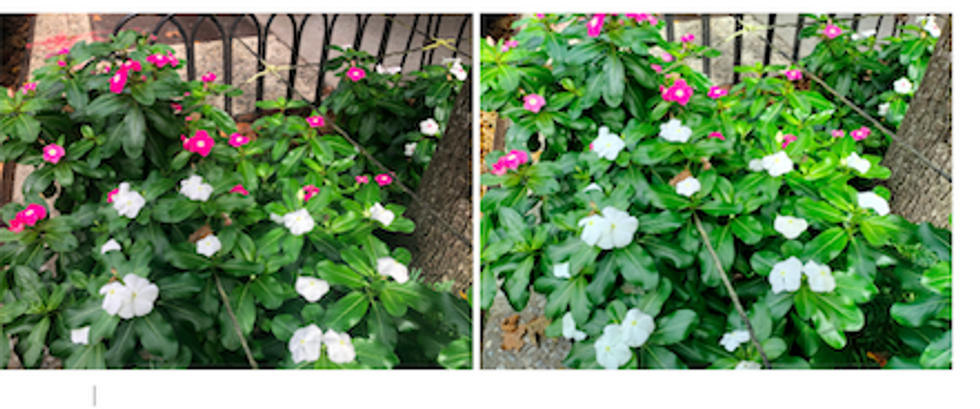 The iPhone image on the left, one taken same spot by the TCL 10 5G UWGearBrain
Cameras

You're getting three cameras on the rear of the phone, a 5MP macro camera, and 8MP wide-angle camera and a 48MP main camera. You have a 16MP selfie camera on the front.
Personally, I found the detail through the cameras serviceable. Optical zoom handled well, keeping sharp detail even when tightly focused — a good sign. But the photos lacked a sharpness, there was some flatten of the imagery as well. The cameras did better in bright light, but in low light they were adequate, not excellent. Even in bright light, the camera system just couldn't handle the bright whites as well as an iPhone X.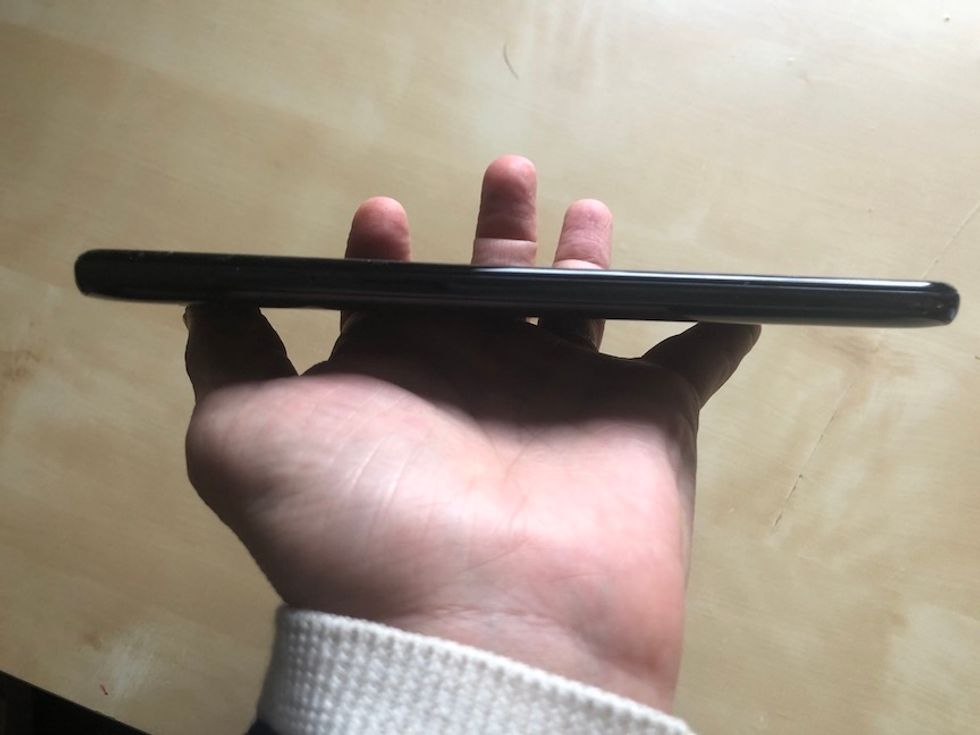 The TCL has some heft, clocking in at about 7.4 ounces
Speed

Not only does the new TCL work across 5G, it also supports Verizon's ultra-wide (UW) band 5G network — making the options, for some, blindingly fast. Do note that the phone is exclusive to Verizon's networks, so you're going to be forced on to its plan with this phone.
But we didn't pick up those speeds using the app, Speedtest by Ookla. Instead we saw, on average, download speeds of about 57.5 Mbps, and uploads of about 23.6 Mbps inside an apartment in Manhattan. That's more akin to 4G speeds.
On the street is where I finally hit those 5G speeds, watching the needle sweep into the 200s and 300s for downloads using the same app, hitting downloads of 372 Mbps, 343 Mbps and 320 Mbps. That's great, but inconsistent, and something to note with any 5G phone you're going to pick up.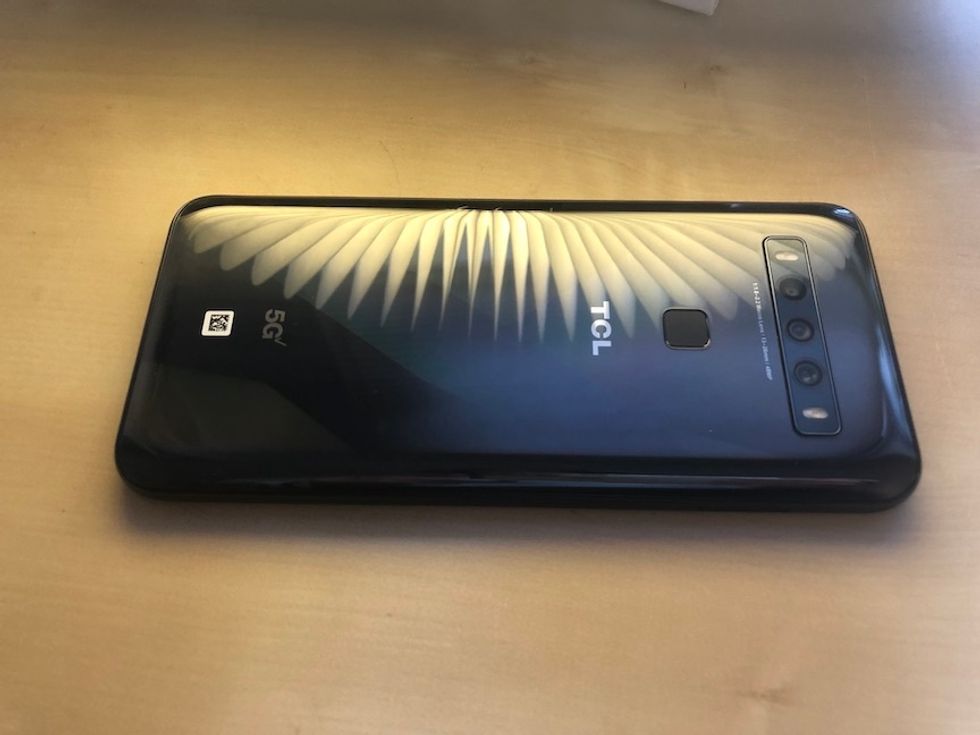 The TCL 10 5G UW speaker is a bit flat and mutedGearBrain
Screen + Sound

Sound over phone calls was clear and easy to understand, fairly standard expectations after all for a smartphone. Sound through playback, though, is a bit tinny, lacking nuance and tonality. That may be because there's just one speaker on this phone. And that means that while watching a movie on a smartphone is going to be a stunted affair no matter how great the speakers and screen — the TCL is not going to offer much in terms of fullness and rounded sound.
What is nice, though, is that you can though share sound with others, via Bluetooth, up to four headphones and speakers, whether to watch a video together, listen to a podcast or music.
The screen, though, is crystal clear, solid detail and nice color punch. 4K handled very well on the phone without any lag or noticeable drop out. It's a 2,340 x 1,080 pixel screen, so it's nice and sharp. A video call was excellent, detail perfect, we could easily make out the banding in rocks behind someone who was talking as well. Sound was fine — but the 15MP selfie camera held its own and then some.
Price
The new TCL 10 5G UW is just $399.99 through Verizon.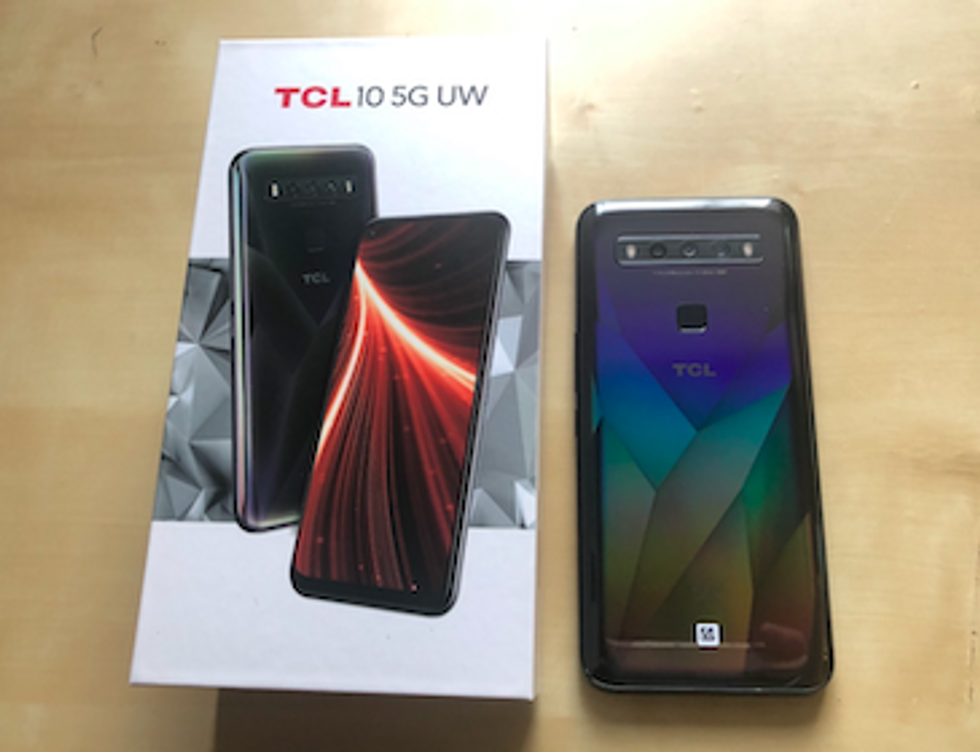 The TCL 10 5G UW is worth considering for its price, solid screen and fast speedGearBrain
Worth buying?

Your decision is going to be based on what you value the most in a smartphone. Are you angling for a 5G download experience? Something that's affordable with decent cameras, and an Android system? The new TCL should be on your list. Are you someone who leans as heavily on the camera part of their phone as much as making calls and getting online? You may find the TCL 10 5G UW isn't perfect for you.
But the TCL 10 5G UW should be considered for the price point alone. A phone that can hit 5G download speeds, that has a crystal clear display, a strong battery and decent camera set-up — all for under $400? That makes the TCL a solid choice for anyone shopping for a smartphone, and also looking for a budget opportunity today.
Pros:
Under $400 for a 5G phone
Great screen, sharp and bright
Fast charging, good battery
Cons:
Poor speaker for video and audio playback
Didn't get 5G download speeds every time