Like GearBrain on Facebook
As you build a smart home security set-up, you'll likely want to include an outdoor security camera, one that's either wireless or wired camera. Wired cameras, which plug directly into an outlet, don't need to be recharged. But you are limited, of course, on where you can place it. Wireless cameras give you more flexibility on where to put them, but you're burdened with having the charge the batteries, typically every 6-8 weeks. However, we recently tested a new wire-free outdoor security camera in a real home, which has a battery that lasted more than three months with average usage. It's called Kami Wire-Free Outdoor Camera and here is our review.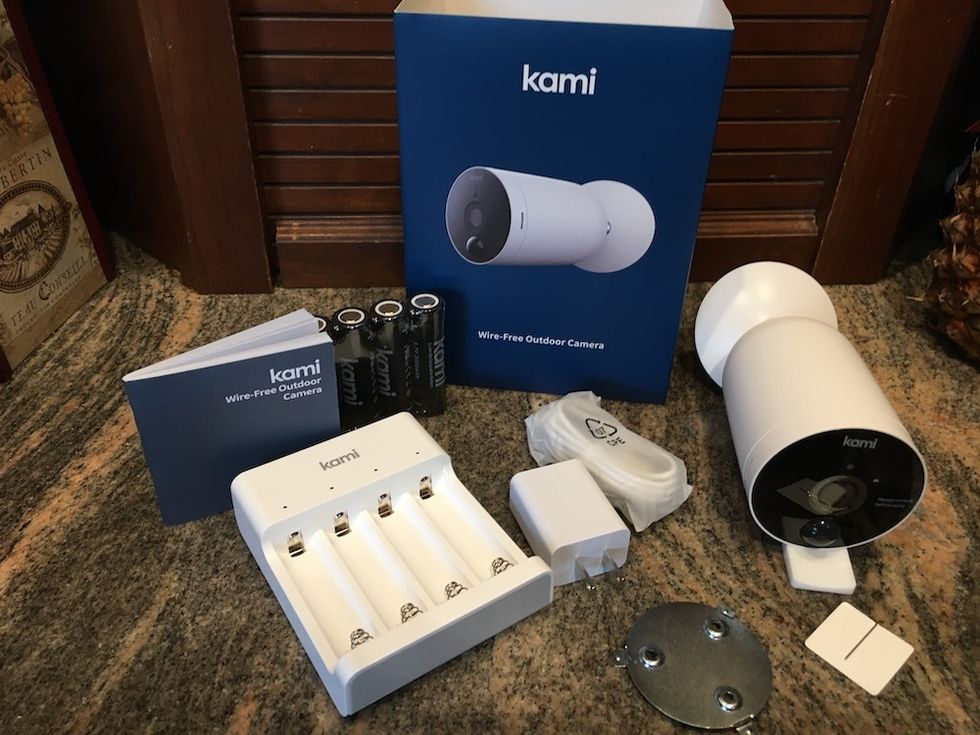 Kami Outdoor Camera unboxedGearBrain
What is the Kami Wire-Free Outdoor Camera

Kami Wire-Free Outdoor Camera is a bullet-style, IP-65, weather-resistant outdoor HD wireless video camera. It has a long-lasting rechargeable battery and enhanced night vision. The camera is made by Yi Technology, and can works in temperatures ranging from -10º Celsius to 50º Celsius, or 14ºF to 122ºF. Kami is powered by four 18650 lithium batteries and connects to your home Wi-Fi network over 2.4GHz only. You can access the camera with either a iOS or Android smartphones.
Kami has an excellent wide angle lens, with a 140 degree field of view (FOV), which records in 1080p high video resolution. The camera also has a PIR motion sensor to help distinguish between the motion of trees, cars and humans.
Kami also gives you a wide range of options on how to store the video it captures. You can store them locally through a micro SD card, or remotely through a cloud storage option, and there is the option to just store 24 hours for free.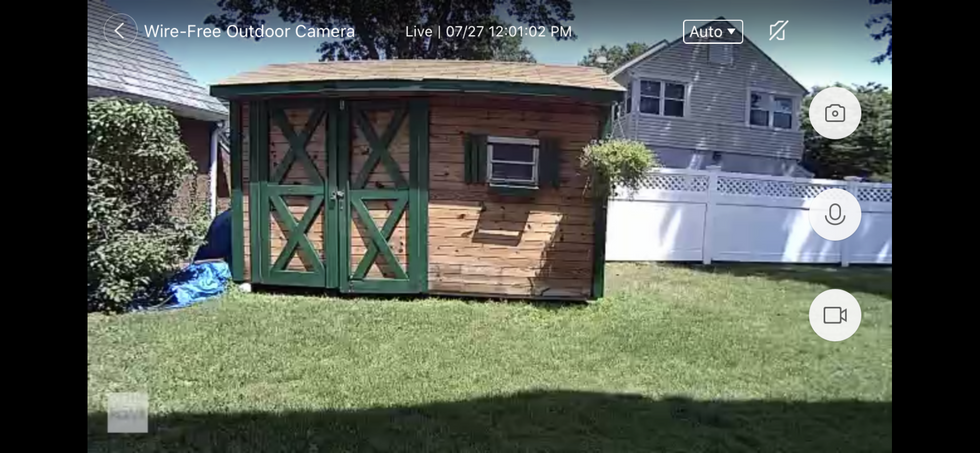 Live view in Landscape from Kami Camera. Controls on the right and picture is crisp and clean.GearBrain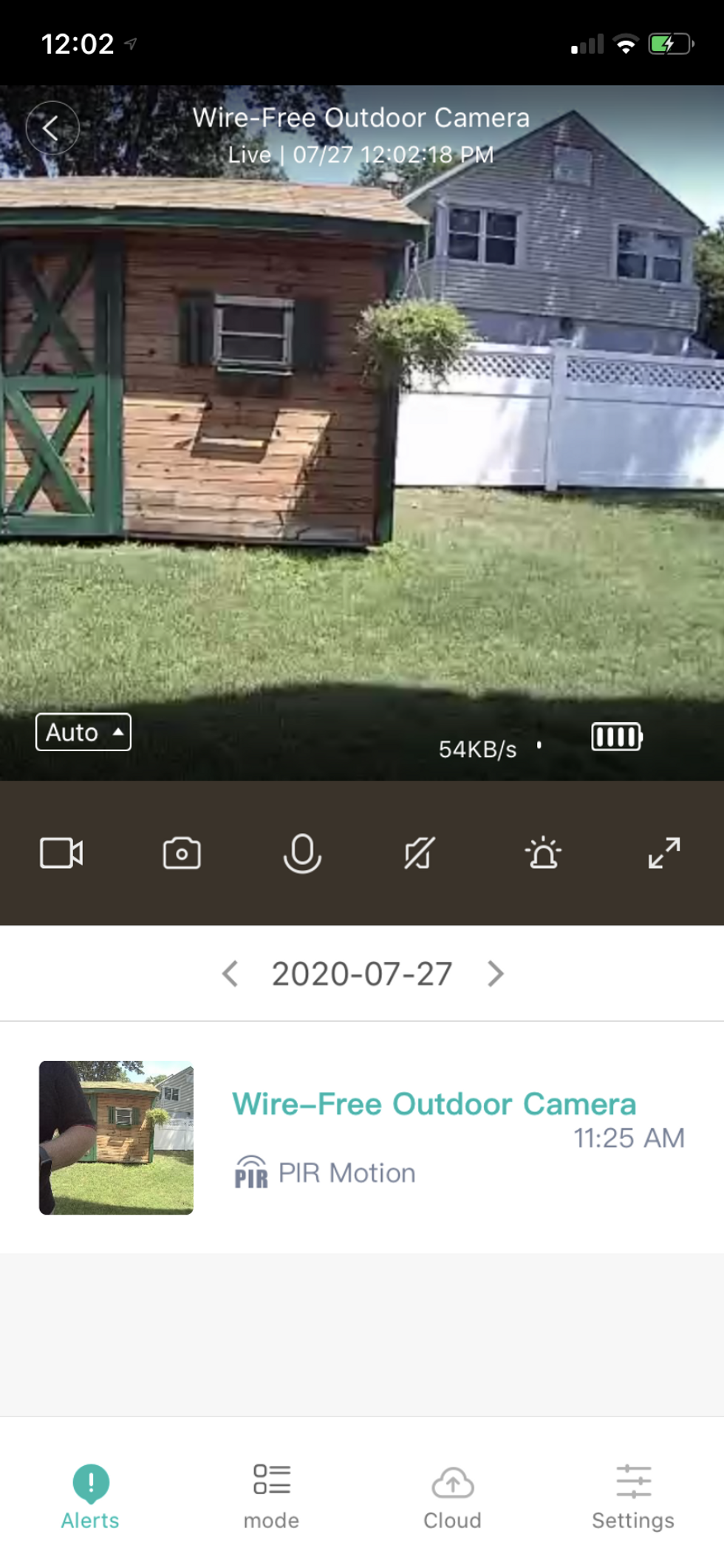 Portrait view of live video from Kami Outdoor camera in app. controls at the bottom of the screenGearBrain
Storage plans

With the purchase of a Kami Outdoor Camera, the company includes a one-month free trial. You can store up to 30 days of video recordings in the first month, but then you need to choose a plan. There are three: Entry, Standard and Plus.
The Entry Plan costs $5 per month or $40 a year, covers one camera, and includes seven days of video storage, which captures video that starts during an alert. The Standard Plan includes dive cameras and costs $12 per month or $100 a year. This plans provides 15 days of storage, and also records all motion and captures all alerts. The last plan, Plus, covers cameras and costs $19 per month or $150 a year. Users get 30 days of video storage, the entire recording plus every alert. You also get 24/7 emergency service. There's also a continuous video recording, or CVR plan which costs $8 per month, or $80 a year, and covers one camera capturing continuous video recording for 24/7. You also get seven days storage.
If you don't want to pay for a plan but want to save your videos, the Kami has a slot for micro SD card ranging from 8GB to 64GB.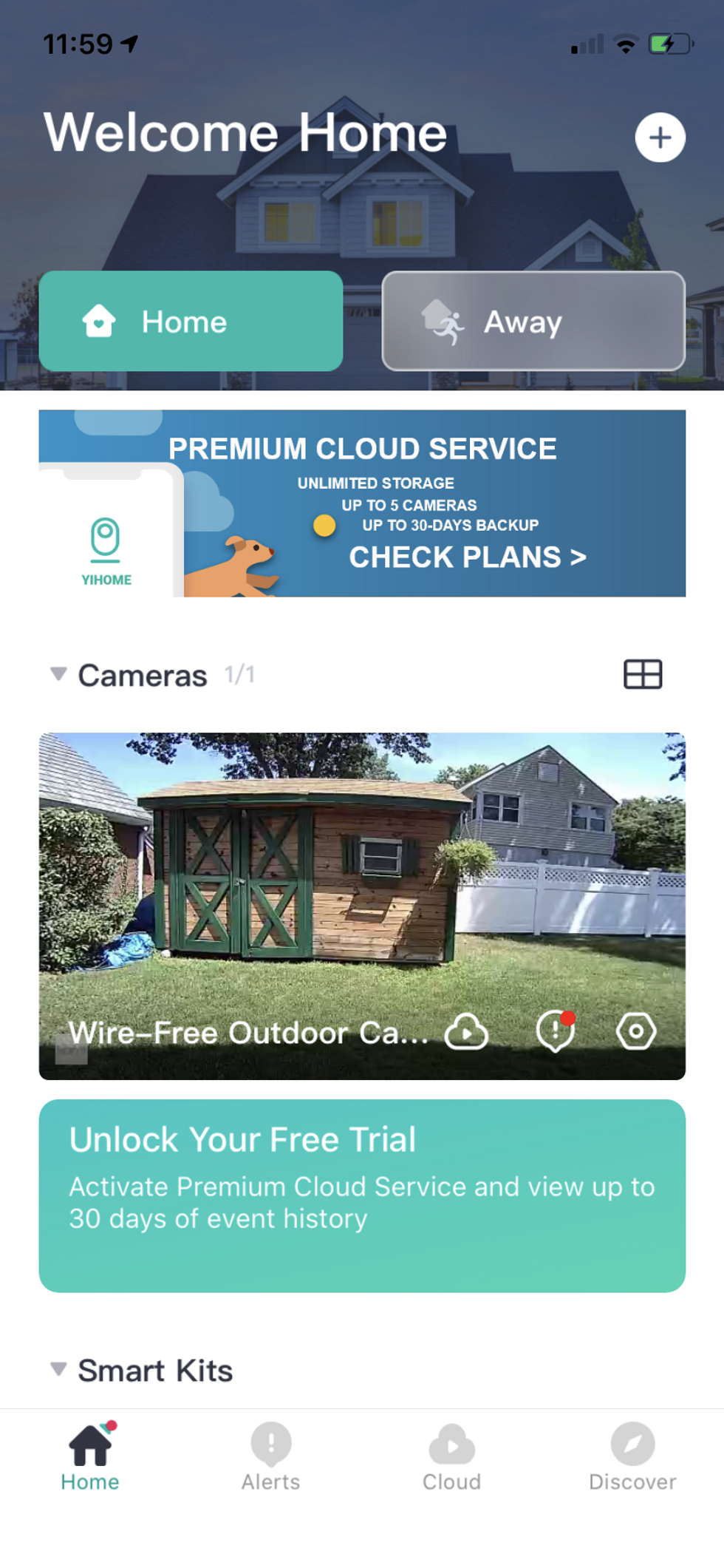 Home page of Kami app shows. video feed from our Kami cameras and offers plans for you to sign up.GearBrain
Smart Home integrations
Kami has only one smart home integration — Amazon Alexa. Those who own an Amazon Echo Show, can view the video coming from the Kami Wireless Outdoor Camera. To link the two, you need to add Kami to your Alexa account, and then enable the Alexa Skill, which is Yi Home Camera. Once connected you can ask Alexa commands like "Alexa, show backyard," or "Alexa, turn on backyard camera," and see the video on the Echo Show display. You can find further instructions are in the Kami app.
The lack of other smart home integrations is disappointing, and something to consider.
Kami App Settings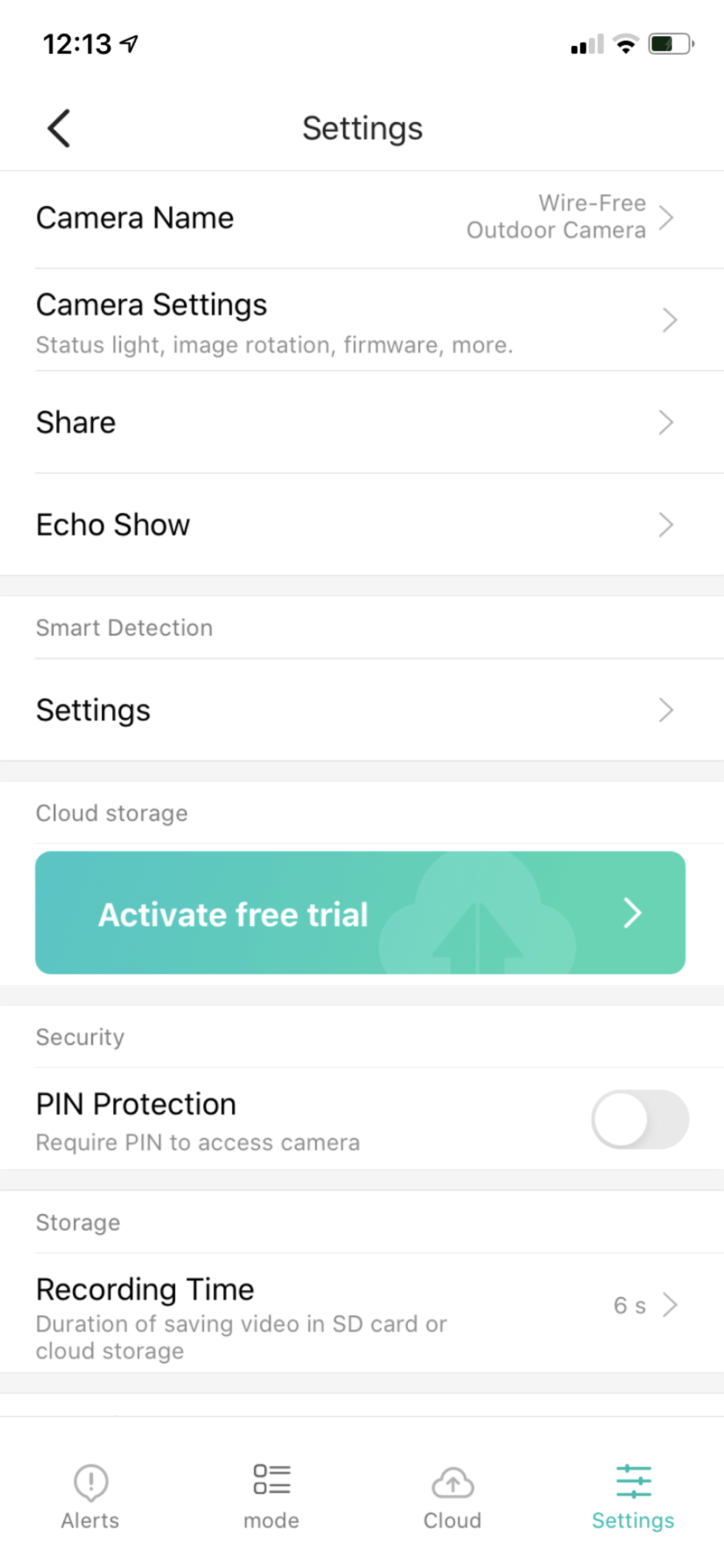 Users access all Kami camera features in app via Settings tab.
GearBrain
Camera Settings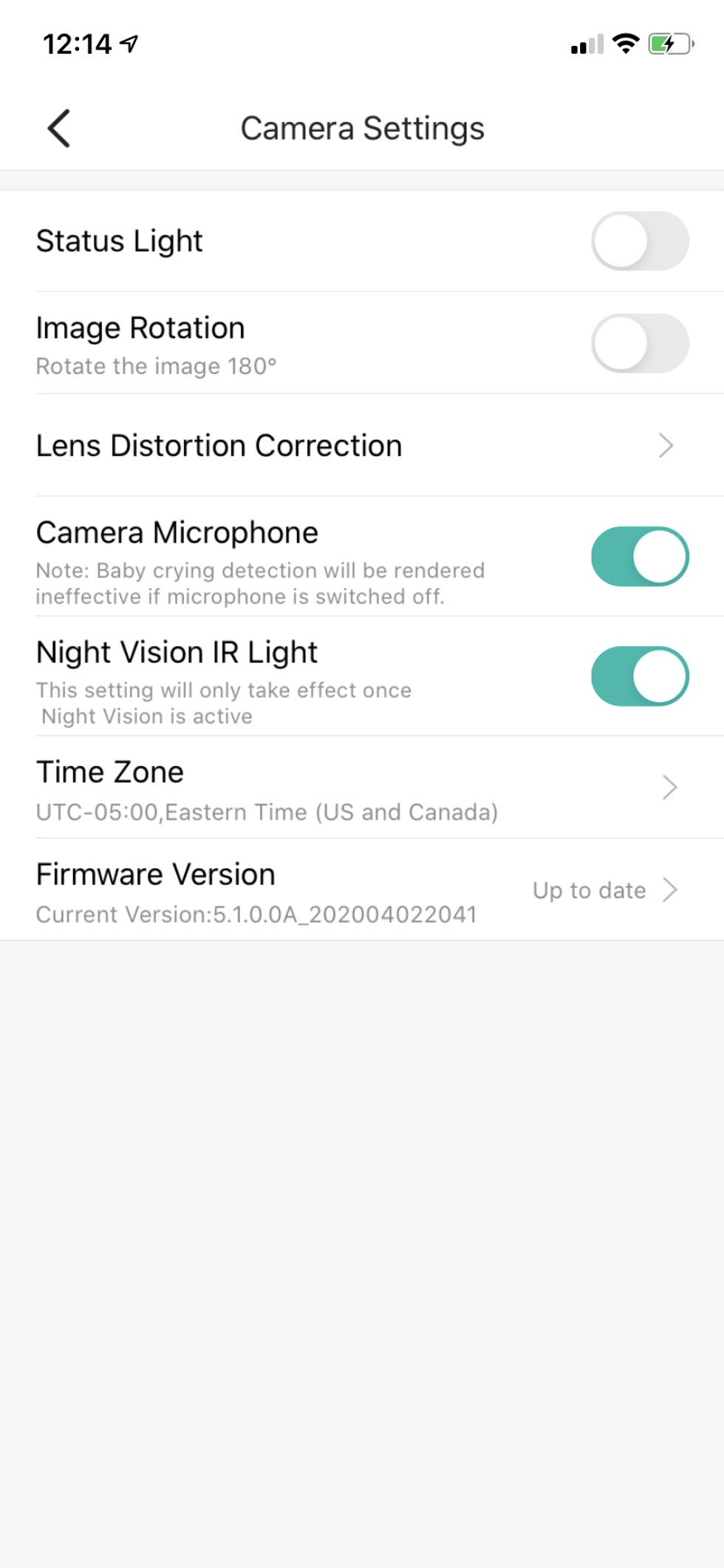 Users control and set Kami camera features in app. Features include Night Vision, time zone and more.
GearBrain
Alert Frequency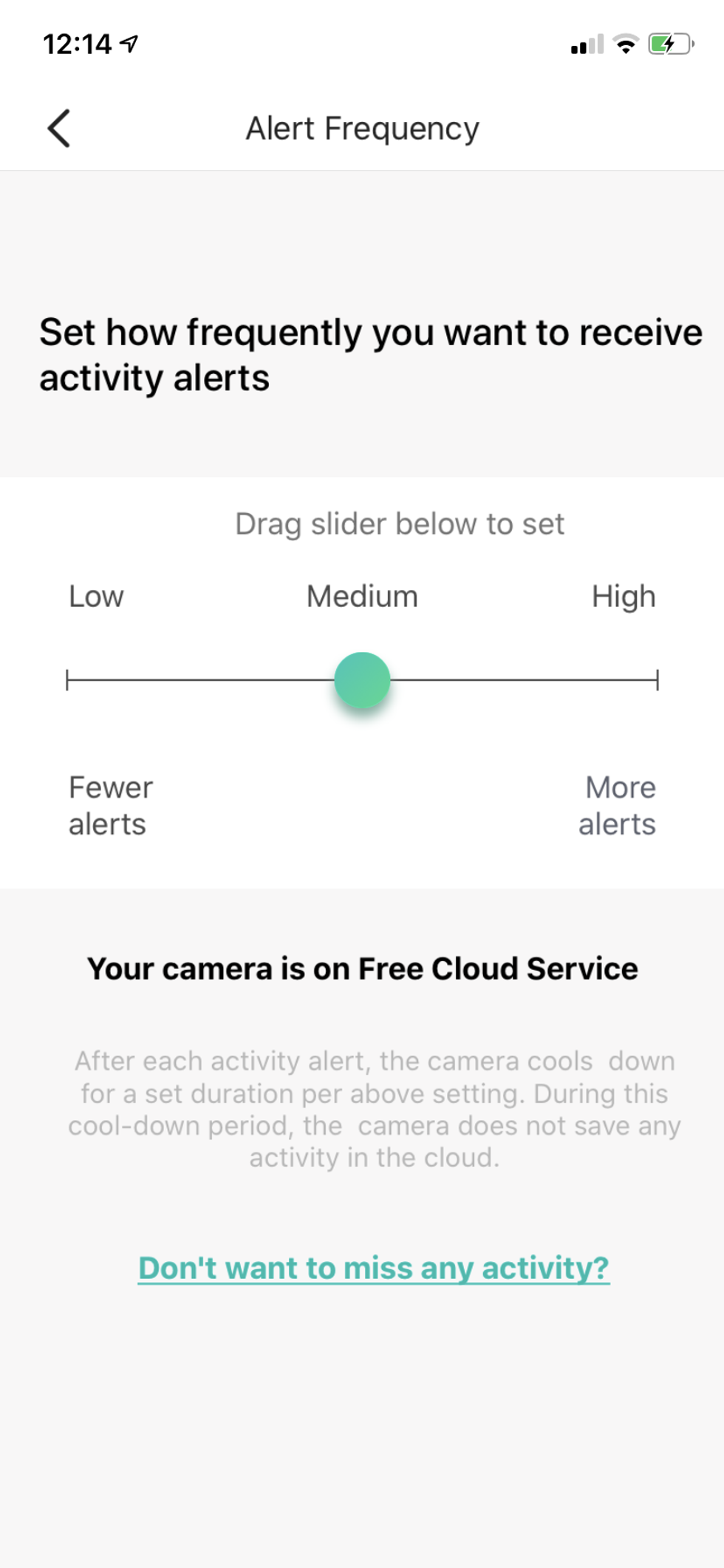 Kami makes it easy for users to set alert frequency in app by using drag slider format.
GearBrain
Performance
Based on our previous tests of other wireless and wired outdoor Wi-Fi security cameras, Kami preformed quite well. The long battery life surprised us, along with the quality of the live and recorded videos. Video was crisp and clean from both day and night capture, and we could access them from the mobile app, which you can view live in both portrait or landscape mode. In portrait mode, users can just move the handset to see what is outside of the frame, which is unique. You do have to hit the expand arrows on the screen to go into landscape mode, as that doesn't happen automatically if you turn your phone sideways, which we did find strange.
When we pinched the video to zoom in, the picture quality stayed clean and crisp, and didn't get grainy as we've seen in other HD quality cameras. However, two-way communication was not very clear. We heard a lot of static on the audio, and also discovered you couldn't adjust the volume. This is an area that needs improvement.

The PIR (passive infrared) motion detection worked very well, which is a good feature as it helps prevent false alerts from small animals or moving cars within the camera's view. We tested the feature, with dogs, small children and adults. This is a feature, though, that will impact the camera's battery life. Just something to note.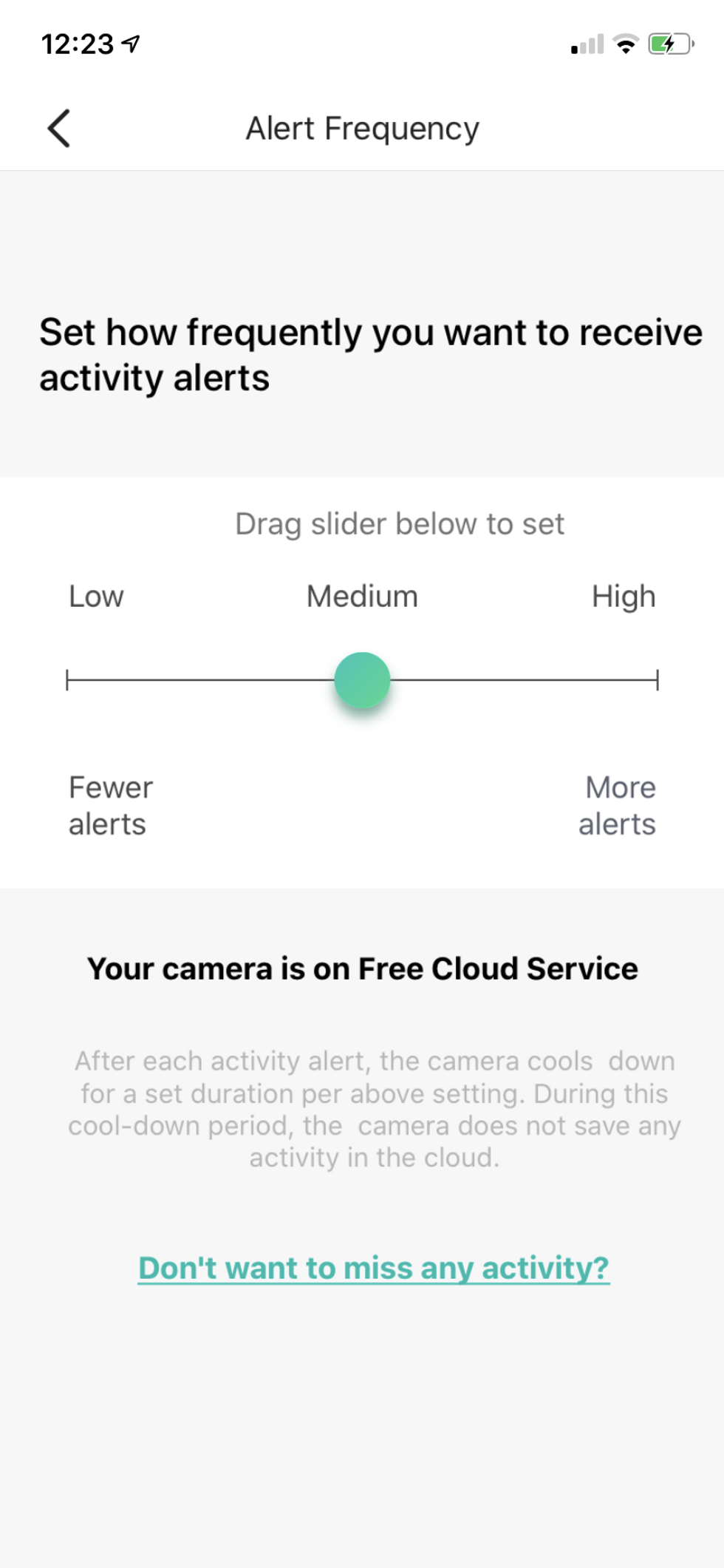 Users can set activity levels in Kami appGearBrain
In the app, you can set up the camera, activate smart detection and also recording time. You can create notifications for light, lens distortion correction, microphone, night vision IR light and image rotation. You can also drag the slider to select the amount of time your camera will record, although the options range from six seconds (best for your battery life) up to 60 seconds. If you're using a MicroSD card, you can monitor that storage in the app, as well as format the card. Finally, you can select the frequency of activity alerts you want to receive.
There are three settings to choose for activity alerts: low, medium and high. Be aware with each activity alert, your camera cools down for a set duration. During the cool-down period, your camera will not save any activity in the cloud — unless you subscribe to one of the premium plans.
One item that did standout to us is the size of Kami's rechargeable batteries, which we found twice the size of other camera's we've tested. You do get a charger and adapter with your camera. It did take us awhile to charge the batteries and recharge them as well.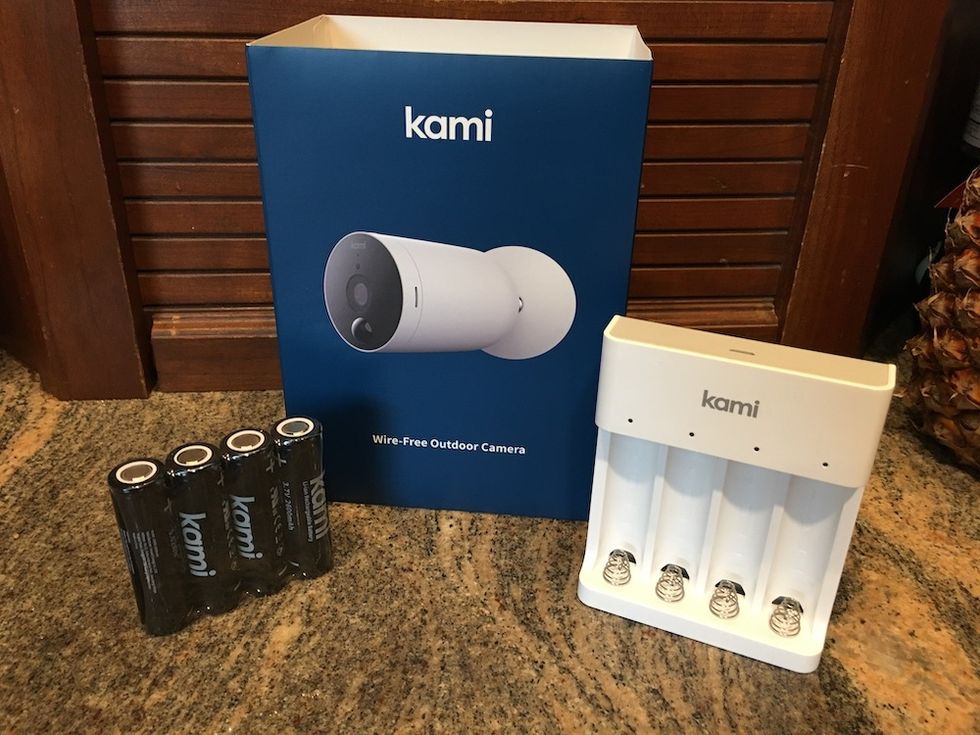 Size of Kami rechargeable batteries is quite large as compared to other rechargeable batteries used by other wireless security cameras.GearBrain
Cost

The Kami Wireless Outdoor Camera costs $84.99 and is available on the company's site as well as on Amazon ($69.99).
Kami Wireless Outdoor Security Camera, 1080P Wire-Free Battery-Powered Home Surveillance System with PIR Motion Sensor, Night Vision, Alerts, kami/YI Home App, Works with Alexa and Google Assistant
Summary
The Kami Wire-Free Outdoor Camera is a very good outdoor, Wi-Fi HD security camera. The battery life and video resolution are what makes this camera an attractive buy for someone who wants a battery-powered security camera that doesn't need recharging that often. You won't have to take down the camera frequently to recharge the batteries. We also liked the PIR motion detection feature to help prevent false alerts.
If you are looking for a security camera to pair with your existing home security system, this is not, however, the camera for you. It does not work with either professionally-installed and monitored systems like Vivint or ADT. It's not compatible with DIY-installed systems like blue by ADT, abode or Scout Alarm.
However, if you are just starting out and want to start building a customized smart home security system for your home, Kami is not a bad place to start. Kami does offer a Smart Security Starter Kit with base station which you can easily add along with professional monitoring and cloud storage, plus it's not expensive. The starter kit is only $59.99 without any monthly monitoring services. And if you're a renter, this is definitely a system to consider since you will be able to take it with you.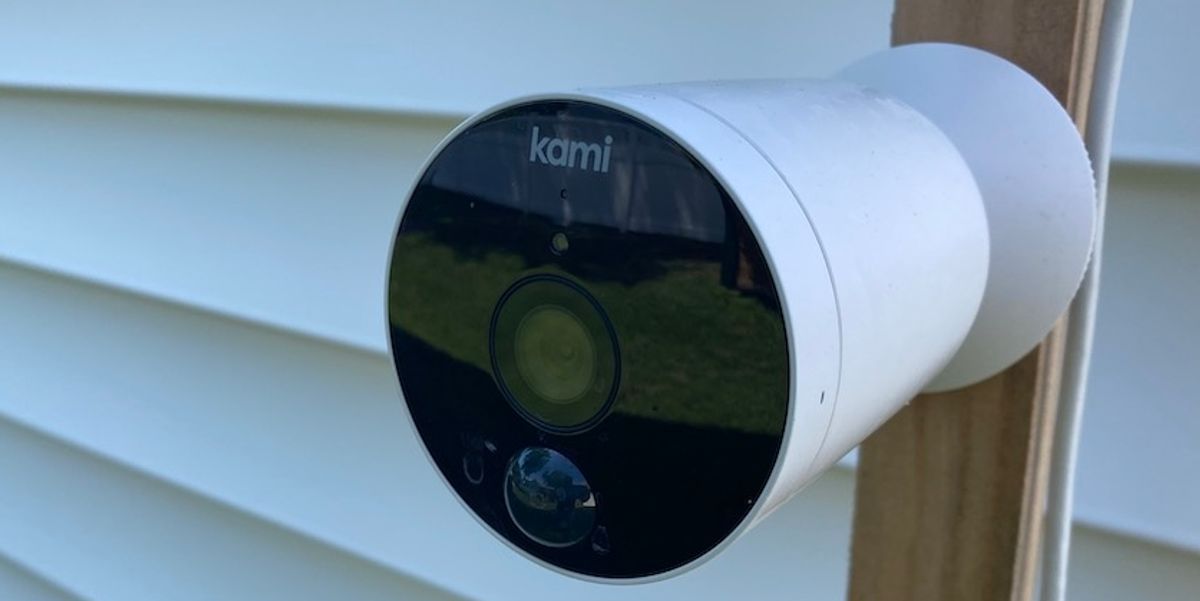 Kami is bullet designed outdoor wireless camera with exceptional video resolution.GearBrain
Pros:

Price
Battery life
Video resolution and PIR motion detection
Cons:
Lack of smart home integrations
Size of batteries
Poor sound quality – two way communication
Kami Smart Security Starter Kit with Base Station, Wireless Window and Door Entry Sensor, PIR Human or Pet Detection Sensor for Home Office Business Burglar Alerts Through Kami App
The 5 Best Questions To Ask Before Buying Security Cameras - GearBrain www.youtube.com
Like GearBrain on Facebook