Like GearBrain on Facebook
Most mornings, I come downstairs and find my Echo Dot speaker has been muted, its red lights meaning Alexa is not listening and will not respond when you say her name.
I open the Alexa app and, while I was out the previous evening, a recording of my housemate yelling: "Shut up, Alexa!" explains it all. Four people live in this house and our talking causes the Echo Dot to wake up and unintentionally reply when we say something similar to 'Alexa' on a fairly regular basis. I don't mind this too much, but friends and visitors are less lenient. We could change the hotword to Amazon, Echo or Computer, but I think these would cause far more accidental replies.
For what it's worth, a Google Home Mini also lives here, right next to the Dot, and almost never responds accidentally.
Back to Alexa. I use the assistant in the morning to switch on the lights, read out my daily briefing and play a radio station. I also regularly speak to her for work purposes, testing new smart home devices and figuring out the latest Alexa Skills.
The Dot, which lives on my desk at the back of the lounge and is connected to a speaker, has very little use in the evenings. So I decided to attach it to a smart plug, stopping Alexa working from when my housemates get home each evening, until they have left again the following morning.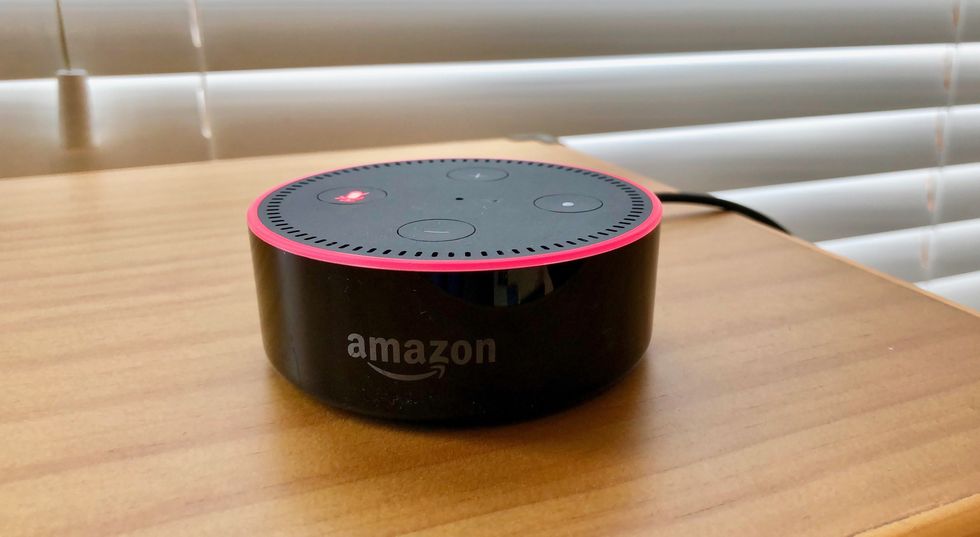 The tell-tale red light - Alexa has annoyed someone by speaking when they didn't ask her toGearBrain
You might see this as severely limiting Alexa's abilities, but I get enough use from Alexa during the day to justify switching her off in the evenings and overnight.
It also bothers me that three people in this house didn't ask for the Dot to be installed here and almost never use it. I appreciate how they might not want a microphone listening to them, even if it is by accident. Plus, I can always use the Sonos One's Alexa in my bedroom without it disturbing anyone.
Before we get to the instructions, I should explain that the Do Not Disturb function of the Alexa app does not do what I want in this situation. It will mute notifications and prevent the Echo from being called or dropped in on, but it does not stop Alexa from listening and replying when you don't want her to.
The simplest solution is to press the mute button on top of the Echo device, switching off the mic just as my housemate does after shouting at Alexa. But I wanted an automated solution.
How to use a smart plug to schedule Alexa
For this workaround, I used a TP-Link smart plug, but any Wi-Fi connected plug which can be scheduled will work just fine. You could even use a dumb plug with a physical scheduling dial if you so wish.
I renamed the plug 'Lounge Echo Dot' via TP-Link's Kasa app, then set the daily schedule.
My housemates and I tend to play video games or watch TV in the evenings, so there is little need for Alexa and her ability to play music, look up things online or adjust the Hue smart lights.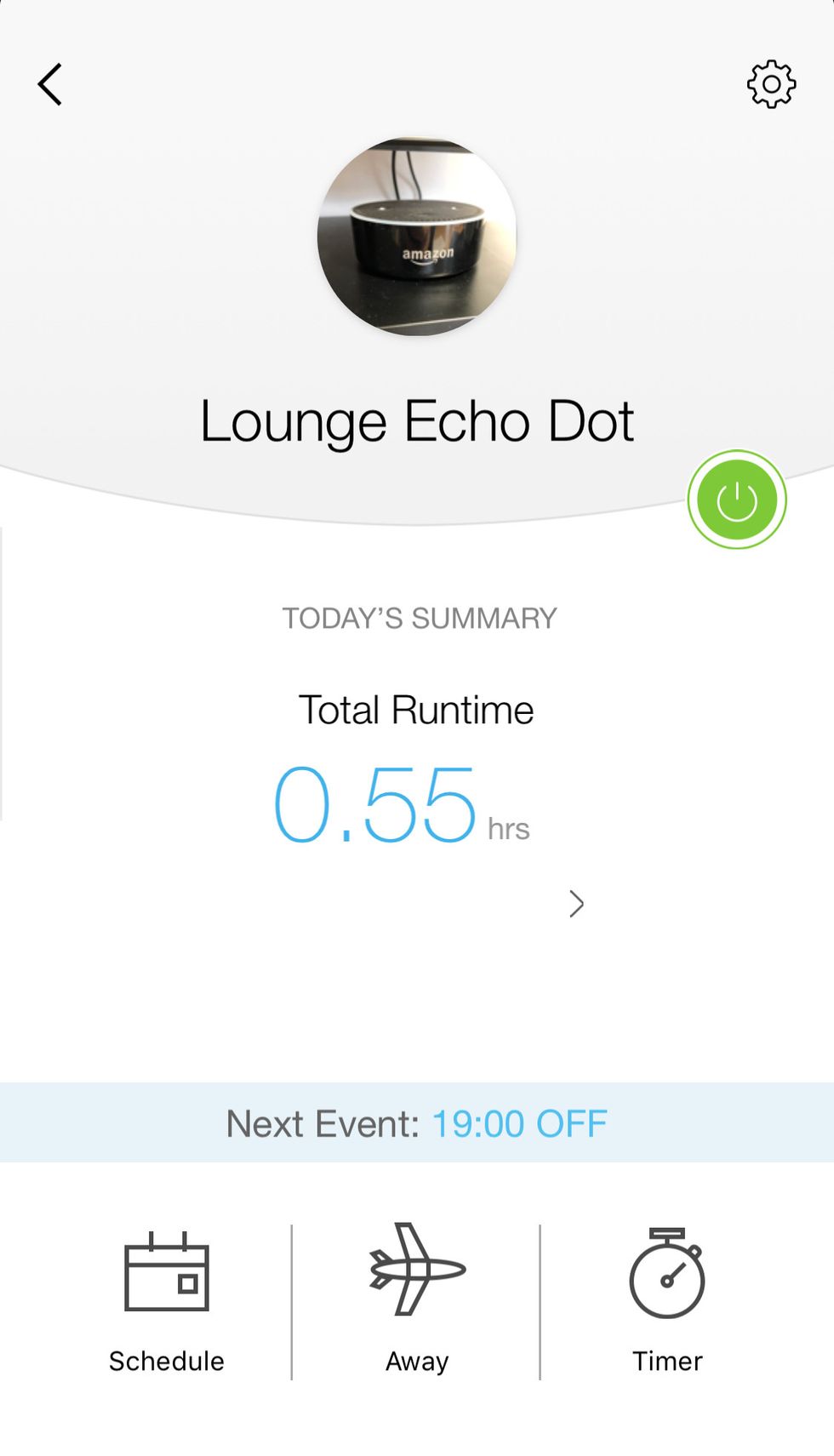 The plug is set to switch Alexa off in the eveningsGearBrain
So, as we are unlikely to use Alexa in the lounge after around 7pm, I set the plug to switch off at that time.
During the week I am usually downstairs at 8am, just as the others are leaving, so I set the plug to switch back on then. It takes about a minute for the Dot to wake up and reconnect to my Wi-Fi network.
The Kasa app allows a different schedule for each day of the week, so I set the plug to switch off later on Friday and Saturday, as I'm likely to still be in the lounge and perhaps wishing to use Alexa. Of course, anyone following this method can set the schedule however they like - and there is always a manual override switch on the home page of the app and on the plug itself.
With this setup I have an Echo Dot which is on and listening while I'm working, but which switches off and is no longer listening in the evenings and overnight. No more incorrect listening events, and no more housemates yelling at Alexa to shut up.
Can IFTTT provide a different solution?
Yes, but you will need to configure your own IFTTT applets and allow them to monitor your location via your smartphone.
First, you'll need to create an IFTTT account, then link this with the account of your smart plug - in my case that's my TP-Link account.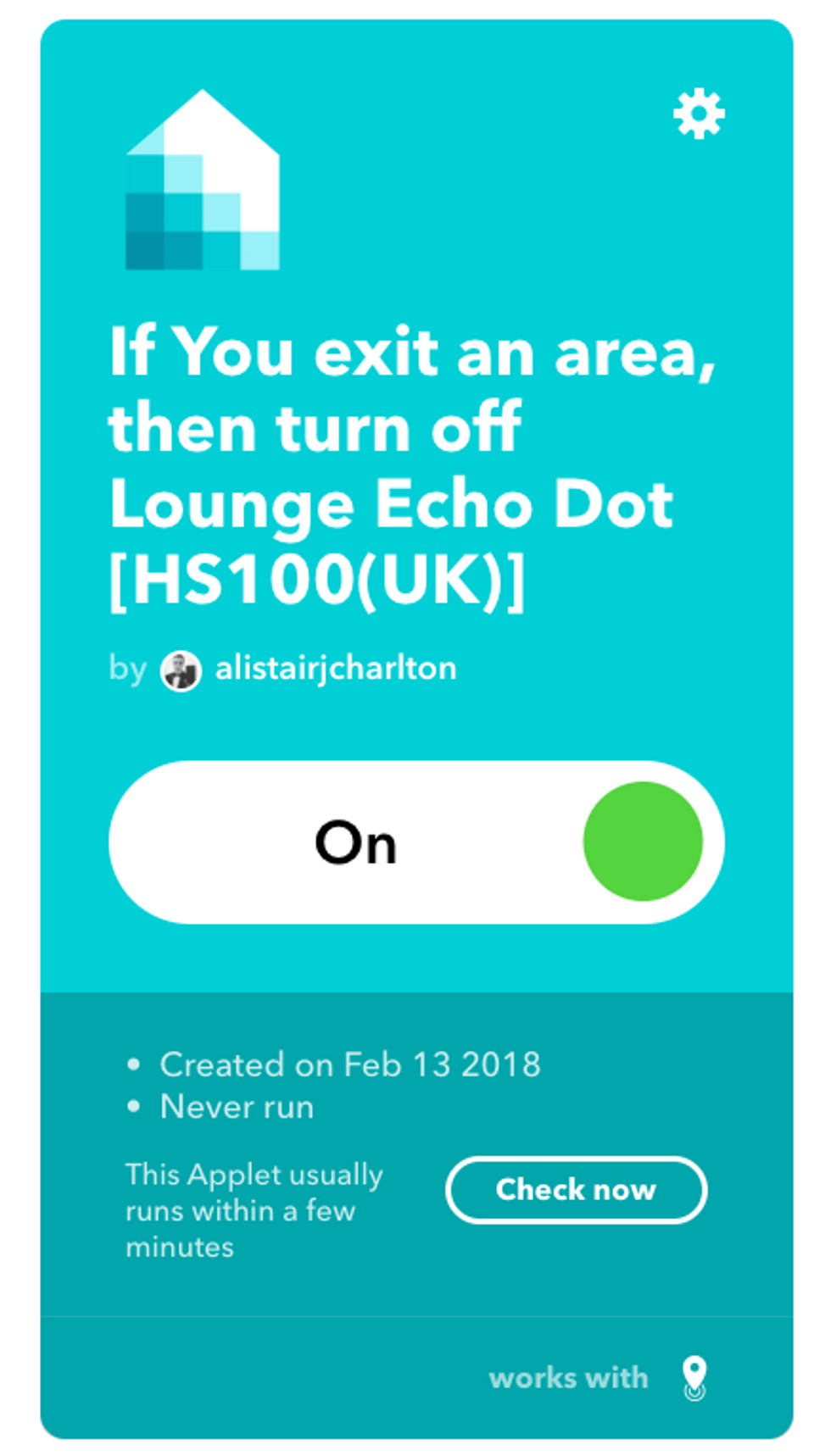 This applet switches the Echo Dot off when I go outScreenshot
Next, you will need to create two location-based applets - one to switch the plug on when you arrive home, and one to switch it off when you leave. You can then attach your Echo to that plug, safe in the knowledge that it will only be on when you are home.
With this setup, Alexa will not be listening when I am out. So if I go out for the evening my housemates will not have to deal with Alexa falsely trying to speak to them.
None of this is perfect, of course, and the idea solution is for Amazon to foolproof Alexa's hearing abilities. But until then, there are workarounds like smart plugs and IFTTT to help switch Alexa off when you don't need her, and restore harmony in your household.
Check out these GearBrain guides to unlock new Alexa features:
Like GearBrain on Facebook