Like GearBrain on Facebook
Alexa can already act as a useful copilot, thanks to the Echo Auto car accessory and the assistant's integration with cars by Audi, BMW, Ford and others.
But now Amazon is taking things a step further, with a pair of new features designed to make Alexa more useful in the car. More specifically, the updates see a car-friendly interface for the Alexa smartphone app that turns your phone into an Amazon-powered infotainment system, plus a new routine for Alexa to give you a briefing at the start of every journey.
Read More:
The updates come soon after Amazon announced the new 'Alexa, pay for gas' command, that makes paying for gas at participating stations as easy as speaking to Alexa.
Auto Mode

First, Auto Mode. This is an update to the Alexa smartphone app on iOS and Android that turns your phone into a secondary vehicle display.
Intended to replace your vehicle's own infotainment system, Auto Mode has a home screen with large buttons for opening Alexa's navigation, communication and music pages. These in turn have each been modified to have larger buttons and a simplified interface to avoid driver distraction.
We have asked Amazon if Auto Mode can be disabled while driving, or if there are safety measures in place to prevent driver distraction, and will update this article when we get a reply.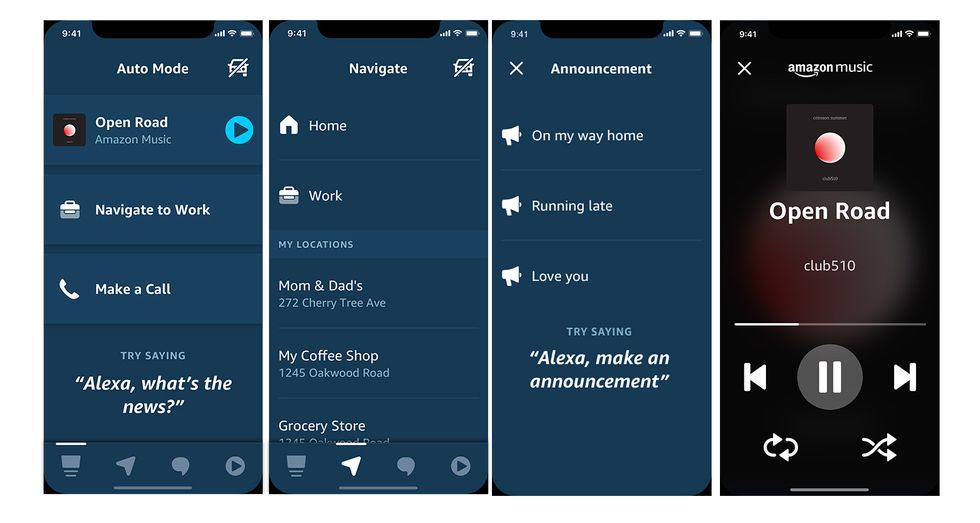 Auto Mode includes music, navigation and Alexa communicationAmazon
While the music playback and navigation pages of Alexa Auto Mode are self-explanatory, the communication page is more interesting. From here, you can use Alexa to call a contact, or interact with your smart home by dropping in on your Echo smart speakers, and making household announcements through all of your Echos at once.

Amazon suggests how you can either dictate a new announcement, or tap on a default one like 'on my way home'. Do that, and Alexa will deliver the message to your home.
As well as tapping through the app to get to what you want, you can speak to Alexa in the normal way. For example, you can say: "Alexa, announce, I am on my way home".
A new menu bar appears at the foot of the screen when using Auto Mode, with large icons to make it easy to switch between the play, navigate and communicate functions. Amazon says Auto Mode will roll out to Alexa users "in the coming weeks" and will be available in the U.S., Canada, Germany, France, India, Italy, Spain, UK, Australia and New Zealand.
'Alexa, start my commute'
Next up is a new Alexa routine called Start My Commute. This is an Amazon-made routine and joins a handful of other default routines that can be enabled in the Alexa app. It works on devices like the Echo Auto, as well as Alexa-enabled cars, and is triggered by saying "Alexa, start my commute."
Saying that prompts Alexa to read out the local weather forecast, alert you to local traffic updates, then ask if you'd like to listen to music or an audiobook, catch up on daily news, or play a car-friendly game.
As with other Amazon-made routines, once it has been enabled you can edit it to your personal preferences, for example by entering your commute details to make the traffic information more relevant.
Amazon says the Start My Commute routine will be available in the US in the coming weeks, but hasn't mentioned plans for an international roll-out at this stage.
See How Amazon Alexa Can Save You Money on Your Grocery Bill www.youtube.com
From Your Site Articles
Related Articles Around the Web
Like GearBrain on Facebook