Smoke poured from the keyboards of technology reporters and bloggers last week, as they furiously tried to keep pace with Amazon announcing scores of new products.
As it has done for the past two years now, the retail giant took a rapid-fire approach as it revealed a smorgasbord of new Echo and Ring products, ranging from new Echo smart speakers and earphones, to Ring security devices, smart glasses, a smart ring called the Loop, and a new Alexa-equipped oven.
Read More:
It was a busy event which bordered on parody as the announcements kept on coming. But now the dust has settled, we can take a step back and see more clearly what Amazon has done, and where we think it is trying to go next.
Firstly, it is clearer than ever that Amazon wants Alexa to be everywhere. It is going about this in two distinct ways; Alexa inside the home, and Alexa everywhere else. The first of these two is easier to understand and more fully-formed, so let's start there.
We have the new Echo and Echo Dot speakers, which will form the foundations of any Alexa-enabled smart home. When it comes to compact speakers like these, new usually means better and better means improved sound quality, extra volume, and a smart new look. The new Echo and its updated fabric covers looks good, and now promise Dolby sound technology with 360-degree audio.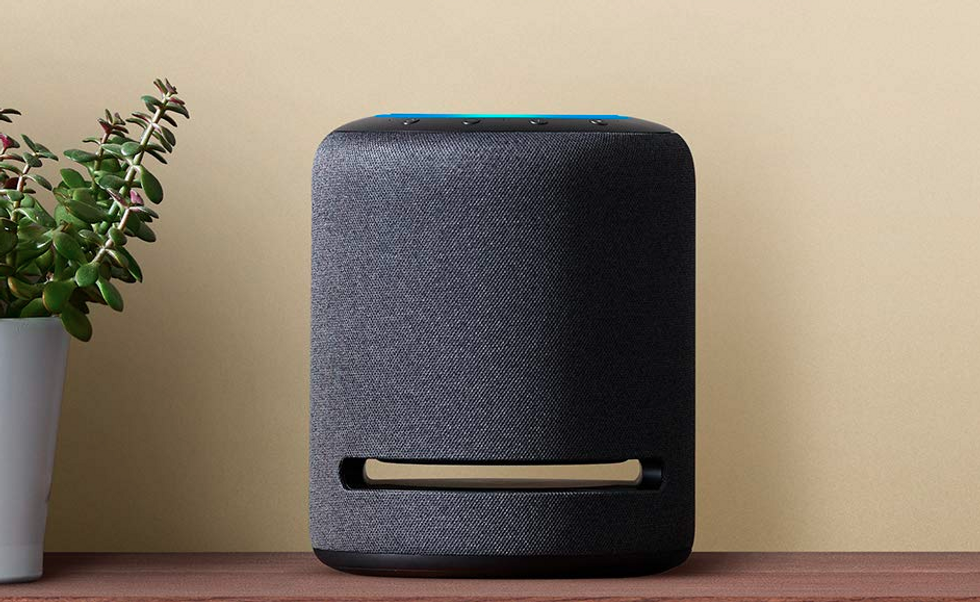 The Echo Studio has five speakers and offers Dolby AtmosAmazon
That said, the ability to pair the new third-generation Echo with the older second-generation Echo Plus suggests we're talking about a small audio upgrade, otherwise the stereo pair would sound strange and unbalanced.

The new Echo Dot looks exactly like the previous version, but now has a simple LED digital clock shining through its fabric. Clearly a bid to put Alexa on your bedside in a cheaper way than buying an Echo Show or Dot, this makes a great deal of sense.
Introducing Echo Studio - High-fidelity smart speaker with 3D audio and Alexa
Then we have the new flagship of Amazon's smart speaker range, called the Echo Studio. At $200, it is $50 more than the Echo Plus and twice as much as the new Echo, which itself carries a price double that of the $50 Echo Dot. So far, so very neat and orderly.

The Echo Studio is a clear shot at the Apple HomePod and Sonos One, promising quality, room-filling audio and intelligence from Alexa. There's also the option to pair two Studios up with a Fire TV and creating a Dolby Atmos home cinema system.
This is great for TV viewers invested in Amazon's services, but falls down if you want to watch something not available on Fire TV - like anything from Apple, or your Blu-ray player or video game console. A sound bar from Samsung or LG makes most sense here, as that will work with any content you throw at it. That said, the Studio is a smart way for Amazon to get into the home cinema market.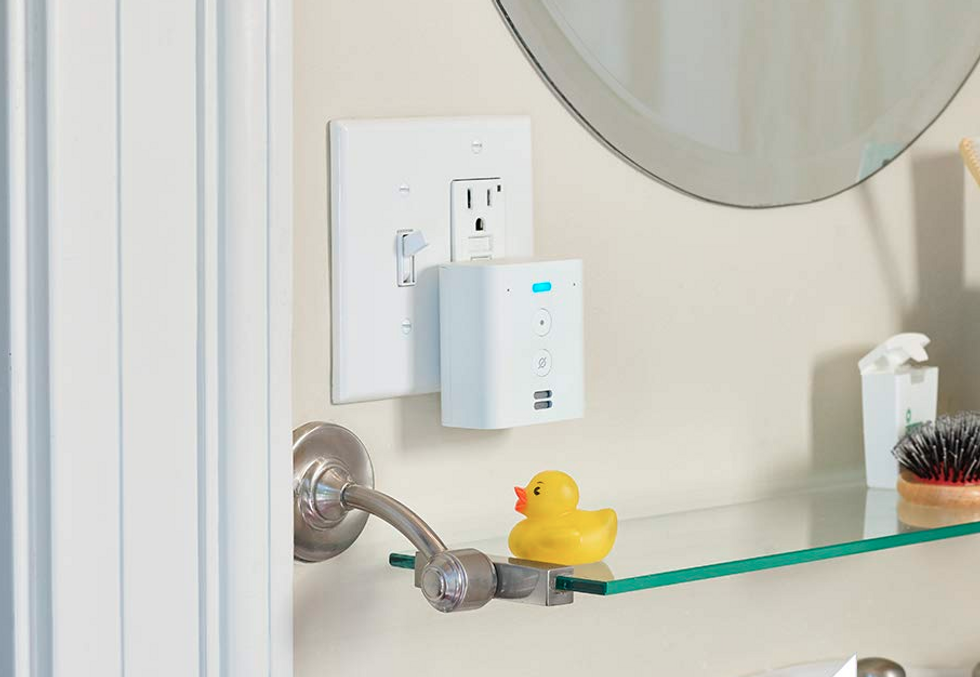 Echo Flex puts Alexa into every wall outletAmazon
The final new smart home product to catch our eye is the Echo Flex. A bit like a smart plug with Alexa built in, the Echo Flex fits to a wall outlet and has a microphone and (admittedly small) speaker. It can be used to speak to Alexa from anywhere in your home - particularly from rooms which don't already have a proper smart speaker, or where the installation of one would be unnecessary.

We can see the Echo Flex being bought by Alexa users who want to bring the voice assistant into their garage, for example, or hallway, or bathroom. We know how niche this sounds, and Amazon surely knows it too, but at $25 the Flex is a cheap way to put Alexa where it wasn't before.
Introducing Echo Flex - Plug-in smart speaker with Alexa
This is all part of Amazon's bid to bring blanket Alexa coverage to our homes, where the assistant can be interacted with from anywhere and at any time. If you need to add to your to-do list while in the workshop, you can; if you want to check your calendar while chatting to a roommate in the hallway, you can do that too. Our homes can be draped in ubiquitous Alexa as they already are with Wi-Fi.

Crucially, Amazon's bid to fill our homes with Alexa coverage makes us less likely to pick up the one device it doesn't have much control over - our smartphone. Because it doesn't have the deep integration with our lives that Google and Apple have with Androids and iPhones, Amazon would rather we talk to Alexa instead of reaching into our pockets and firing up an app.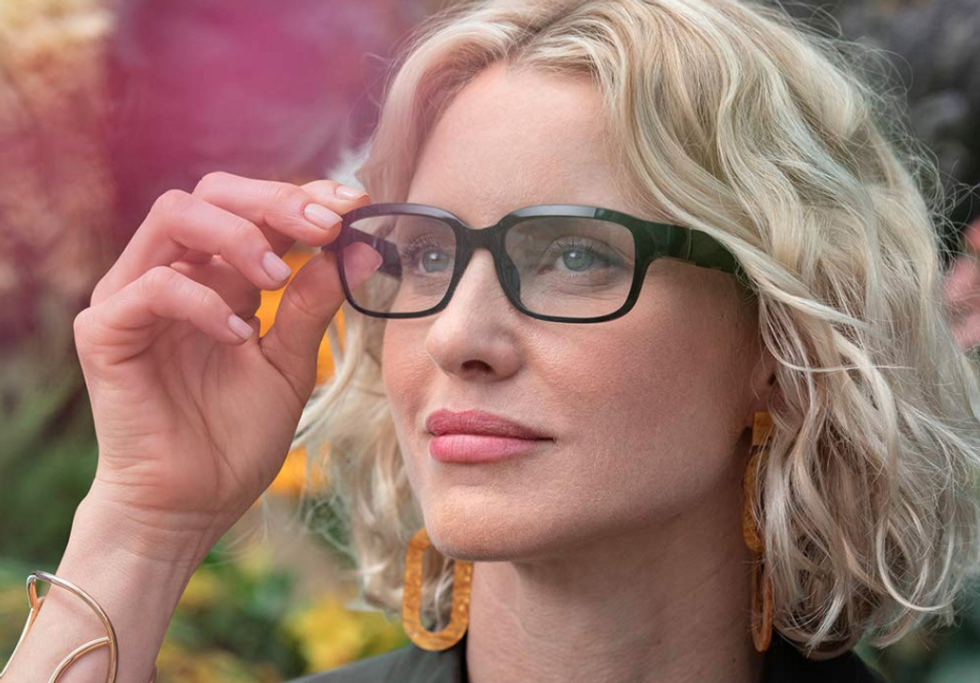 Echo Frames are Alexa-equipped smart glassesAmazon
To address this, we have the other bunch of Alexa devices Amazon revealed last week. More experimental in nature, these include the Echo Frames smart glasses and Echo Loop smart ring. Both of these are available by invitation only, just as the Echo Look was until Amazon slashed the price and stopped talking about it (although it remains on sale).

As such, the $180 Frames and $130 Loop are for the tech lovers and Alexa die-hards only - for now. Described by Amazon as 'Day One Editions' these are likely little more than pre-production devices which will be beta tested by Amazon's biggest fans. But, one day, they could transition into products with the mass-market appeal of other Echo products.
Their main feature is, of course, access to Alexa all day long and wherever you are, via Bluetooth and your phone's internet connection. Interestingly, the Echo Frames also work with Google Assistant if you have that running on your phone.
Wearables like this are a far trickier sell than home-bound smart speakers. Talking to a voice assistant beyond closed doors has quickly become a perfectly normal thing to do, either on your own or in front of other people. It doesn't feel particularly weird to ask Alexa to switch on the lights, adjust the heating, or set a timer for the oven.
But outside, in front of strangers, talking to a device which doesn't appear to be connected to an assistant in the way a smartphone or even a pair of headphones are? This is a very different sell, and it will take a lot of encouragement from Amazon for consumers to buy the Frames and Loop - then even more persuasion to actually use them in public.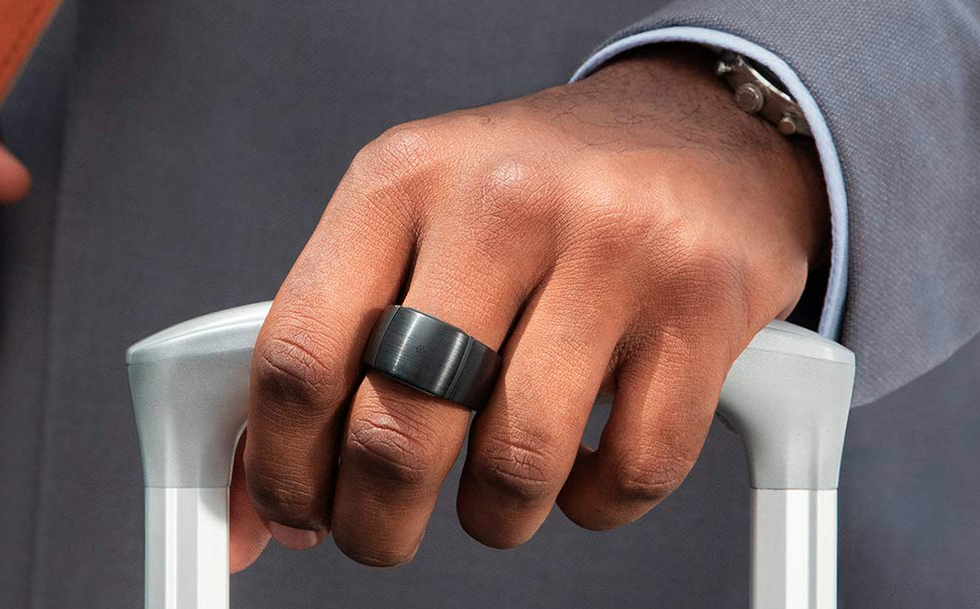 Echo Loop is an Alexa-equipped ringAmazon
There is some practical sense here, in that there are occasions when hands-free access to Alexa while outside the home would be helpful. But these are surely few and far between - and remember, the audio abilities of the Frames will only go so far. If you want to listen to music properly, you'll want some headphones - which may already offer less socially-awkward access to Alexa anyway.

So now the Frames are for when you want to speak to Alexa, but can't reach for your phone, are away from home, and don't already have some headphones on. And you're not in the car either, because that's a whole other place Amazon wants Alexa to succeed, primarily with the Echo Auto.
Battery life is also a concern here, just as it was with Google Glass when it first tried to make smart glasses popular. This subject is so nuanced that Amazon has written 79 words on battery life instead of giving a single number. The headline figure is 14 hours, but only if volume is limited to 60 percent and your typical day includes:
40 Alexa interactions
45 minutes of music, podcast or other audio payback
20 minutes of phone calls
90 incoming notifications
Alternatively, the battery will last for just three hours of continuous audio playback at 60 percent volume, then takes 75 minutes to charge.
Echo Wall Clock - see timers at a glance - requires compatible Echo device
As we said, Frames and Loop are 'day one' products which might never make it to maturity the way the Echo speaker range has. They might be completely missing from Amazon's 2020 new product bonanza - or, they might grow into version two and go on sale to everyone.

These are the gambles Amazon is in the financial position to make, and while there is still momentum behind Alexa (despite recent privacy concerns), we don't blame it for making hay while the sun shines. Amazon missed out on the smartphone boom, so of course it's throwing everything behind what it thinks could come next. We can't hold anything against it for that.
But, today at least, Alexa in the home makes far more sense than it does outside - and that is partly down to Amazon never quite cracking the smartphone. Alexa relies too heavily on the phones of Google and Apple to stand on its own two feet. But how that will all work out is for another day.
For now, Amazon is clearly bursting with ideas for Alexa and, while some will inevitably fail, the Echo speaker range is proof that some ideas stick. Give it a year or two, and we'll see if Frames and Loop can be given the same credit.
Check out The GearBrain, our smart home compatibility checker to see the other compatible products that work with Amazon Alexa enabled devices.

7 Tips Everyone Needs to Know About How to Use Amazon Alexa and Google Assistant Enabled Devices www.youtube.com