Buying toys is one of the best parts of the holiday season, a favorite for anyone who has a child in their lives, or someone who is at least a child at heart. These nine toys are GearBrain's picks of the year, we've tested — and yes, played — with everyone of them. They're not only fun, though, everyone of them taps into coding, robotics or STEAM (science, technology, engineering, arts and mathematics,) making them more than a toy — but that can be our holiday secret.
3Doodler Juku Create+
The Juku Create+ from 3Doodler lets you draw in the air — and keep your creationGearBrain
Let's be direct: 3Doodler is a toy that lets you draw in the air, turning scribbles or designs you invent into fabricated objects in just seconds. The $74.99 Juku Create+ is one of 3Doodler's more advanced kits, a way to build 3D creations of a harder sort of plastic than some of the company's more beginner kits. What's nice about 3Doodler is that you can be drawing, and building, in minutes. The pen gets plugged into a standard outlet, and the plastic straws are pushed through a tube inside. There is even an app that lets you follow templates, for those a bit more inhibited about their creative side.

Sphero Specdrum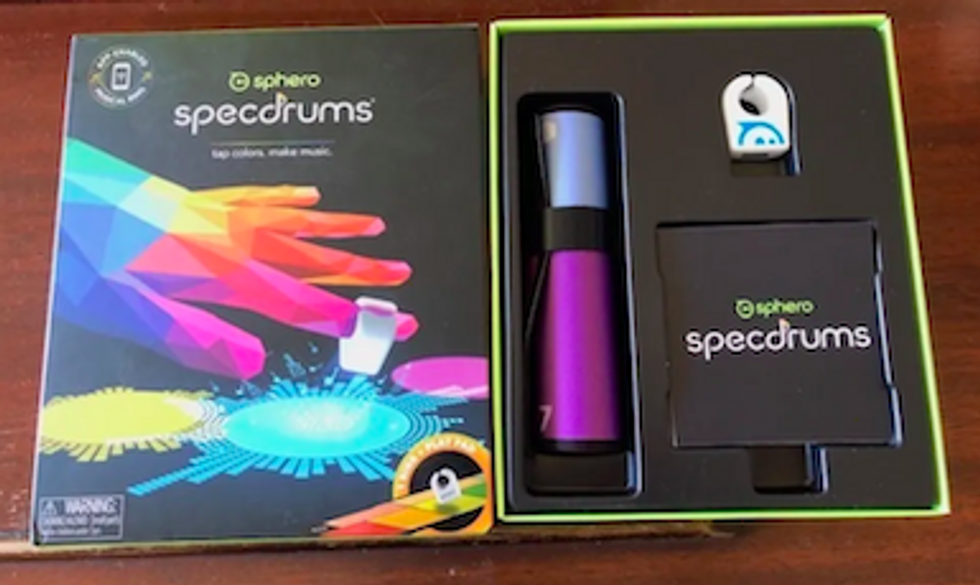 Sphero Specdrums turns your tapping into a musical compositionGearBrain
For anyone who has ever played air guitar (yes, we're talking to you), Sphero Specdrums is going to be love at first beat. The digital ring connect to an app — and then to your headphones — turning your taps, clicks and beats into digital soundtracks instantly. You can record your compositions and mix tracks through the app — all through the $99.99 plastic wearable. You even get a keyboard, which can be changed to play any instrument you choose.
Cubelets Curiosity Kit
GearBrain builds a Cubelets flashlight with the Curiosity Set www.youtube.com
The simplicity of this kit is its appeal — a set of robotic blocks that when put together into different pairings can roll, light up and twist about. The kit is $249.99, but what you can build is endless. The blocks are strong, and can work on their own or through a smartphone app — one even links up to Bluetooth. We built a flashlight — but the ideas? Never-ending.
Jimu FireBot Kit
GearBrain plays with the Jimu Firebot Kit, dragon robot www.youtube.com
Look, I think all we have to say is, "dragon robot," and you should be sold. But we'll also tell you how the Jimu Firebot Kit is a dragon robot you get to build yourself, one that flaps its wings, roars, and flies across the floor fast. With a motion sensor and LED lights built in (well, you build in), you can also code the robot in the Jimu app to look like it's breathing fire, and avoid obstacles as its soars. The $129.99 kit is part of Ubtech's Mythical Series — and the dragon is worth every penny.
Kano Star Wars Coding Kit
GearBrain plays with the Kano Star Wars Coding Kit www.youtube.com
The timing of this toy couldn't be better with the original Star Wars saga about to end this December. The $79.99 Kano Star Wars Coding Kit lets you make your own motion sensor (yes, you get to use the Force) which ties into an online app where you can learn to control a lightsaber, fly a TIE fighter or write your own game. Programs can also be shared in an online sandbox, a way to see if your coding prowess is enough to join the Resistance.

Piper Computer Kit 2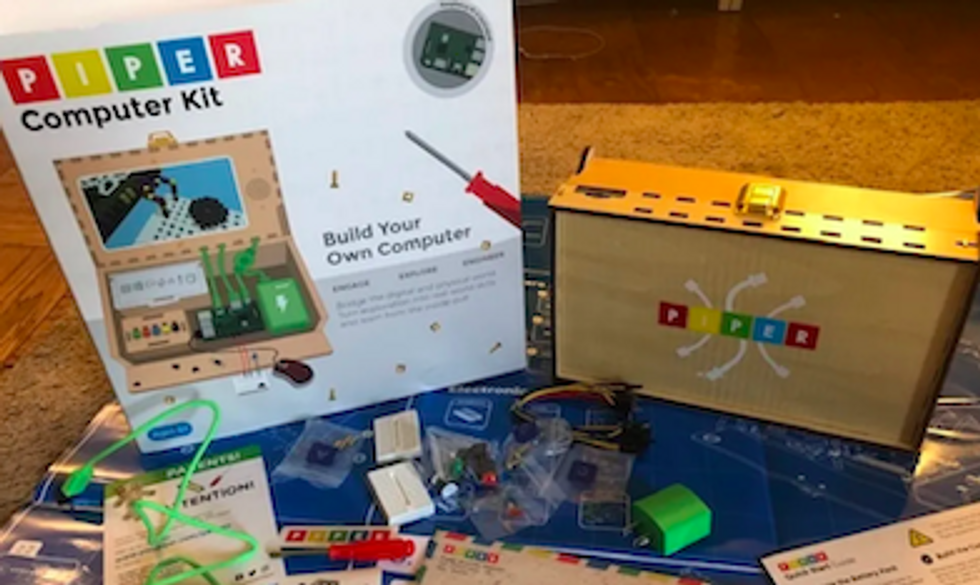 The updated Piper can be built in a day, and then plays games through the StoryMode, or teaches children to codeGearBrain
We are big fans of Piper, a Raspberry Pi-based computer that you get to build yourself and then play Minecraft-based games on the display. The updated kit comes with extra breadboards and cables, perfect for kids who want to experiment on their own. Plus children can use Blockly code to create their own programs to test as well. Piper can even be taken apart — we're talking about a few screws here and there — which means the ways you can use it are endless.

Osmo Super Studio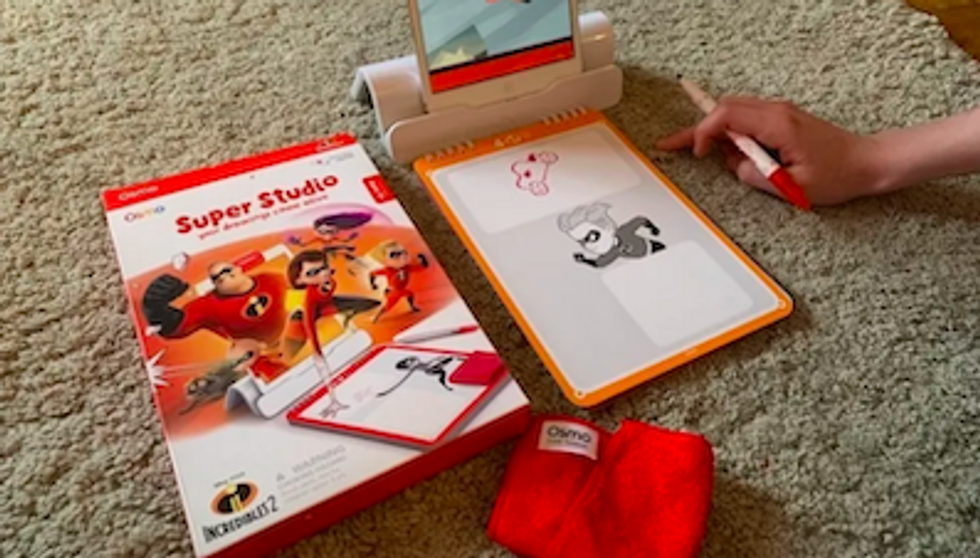 Draw your favorite cartoon character, and then watch them come to life in a animated shortGearBrain
Have kids who love to draw? Osmo Super Studio lets them turn their artistic bend into something a bit more animated. The toy is both a drawing book and a display, as a child draws their character, the appear in the short films on the screen. You can pick up the device with a bundled Disney story for about $60, and there are many to choose from including Frozen 2, Mickey Mouse, The Incredibles and one that revolves around Disney's princesses. This one is best for younger kids, ages 3 to 9.

Codey Rocky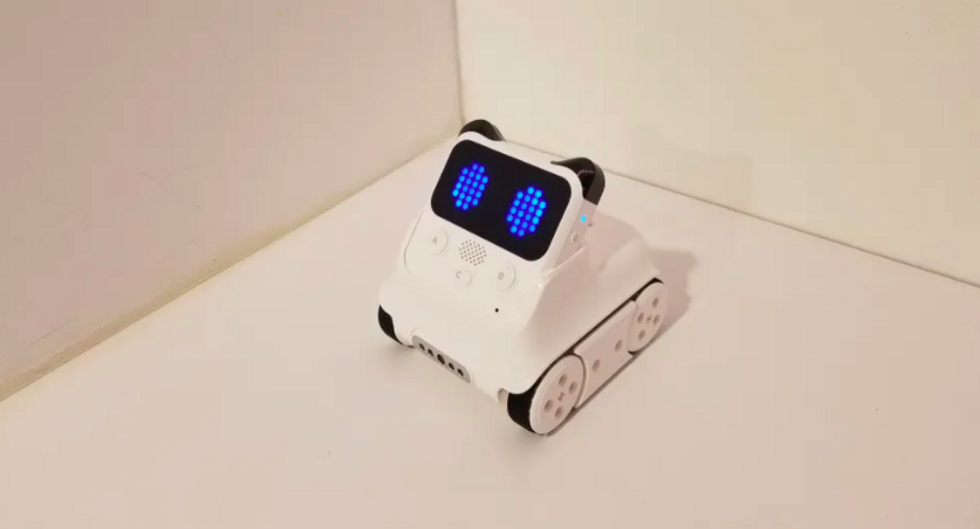 Codey Rocky is a cute robot that kids can program in ScratchGearBrain
A sweet little robot, the $99 Codey Rocky is basically pre-built, a small controller with a screen, and a chassis that moves on treads. You can program Codey Rocky using Scratch, but also see what that looks like in Python. There are beginning programs already built to use, multiple sensors including those that detect light and colors.

DJI RoboMaster S1
GearBrain: Hands on with the new DJI RoboMaster S1 www.youtube.com
While the most expensive toy on our list, the $549 DJI RoboMaster S1 is also one of the more fun — a programmable robot that you can customize, and also shoots gel beads from a turret. You also get to put this heavy duty toy together on your own, and you also get to program it — although with DJI, coding is far more sophisticated that just drag and drop. While you can use that simple beginning programming style, you can also peel back and see how each of the actions, from Twister to Dodge, looks in Python. This is one of those toys that's sure to get a huge reaction when unwrapped this holiday season.