One of the new smart lighting devices to hit the smart home market is café lights. What are smart café lights? Smart café lights are a string of rather big LED bulbs you hang outside and can be controlled via a wireless connection using a smartphone or remote control. Café lights are decorative and can enhance any outdoor space. You might have seen some of these light strips at restaurants or a friend's house. The LED bulbs are rather large compared to the type of outdoor lighting we are used to seeing. Recently, Jasco sent us their new Enbrighten LED Wi-Fi Smart Café Lights to test. After weeks of testing, here is how these new smart café lights performed on a smart home.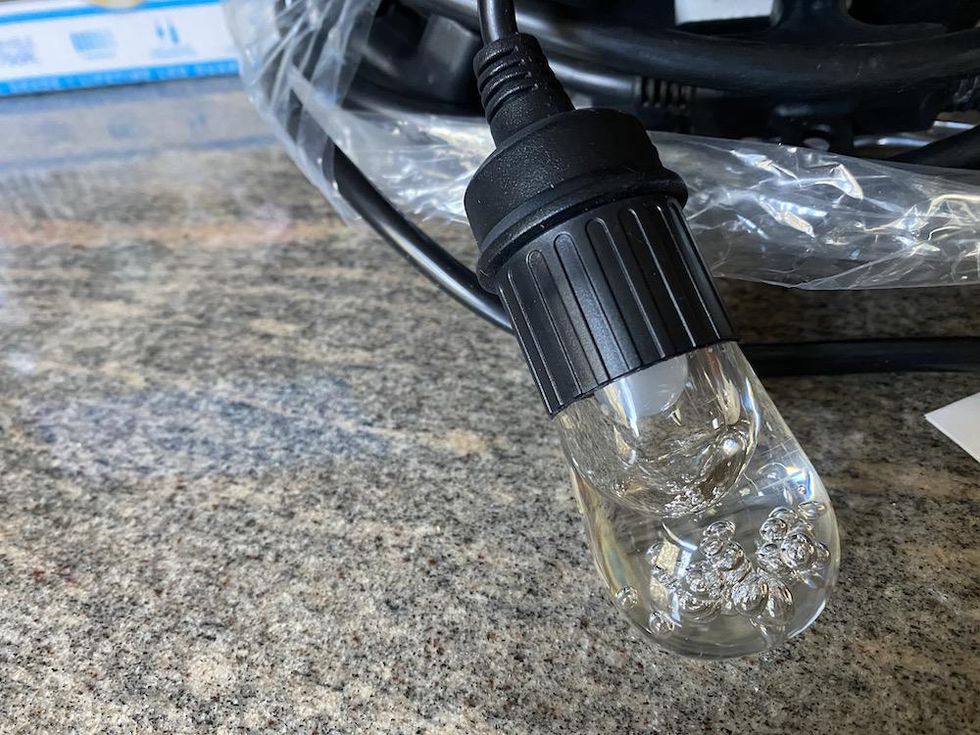 Enbrighten Smart Cafe Light LED bulbs are weatherproof and shatterproofGearBrain
Performance of Enbrighten Smart Café Lights

After testing these smart café lights for the past few months, we can say they passed our tests for outdoor smart lights. The Enbrighten Smart Café Lights are heavy-duty LED bulbs with solid construction and weatherproofed. After several heavy rainstorms, we checked the LED bulbs and none of them had water inside. This was nice to see since we heard one of the biggest problems with café lights is water damage due to leaky bulbs.
During our test, we tested the smart café lights outside on a fence. We were able to get power to the lights using an extension cord which was plugged into one of our outdoor outlets. Though the look of an extension cord running to the smart café lights did not look pretty, at least hanging the Enbrighten smart café lights was easy. The smart café lights are not lightweight but come with mounting tabs that allow you to connect a wire or hook to secure the light strip in place. After testing other café lights, we can say Enbrighten's mounting tabs made it easier for us to hang the light strip on a fence versus the other café light strips.
However, when it came to connectivity, we did find the pairing process to be challenging at first. We tried setting them up outside on a fence at least 30 feet from our house. They did not connect so we had to bring them inside to pair them with our home Wi-Fi router. After connecting, we were able to install the smart café lights outside even though we had a weak Wi-Fi signal. We would recommend using Enbrighten's Smart Café Lights with a good Wi-Fi signal.
We also tested the different mode and effects for these smart café lights. The app does provide a suitable number of options for you to find the perfect type of lighting for your outdoor space. We settled on the "Red, White, Green" mode which is a Christmas themed mode along with the strobe effect. It helped our backyard look more festive for this time of year.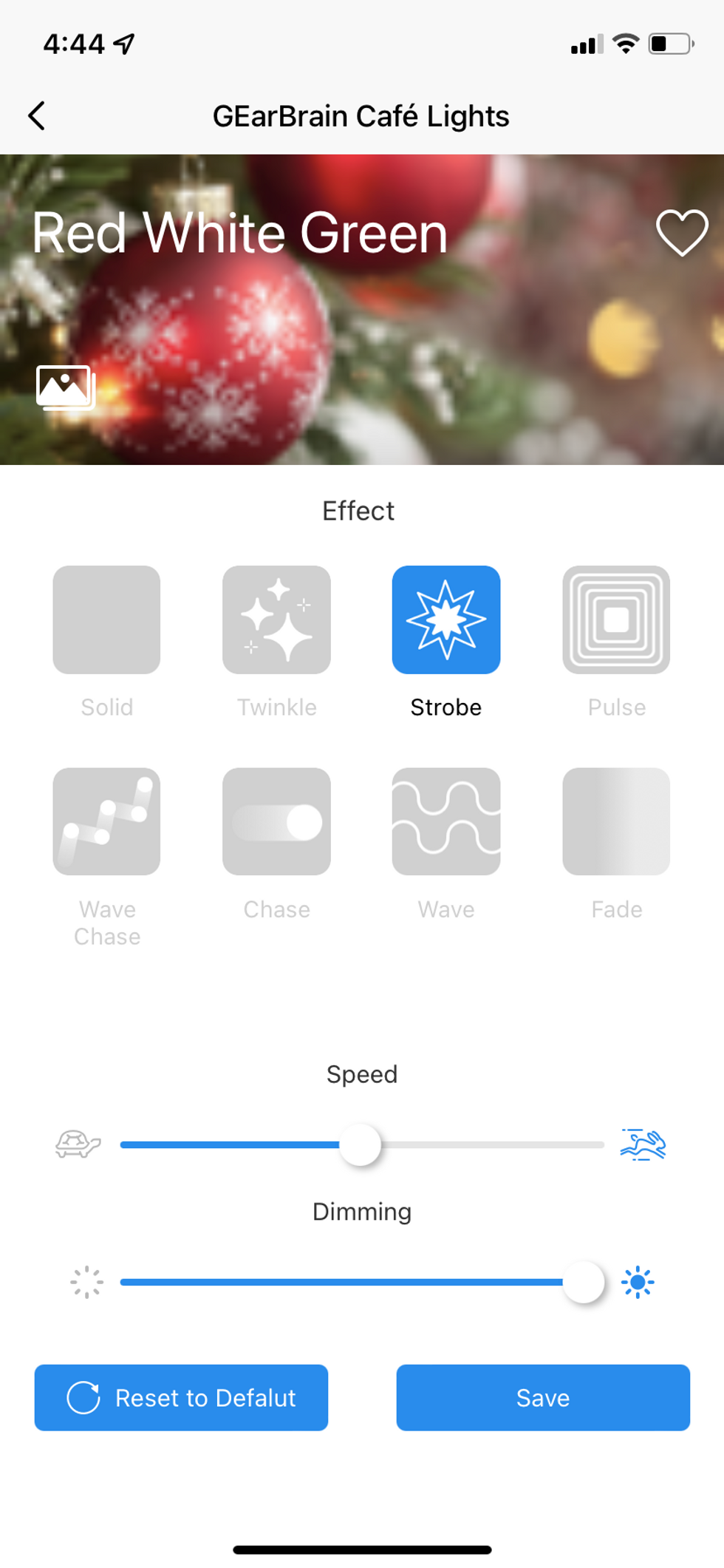 Setup special effects for each mode in Enbrighten app.GearBrain
When setting up our modes and effects, we tested setting up schedules for the smart cafe lights to go on and off. This feature helps differentiate smart café lights from standard café lights with a remote control. In the app under Schedule, you can choose Presets to have your lights go on and off at specific times of the day. You can choose Evening, Morning and Dusk to Dawn. We liked how each of these Presets can be customized to meet your needs. You can't do this type of scheduling with café lights that come with a remote control.
How best to use smart café lights? Smart Café Lights are expensive decorative lights strips which come on stings of 12 or 24 LED Wi-Fi light bulbs. They can be setup and controlled remotely using your smartphone, tablet or voice. If you have an outdoor space you want to add decorative lighting, like a patio, porch, balcony, outdoor kitchen, BBQ area or gazebo, smart café lights are a good smart lighting option. They have a certain look which some users might not like, but you customize them to provide the optimal mode lighting for any occasion any time of the year. You just need to make sure you have two items nearby: a power outlet and good Wi-Fi signal.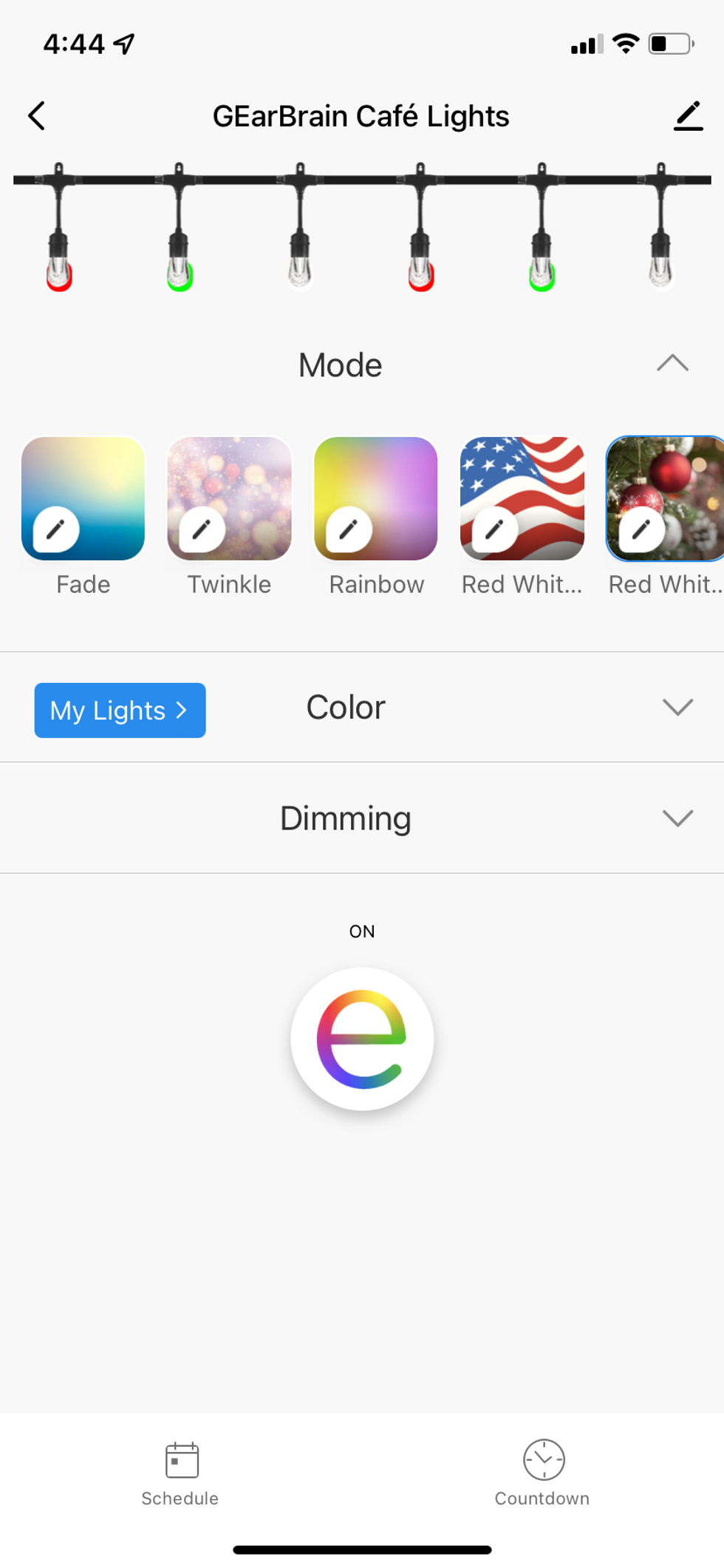 How to select modes in Enbrighten app for Smart Cafe LightsGearBrain
Summary
After testing the Enbrighten Smart Café Lights on a real home for the past few months, we liked how these smart café lights performed. They are built to withstand harsh weather whether it be hot or cold. The LED bulbs did not leak or fill up with water. They all worked as advertised and provided a large variety of lighting modes and effects to help us find the perfect decorative lighting for our outdoor space.
The Enbrighten app is easy to use and setting up voice commands using Amazon Alexa and Google Assistant enabled devices was simple. We had no issues. The only obstacles that we found from testing these smart café lights which might stand in your way from using Enbrighten Smart Café Lights or any outdoor smart lights will be power and connectivity. You will need an outdoor outlet nearby and must have a good Wi-Fi signal.
If power is your problem, Enbrighten does offer an outdoor outlet, Enbrighten Outdoor 6-Outlet Wi-Fi Smart Yard Stake. It costs $42.99 and will provide you the power you need to run your Enbrighten Smart Café Lights. However, you will still need an outdoor outlet to plug.
For connectivity, a good Wi-Fi signal is needed to operate Enbrighten Smart Café Lights. First, check the location's Wi-Fi signal to make sure you have enough signal bands to connect your smart café lights with your home Wi-Fi router. If you don't, a Wi-Fi extender might be needed. If you do have a good signal, we can assure you these smart café lights can help you find the ultimate lighting experience for your outdoor space in no time.
Pros
Easy to setup
Wide Variety of Preset mode and effect options
Solid construction (Commercial Grade) and Weatherproof
Work with Amazon Alexa and Google Assistant voice platforms
Can add additional strips to cover 750 feet.
Cons
Price – not cheap
No solar power option
No Apple HomeKit integration
Check out The GearBrain, our
smart home compatibility checker
to see the other compatible products that work with Enbrighten,
Google Assistant
and
Amazon Alexa enabled devices.
How to Find Products in The GearBrain, Our Compatibility Find Engine for Smart Devices www.youtube.com