Like GearBrain on Facebook
Once just sophisticated timers you could use to control lights remotely, today smart plugs can control almost anything you plug into them from a coffee maker to a desk lamp, using an app, or even your voice. Some smart plugs have also evolved into range extenders, to help extend your Wi-Fi connection throughout your home, like a new smart plug from Enbrighten Plug-in Zigbee Smart Switch, which we just tested. Here's our thoughts on how well it worked with other smart devices including Amazon Echo and Google Assistant-enabled products.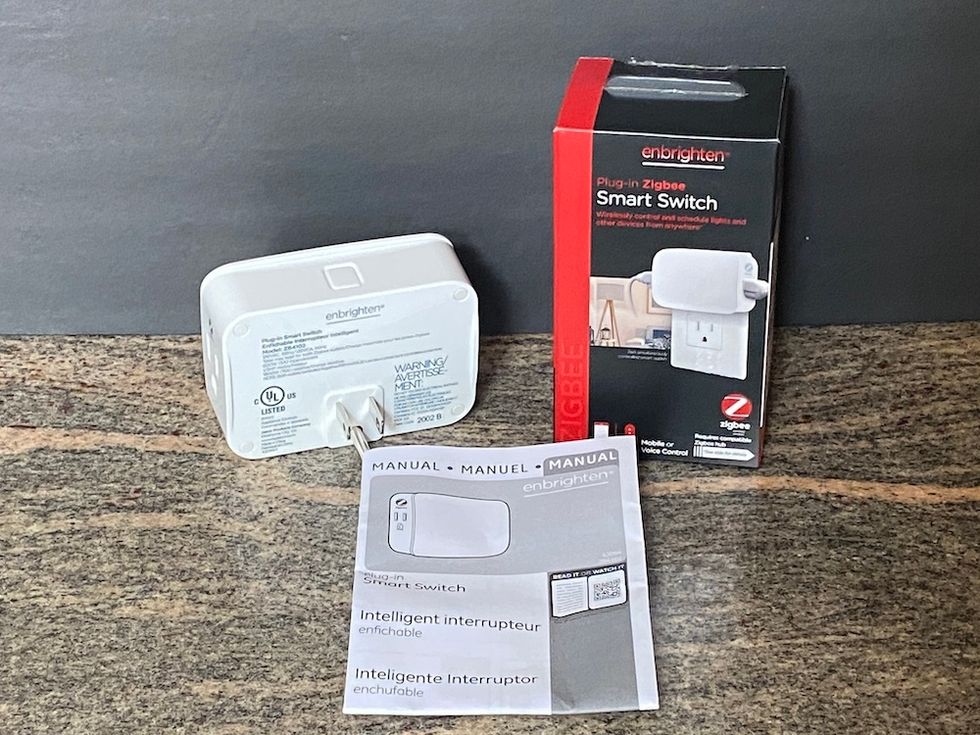 Enbrighten Plug-in Zigbee Smart SwitchGearBrain
What is the Enbrighten Plug-in Zigbee Smart Switch?

The Enbrighten Plug-in Zigbee Smart Switch is a smart plug which wirelessly controls and schedules your lights — or really any device — from anywhere. This smart plug works with dimmable LED, CFL, and incandescent halogen bulbs. It also works with any indoor outlet and you can control devices using an app or your voice.
Do note that in order to have full remote control of your Enbrighten Smart Switch plug, you will need a compatible Zigbee 3.0 hub. The plug works with compatible Zigbee 3.0 hubs, which means you'll also be able to link, via voice, to Google Assistant or Amazon Alexa-enabled devices. Alternatively, you can use select Amazon Echo products with built-in Zigbee hubs, including the Amazon Echo Plus (1st Gen), Amazon Echo Plus (2nd Gen), Amazon Echo Show (2nd Gen) 10.1 inch screen and Amazon Echo Studio. Also, the all-new Amazon Echo (4th Gen) is compatible since it has a Zigbee controller built-in as well.
The design of Enbrighten Smart Switch is sleeker than earlier versions of Enbrighten smart plugs, which means it's not as bulky, the plug only covers one of your wall outlets, and you can easily fit this behind furniture, like a desk. The smart plug comes with two outlets on either side of the device and a manual on/off program button which is on top of the plug, making it easier for you to manually control the plug if needed. The two additional outlets is a smart move, adding one extra outlet in your space, which now, too, can be controlled from anywhere through a Zigbee hub.
Enbrighten's new smart plug can act as a range extender, which is new feature we are starting to see in smart plugs. These extenders repeat the signal from the device, or from your router, up to 150 feet. And then, when you connect the smart plugs to your Zigbee hub, the smart controls can also be extended beyond the range of your Zigbee network, all throughout your smart home. That's a great feature especially for anyone who has a big home.
Smart home integrations

Enbrighten is compatible with a wide range of smart home systems and devices, but the smart plug only works with Zigbee compatible devices. Note though that the company does sell other wireless smart plugs that work on Wi-Fi, Bluetooth and Z-Wave wireless connections — and all of their smart plugs are compatible with Amazon Alexa and Google Assistant-enabled devices. However, as we mentioned, you're going to need to link the Enbrighten Smart Switch through a Zigbee 3.0 compatible hub, if you want to be able to use Alexa and Google Assistant voice commands to control anything plugged into it.
Who makes Zigbee 3.0 compatible hubs? Amazon, as we mentioned, has Alexa-enabled devices that work as hubs. But Samsung SmartThings too has a hub which will work as well. (See our review of Samsung SmartThings Hub (3rd Gen) here.)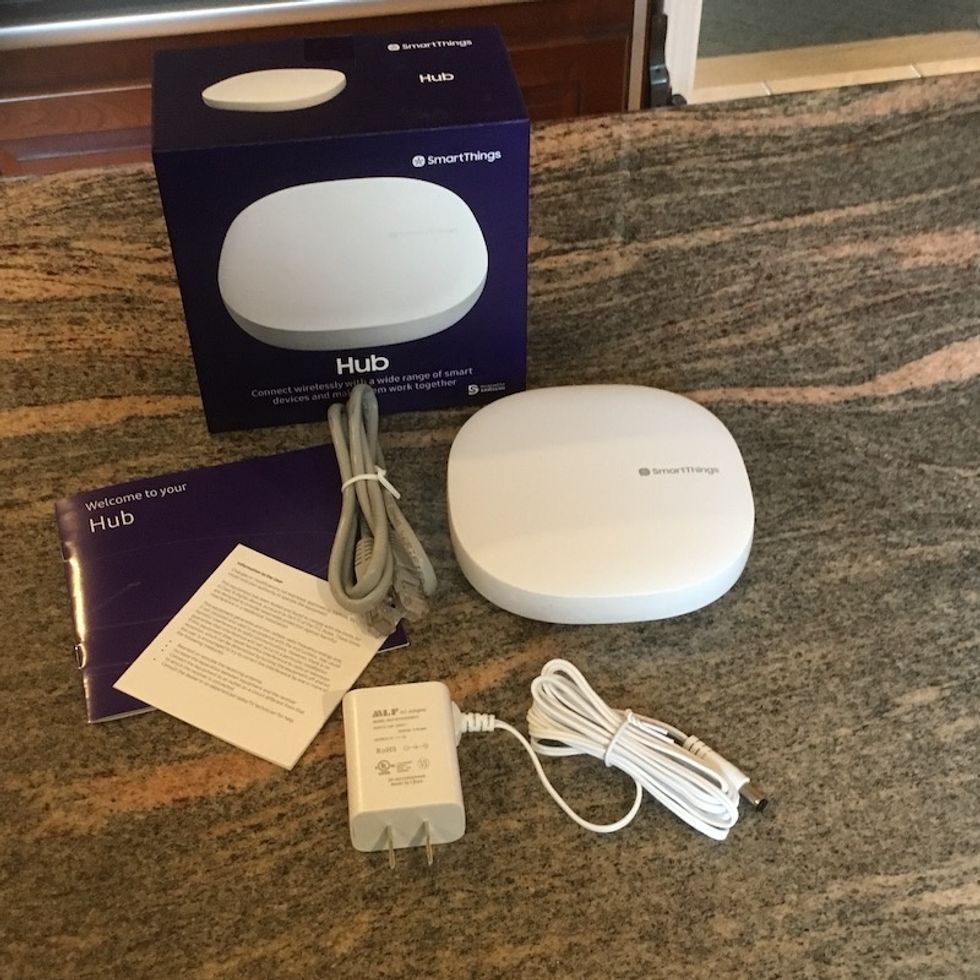 Samsung SmartThings Hub, 3rd Gen Review, an all-in-one smart home controller assets.rebelmouse.io
Setup

We installed the Enbrighten smart switch quickly and easily. You can follow the directions supplied in the box or scan the QR code on the side of the box and watch a short installation video. You don't have to download an app, and instead you're going to pair the plug to your Zigbee hub. We recommend following set-up instructions that came with the Zigbee hub, and also keeping the smart switch box nearby as you might need an install code, which is located next the QR code on the box.
Performance
For our testing, we used the Samsung SmartThings Hub (2018) to connect and control our Enbrighten Smart Switch. We set up the switch, and found the plug functioned as a smart plug should. We also tested the Wi-Fi extender, by testing the plug upstairs in a room far from the router. It worked well, picking up the signal even with that distance between the plug and the router.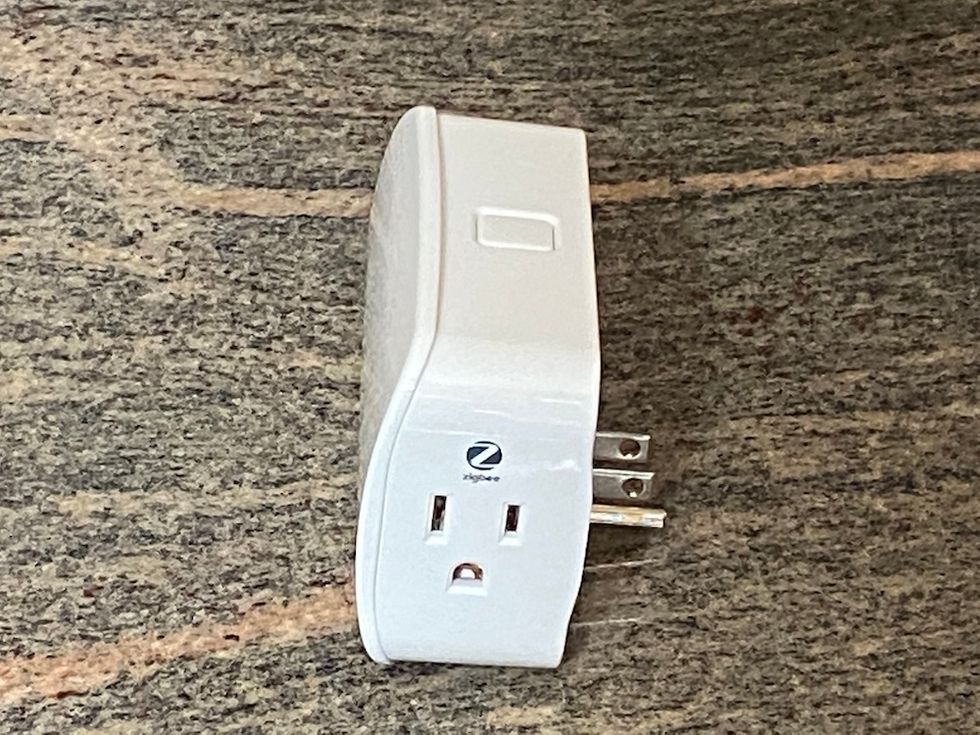 Enbrighten Zigbee smart plug has two outlets on either side and is sleek enough to only cover one of your wall outlets.GearBrain
Cost

The Enbrighten Plug-in Zigbee Smart Switch costs $37.99 and is available on the Jasco website or on Amazon.
Summary
Enbrighten is a brand owned by Jasco, a leading manufacturer of smart devices including switches, plugs and outlets. They have products that work over Wi-Fi, Bluetooth and Z-Wave wireless connections. The Enbrighten Plug-in Zigbee Smart Switch is the company's first smart plug for the Zigbee community, and this plug performed similarly as other Enbrighten smart plugs have that we've tested in the past, pair easily. This is a simple device, one that can help create a robust ecosystem of smart home devices in your home, and can work with voice assistants including Google Assistant and Amazon Alexa, with compatible Zigbee hubs.
Interestingly, you don't need to download an extra app to use the Enbrighten smart plug. Instead, if works with a hub, which manages the device, and we think this is a smart move. Many people already have devices that act as smart hubs, from Samsung SmartThings to Nexia, and even your home security systems (i.e. Alarm.com), can control your smart home. Smart voice assistants can be used as hubs too, such as the Amazon Echo Plus which doubles as a hub with Zigbee built-in, as well as the new Amazon Echo (4th Gen.) This helps to streamline the way people organize their phones and lives, by having one less app you need to download, register with, and maintain.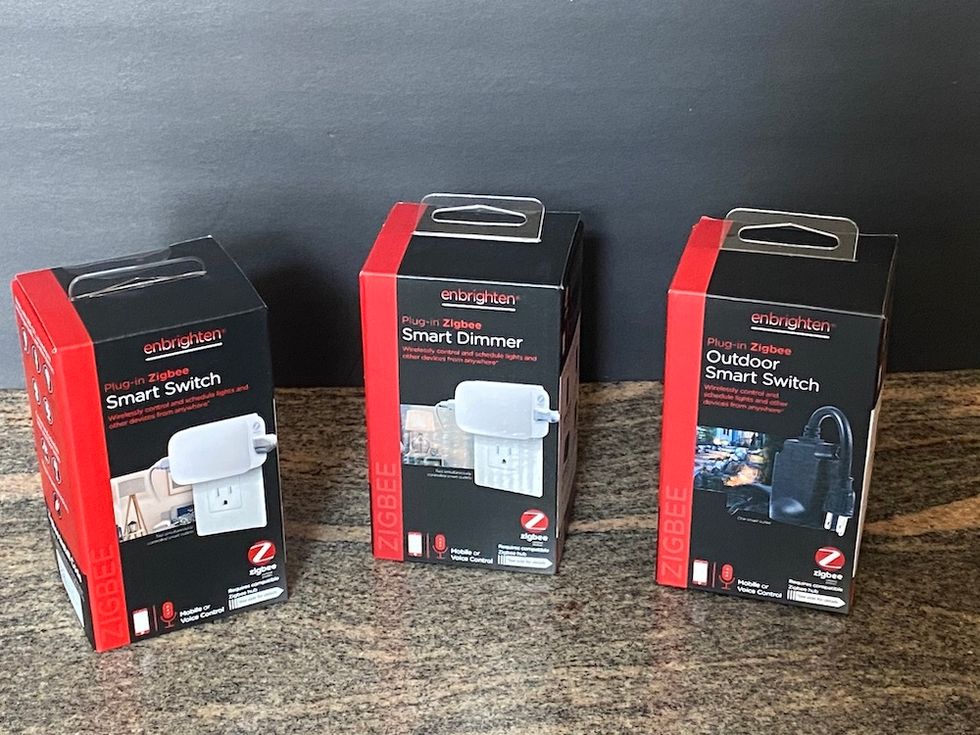 Three new Zigbee smart plugs by enbrighten: Smart Switch, Smart Dimmer and Outdoor Smart Switch.GearBrain
Enbrighten also redesigned the smart plug in a way we think improves how you'll use their device, with a more streamlined look that covers only one outlet, yet gives you two in return for an additional appliance, like a lamp.

Who should buy this smart plug? If you are not on a Zigbee connection, or don't have a Zigbee compatible hub, this is not the smart plug for you. But if you already own a Zigbee hub, or have Amazon Echo Plus, and want a good streamlined smart plug that can add an additional smart outlet to your home, Enbrighten Smart Switch is a reliable product for you to buy, and one we would recommend you consider.

Pros:
Sleeker design
Two grounded outlets
Robust smart home integrations
Cons:
Price
Zigbee-only control
Need Zigbee Hub for Google Assistant and Amazon Alexa voice control
Enbrighten Zigbee Smart Light Switch, Dual Outlet Control Plug-In, Pairs Directly with Echo Studio/Echo Show 10/Echo Plus 1st & 2nd Gen, No Wiring Needed, White, 43094
Check out The GearBrain, our smart home compatibility checker to see the other compatible products that work with Google Assistant and Amazon Alexa enabled devices.
Introduction of The GearBrain, The First Compatibility Find Engine for Smart Devices www.youtube.com
Like GearBrain on Facebook