Like GearBrain on Facebook
Now spring has finally arrived and the weather is heading into the eighties, our attention at GearBrain is focused on keeping the smart home cool and comfortable.
Of course, air conditioning units have existed for years, and even if you don't have them permanently installed in your home, many portable options are available for occasional use.
Read More:
But these solutions aren't particularly smart. Even if you can set a timer with your A/C unit, the system still pays no attention to what the weather is actually doing. And who wants to fiddle with the schedule every day based on the weather forecast?
No, us neither. Thankfully, there are smarter options that can save you time, keep you comfortable, and lower your A/C bills all at once.
How to make your current air conditioning system smart and connected

Instead of spending hundreds or even thousands of dollars on a whole new A/C system, several devices are on the market to help give your current system some 21st-century smarts. These devices send infrared signals to your A/C unit like those sent from the unit's remote control.
But because these devices connect to the internet via your Wi-Fi network, they can be used to control the A/C while you are away from home. They all have their own smartphone app to send instructions to the A/C from wherever you are.
Some are also compatible with Alexa so you can control the A/C with voice commands, and some hook up with IFTTT (If This, Then That) , giving you many more control and automation options. For example, you can set the A/C to switch on when you are almost home (based on your phone's location), when the room temperature reaches a certain level, or when someone enters the home and their motion is detected.
Simply place these devices within sight of your A/C unit, so the infrared signals can easily reach them, then plug them into a wall outlet and connect to your Wi-Fi.
Sensibo Air Pro (formerly AirQ) - $139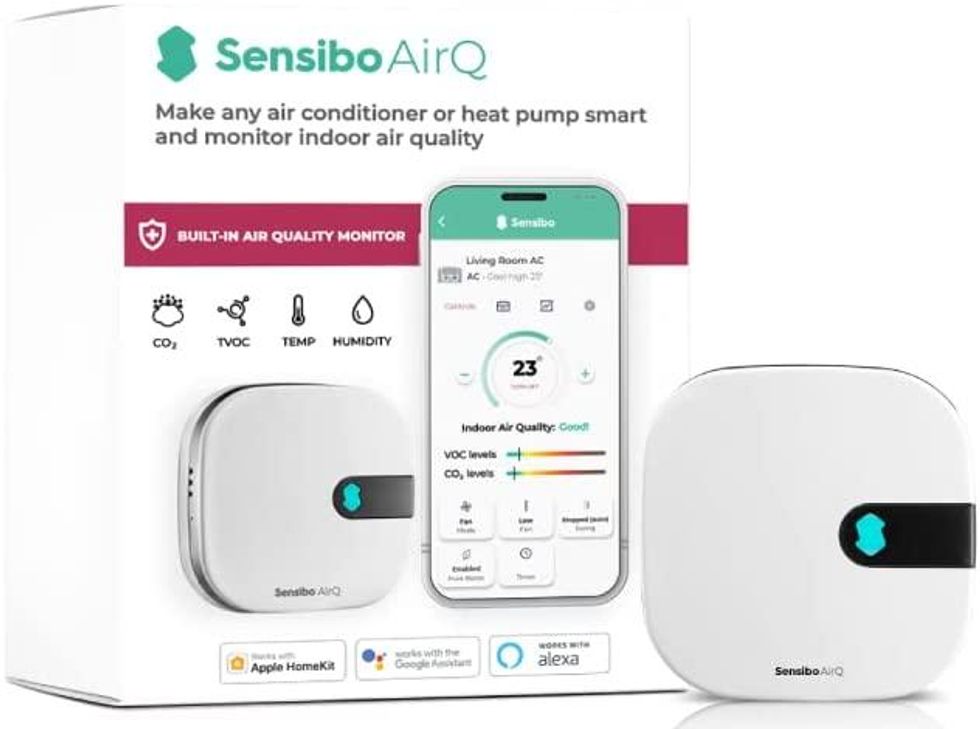 Sensibo AirQ Pro smart AC controller comes with air quality sensor. Amazon
The Sensibo Air Pro (formerly AirQ) is the newest smart air conditioner controller with a built-in air quality sensory that enables your A/C to be controlled via the company's iOS and Android smartphone apps. Alternatively, you can issue voice commands to Alexa , Google Assistant , and Apple HomeKit on a nearby smart speaker or display or through their respective apps. The system also works with Siri Shortcuts .
This connectivity means you can switch any remote-controlled air conditioner or heat pump on from across the room, upstairs, from the office, or from anywhere in the world. There is a seven-day scheduling system in the Sensibo app so the A/C can be configured to come on several times each day, and there are built-in temperature and humidity sensors, so you know what level to set the A/C at before you get in.
Integration with IFTTT opens up extra features, like geofencing. This means the Sensibo can be configured – by knowing your smartphone's location – to switch the A/C on when you leave the office or are a couple of blocks from home.

Other IFTTT applets tap into forecasts from Weather Underground to help cool your home when the temperature or humidity outside reaches a certain level. Another applet switches the A/C on when you have a meeting in your phone calendar – handy if located in a home office where you meet with clients. Sensibo also works with Samsung SmartThings , OpenHab, and Apple HomeKit. You can find the full selection of IFTTT applets for Sensibo here .
Because Sensibo works with simple infrared signals, it can also be configured to work with heating systems via the companion Sensibo app. Also, the company has earlier versions of the Sensibo AC controller - Sky and Sensibo Air. Neither are as robust as Sensibo AirQ Pro but are reliable. For instance, Sensibo Sky features controls via Sensibo app or voice commands using Amazon Alexa or Google Assistant. Sensibo Air has those same features, but you can also use Apple HomeKit and get power from PureBoost. The Sensibo Air Pro is the most robust since it has all the same integrations but can also function as a smart air monitoring system.
Mysa Smart Thermostat for AC and Mini Split Heaters - $139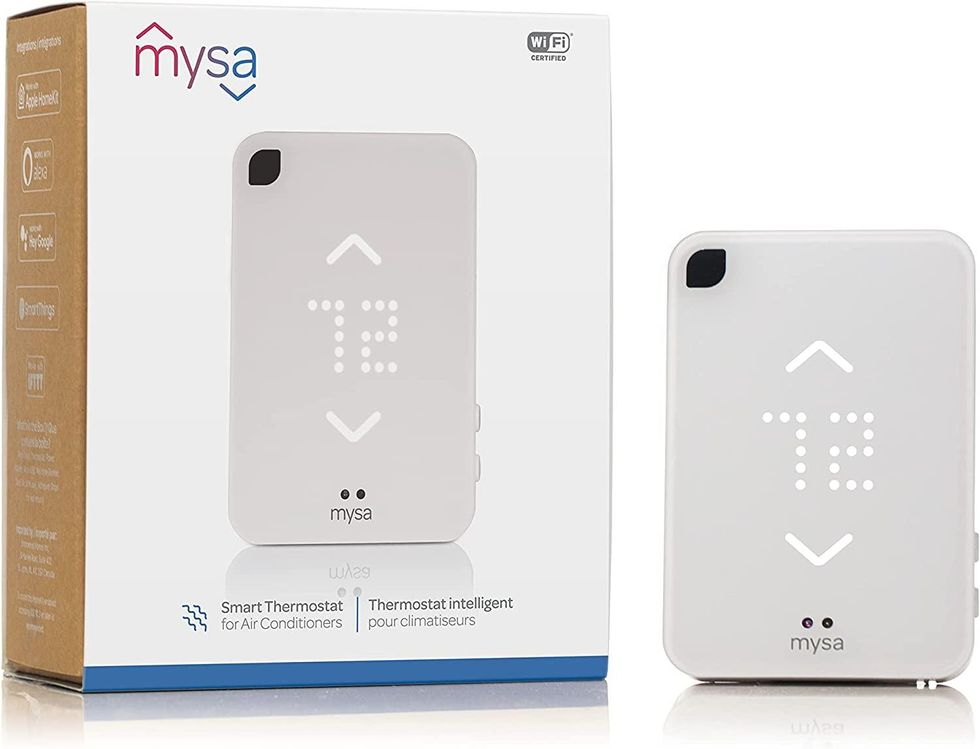 Mysa Smart Thermostat for Air Conditioners and mini split heaters, ductless heat pumps and portal AC units. Amazon
The Mysa Smart Thermostat is specially designed for air conditioners you put into window units, mini-split heaters, ductless heat pumps, or portable air conditioners. You can easily control these devices with a smartphone or tablet using Mysa app. This device comes with Energy Saving and an easy setup process.
Mysa smart thermostat comes with a sleek design and works with Apple HomeKit, Amazon Alexa, and Google Assistant-enabled devices. You just plug it into any wall outlet, which will connect to your devices via Wi-Fi or NFC. it costs only $139 but is available today on Amazon for only $119.
Tado Smart Air Conditioner and Heater Controller V3+ - £89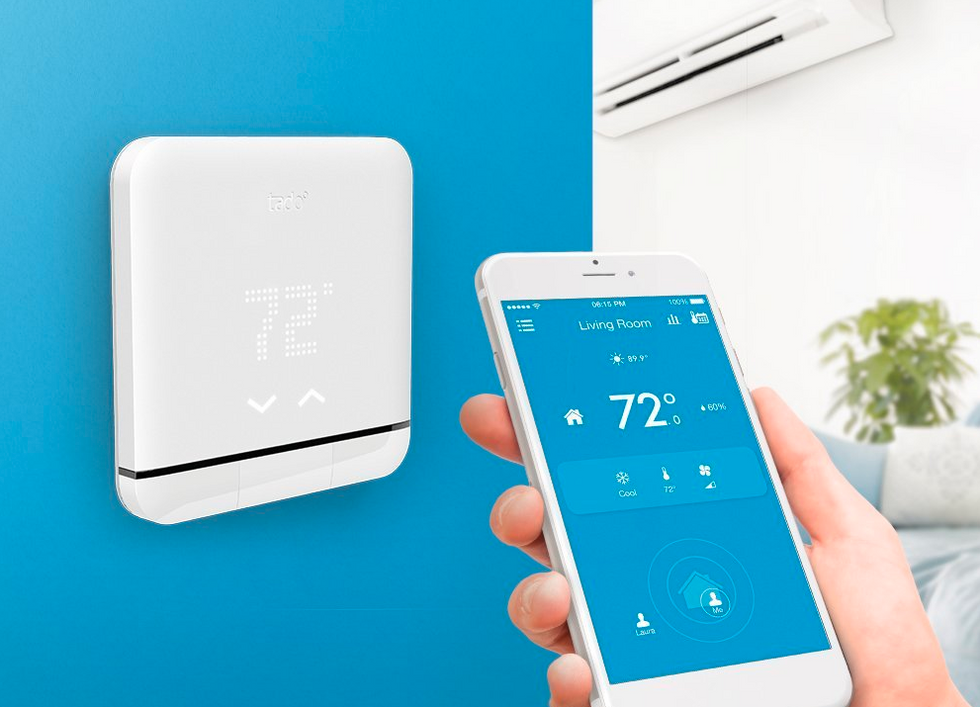 Tado smart thermostat V3+ Tado
Tado sells smart thermostats and a range of other connected devices to control the heating and cooling in your home. Sold in the UK and Europe, the Smart AC Control V3+ works very similarly to Sensibo in that it connects to your Wi-Fi and sends infrared signals to your A/C unit or heater.
The Tado has its own simple interface on the front, showing you the current operating temperature and other basic information. There is Alexa, Google Assistant, IFTTT, and Apple HomeKit integration for controlling the heating and cooling with your voice, and your smartphone's location can be used to automatically switch devices on before you get home or switch them off again when you leave.
Tado claims the device works with all A/C units normally programmed by a controller displaying the temperature. This includes units from Daikin, Mitsubishi, Panasonic, Toshiba, LG, General Electric, Samsung, Fujitsu, and many more.

The Tado app includes reports on A/C usage and how much money you can expect to save by using the device – a figure the company claims can be up to 40 percent. Buying several controllers can be used to manage heating and cooling in different rooms throughout the home from the same app.
AirPatrol WiFi V3 - $93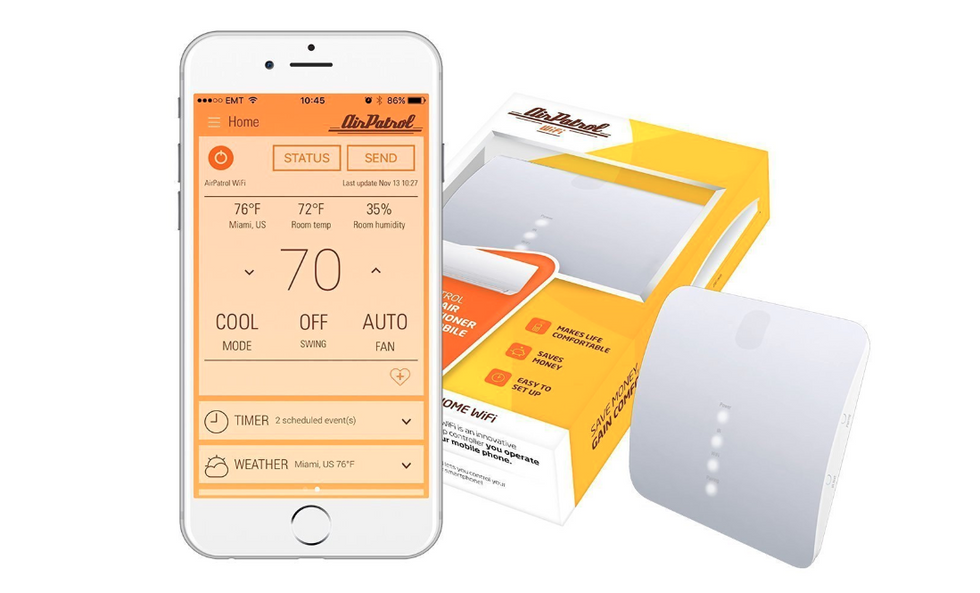 AirPatrol AirPatrol
Also very similar to both the Sensibo and Tado, the AirPatrol controls your A/C by infrared and connects to your Wi-Fi . There's an iOS and Android smartphone app for switching the unit on and off, setting a seven-day schedule, and checking on the device's temperature and humidity sensors.
IFTTT support means it can be controlled by Alexa, Google Assistant, and other smart home systems, and through IFTTT applets, you can set the A/C to switch on and off based on your smartphone's location. Other applets can control your A/C based on the local weather forecast, or you can have it activated when the AirPatrol's own temperature or humidity sensor reaches a certain level.
The makers of AirPatrol claim that taking smart control of your A/C and heating can reduce your home's energy requirements by 20-25 percent.
Window air conditioning with smartphone and voice control

If you have a larger budget to spend on keeping your smart home cool, then a range of window A/C units exist with Wi-Fi connections, smartphone apps, and even Amazon Alexa support for voice control.
Frigidaire Gallery 8,000 BTU Inverter Window Room Air Conditioner with Wi-Fi (Energy Star) - $469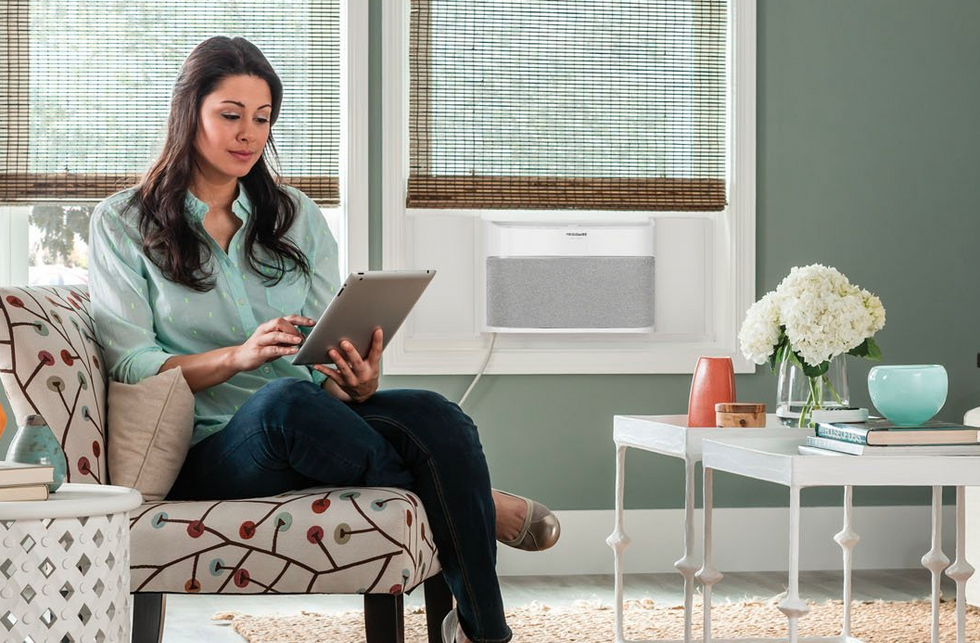 Frigidare. helps keep your room cool with a smart window AC unit. Frigidaire
Some window air conditioning units by Frigidaire come with Wi-Fi and can be controlled via the company's iOS and Android smartphone apps. Just look for the word "Wi-Fi" in their product name to know that model comes with Wi-Fi and app control.
The app lets you remotely adjust temperature, mode, and fan speed and set up scheduling so it works at certain times each day. A regular remote control is included for when your WiFi goes down or you don't have your smartphone (or Echo speaker) to hand. Yes, Frigidaire's line of Wi-Fi-connected smart AC units works with Amazon Alexa and Google Assistant-enabled devices.
Designed for smaller spaces and rated at 8,000 BTU, this unit is claimed to cool rooms up to 350 square feet in size and dehumidify at a rate of 2.1 pints per hour.
Up your budget to $559, and Frigidaire sells a smart AC unit with Wi-Fi and app control, but with a 15,100 BTU rating, making it suited to rooms up to 850 square feet, and it dehumidifies at a rate of 3.8 pints per hour. All are available on Amazon and the company website.
ROLLICOOL Alexa-Enabled Portable Air Conditioner – 10,000 BTU 4-in-1 Smart AC Unit with Dual-Band Wi-Fi and App - $349.99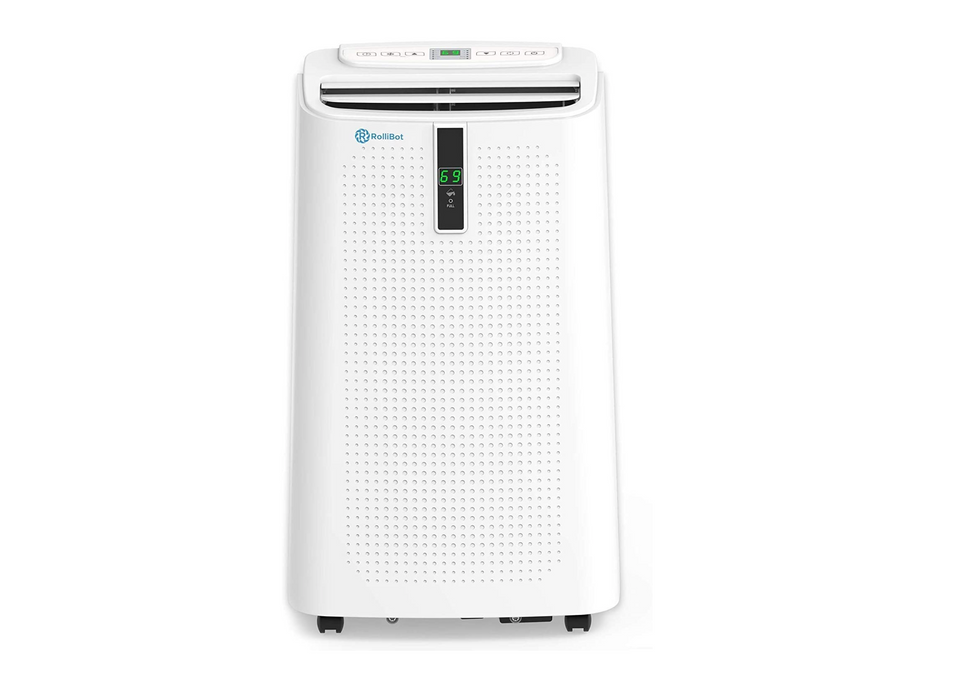 The portable unit is designed for large rooms and has Alexa control Rollicool
This portable A/C unit is mounted on wheels, so it can easily be moved around the home and plugged into a wall outlet wherever it is most needed. Just remember to position it close to a window to hang the exhaust pipe out of. The unit has a 10,000 BTU rating and is designed to cool spaces up to 450 square feet.

A Wi-Fi connection means the unit can be controlled using its own app (for iOS and Android), or by speaking to Alexa. A conventional remote control is also included. When switched to dehumidify mode, it can remove a claimed 2.3 pints of moisture from the air per hour.
This unit has an MSRP of $349.99 and is available on the company website. It is also available on Amazon for a lot less.
Use a smart plug to control a portable A/C unit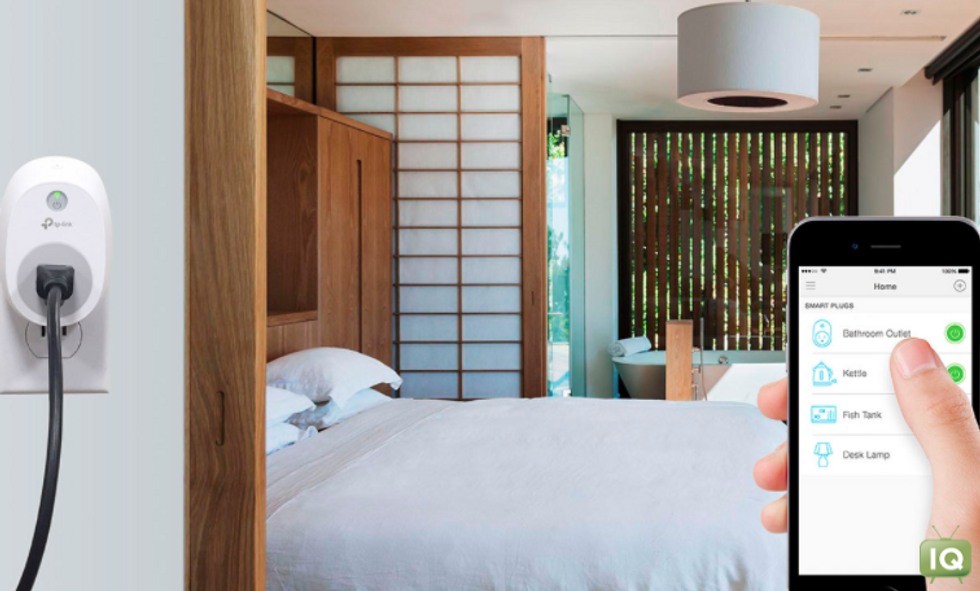 TP-Link Smart plugs can help you control your AC units remotely. TP-Link
As with many household appliances, portable air conditioning units can be made more intelligent by attaching them to a smart plug ; these plugs connect to your Wi-Fi and are controlled from your smartphone or with voice controls issued to a voice assistant or smart speaker . They can also be configured via IFTTT to switch on and off based on your location, room temperature, or a local weather forecast.
The most important thing to bear in mind is how the A/C unit is switched on. If it starts working right away when plugged into a wall outlet, then it will work when a smart plug is activated. If it requires a button to be pressed every time it is plugged in, then a smart plug will not help.

If A/C units are out of your budget for now, then consider buying fans that switch on when they are plugged in and thus can be controlled via a smart plug . That way, you can have your fans fire up when you're a block away from home, helping to take the edge off when you walk through the door.
And don't forget to check out The GearBrain to see if any of your connected devices also work with Google Home or Amazon Alexa-enabled products .
How to Find Products in The GearBrain, Our Compatibility Find Engine for Smart Devices www.youtube.com
Like GearBrain on Facebook