Before buying a robot vacuum, you should decide what is the best type of robot vacuum for you. Do you want one that just vacuums or a 2-in-1 robot that can either vacuum or mop your floors? Or do you want one that is considered a 3-in-1 robot vacuum? These are vacuums which can mop and vacuum your floor and self-empty when full. And lastly, do you want an entry level machine or top of the line? If you are looking for an entry level 2-in-1 robot vacuum, we have one for you to consider. It's ILFE's V80 Max Robot Cleaner and we just tested in real home for a few weeks. Here is what we found.
What is ILIFE V80 Max Robotic Vacuum Cleaner?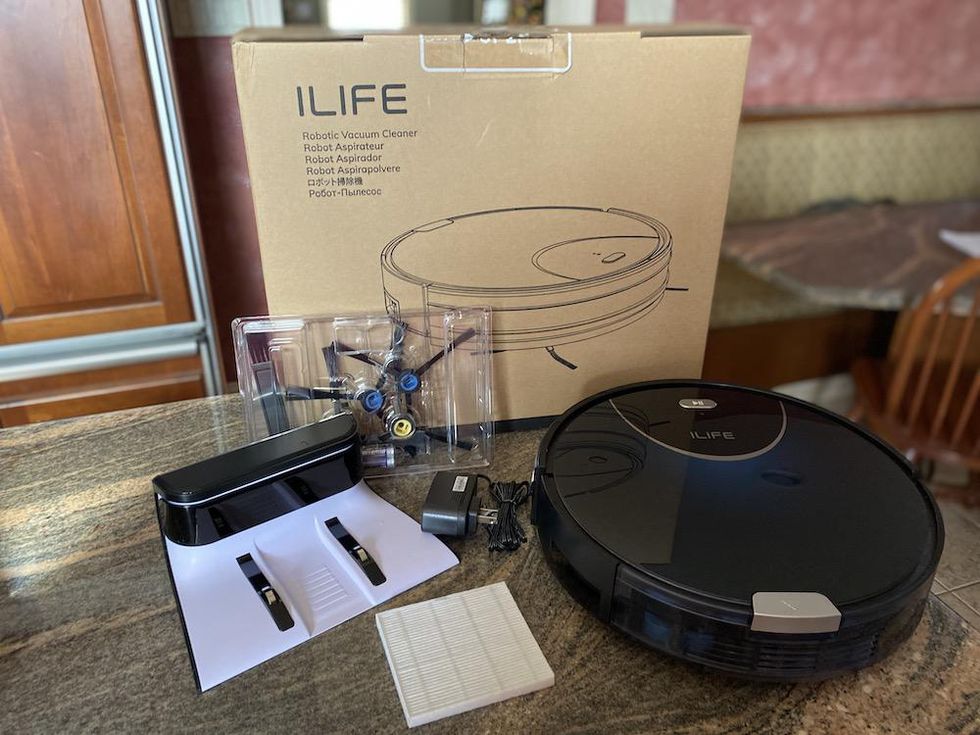 ILIFE V80 Max Robot Vacuum unboxed
GearBrain
ILIFE V80 Max is an intelligent robot vacuum cleaner which can vacuum and mop your floors. The V80 Max has up to 2000pa suction power, 750 ml dustbin, premium 4-inch side brushes, multiple cleaning modes, auto recharge and anti-collision and anti-drop sensors to reduce bumping while cleaning. This new robot vacuum also has a fee app which allows you to adjust the suction levels and create customizable schedules. It works on a 2.4 GHz Wi-Fi connection but does use Bluetooth during the installation process to connect to your home Wi-Fi network.
Other features of the ILIFE V80 Max include smart gyro navigation. This technology helps maximize cleaning coverage using intelligent path modes. You also get a remote control which you can use to move the vacuum around your house as well as increase or decrease suction power and other features.
The ILIFE V80 Max can also mop your floors with the V80 Max. It has an intelligent mopping system which allows you to adjust water flow levels. Just switch out the dustbin for the 450ml water bin and you are ready to wash your floors. The 450ml water bin comes with a pad for you to attach to the vacuum via Velcro tape.
How to setup your ILIFE V80 Max Robot Vacuum?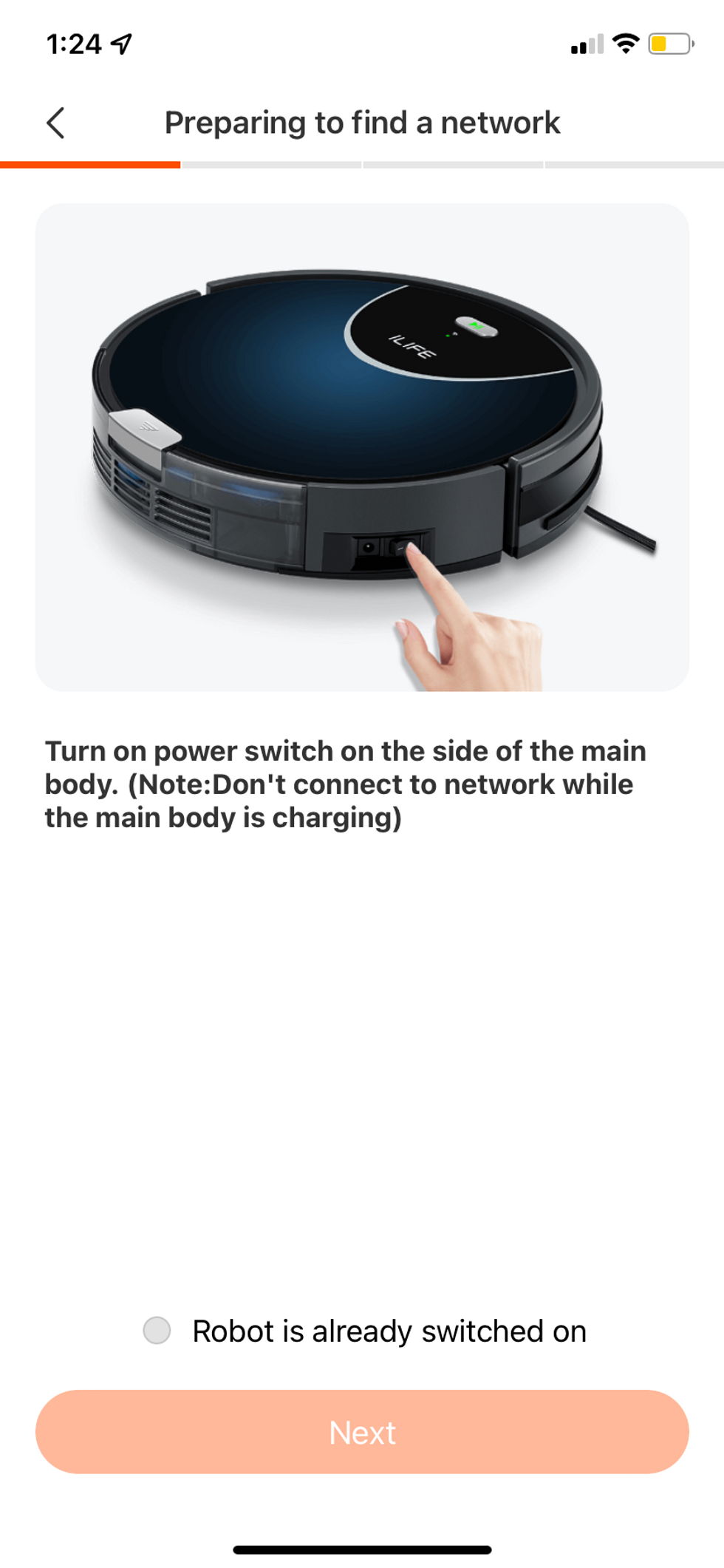 Use ILIFEHOME app to set up your V80 Max robot vacuum
GearBrain
Set up for the ILIFE V80 Max is easy. You can use the ILIFEHOME app or follow the instructions in the User Manual. We recommend you make sure you attach the brushes to the V80 Max and then charge it for up to 6 hours prior to first use. Once ready to start your first cleaning, you can either go to the app and hit start or you can use the remote control to start up your robot. You will also be able to direct your V80 Max from the app or remote control. This will be helpful when your robot gets stuck.
Smart Home Integrations – Does ILIFE V80 Max work with other smart devices?
According to ILIFE's website, the V80 Max is compatible with Amazon Alexa enabled devices. However, during our testing, we had problems connecting with the Alexa app. It seems there are two ILIFE skills in the Alexa Skills store. There is ILIFE and ILIFEHOME. Make sure you search and use the ILIFEHOME skill. The ILIFE skill will not work with the V80 Max robot vacuum. The ILIFEHOME does work and will allow you to use voice commands to start and stop your V80 Max.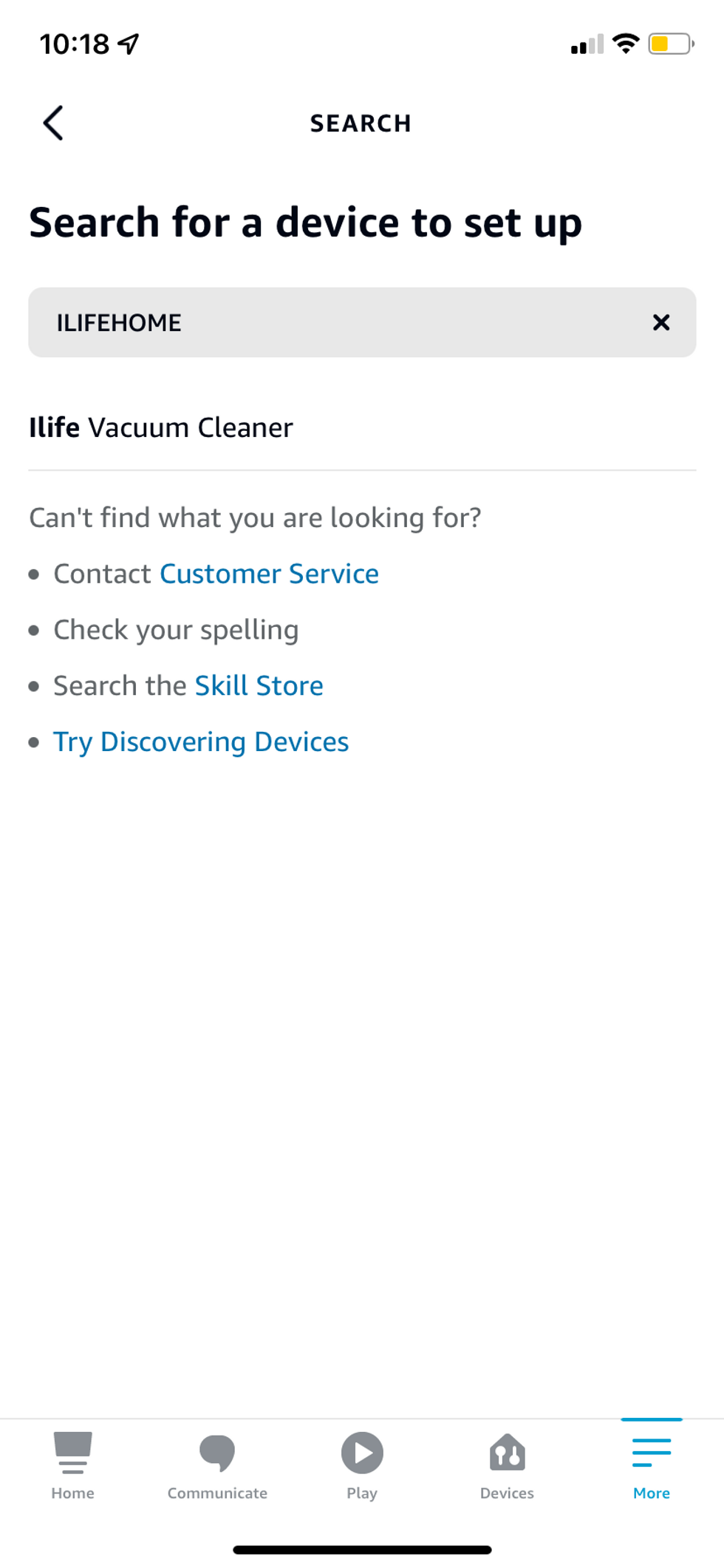 Make sure you search in Alexa app for the ILIFEHOME skill and not ILIFE skill. GearBrain
Cost
The V80 Max Robot Vacuum is not very expensive. It costs $279.99 and available on Amazon.com. At the time of publishing this review, we found ILIFE V80 Max was on sale for $219.99 on Amazon, a 21% discount. (We recommend you check Amazon for an update on pricing.)
Is this a good price? The V80 Max is priced as an entry level robot vacuum, like Eufy Robovac and iRobot Roomba 694 robot vacuum. However, the sale price is attractive because there are not many entry level robot vacuums at this price point that have the ability to either vacuum or mop your floors.
How did ILIFE V80 Max perform during out testing?
After testing the ILIFE V80 Max robot vacuum for a few weeks, we found the vacuum did well on hardwood and tile floors but mediocre on carpets. We liked how you could adjust the suction power and water flow levels. Also, the noise from the vacuum while running was not that loud as compared to other robot vacuums, we have tested. Scheduling cleaning times using the app was simple, setup was quick and battery life was good. We also liked how big the dustbin was and how long the side brushes were on the vacuum. The side brushes were able to get close to those hard to reach places. Lastly, we liked how ILIFEHOME app will notify you when your filter and side brushes are less than 50%.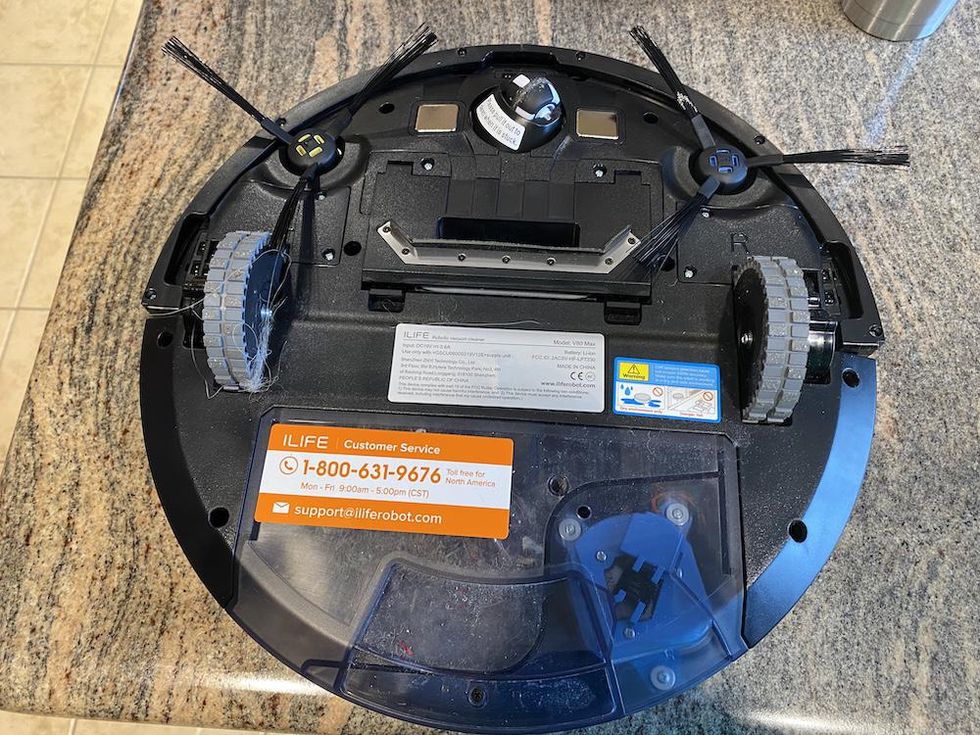 ILIFE V80 Max comes with 4" side brushes and interchangable dustbins to vacuum or mop your floors.GearBrain
However, we did find some features to not meet our expectations. The first feature was connecting to Amazon Alexa. It was very confusing to get connected with Alexa. We tried multiple times connecting our Amazon Echo smart speaker to ILIFE Robot Skill and it didn't work. We had to contact the company to find there was another ILIFE Alexa skill we had to connect with to get the integration to work properly. The Alexa skill is ILIFEHOME and when we connected to the Alexa skill, everything worked. However, the overall experience should have been simple and it wasn't which is why we were a little disappointed.
The next problem we found was with the navigation for V80 Max robot vacuum. It was not as good as other robot vacuum's navigations we have tested. There were times during our testing we had to use the remote-control feature to get the robot vacuum back to the charging station. Also, the sensors on the side of V80 Max were very sensitive and we had problems when the sensors picked up the saddle of one of our doorways and thought it was a wall. This was a big problem for us since we couldn't get the robot vacuum back into the room that has the charging station. Now, this might not be the case with your home, but it is something to be aware of if you plan to have the robot vacuum clean multiple rooms.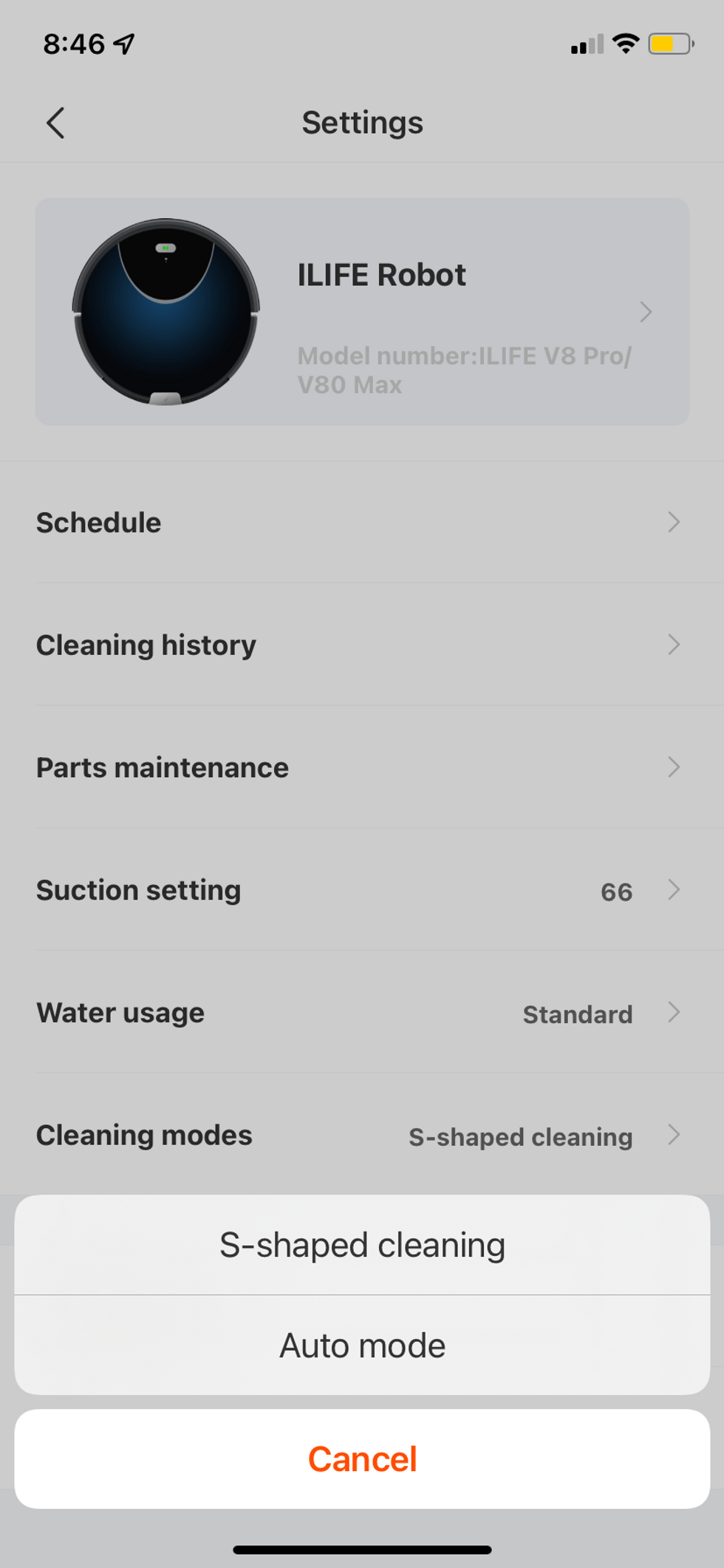 Adjust navigation in ILIFEHOME appGearBrain
Another concern we had with the V80 Max was suction power. The suction power is very good but for hardwood and tile floors. It worked ok on area rungs but had a hard time with standard and thick carpets. Something to be aware of when using it in your home.
Lastly, mopping the floor worked satisfactory. You can set the water usage in the app. There are three settings: Gentle, Standard and Strong. We tried all three, but found the Strong setting did the best job in doing a once over on your floors. However, if you want mopping with a little "elbow grease" to get rid of those hard to remove stains, the V80 Max will not deliver. It does deliver though on removing those easy to remove stains or dirt on your tile floors.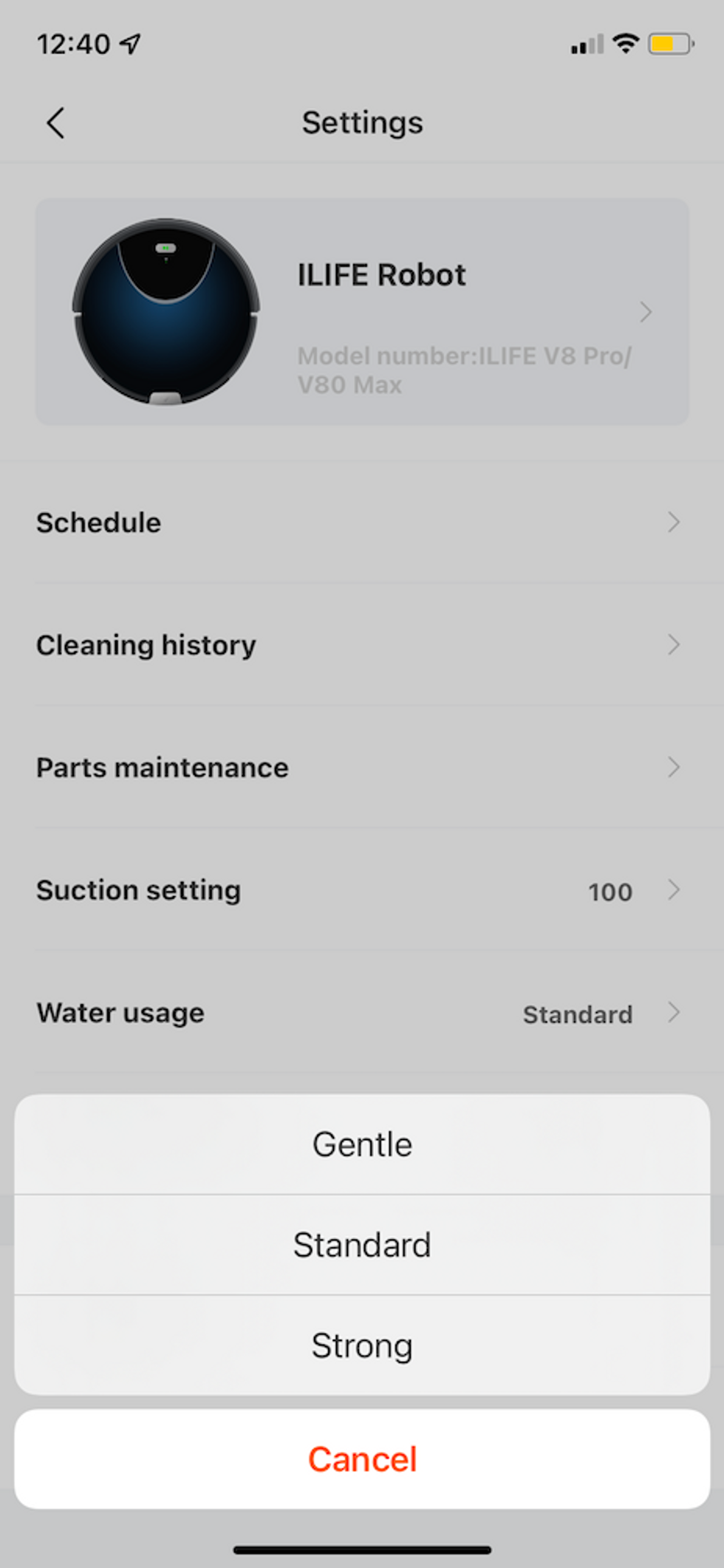 You can adjust the water usage flow in the ILIFEHOME app. There are three settings: Gentle, Standard and Strong.GearBrain
Summary
We have been testing robot vacuums for years and have a good sense of what works and doesn't. After testing the ILIFE V80 Max robot vacuum, we can say it is a good entry level robot vacuum for individuals looking to use a robot vacuum on hardwood floors. Though the navigation is a little weak compared to others, it does come at an attractive price for a 2-in-1 robot vacuum which vacuums or mops your floors. And the remote control will come in handy when you need to navigate your V80. The setup is simple, and this robot vacuum is not noisy. We also like the rather large dustbin to collect a lot of dirt from your floors and how easy it is to switch from vacuuming to mopping. You can't go wrong with this robot vacuum if this is your first time buying a 2-in-1 robot cleaning system.
Pros
Mop and vacuum your floors
Good on Hardwood and tile floors
Price
Long side brushes
Cons
Hard to find Alexa Skill in Alexa app store
Navigation was poor
Weak vacuuming carpets
How to Find Products in The GearBrain, Our Compatibility Find Engine for Smart Devices www.youtube.com