Like GearBrain on Facebook
Later today, September 17, Apple will release iOS 12 for iPhone, iPad and iPod Touch users. The major software update brings many changes and new features to Apple devices, as well as increased performance.
iOS 12 has been available to developers as an unfinished beta for several months now, but today marks the day the finished version will be handed out to everyone.
Read More:
For 2018's iOS update, Apple has focused more on performance improvements than groundbreaking new apps and services. This should mean a smoother launch than iOS 11 endured a year ago, and is even promised to bring speed improvements to older devices.

Apple's headline figures claim apps will launch up to 40 percent faster, the keyboard is up to 50 percent faster, and the camera launches up to 70 percent faster. These upgrades aren't really obvious on newer devices like the iPhone X, but owners of the iPhone 5S and first-generation iPad Air should see some improvements.
iOS 12 compatibility guide: Which devices work with iOS 12?
The following devices will be able to download and install iOS 12 when Apple releases it later today:
iPhone
iPhone X
iPhone 8
iPhone 8 Plus
iPhone 7
iPhone 7 Plus
iPhone 6s
iPhone 6s Plus
iPhone 6
iPhone 6 Plus
iPhone SE
iPhone 5s
iPad
12.9-inch iPad Pro 2nd generation
12.9-inch iPad Pro 1st generation
10.5-inch iPad Pro
9.7-inch iPad Pro
iPad 6th generation
iPad 5th generation
iPad Air 2
iPad Air
iPad mini 4
iPad mini 3
iPad mini 2
iPod
iPod touch 6th generation
How to install iOS 12
There are two ways to install iOS 12, with the easiest being to head into the Settings app, then tap General, then Software Update. Once iOS 12 is available, this section of the Settings app will give you the option to download and install it.
iOS updates tend to be quite large, so if your device is running very low on storage you may have to clear some space beforehand - it'll let you know if this is the case before you start downloading the update. You may also need to plug in your device if the battery is running low — again, you'll be told about this beforehand.
The second way to install iOS 12 is to plug your device into your computer and open iTunes.
What time will iOS 12 be available?

Apple tends to release major iOS updates at 10am PST, which is 1PM EST, 5pm UTC and 6pm BST. Apple's servers usually get hit pretty hard on release day, causing downloads to be slow. Sometimes it is best waiting until later in the day, or even the next morning, to ensure your download happens quickly.
It could also be worth holding out a day in case there are any serious issues with iOS 12 that Apple needs to quickly fix, although this is rare.
The biggest new features of iOS 12
Siri Shortcuts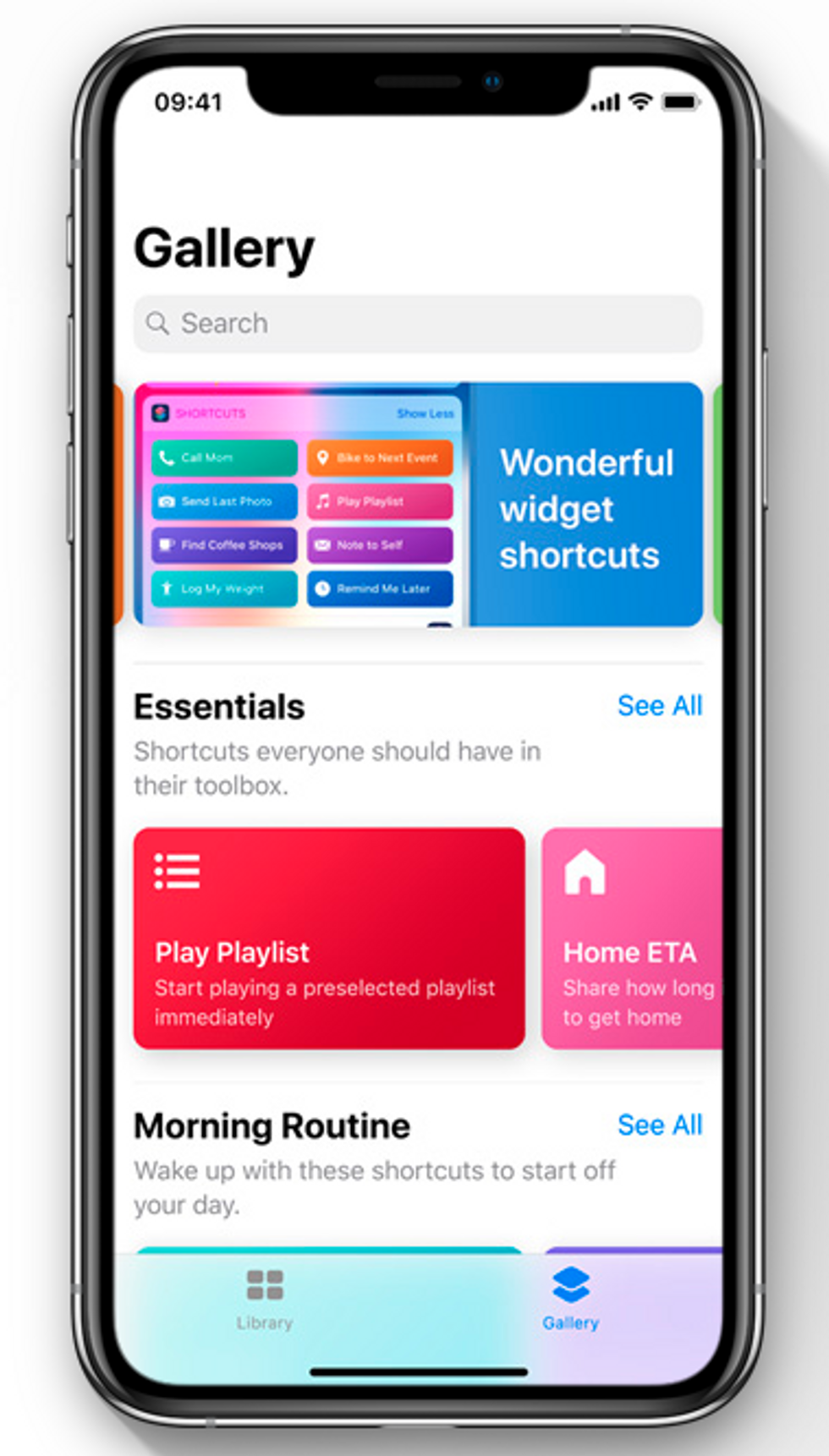 Apple
Apple has lagged behind in the smart home automation space for some time now, as platforms like IFTTT (If This, Then That) and Stringify lead the way, along with the routines feature of Amazon Alexa and Google Assistant. With iOS 12, Siri Shortcuts will hopefully go some way towards fixing this.
There are two parts to Siri Shortcuts. First, Siri will attempt to make your life easier by seeing how you use your iOS device, then offering up automated shortcuts.
If you message the same person a lot on WhatsApp, for example, a shortcut will appear in the iOS search page (swipe down from the middle of the home page) and on the lock screen. Tap this shortcut and your chat with that person will open.

The second part is where you create your own in the new Shortcuts app. These can be triggered with a tap or a voice command spoken to Siri, and are highly customizable. You can create morning routines and tap into Apple's HomeKit platform to control smart home devices, like smart plugs, lights, window blinds and thermostats.
For example, you can set a morning routine where saying "good morning" to Siri opens your blinds, turns on the lights, starts a playlist and reads out the traffic report for your commute. All of this stems from Apple's acquisition of Workflow last year, which has become the new Shortcuts app.
Grouped notifications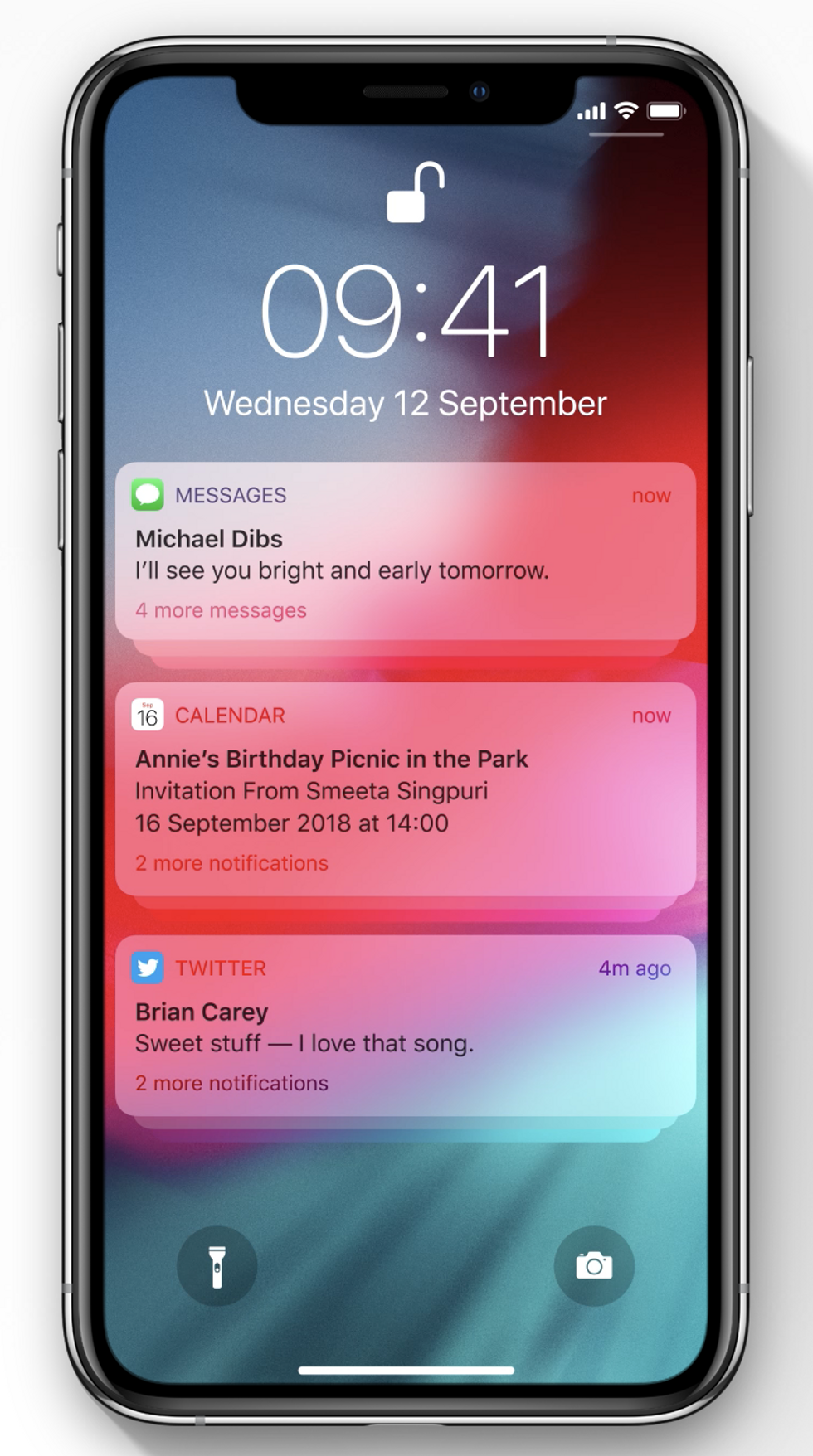 Apple
Finally, with iOS 12 your lock screen will no longer be packed full of notifications. This is because, as Android has for several years, iOS 12 groups notifications by app. So, if you receive a dozen notifications from a WhatsApp chat group, these will be grouped into a single bubble on the lock screen, which can be expanded to show every message, then collapsed again to make room for messages from other apps.
Animoji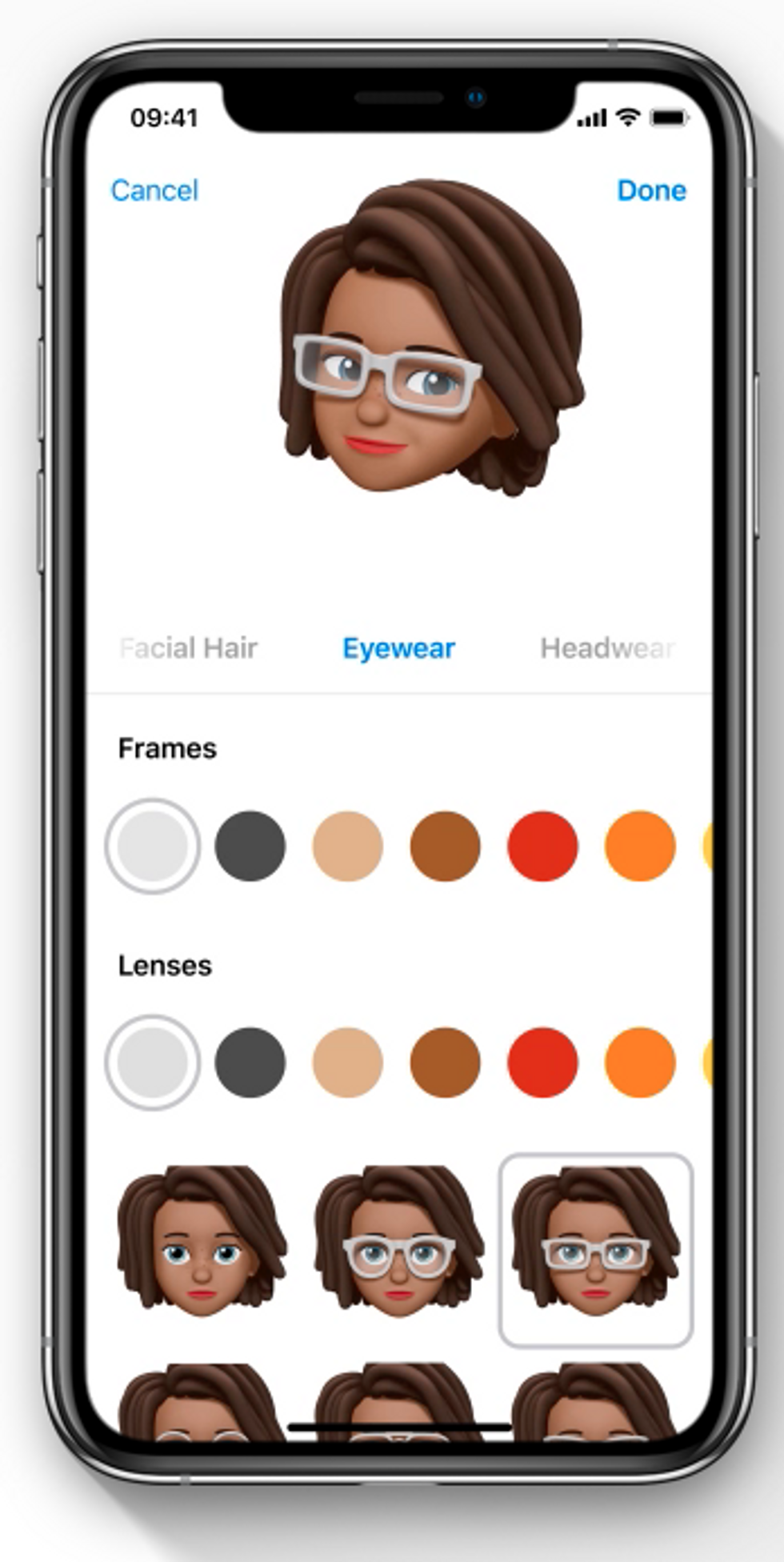 Apple
Animoji felt like a gimmick when it launched on the iPhone X a year ago, but Apple has persevered and included some decent updates with iOS 12. There are four new Animojis to pick from, every Animoji now has a tongue which matches the movement of yours, and there is Memoji, where you can create your own animated character.
This is not the same as Samsung's Emoji AR, where the phone automatically creates characters which look a bit like you. Instead, Apple's system begins with a blank canvas — a yellow Animoji with entirely neutral features - for you to edit in any way you like. You can adjust skin color, face shape, facial hair, eye shape and size, chin shape, ear shape, hair style and color, glasses, headwear and much more.
Also new for iOS 12 is the ability to use Animoji in FaceTime video calls, and iMessage video recordings have been increased to 30 seconds. However (and unlike Samsung's alternative), Animoji and Memoji cannot be sent natively through any messaging app other than Apple's own iMessage platform.

Read More:
Screen Time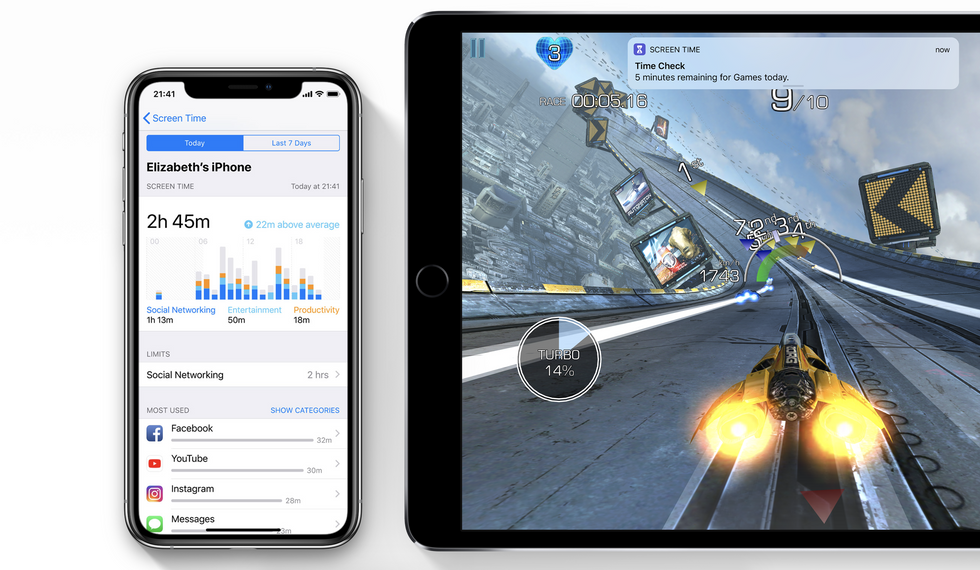 Apple
Open the Settings app and you will find a new section called Screen Time. This is a bid from Apple to make its customers more aware of how much time they spend using their iPhones and iPads, and for parents to keep an eye on their child's device usage, too.
Screen Time charts how often you pick up your phone each day, how many notifications you receive, and how much time you spend using each app. This is itself can be eye-opening, but beyond the stats Screen Time provides a way to set self-imposed limits on daily app use. You can block the use of certain apps — or groups of apps, like 'Social' - after a certain amount of time each day.
Read More:
A feature called Downtime lets you set a time for when certain apps (and their notifications) are blocked. That way, the hour before bed and your first hour of the morning can be made distraction-free. This also extends to the lock screen, which can be set to display no notifications at all during the night, so if you wake up and check the time you won't see all those emails waiting for you.
You can always unlock an app again if you need to use it, but the effort to do so might be enough to help curb any addictions you are concerned about. Parents can use Screen Time on their iPhone to monitor and restrict their child's use of other devices in the household, like the family iPad, and there are new settings for blocking inappropriate content and adult websites.
Measure

A new app bundled with iOS 12, Measure makes use of Apple's ARKit augmented reality platform to help you measure things with the iPhone's rear camera. Point at the object, tap, move to where you want to measure to, tap again, and the measurement is shown.
A lot of apps like this are already available from the App Store, but it's good to see Apple continuing its journey into augmented reality and putting AR apps into the hands of its millions of customers.
No more accidental iPhone X screenshots
If you own an iPhone X then your Photos app is probably full of accidental screenshots, caused by pressing the power and volume-up buttons when you pick up the phone. Thankfully, iOS 12 goes some way to fix this, as pressing those buttons when the phone is locked will not create a screenshot; only when the phone is awake will it work.
Security code auto-fill

iOS 12 knows when you receive a text containing a security code used to gain access to an app or website - also known as a two-factor authentication code. Instead of switching between Messages and Safari to input the code, the keyboard now asks if you'd like to input the code with a single tap, saving the need to even open the text message.
Automatically-generated strong passwords
Another useful addition to the Safari web browser in iOS 12 is how it automatically suggests strong passwords when you're creating a new online account, or updating an old password. These passwords can be selected with one tap, then saved to your keychain, which then automatically inputs them every time they're needed (after quickly using Face ID or Touch ID to confirm your identity).
This is very similar to how password managers like Lastpass work, and means you never really need to remember any website passwords.
Third-party navigation apps comes to CarPlay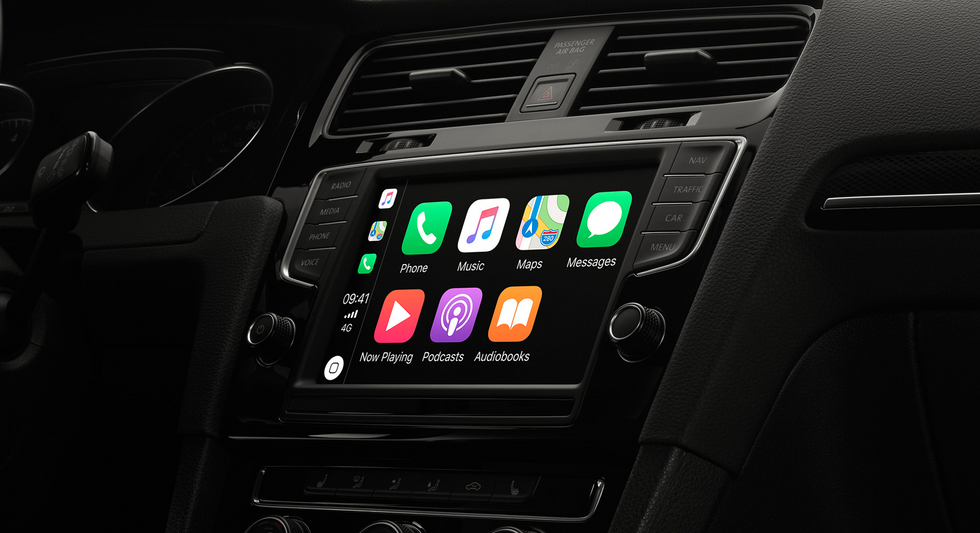 Apple
Apple Maps has improved since its disastrous launch back in 2012, but for many users Google Maps or alternatives like Waze offer a better solution. Thankfully, with iOS 12 these mapping apps can now be used in CarPlay, Apple's iPhone-powered car infotainment system.

Group FaceTime (coming in the fall)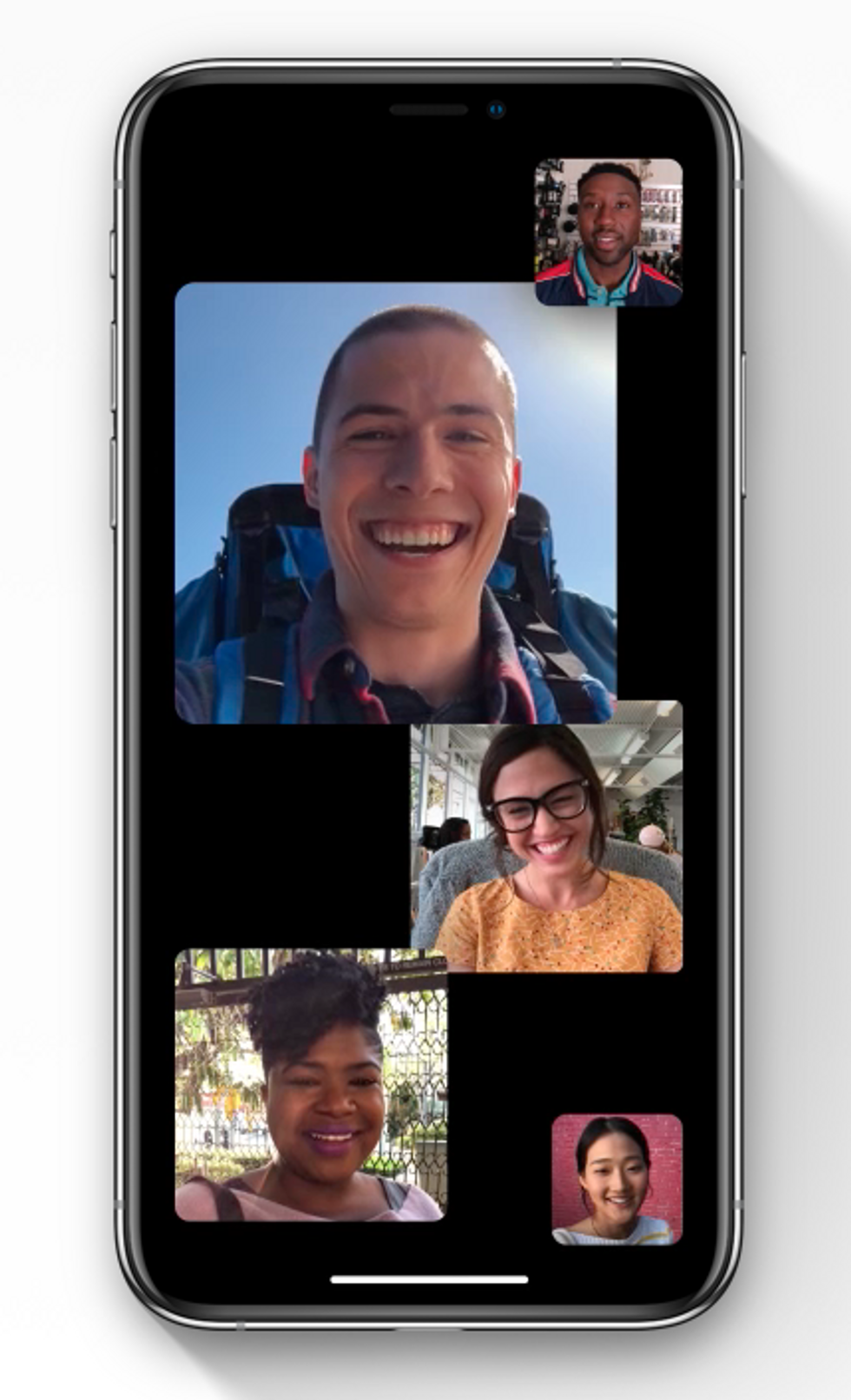 Apple
This update to Apple's video-chatting app means up to 32 people (yes, 32) can all join the same FaceTime chat at once. Although that sounds utterly chaotic, the app smooths things out by prominently displaying only the people currently talking, as shown above.
However, despite Apple first announcing this back in June, group FaceTime has been delayed and will arrive on iOS 12 devices later in the fall.
iPhone X gestures come to the iPad
Apple is rumored to be launching new iPads later this year with thinner bezels and Face ID. They are also expected to use the same form-factor as the iPhone X and new iPhone XS, so to prepare for this iOS 12 gives the tablet new gestures. These include accessing the home screen by swiping up from the bottom of the screen, and opening Control Center with a swipe down from the top-right corner.
Like GearBrain on Facebook