Like GearBrain on Facebook
Skullcandy's Jib True Wireless Earbuds are the budget tech find of the season. You're not going to worry about losing them. You're not going to worry about your kid losing them. And you're actually going to feel pretty good about owning them. Why? Because they're $30 — and because they're actually a good pair of earbuds.

We took the Jib True Wireless Earbuds out for a spin courtesy of Skullcandy, listening to music, watching movies, making calls, and exercising — our usual testing run — to see how these fared. Details are below, but in short, because of the price — and that's key to our decision — these are a solid pair of earbuds worth picking up for a gift this year or even for yourself. Here's how we came to our decision.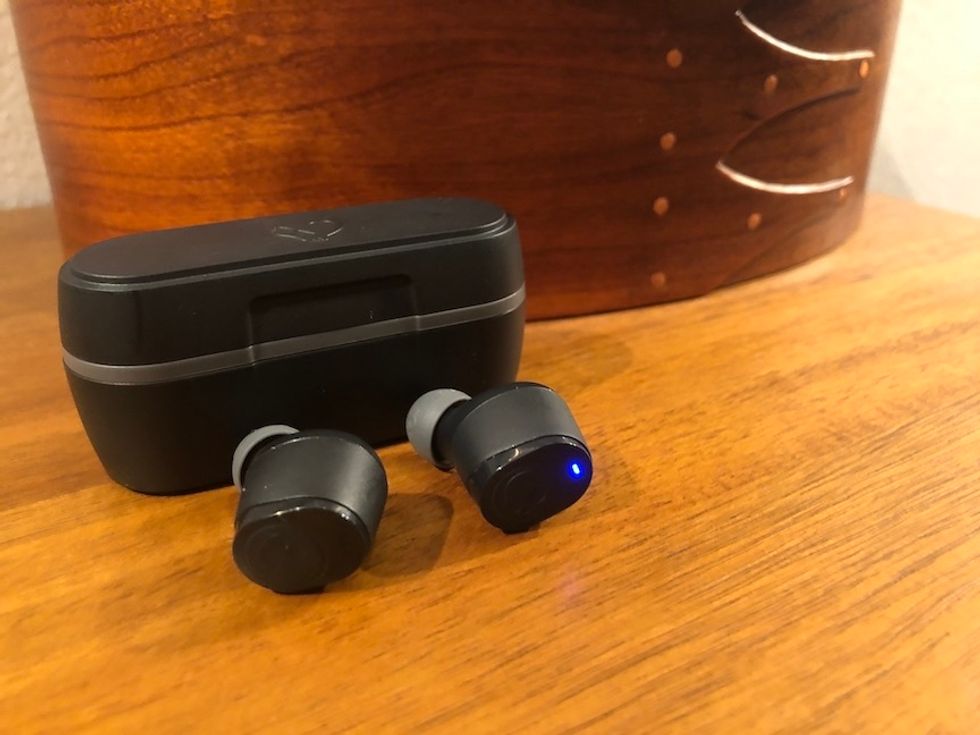 The Jib True will pair again to the last device they connected with, automaticallyGearBrain
Skullcandy Jib True Wireless Earbuds — Design

These earbuds are not a flashy affair. You're getting two short, squat earbuds, completely wireless, a case, and a charging cord. (You need to supply the end.) There are just two color options, blue with red tips and black. We got the latter, and honestly there isn't much here to splash up in terms of design.
The earbuds have one set of ear tips, that's all you get, and luckily these fit pretty well in my ears. But they do feel precarious, and they do stick out a bit. Everyone's ear is of course different. And there's a likelihood these may fit more snuggly to your head.
The earbuds have 22 hours of battery use, and that's with the case. What that really means is you get six hours of use in the earbuds before they need to be popped back into the case for a recharge. The case can hold 16 additional hours of a charge, which means you can fully recharge them two more times before they need to be plugged back into a charger.
These are also IPX4 sweat and water resistant, which means you can run in them and they can handle rain, but don't swim with them. They can each be used solo, but that may cause you to have reset the earbuds to re-connect and pair them to each other.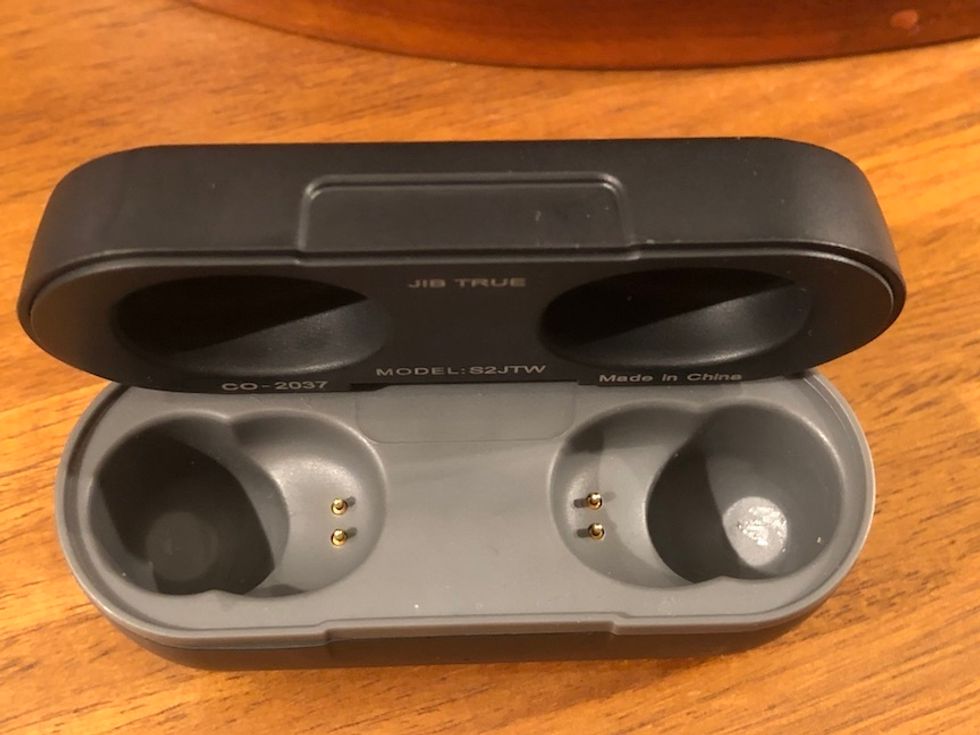 The Jib True earbuds hold 22 hours of battery life with the caseGearBrain
They also promise to pair with the last device they connected to, even if you put the earbuds back into their case. We tested this, it worked repeatedly. Note, though, if you're someone who flips between different pairs of earbuds or headphones, like me, they're not going to automatically link back up — you're going to have to choose them in the settings.
And if you're moving them from one device to another — say your phone to your computer — reconnecting is annoying. You're going to have one device forget them, then put them back in their case, take them out, wait for them to sync to each other, and go into pairing mode and select them again. I don't have to do that with most of my other earbuds and headsets, so that wasn't ideal.
Skullcandy Jib True Wireless Earbuds — Sound

Let's go right to the meat — how do these sound. The Skullcandy Jib True Wireless Earbuds are heavy on the low tones, the bass, and there isn't a full roundness to the levels here when you're listening to music. They're kind of flat, but they're also actually fine. I've had Taylor Swift's "Betty" on heavy rotation for the past two weeks, and it sounded good — not AirPods Pro great, but good. Could I feel good listening to music on them? Absolutely. Could I be a snob if I wanted and say I needed more personalized sound? Completely. But for $30 I am not going to do that.
Phone calls were also very clear. Each earbud has a microphone in it, which helps. There was some warbling, particularly in hearing a phone ring, which is more about the Bluetooth connection. But people could hear me cleanly and I could hear them. That's what I call a workable solution. That connection is more noticeable while watching a movie on a computer. There I did, occasionally, see a bit of a lag around dialog. But this happened only once in awhile, and it was far from the lag I've seen on far more expensive earbuds.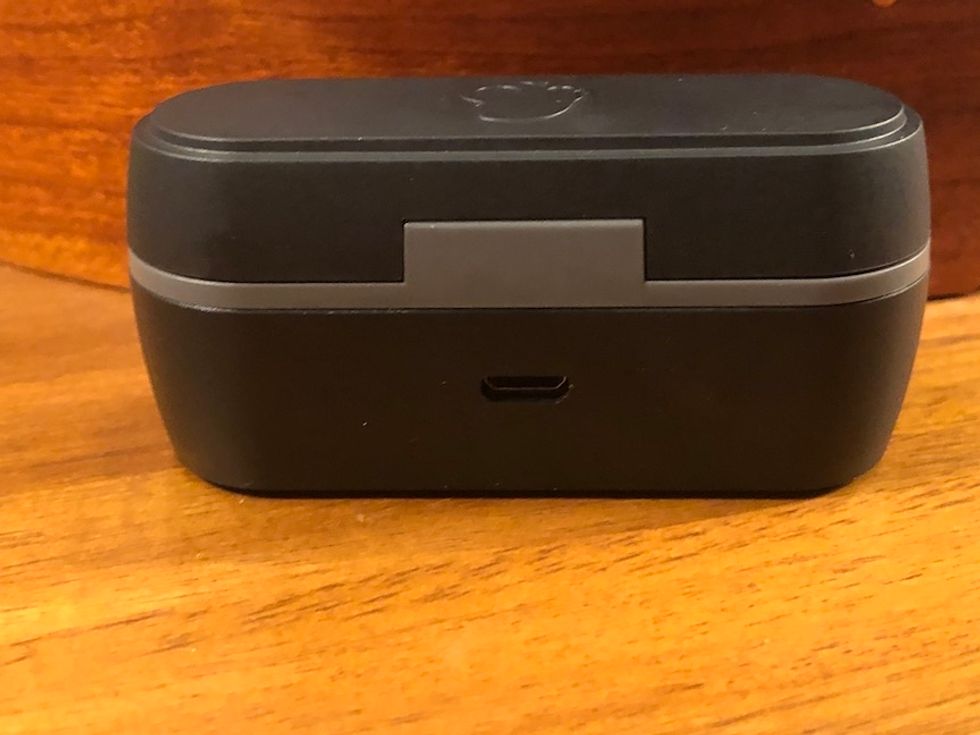 You get a charging cable with the earbuds, which fits into the backGearBrain
You're also not getting any noise cancellation features, and that's a bit noticeable. Skullcandy say they have a noise-isolating fit. Okay. With music playing or a movie or a call, you're hearing that sound of course. But put these in and don't have anything playing? Even with them in the ear, you can pick up on sound around you. And these don't connect to the Skullcandy app, and therefore you can't personalize the sound or change the levels or quality. But we've had some issues with the app, and frankly I found this to be a plus. And again, did we mention these are $30?
Skullcandy Jib True Wireless Earbuds — Fit

As I mentioned, these had a decent fit in my ear, but they didn't feel super secure. I constantly felt they were going to pop out, and yet I took them out for a workout spin and they actually stayed in place. I'm not a racer, but a couple of times I actually tried to get these to budge, and they stayed. They don't feel as secure as some of mainstays, and that alone is likely something that would make them not my favorites — I'd be worried about them falling out which would be distracting. But again, given their shape I was impressed at their stickability.
Skullcandy Jib True Wireless Earbuds — Price
The Skullcandy Jib True Wireless Earbuds are just $29.99 on the Skullcandy web site.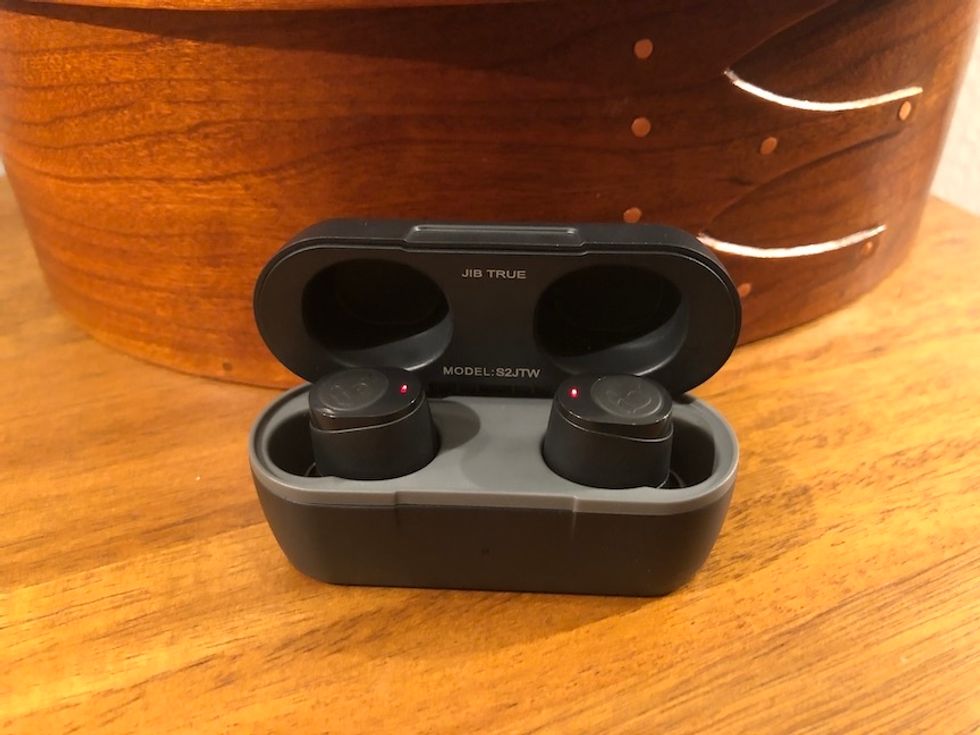 The Jib True are a sound buy, especially for their priceGearBrain
Skullcandy Jib True Wireless Earbuds — Worth buying?

Calls with the Skullcandy Jib True Wireless Earbuds were very clear and battery life was good, and they held in place while exercising. Sound was heavy on the bass, and they do feel a bit wobbly in the ear. But for $30 these are earbuds that are fine, and compete with options that cost more. They tick all the boxes of what you need and while they're not going to compete with high-end earbuds, even those from Skullcandy's own range, they're absolutely a solid purchase, especially given their price. For anyone looking for an inexpensive pair of earbuds that work for calls, listening to music, watching movies or working out, the Skullcandy Jib True Wireless Earbuds are definitely the ones to buy.
Pros:
Calls sound clear
Price
Stayed in place while exercising
Cons:
Heavy bass
Don't have optional ear tips for sizing
Need to re-pair them if you're switching between devices
Like GearBrain on Facebook