Like GearBrain on Facebook
Skullcandy's recently released a trio of new earbuds, including the Indy Fuel True Wireless Earbuds. The earbuds are small, black, with a nice grippy feel in the ear, and well-priced at just $99.99, particularly as they have Tile built into them. Tile is a tracker, which means if you drop one of the these babies in your home, or under a car while running (it's happened, believe me), you can open the Tile app, and have the earbud play a sound to help you find them.
Like many of Skullcandy's products, including the Crusher ANC headphones, the Indy Fuel's also have good sound, and they're designed well too. We threw them into work, testing them while running, listening to music, making phone calls and other tasks to see how they fared. The Indy Fuel's did great in some areas — and stumbled a bit in others.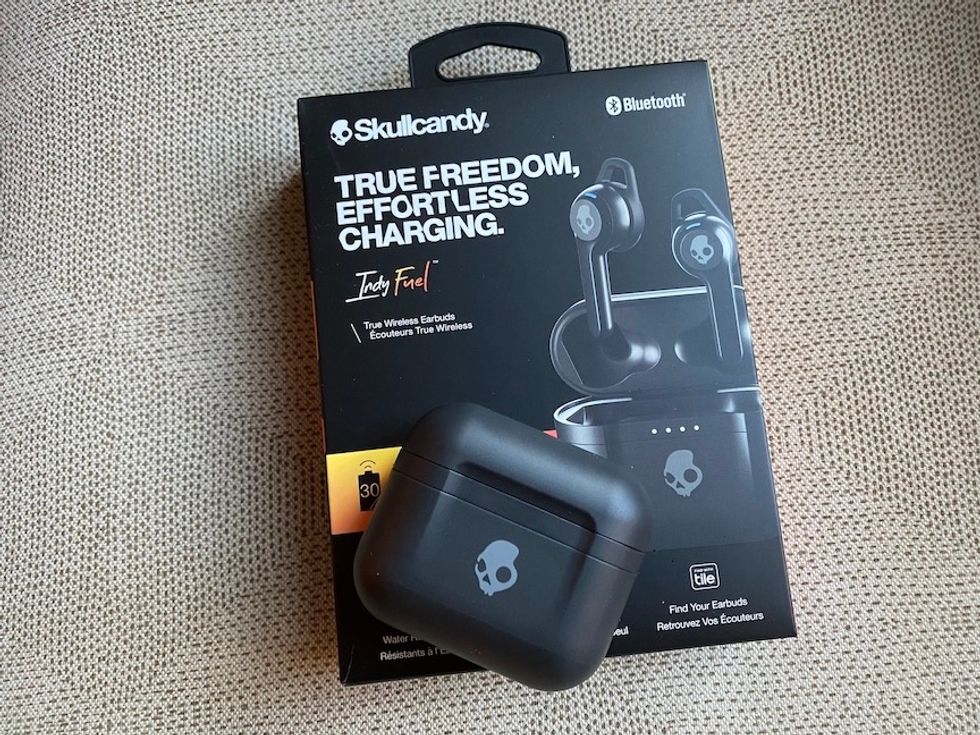 Indy Fuel's come with a wireless charging caseGearBrain
Earbuds that fit

It's hard for those of us with small ears to always find earbuds — especially wireless ones — that fit. The Indy Fuel's did, and also felt really snug in my ear. They're covered in a material that gives them a snug fit, plus they come with extra ear gels to get as close a fit as you'd like. Even as the Apple AirPods Pro remain my go-tos for running, I liked running in the Indy Fuels.
They're also, because they're wireless, very lightweight. Plus, I could pick up on ambient sound around me as I ran, which is nice from a safety stand-point. That means I can hear a bicyclist come up from behind, or a car as well. Solid.
Those ear gels though can make it difficult to push the earbuds back into their case. You have the move the loops on the top around a bit to have them positioned correctly so the lid will close. Something to note.
Tile
The Tile tracking is a big plus, because while wireless earbuds are great for their size, weight and flexibility, those elements also make them easy to lose and misplace. You do need a Tile account to connect the earbuds to the tracking element. That's free to set-up. But once you do, as long as the earbuds are charged, they can be forced to play a siren to help you locate them if they're misplaced, even if they're not in their case.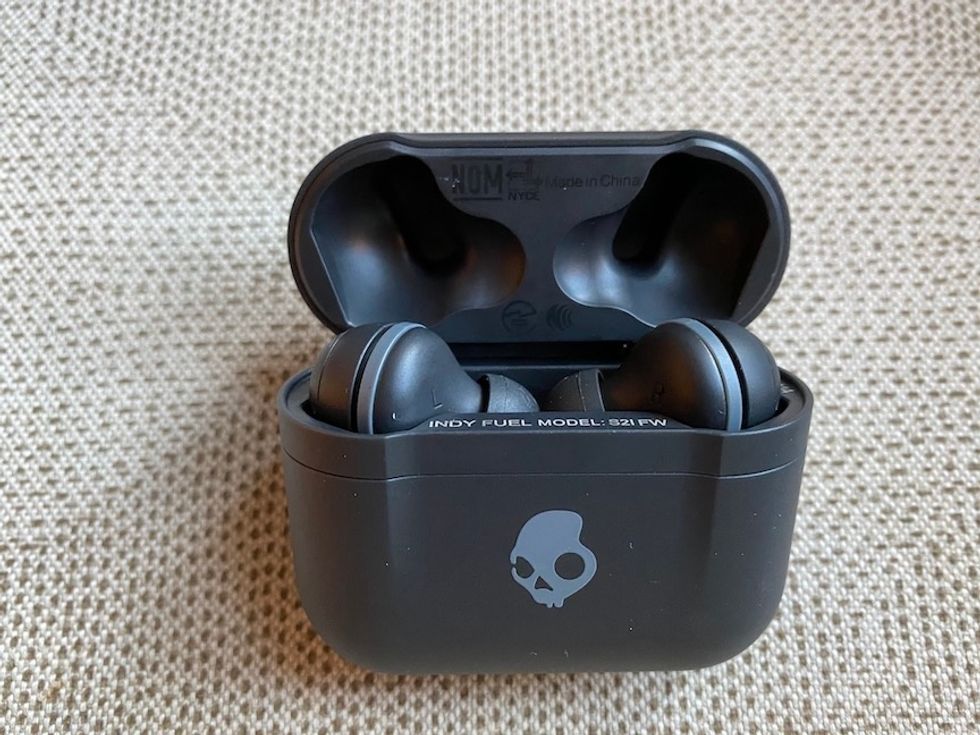 The Indy Fuel's are packed with Tile trackers so if you lose one earbud, you can use the Tile app to locate it.GearBrain
Sound

The sound clarity is fine, certainly solid for the price. Music was a little muffled, not as bright and tonal as some of their headphones. But absolutely workable, and not something you would notice necessarily unless you are very particular. And then you're likely not buying $100 earbuds.
I didn't have an issue with anyone hearing me, or typically my hearing other people when I was making calls. The Indy Fuel's also paired immediately with my computer, my Apple Watch 5, as well as my iPhone. And they felt pretty secure in my ear.
The long piece that comes down is still not my favorite look for earbuds, which is what's happening with the Indy Fuels. I feel it's a bit of a strange look. They also don't also slip neatly back into their carrying case because of the adjustable rubber cover on the top. It took a few tries before I figured out how to angle that part to make the cover snap back neatly.
Let's connect
Basically, everything worked fine with the earbuds. Until they didn't. The Indy Fuel's began to stop playing in one ear. Reconnecting them? Just not simple, even after finding the step-by-step Skullcandy posts online to show you how to reconnect specifically if one earbud is not playing.
Even more of a problem? After I was able to get them paired to each other — to play in stereo — and then to a device, they would slip back into solo mode if I switched device, from my iPhone to my MacBook Air to my Apple Watch for example.
The fix, while not complicated, did take a few tries to get them back into stereo. I also needed to turn off Bluetooth on each device each time, and then turn it back on again.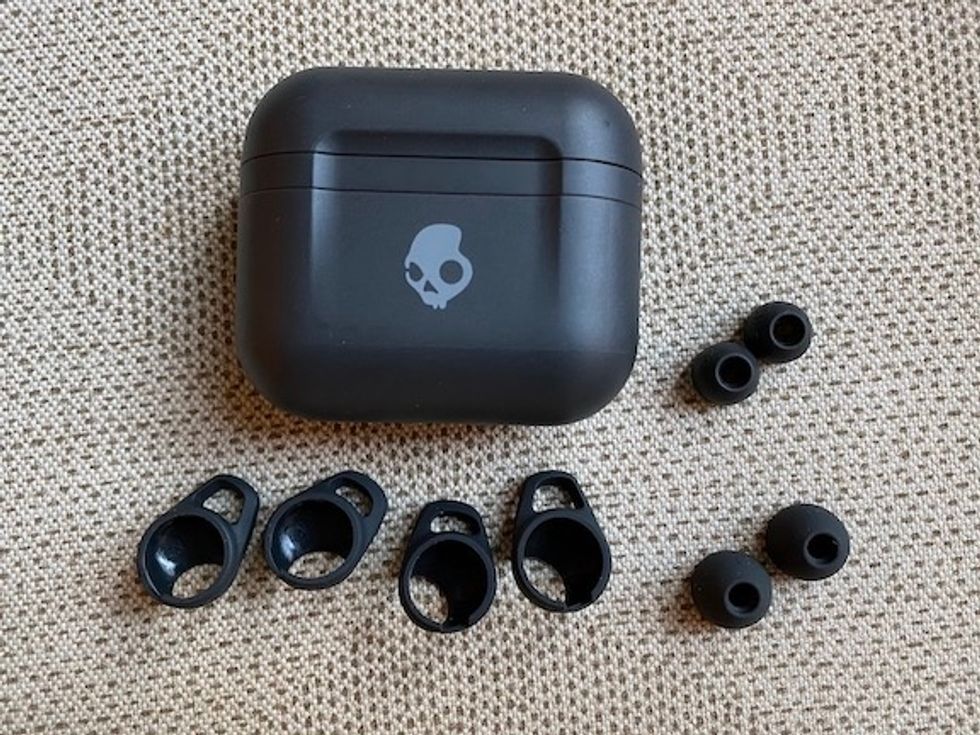 Each pair of Indy Fuel's come with extra pieces to help find a more secure fitGearBrain
Luckily, this didn't happen when I was mid-run — which would have been certainly irritating. But having to not just re-connect to a new device, but actually re-pair the earbuds each time I switch, is just not fun.

This connection issue would also happen if I wanted to flip from listening to something on my iPhone to my laptop. I'd have to take the earbuds from my ear, turn them off, and then back on, and then re-pair them with the laptop. I know this isn't a typical Skullcandy issue — my Crusher ANC headphones reconnect even weeks after not using them with my laptop. Happening as often as they did was not ideal. We also tested them on other laptops and smartphones, and found the problem repeated there too.
Price
The Indy Fuel True Wireless Earbuds are $99.99 on Skullcandy's web site, and come in black.
Worth buying
At the current price, the Indy Fuel are certainly a solid pair of wireless earbuds. They fit well while exercising, offer solid sound, and have Tile built-in, so you have some assurance you'll likely find them if they're misplaced in your home or office.
The connection issues are notable, something to consider if you plan to use across multiple devices. But for those who are mobile only, or use their laptop for everything from video calls to work, then there's a lot to like with the Indy Fuel earbuds.
Pros:
Price
Tile trackers build inside
Solid sound and fit
Cons:
Pairing issues when switching devices
Shift to Solo mode frequently
Can be difficult to close the case with earbuds inside
Like GearBrain on Facebook