Like GearBrain on Facebook
When it comes to buying a new wearable, there is more choice now in 2021 than ever before. But before you settle on a manufacturer or even a certain model, it is worth asking yourself a simple question: Do you want a smartwatch or a fitness tracker?
To be clear, most smartwatches are a form of fitness tracker. They strap to your wrist and measure a wide range of health and fitness metrics, from your daily activity and heart rate, to blood oxygen saturation, sleep and even stress level.
Read More:
But there are some key differences between the two product categories. In this article we will explain these differences and provide some suggestions for the best smartwatch and fitness tracker to suit your needs.
Fitness trackers are simpler and smaller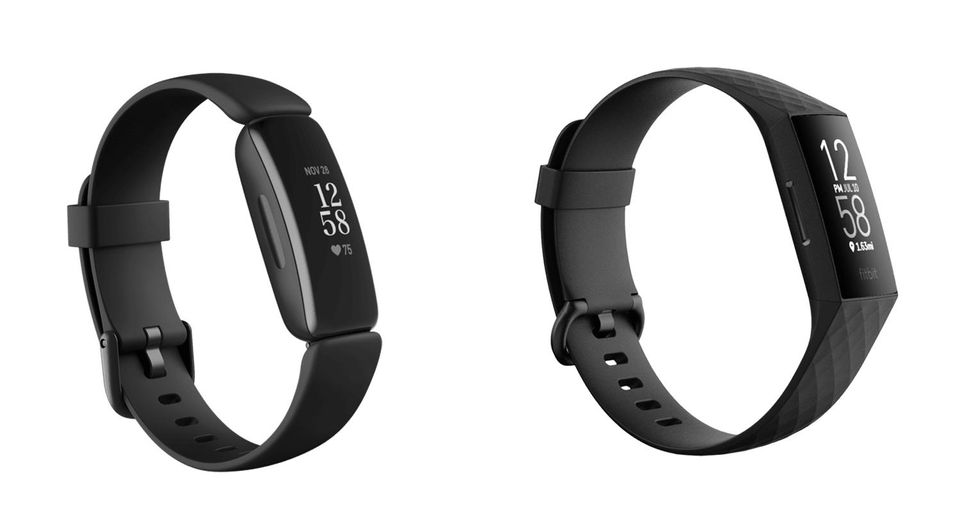 The Inspire 2 and Charge 4 fitness trackers by FitbitFitbit
Generally speaking, smartwatches can do more than fitness trackers. Examples like the Apple Watch Series 6 or Samsung Galaxy Watch 3 are packed to the rafters with features for tracking your health and fitness, but also for communicating (messaging, calls, emails etc), music playback, and even smart home control via installed applications and their embedded voice assistants.

Smartwatches also tend to be more customizable than fitness trackers, thanks to their swappable straps and digital watch faces that can be personalized to suit your needs and style. The straps of some fitness trackers can also be swapped out, but they don't tend to use the industry-standard lug bars of most smartwatches, so aren't as customizable.
The Apple Watch also misses out on standard lug bars, but its own strap system has been adopted by a huge range of third-party accessory makers – including those that produce lug bar adaptors for making the Watch compatible with regular watch straps.
But where fitness trackers lose out on features and personalization, they are smaller, simpler and often with greater battery life. When looking at best-sellers like the Fitbit Charge – and especially the Fitbit Inspire – these are compact wearables with small, simple screens. As a result they are far more subtle than a smartwatch, tucking under sleeves more easily.
Taking the Inspire as an example, it can be used to mimic a smartwatch, compete with the ability to handle phone calls and serve up notifications for messages and calendar events. But all of that can be switched off, leaving it to perform exclusively as a fitness tracker, and that means better battery life.
Fitness trackers have a longer battery life (mostly)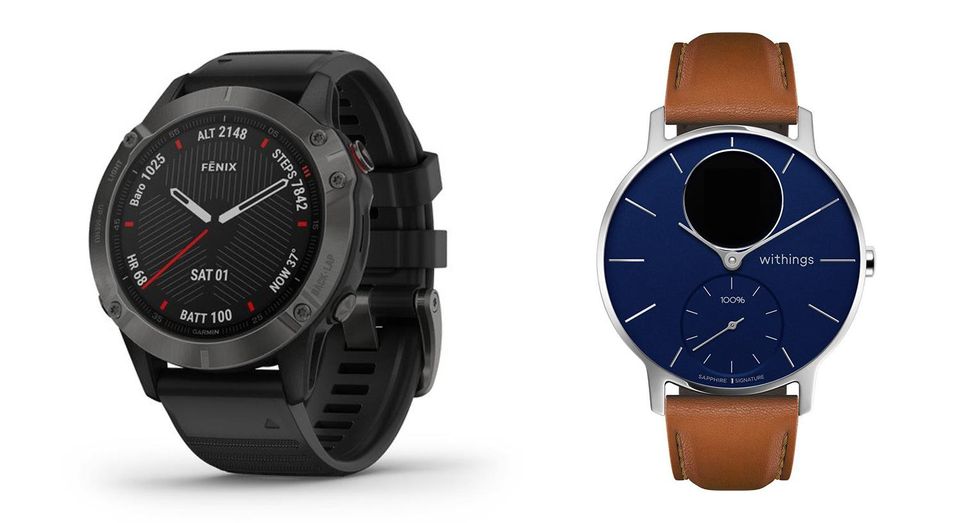 Outdoor watches from Garmin and hybrids from Withings have superior battery life Garmin / Withings
Fitbit states up to 10 days of battery life for the latest Inspire 2, compared to just 18 hours for the feature-packed Apple Watch Series 6. This means the Fitbit can be worn constantly – all day and night, if you like – for over a week before it needs charging, whereas the Apple Watch needs a daily top-up, especially if you use it to track your sleep.

There are some exceptions to this battery rule. For example, Garmin makes some smartwatches with a claimed battery life of up to 48 days, plus a further 32 days when the integrated solar panel is exposed to ideal conditions. The watch in question, called the Fenix 6 Solar, lasts for 14 days (plus a further two from the solar panel in ideal conditions) when used as a regular smartwatch, or up to 72 hours (plus 21 hours from solar) with GPS fully enabled.
Then there are hybrid watches, which have many of the fitness-tracking features of everything we have mentioned so far, but without a color touchscreen display. Instead, some have a simpler and smaller grayscale display inside a regular watch face.
Others manage without any display at all, instead showing your daily activity using a second mechanical dial, or 'complication' to use wristwatch lingo. Withings is one of our favorite hybrid watch companies and its Steel HR Sport includes activity, heart rate and sleep tracking, is water resistant, and can be used to record a wide range of sports and exercises. It has interchangeable straps, a range of different case and dial designs to pick from, and a small display for showing notifications. It also has a battery life of up to 25 days, meaning its stamina is closer to that of a fitness tracker than a smartwatch.
What if you want to wear a traditional watch?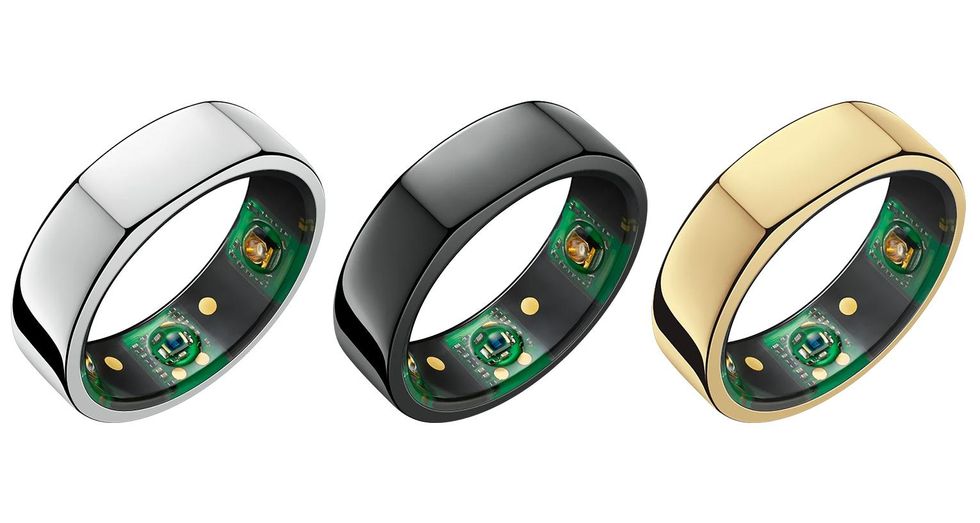 The Oura Smart Ring is an alternative fitness trackerOura
This is another plus for fitness trackers, as they can be worn either next to a traditional watch, or on the opposite wrist, without you appearing to be wearing two watches. Whether you do this or not will be down to personal preference, but for slim trackers like the Fitbit Inspire 2 and Garmin Vivosmart 4 we think it's perfectly acceptable to also wear a regular watch on the other wrist.

Another option here is to wear a smart ring instead of a tracker on your wrist. Devices like the Oura Smart Ring look like regular jewelry – and can even be bought in several colors, including silver and gold – but include activity, heart and sleep tracking. Unlike most wearables, the Oura can record temperature too, plus heart rate variability in-depth sleep data. Battery life is up to one week and it is water resistant to depths of 100 meters, so is safe for swimming and snorkeling.
A smart ring doesn't display any information (everything is sent to your smartphone instead), but that means you can wear whatever watch you like, be it smart, digital or mechanical.
Which is best?
This depends on what you want from a wearable, and if you already wear a watch. If you want an all-singing, all-dancing wearable, then a smartwatch like the Apple Watch Series 6 or the Samsung Galaxy Watch 3 is the answer.
But, if you like the look of traditional watches, you will be better off either looking at a hybrid from Withings and adding that to your watch collection, or opting for a slim fitness tracker from Fitbit or Garmin. If you want to keep your wrist free, a smart ring from Oura is the way to go. The good news is that, despite these products all being quite different, they all cover the basics, with detailed tracking of your daily activity, steps, exercise and sleep.
Don't forget to use The GearBrain, our compatibility find engine for smart devices. It's free and easy to use to find the perfect smartwatch or fitness tracker.
How to Setup an Apple Watch www.youtube.com
Like GearBrain on Facebook