In testing robot vacuums over the past few years, we learned what to look for in a good robot vacuum. Besides suction power, mapping and navigation technology, battery-life and its ability to avoid obstacles when vacuuming, we look for ease of use. Is it easy to setup and run? Do you have to spend a lot of time figuring out how the navigation works? And now, how hard is it to setup the mopping and vacuuming from the same robot vacuum and if it offers a self-emptying option, how long can it store your dirt and dust? All valid questions to ask and answer when testing a smart robot vacuum. And we just tested a new robot vacuum from yeedi which met these standards and more. Here are our results from testing yeedi's new yeedi vac 2 pro robot vacuum which can mop and vacuum your flooring simultaneously.

What is yeedi vac 2 pro Robot Vacuum?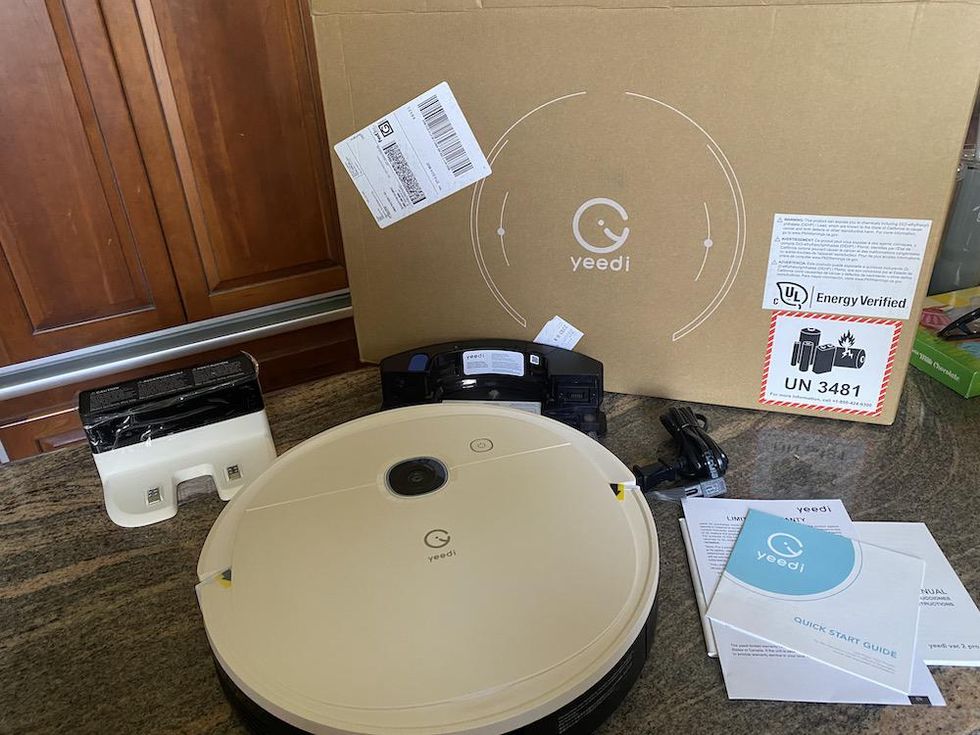 yeedi vac 2 pro robot vacuum unboxed
GearBrain
yeedi's latest smart robot vacuum is a 2-in-1 smart robot vacuum that can either mop or vacuum your floors, but also has several new advanced features which we liked. The yeedi vac 2 pro comes with 3000Pa suction power which is important to have in a robot vacuum today. 3000Pa suction power is strong enough to pick up dust, dog hair and dirt on your tile, wood or carpeted floors. This new robot vacuum also comes with the company's smart visual mapping and navigation technology which we have seen from testing other yeedi models (i.e., yeedi vac station self emptying vacuum & mop cleaner.) But what really makes this new yeedi vacuum standout are three new features: oscillating mopping system, 3D obstacle avoidance tech and carpet detection capabilities. These new features are rarely found in a robot vacuum at the price point of yeedi vac 2 pro.
How does yeedi's new oscillating mopping system work?
yeedi's new oscillating mopping system is unique and unlike any mopping system we have tested in a robot vacuum. The vacuum's water bin comes with the rag installed on the bin. You don't have to mount it like other robot vacuums that also mop your floors. The rag fits nicely on the bin which is helpful since it moves in a unique way. Most robot vacuums drag the rag attached to the water bin. With the new yeedi vac 2 pro, the water bin moves side by side simulating the motion of a mop going back and forth on a floor. And the motion is very quick which aids in removing stubborn stains on your flooring.
How does yeedi's 3D obstacle avoidance work?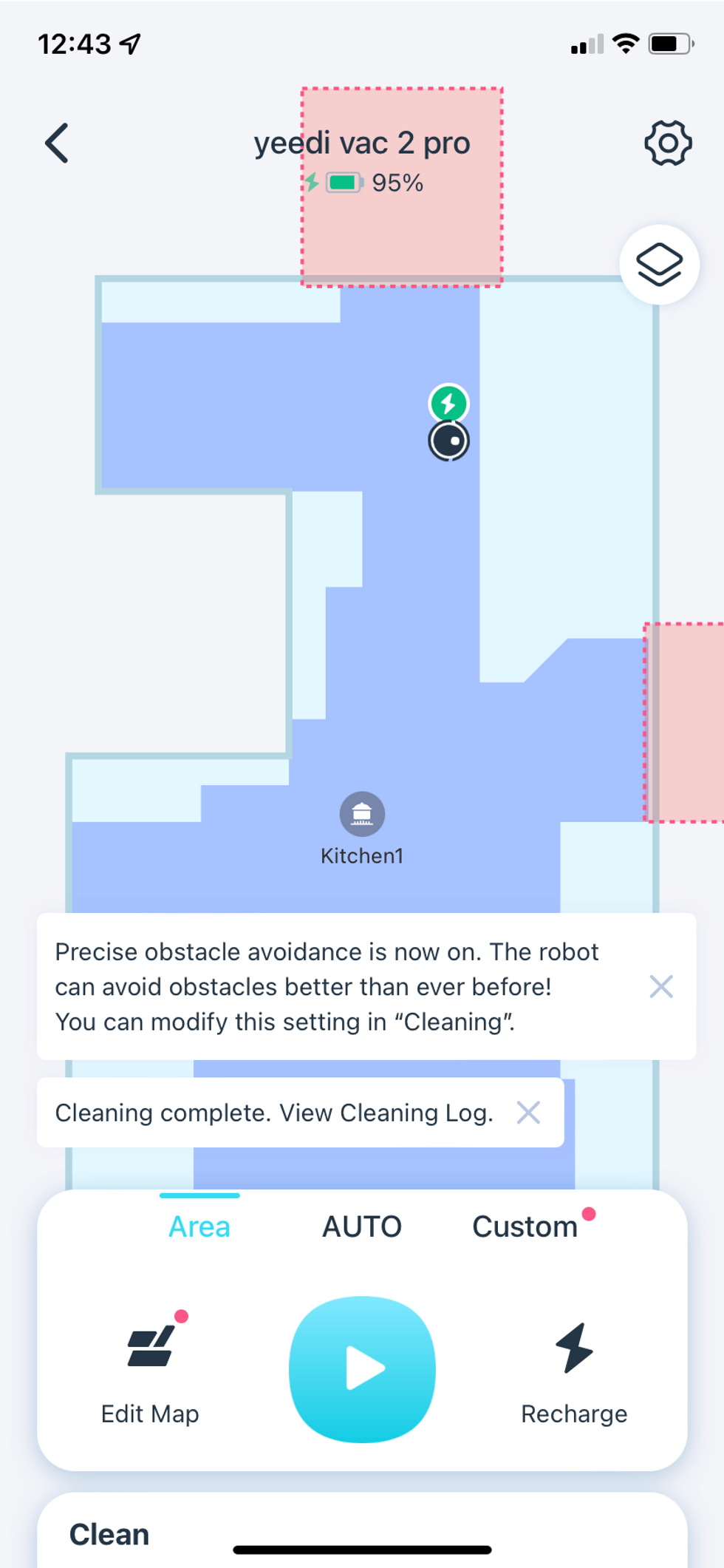 map in yeedi app
GearBrain
If you have an iPhone with Face ID, you will understand this technology. yeedi uses the same type of technology in the yeedi vac 2 pro and its camera which sits on top of the robot vacuum. Their 3D obstacle avoidance is a 3D structured light technology. It can measure the height, width and length of obstacles in its way during cleaning. This would include steps, chairs, step stools and any items bigger than 3 centimeters. Floor mats and wiring will not be detected because the accuracy of their 3D technology gets a little confused with smaller objects. As with all robot vacuums, it is advised to remove all items in the room prior to running your vacuum.
How to setup Yeedi vac 2 pro robot vacuum?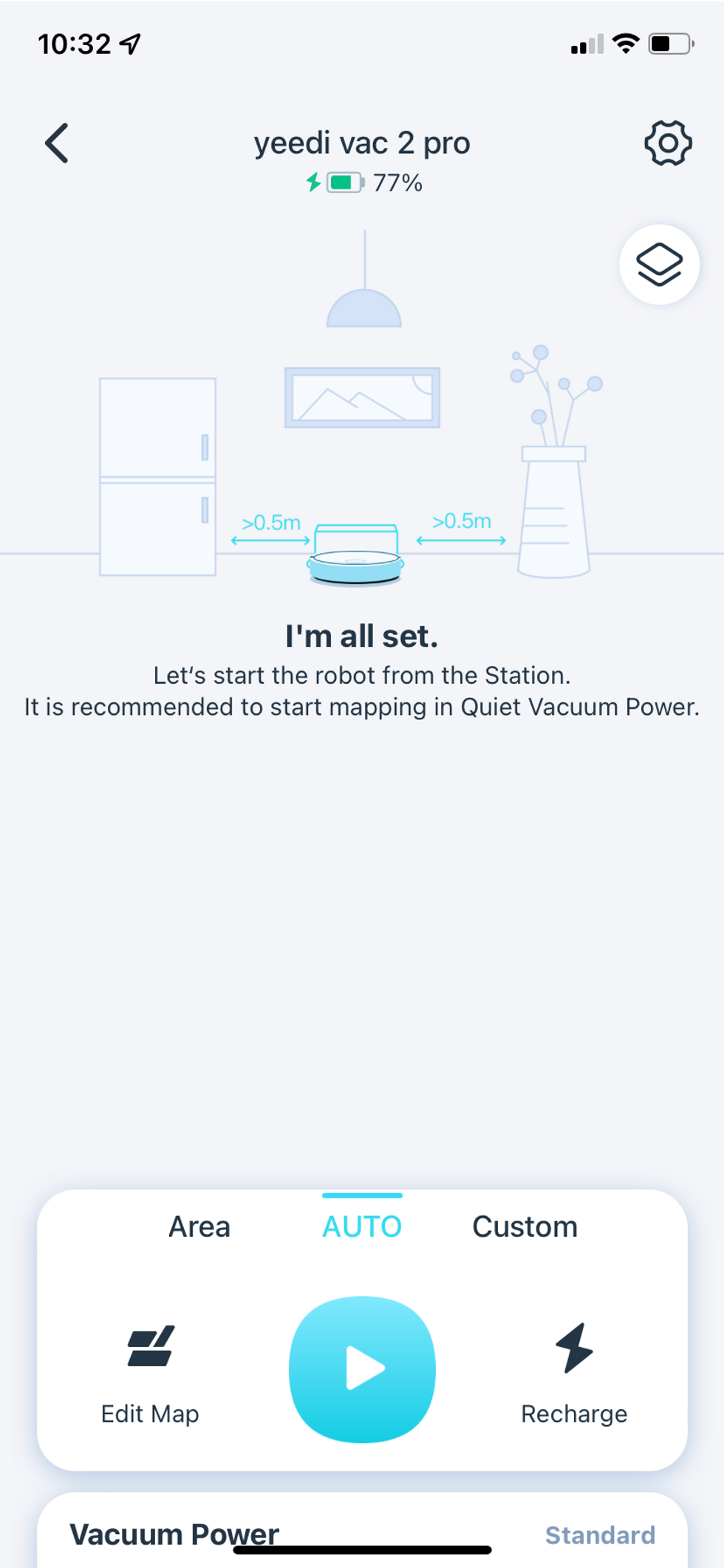 use yeedi app to map your room for yeedi vac 2 pro
GearBrain
To install this robot vacuum is simple. Download the yeedi app and then unboxed the vacuum. The yeedi app is available for both iOS and Android devices. Next attach the brush and remove any cushions blocking the vacuums bumpers which were installed for shipping purposes. Then follow setup instructions in the yeedi app. They are easy to follow and it will take a few minutes to connect to your home Wi-Fi. Once setup is complete, you should check firmware to make sure it's updated. Then run your yeedi in quiet mode to map your room. Once mapping is done you could set up virtual boundaries and no-go zones in the yeedi app. This will help prevent your vacuum from going into other rooms or places you don't want it to vacuum. You can also label areas on the map if you want.
Once you run your yeedi vac 2 pro, you can setup cleaning cycles and schedules, adjust the robot's voice levels, set cleaning settings, vacuum power and water flow levels if you plan to mop your floors. And there is a cleaning log you can access too all by using the yeedi app.
Another nice feature in the yeedi app under settings is the monitoring of your vacuum's accessories. The app will show you the percentage of time remaining before you must replace your side brush, main brush, filter and other components.
Smart Home Integrations

If you own a Google Assistant or Amazon Alexa enabled device, the yeedi robot vacuums are compatible with these smart speakers and displays. You can easily connect yeedi vac 2 pro to these voice assistant but you are going to have a big issue with voice commands. It seems when you ask either Google or Alexa to start yeedi, the smart speaker might not understand it. This happened to us during testing, and it took a couple of tries before Google and Alexa understood the voice command. Something for you to be aware of if planning to have either of these smart speakers control your yeedi cleaning.
How much does yeedi vac 2 pro robot vacuum cost?
yeedi vac 2 pro Robot Vacuum costs $449 and it's available on Amazon, Walmart and the company's store. Is this a good price? Whether you compare yeedi vac 2 pro to robot vacuums that just vacuum or vacuum and mop, this is a good price. We found and tested good robot vacuums which can mop and vacuum your floors with prices ranging from $459 to as high as $600. (i.e., Roborock S5 Max and S6 Pure.). But keep in mind, you will not find many robot vacuums that can mop and vacuum your floors and have a suction power greater than 3000Pa in this price range. Many only have 2000Pa which is not enough to really clean your floors, especially if you have carpets and pets.
And if you want to add a self-emptying bin to your yeedi vac 2 pro, yeedi's existing self-emptying bin is compatible, costs $199 and is on sale on the company's website.
How well did yeedi vac 2 pro perform?
Since we are familiar with yeedi robot vacuums, testing was easy and fun. Like other yeedi's, the setup was quick and easy. We unboxed the robot, put it on the charger and downloaded the app. Once fully charged, we ran the robot in quiet mode so it could quickly map our room. During this run, we watched how the robot vacuum avoided going over the edge into another room with ease. We also have a lip in a doorway which the robot vacuum avoided. This was nice to see since other robot vacuums we tested didn't avoid it and went over into the other room.
Once completed we were able to set our no-go zones in the yeedi app. Then the fun really started. We tested the suction power on the vac 2 pro by vacuuming both carpet and tile flooring. Even on Max setting (and not Max+) the suction was strong to pick up dog hair and dirt on our carpet. On our kitchen flooring (tile), we found the Max setting worked best, especially since the sound level was not loud. We were a little skeptical on how yeedi would clean certain corners of our kitchen, but the vacuum's brush worked fine. It was able to get the dirt in the hard-to-reach places.
Next, we tested the mopping and vacuum feature which really sets this robot vacuum apart from other vacuums. Most robot vacuums that can mop and vacuum your flooring don't do it simultaneously. They require you swop out the dustbin for the water bin. With yeedi vac 2 pro you have two bins on the robot vacuum which work together in vacuuming your floor. The robot vacuum moves in a way where the vacuum picks up the dirt and then the water bin with its oscillating mopping system mops your floor. But it doesn't drag the mop, it moves side-to-side to clean your floor. Besides having the vacuum and mopping working simultaneously, I've never seen anything like yeedi's mopping system. It moves extremely fast and did clean our floors. But we did have the yeedi go over our flooring a second time to make sure it got all the stains and dirt up. The mopping is good but if you have real dirty floors, you are most likely going to have to go over it a second time to make sure you get all the dirt.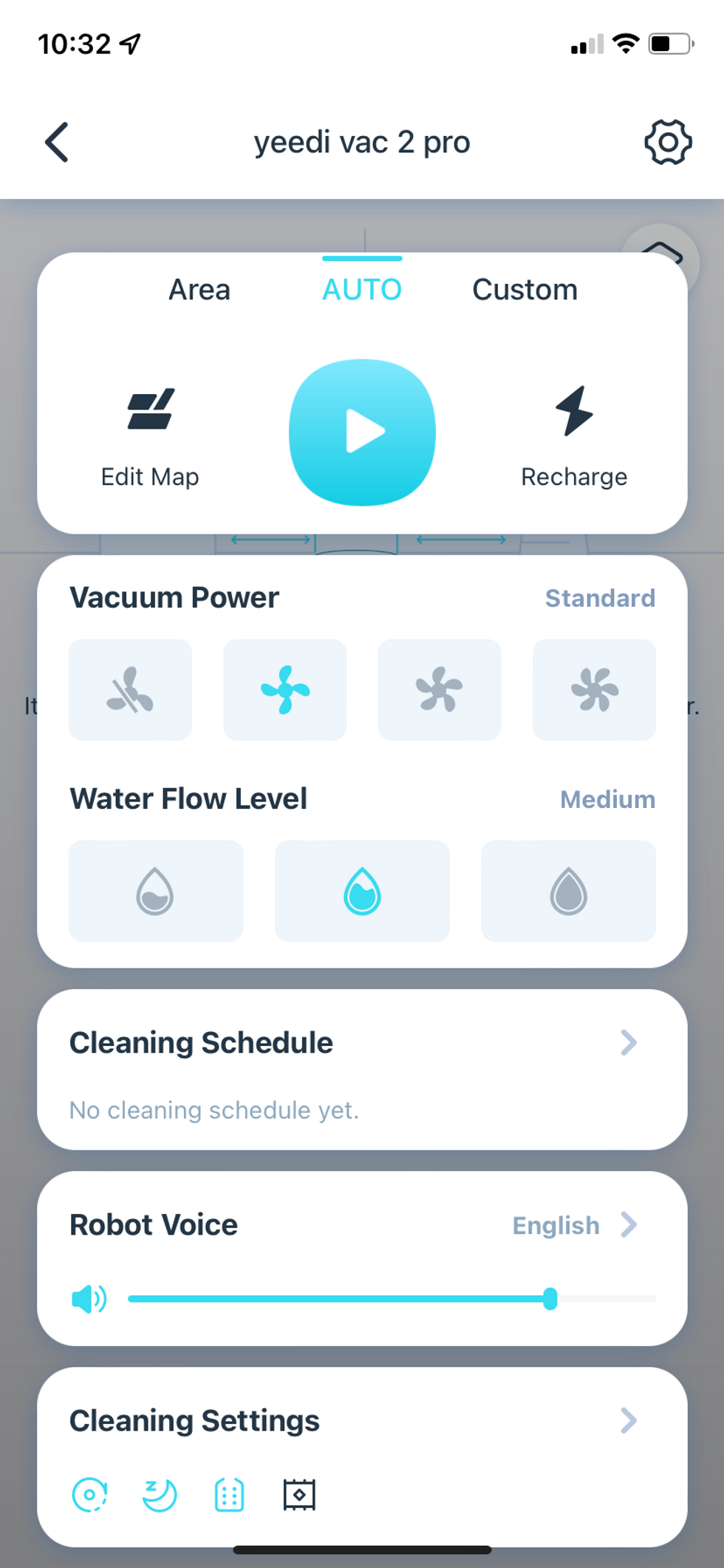 set your settings for yeedi vac 2 pro in the yeedi appGearBrain
Another nice feature we found testing the yeedi vac 2 pro was how it steers away from the carpet when mopping as well as just suction when the vacuum is goes from a tile floor to a carpeted floor. In one of our test rooms, we had tile and carpet on the floor. When we set the robot vacuum to vacuum and mop, yeedi did avoid going onto the carpet. When we had yeedi just vacuum the floors, we noticed the suction power increased slightly when it went from the tile floor to the carpet. This was a nice to see.
However, there were a few things we thought missing and they have to do with the robot vacuum's mapping and navigation. It would have been good to have in the yeedi app an option that allows you to merge or split a room and then store the maps in the yeedi app. This would make managing your robot vacuum's cleaning schedule. According to the company, they are working on these features and expect to have the merge/split feature in the yeedi app via OTA update this coming June. The storage of multiple floor maps is expected later this year (Fall 2022) according to the company. We will report back when these features are released.
Summary

If you are in the market for a robot vacuum, you are going to be overwhelmed by the amount of robot vacuums in the market. They all have good features, but you need to make sure to look for the important ones like suction power, battery-life, mapping and navigation technology and ease of use. Once you narrow down your list, then you can look to see which ones can vacuuming and mop your floors as well as have self-emptying options.
After testing yeedi vac 2 pro, we can say this is a powerful robot vacuum with all the important features you want in a good robot vacuum. Its 3000Pa suction power is strong enough to pick up your dog's hair on the carpet and can run for over 240 minutes. The mopping system is extremely unique and one of the key differentiators when you compare it to other robot vacuums. And yeedi's mapping and navigation system along with the 3D obstacle technology is helpful in avoiding mishaps when cleaning your floors. The yeedi vac 2 pro robot vacuum hit all the key points for us and is a good addition to any smart home. Just keep in mind you might have an issue with Google and Alexa voice commands.
Pro
oscillating mopping system
3D obstacle avoidance
Mops and vacuums your floors simultaneously
Cons
Hard for Google and Alexa to understand voice commands
Can't store maps
Can't merge or divide rooms
yeedi vac 2 pro Robot Vacuum and Mop Combo, 3000Pa Suction with "Patented" Oscillating Mopping, 3D Obstacle Avoidance, 240mins Runtime, Perfect for Carpet and Hard Floor Cleaning and Pets Family