Like GearBrain on Facebook
With Apple joining the Bluetooth tracker world, there are more options for buyers to select. From Tile to Chipolo, Samsung Galaxy Smart Tag to Orbit, choices abound.
Orbit and AirTag are two of the more similar options, both round in their shape, both available in different colors, both priced similarly. So here's how to make some choices on whether you should pick up Apple's new AirTag, or select an Orbit Bluetooth tracker instead.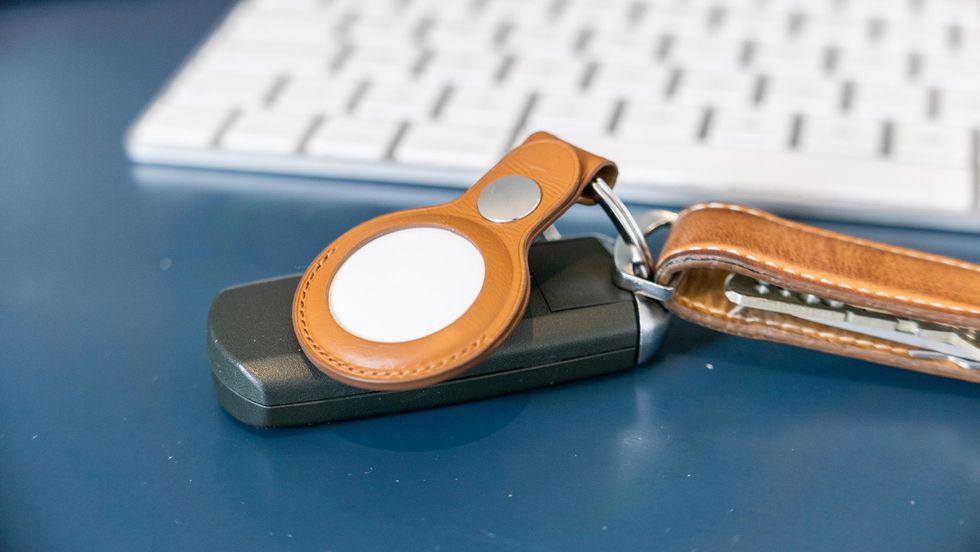 To attach an AirTag to keys or a bag you need to pick up an extra case, for an added price GearBrain
Design

Orbit and Apple AirTag could not look more similar. Both are round, and while Orbit can be ordered in a variety of colors from rose gold to red, AirTags only come in while. But they are customizable, as you can print letters, and even some emoji on the back of the tracker. (We found this did add weeks to our order — something to note.)
Orbit has several options in terms of products, but many are currently sold out on its site. The original design though is available, and is a rounded button, fairly thick, that has a hole on the top to slide a keyring. You actually get a ring in the package which is great, but you can certainly slide this onto an existing set of keys easily.
AirTag does not have a hole in the tracker, and in doing so you need to buy holders or cases, like a key ring or a leather loop, for the Apple device to attach it to other things. However, AirTags are slightly magnetic. We found they will stick, on their own, to the side of refrigerator for example. (Not something you're likely to track, we know.) It could then be stuck on to other metal objects like a car, for example. Although I would not count on AirTags to remain in place for any length of time if the object it's attached to is in motion.
Waterproofing
Orbit has a waterproof rating as well of IPX6 meaning it can handle some fairly strong direct jets of water. But AirTag is a step ahead with an IP67 rating meaning you can actually submerge this into water one meter deep for up to 30 minutes. That's a big difference, and means people shouldn't worry about AirTags getting dropped in a giant puddle or a bottle of water spilling in their bag and drowning the tracker. (Yes, this may have happened to me.)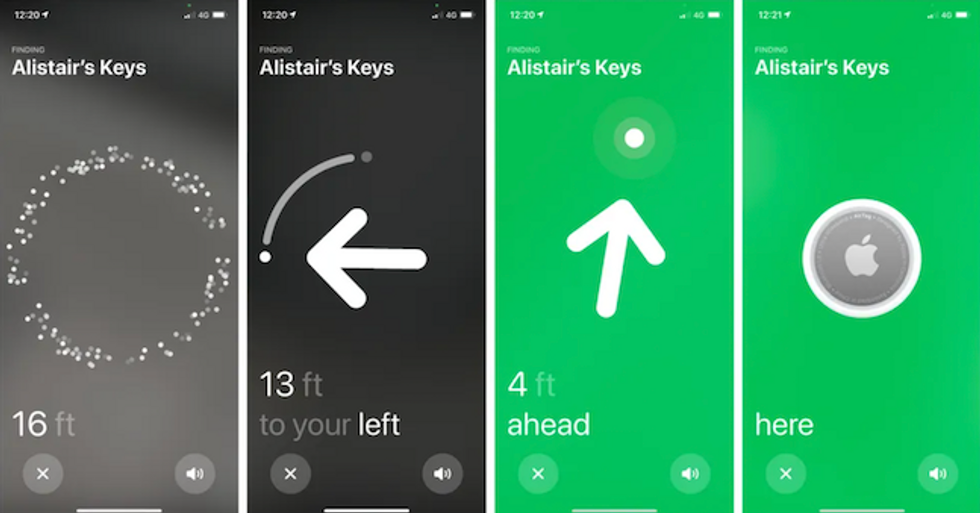 With AirTags, iPhone 11 and 12 users can tap into Precision Tracking with haptic feedback, sounds and arrows to help them find their lost trackerAlistair Charlton/GearBrain
Tracking features

Both Orbit and AirTag work by communicating via Bluetooth with their respective apps. They need to be within range of those apps — and the smartphone where the app is downloaded — to be picked up or seen. With AirTags this means an iPhone, but Orbit can work with both Android and iPhones.
Orbit can track something up to 100 feet away. You can go into the app and push a button to get the Orbit to ring to find it, or look on a map as well in the app which will give you a rough sense of where the tracker is.
Outside that range and the Orbit app won't be able to detect the tracker. Instead, you can then click on a button that will pop up in the app, 'Notify if found,' and that will send out an alert on the Orbit Net. Basically, if other people have Orbit on their phone — and the app activated — the Orbit will now ping that app.
AirTag, which also has a Bluetooth range of about 100 feet, also have a similar option called Lost Mode. And if the AirTag is missing, people can turn this feature on, and add a phone number, and also now an email address, so that if someone else finds the tracker, the original owner can be notified. And interestingly Android devices can also detect AirTags in lost mode as well.
AirTag's have a much better directional clues than Orbit, which includes arrows, the number of feet you are away from the tracker, and even sounds as well as haptic feedback to help you locate the device. This feature, called Precision Finding, does require an iPhone 11 or iPhone 12.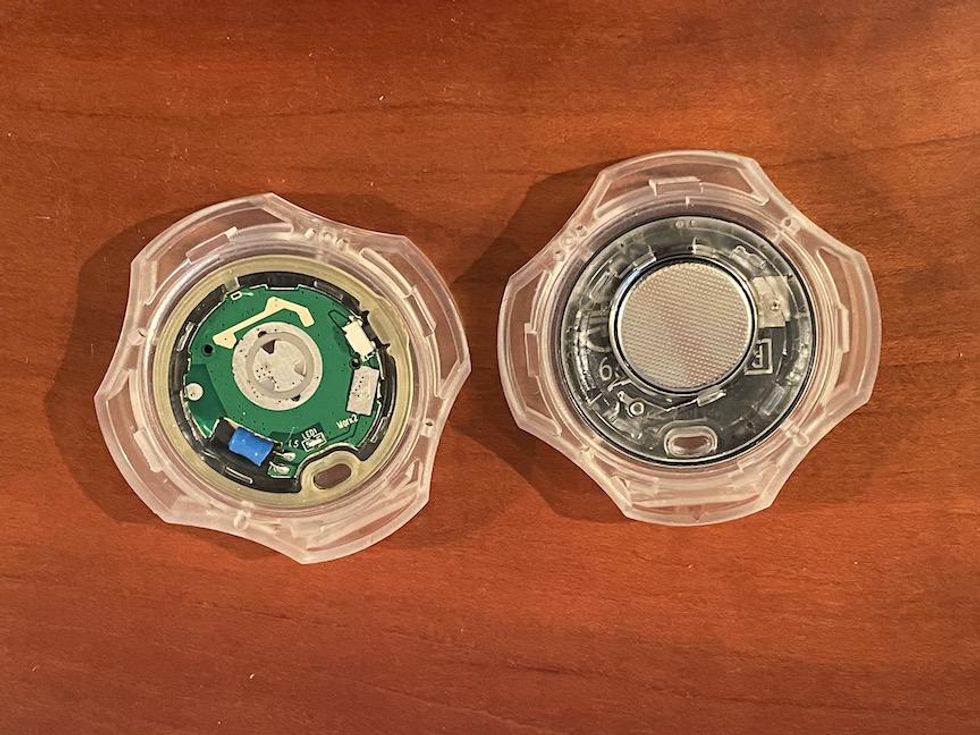 Changing the battery on the Orbit tracker requires a special case Lauren Barack/GearBrain
Battery

Battery life on the Orbit is said to be 6 months. And you get an extra battery with the Orbit when it ships. But as we found the battery that arrived in the tracker was dead, and we needed to replace the battery immediately. You also need to use a special tool to replace the battery, which Orbit helpfully includes. But you'll want to keep that somewhere safe so you can get to it again.
AirTags are also able to last one year on a battery, and can be replaced by users as well without needing an extra device.
Extra features
Orbit can be used to reverse track a smartphone, by pushing the physical trackers to ring the smartphone where the tracker app is installed.
Orbit has a couple of other extra features from being able to use the tracker as a remote to take a photo through its camera app. You can also set up Smart Reminders in the app for free, which means the Orbit will ping you if it senses it's a certain distance away from its app.
AirTag has a unique feature that Orbit does not, which is designed to help someone know if the tracker is being used to keep tabs on them, without knowing. This feature plays a sound if it can tell it's not near its owners iOS device. And further, other iOS devices can pick up if an AirTag is traveling with them that isn't theirs. The feature will then disable that tracker, ending its ability to give off its location.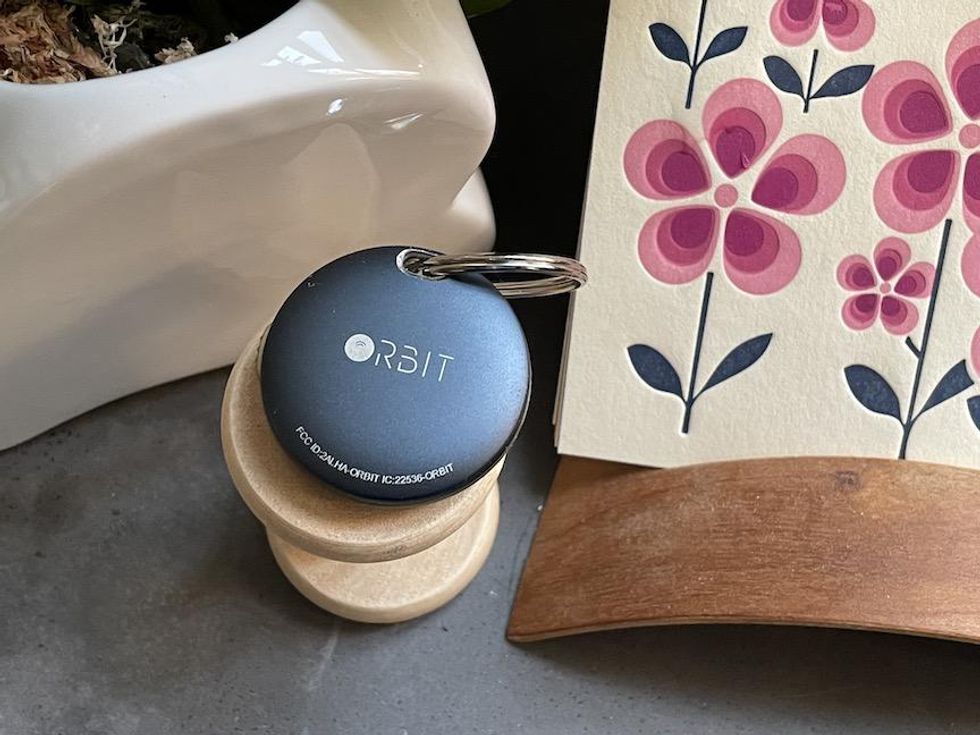 Orbit trackers come with keyrings for free, so you can attach them easily to keys or bags without paying for an extra case. Gearbrain
Price

Orbit is also priced at $24.99, and it comes in 12 different colors, although three (black, blue azure and violet) are currently sold out.
AirTags start at a higher price, $29 each. Personalization is free though and you can pick up a pack of four for $99 which brings it to about the same price as Orbit. However, in order to attach the AirTag to anything like keys or a bag, you need to buy extra cases which start at about $13 on Apple's site, adding to the overall cost.
Alexa and Siri
Orbit states that it works with Amazon's voice assistant, Alexa. And we were, in our tests, able to link the tracker to Alexa via an Alexa Skill. But we had trouble getting Alexa to actually command the Orbit tracker. When asked to locate the device, Alexa would tell me the tracker was out of range — when it was within two feet of the device.
Siri is the AirTag voice assistant, as the tracker is an Apple product. That means you can ask Siri to find an AirTag just by asking.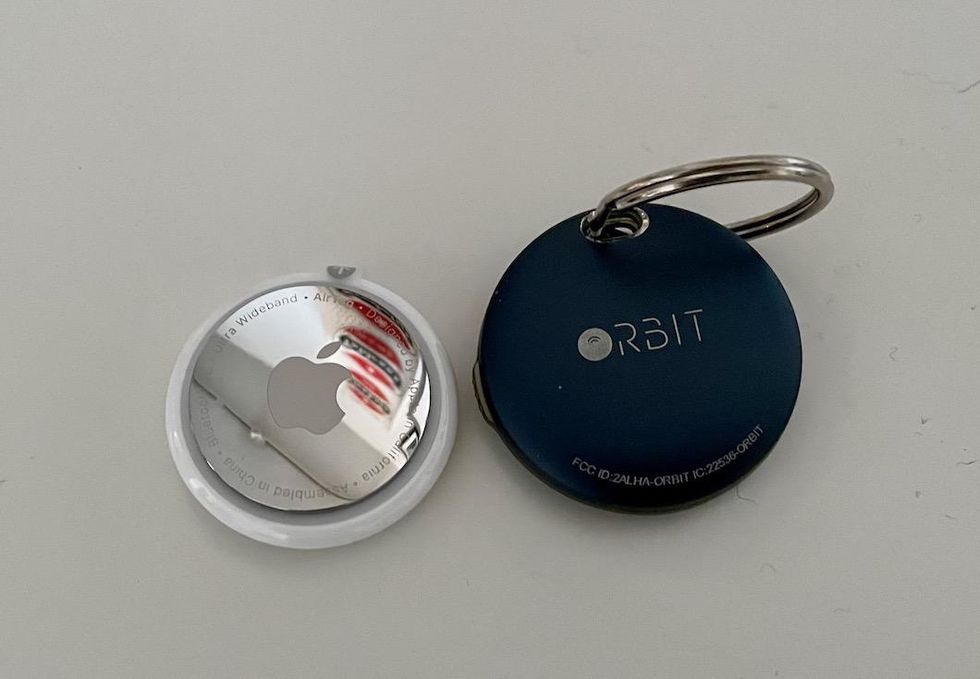 AirTags can be customized in terms of look with added letters, numbers and emoji on the back. Orbits, on the other hand, come in multiple colorsGearBrain
Which is best for you?

For iPhone 11 or 12 users, it's likely that Apple AirTag will be more appealing. While double the price, the ability to tap into the Find My network and locate the tracker, plus the Precision Tracking upgrade is going to make the AirTag worth considering.
However, AirTag is not going to be an option for Android users. If you're using an Android device, and thinking about choosing between the two, Orbit is the only way to go. It is more affordable to be fair, you can still make some fun design choices, and Orbit has some sweet added features from being able to reverse locate a smartphone to working as a camera remote.
Orbit also comes with a keyring attached, and to connect AirTag to keys or a bag you're going to need to spend at least another $13 to get a case. For budget reasons, then, whether you're an Android or iOS user, Orbit is certainly a better option. It has the same Bluetooth range as AirTag, same battery time, and can also be placed into a lost mode to help locate the tracker should it fall out of range.
For style, Precision Tracking or just for those with an attraction to new gadgets, AirTag is certainly worth a look if you're willing to spend a bit more. But ultimately we believe the choice is yours.
Check out The GearBrain, our compatibility find engine to see the other compatible trackers for your smartphone.
How to Find Products in The GearBrain, Our Compatibility Find Engine for Smart Devices www.youtube.com
From Your Site Articles
Related Articles Around the Web
Like GearBrain on Facebook