Leak detectors or flood sensors come in many different shapes and sizes, but all are effective in preventing water damage and also saving people a fair amount of money, often through discounts on homeowner's insurance premiums. We recently tested Orbit's B-hyve Smart Flood Sensors in a real home, part of the company's line of devices that include smart sprinkler controllers, timers and flow meters. Here is what we found.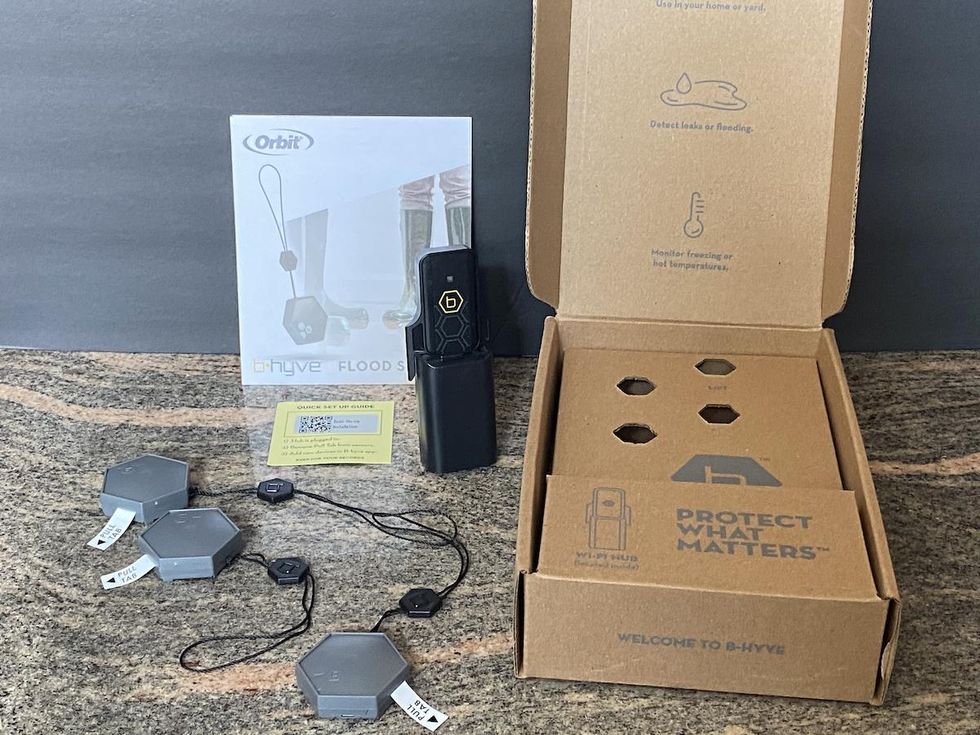 Orbit B-hyve Smart Flood Sensor unboxed.GearBrain
What is Orbit Irrigation's B-hyve Smart Flood Sensor?
As a leading manufacturer of smart irrigation systems for both commercial and residential properties, Orbit Irrigation knows water. GearBrain has previously tested Orbit's B-hyve line of smart sprinkler controllers and timers, so we've been eager to test the company's new smart flood sensors, and see how they integrated with other B-hyve smart products.
B-hyve Smart Flood Sensors specifically help detect the slightest amount of water in your home, working on a Bluetooth connection and then through a Wi-Fi hub called the B-hyve Wi-Fi Sensor Hub (Gen 2). This allows people to control the sensors using the free Orbit B-hyve iOS and Android app.
The smart flood sensor is rather small when compared to other leak detectors we have tested. That's actually an advantage as you can then easily position the smart flood sensor underneath appliances or furnaces. It also has a drawstring, allowing you to pull the sensor out from underneath an appliance.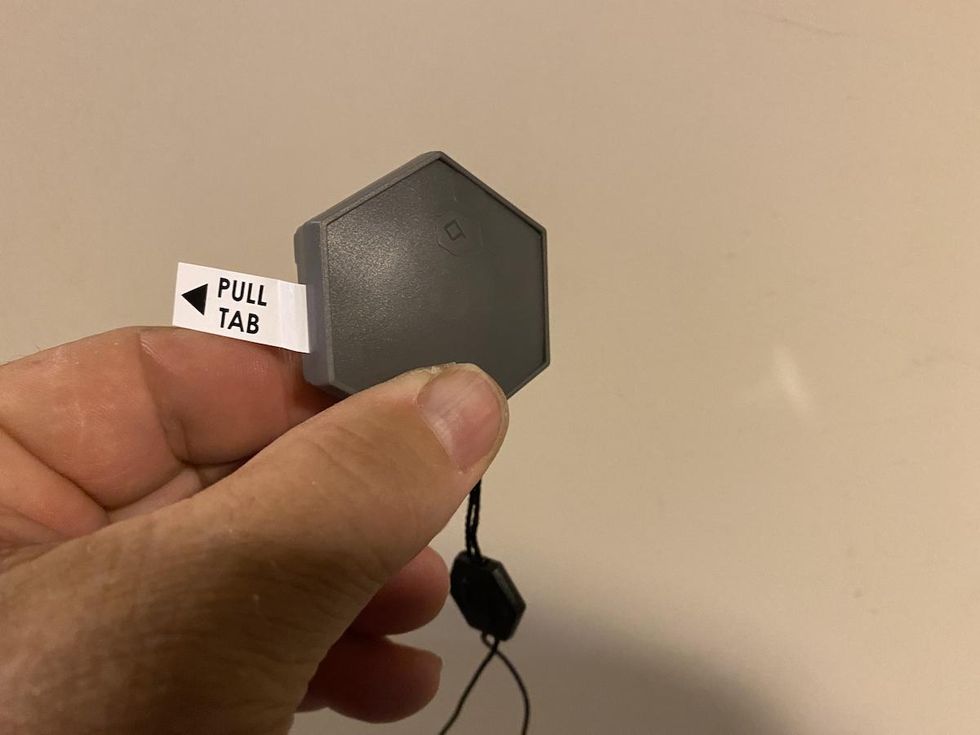 Orbit B-hyve Smart Flood Sensor is rather small.GearBrain
The key for any smart leak detector or sensor is the ability for it to wirelessly connect from where it's located — the connection has to be strong or the device is useless. But for many homeowners that's an issue. You may want a leak detector in an attic, under an old roof that could be leaking, or in a basement where heavy rain or a leaky foundation may bring up water, they may be far from your Wi-fi router and have limited wireless connectivity.
Orbit helps solve this issue with its B-hyve Flood Sensor (Wi-Fi) Hub — which comes with the purchase of your B-hyve Smart Flood Sensors — and gets plugged into the wall outlet near the flood sensor. Since it communicates with the flood sensors via a Bluetooth connection, you still need to be aware of the range between the sensor and hub. Connectivity can vary depending on the number of walls and types of obstacles the signal needs to travel through in your home. Luckily the B-hyve app can help you check the signal strength of the wireless connection to your sensors, and also help you setup notifications and alerts, while monitoring the room temperature and status of your Flood Sensor's battery life.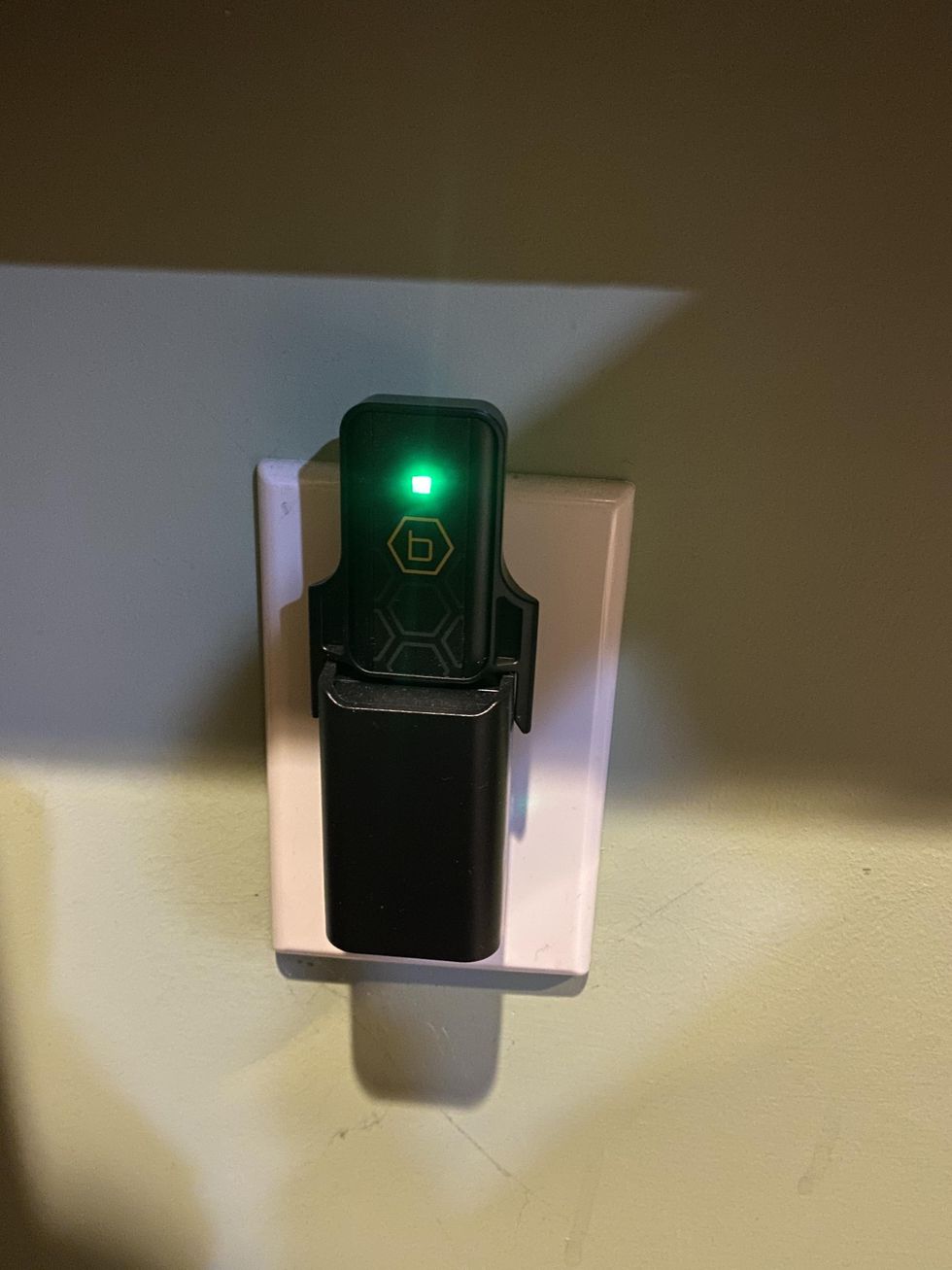 Orbit B-hyve Wi-Fi hub plugged into any outlet.GearBrain
B-hvye Smart Floor Sensors are battery-powered via a CR2032 lithium battery, which can last up to a year with normal use. You can check the battery life through the B-hyve app or hold the button down on the back of the flood sensor for two seconds. If the LED light on the front of the sensor is flashing green, the battery is still strong. If it's flashing yellow, this means the battery life is at its midpoint, and a red flashing light means you have a low battery life and should change it. We recommend following the directions in the user guide for replacing the battery, which are easy to follow and will help you from ruining the sensor.
One little feature we liked about the B-hyve Flood sensor is it's string, which allows you to place the sensor in hard to get places and easily pull it out when the battery needs to be replaced.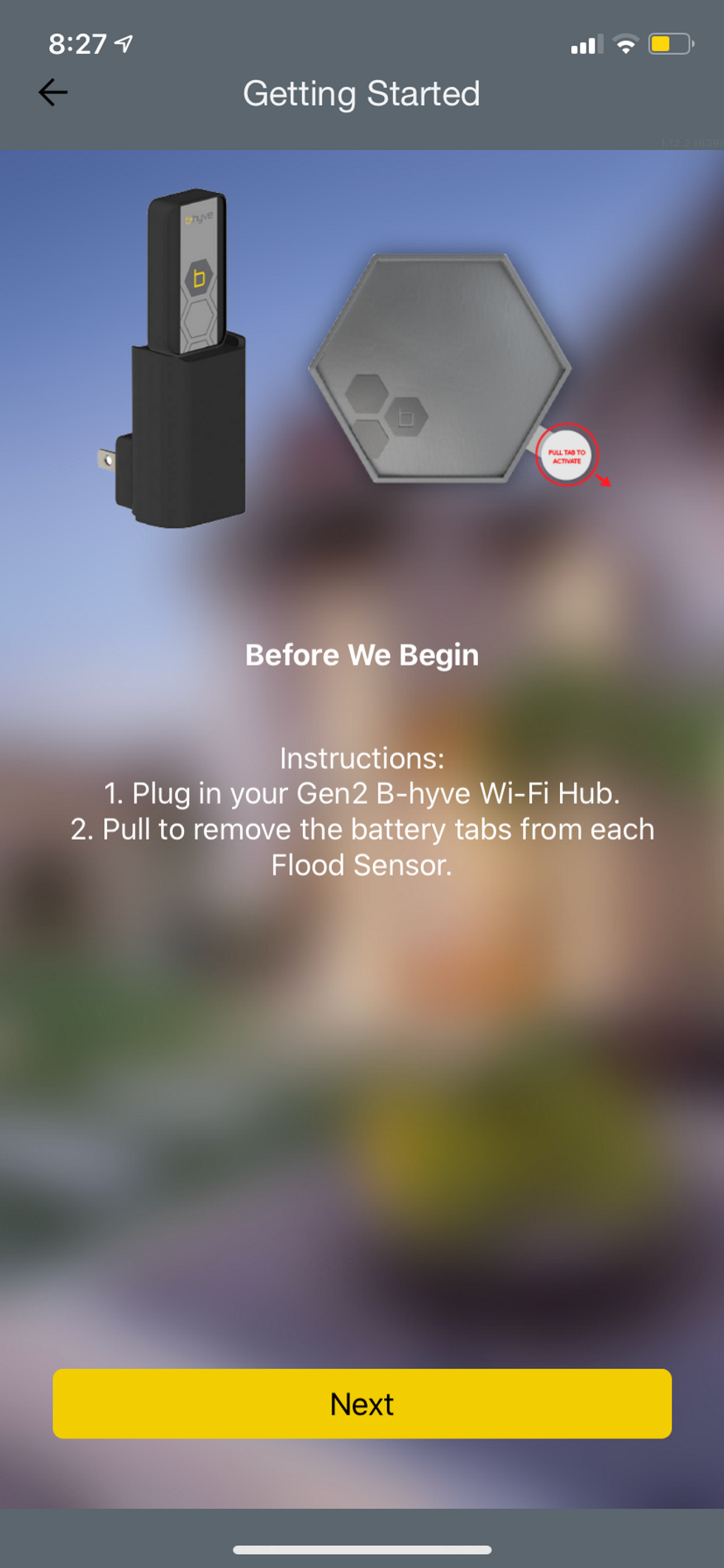 Use B-hyve app to setup your Smart Flood Sensor.GearBrain
How to setup your B-hyve Smart Flood Sensors

Set up is quick and easy for the B-hyve Smart Flood sensors. We recommend using the B-hyve app, but inside the box there is also a small card with a QR code and instructions. Setup should take you only a few minutes for the Flood Sensor hub (Wi-Fi hub) and also for pairing the smart flood sensors, but a lot will depend on the Wi-Fi connection to your Wi-Fi hub and how far out the flood sensors are from the hub.
Test Results - Performance
We tested the sensor in different locations in our home, far from Wi-Fi hub. We even placed smart flood sensors on different floors in the house, including the basement, a kitchen sink a floor above and one in a bathroom on the second floor. Signals were strong in each location and we had them installed and working quickly. But during testing, there were times the sensors lost their connection. We are not sure if this was due to our own home Wi-Fi network losing the connection, or the Wi-Fi hub. We suggest you be aware of this possibility if you install the sensors yourself.
We did test the leak detection feature by pour water down to see if — and when — the flood sensor would respond. As expected, the sensors sent us an alert. But be aware that while the sensor does have an alarm sound, depending where you are in the home, you might not hear it.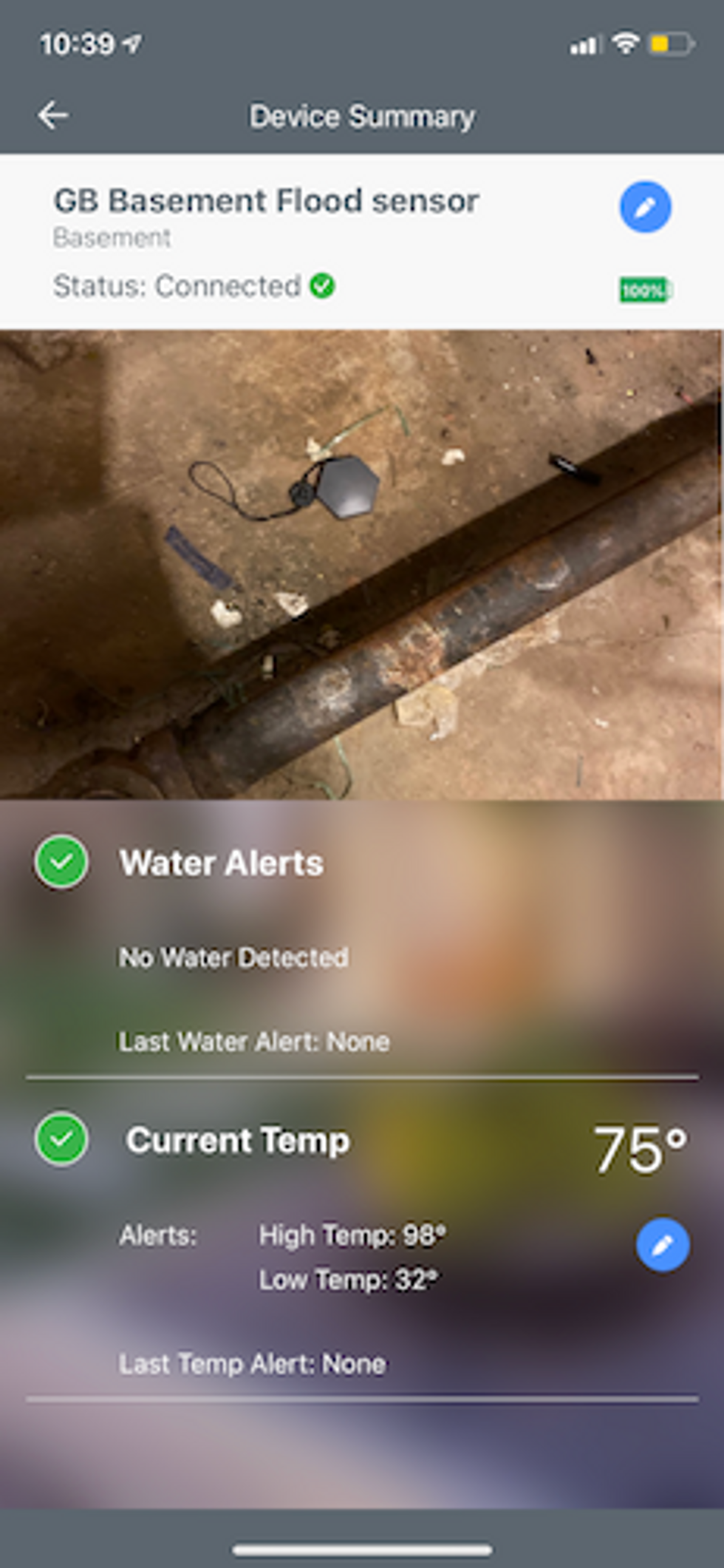 Keep track of your B-hyve Smart Flood Sensors in the app. It also provides temperature readings.GearBrain
Cost
Orbit B-hyve Smart Flood Sensor costs $119.99 but is currently on sale for $99.99. You get three smart flood sensors along with the Wi-Fi hub. Individual B-hyve Smart Flood Sensors cost $39.99 each, and Orbit also sells a 5-pack of flood sensors without the hub for $139.99 — but that is also on sale for $99.99. The B-hyve Flood Sensor Hub or Wi-Fi is also available for only $34.99. All of the products are available on the company's website as well as on Amazon.
When purchasing the B-hyve Smart Flood Sensors, keep in mind the maximum number of sensors you can connect to the Wi-Fi hub is 15. Also, the B-hyve Flood Sensor Hub only works with B-hyve flood sensors, and not with other B-hyve smart devices.
Summary
The B-hyve Smart Flood Sensor is a good water leak protection system for your home. You can control these sensors in the same app as your Orbit B-hyve smart devices, like the B-hyve Smart Indoor/Outdoor Irrigation Controller and B-hyve XR Smart Sprinkler Controller, which GearBrain has also tested in real homes. However, if you do own an Orbit Hose Faucet Timer and Hub, note that the hub for these devices will not connect to your B-hyve smart flood sensors — which is a drawback. It would be nice if you could have the same hub control both devices, which we would hope to see from Orbit in the near future.
For now, the only integration within the Orbit ecosystem is the ability, from the Orbit B-hyve Smart Flood Sensor, to turn off your Orbit Smart Watering timer if the sensor detects water. Again, this seems a little limited, and we would like to see more smart home integrations, including connections to smart home security systems. Smart Home Security companies like SimpliSafe, Alarm.com and others have leak detectors built into their systems. But the B-hyve Smart Flood Sensors are not compatible with any smart home security systems today, which is another item on our wish list for Orbit.
If you have Google Assistant and Amazon Alexa-enabled devices, please be aware that these flood sensors don't support voice control. That's something else we would like to see added as we could imagine asking Alexa to alert you of a leak from the leak detector, and having Alexa not only tell you there's a leak but also which sensor read the issue.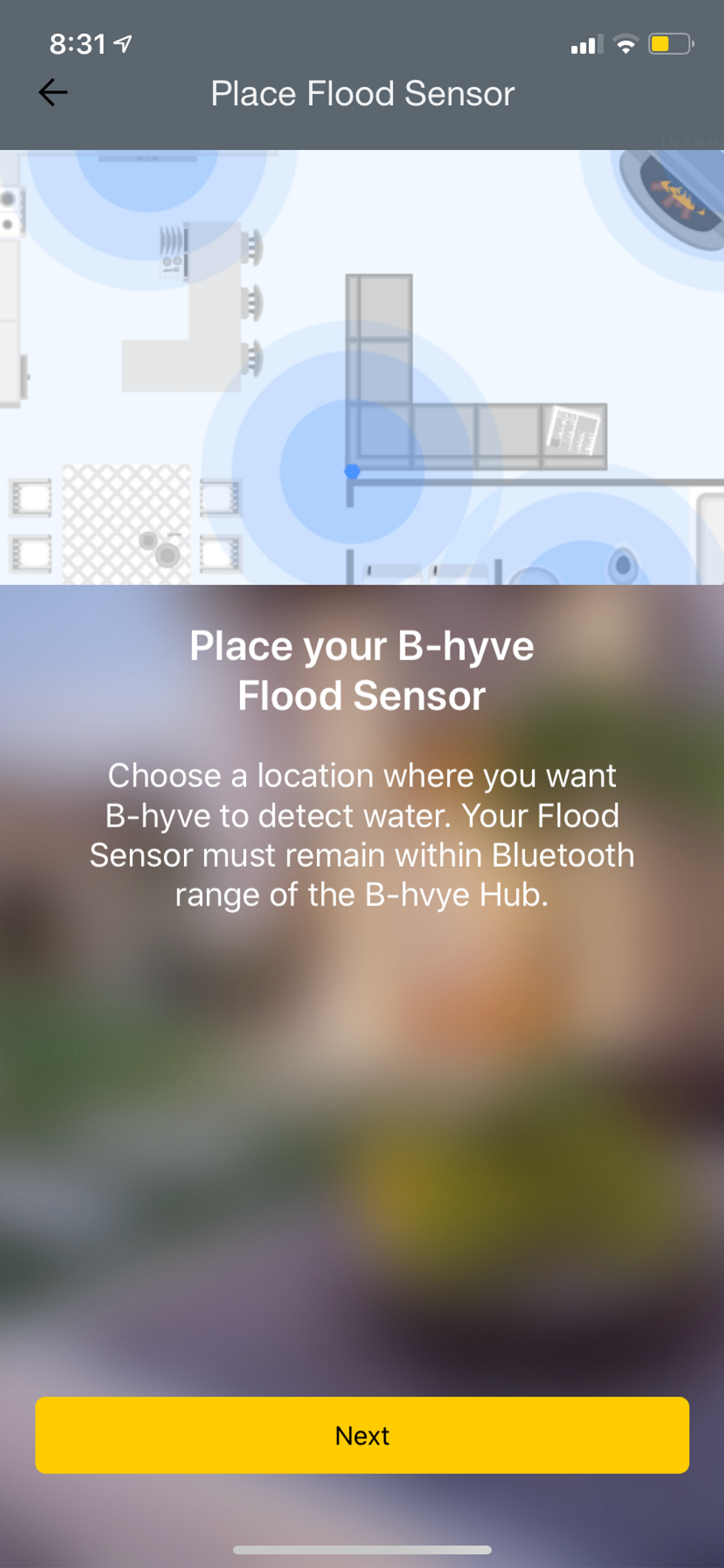 Orbit provides guidance on where to place. your flood sensors.GearBrain
The best integrations for a smart flood sensor or leak detector is with a device that also controls your home's water flow. We've tested many of these devices, like Phyn Plus and Flo, which not only detect a potential leak but also turn your water off to prevent severe water damage. Orbit does have a smart water flow monitor called Flume, which GearBrain is testing, which is both a water sensor and a smart water monitoring device, able to turn your water off when leaks are detected.

Who should buy a B-hyve Smart Flood Sensor? Anyone who currently owns an Orbit B-hyve smart irrigation product should consider this smart leak detection system. If you live in an apartment or a large home — and want to keep an eye on a dripping faucet, toilet or even your basement — B-hyve Smart Flood Sensors are easy to install and can provide the protection you need throughout your apartment and home.
Although Orbit Smart Flood Sensors are a little expensive when compared to other smart leak detectors, the connectivity plus the ability to monitor areas in your home where water damage could occur is terrific. Other water sensors don't have a design that makes it easy for you to hide them, plus the connectivity that B-hyve flood sensors offer. After all, the key to success for any leak detector or flood sensor is connectivity. If it's not connected, it can cost you a lot of money and headaches.
Pros:
Connectivity
Design
Monitors temperature (freeze protection)
Cons:
Sensor Wi-Fi hub only works with B-hyve Flood Sensors
Cost
Lack of smart home integrations
Orbit 71005 B-hyve Flood Sensor 5-Piece Extension Pack, Neutral
The Buying Guide To Leak Detectors For Smart Home Systems - GearBraiin www.youtube.com