One of the first smart home devices was the smart plug, a small gadget that updated the idea of light timers, making them smarter. The original devices, though, were not inexpensive — and they were quire big, often taking up the entire outlet. But the market has changed, with smart plugs now much smaller, more affordable and more powerful.
Recently, we tested new smart plugs from Enbrighten which work with Zigbee connected hub. Here is our review of their latest Zigbee smart plug, the Enbrighten Plug-in Zigbee Smart Dimmer Switch.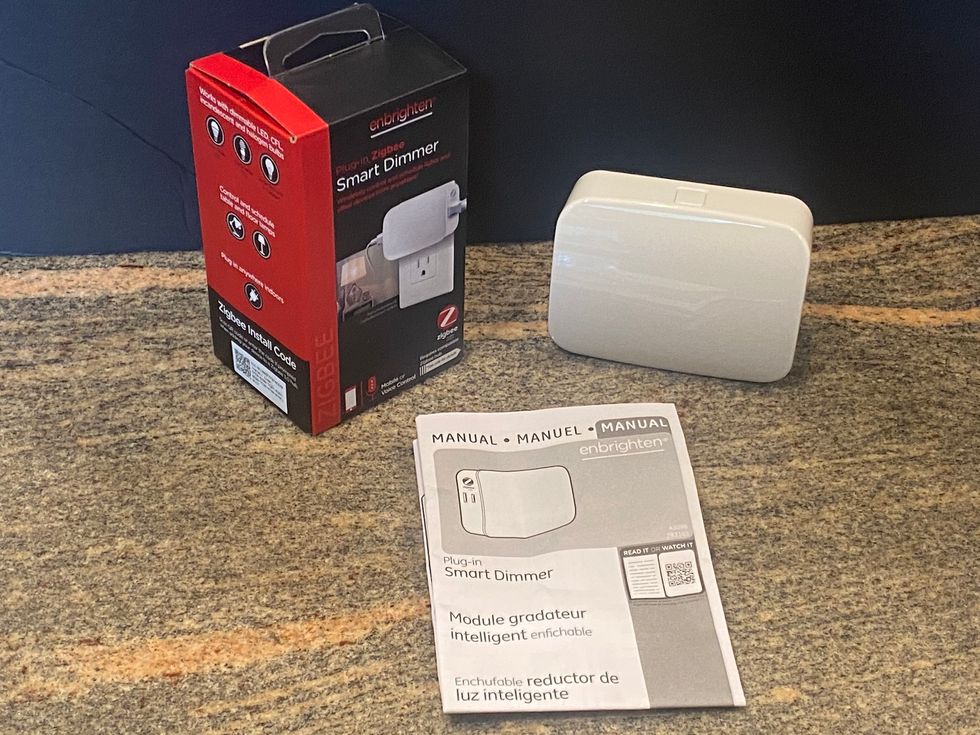 What is Enbrighten Smart Dimmer Switch?
The Enbrighten Dimmer Switch is a smart plug that works on a Zigbee wireless connection. Any appliance, device or lamp you plug into it can be controlled wirelessly using a smartphone, tablet, personal computer and also your voice. The remote control is available only, though, if you pair the Enbrighten plug with a compatible Zigbee 3.0 hub or gateway. For instance, if you have a Samsung SmartThings (3rd Gen) hub or the all-new Amazon Echo (4th Gen), you will be able to connect and control your Enbrighten plug using an app or voice commands.
One of the features of the new Enbrighten Zigbee smart plugs is the design, with a sleek design that allows it to only cover one of your wall outlets. The plug itself comes with two outlets on either side of the device, plus a manual on/off program button. As a result, by plugging in the smart plug, you get two smart outlets for the price of one dumb outlet.
Besides being a smart plug, Enbrighten Plug-in Zigbee Smart Dimmer also functions as a range extender. These devices can repeat the wireless signal from one product, or from your router, to up to 150 feet further into your home When you add this plug to a Zigbee hub, it will extend the range of your Zigbee network for the entire home wireless operation.
The Enbrighten Smart Dimmer can also help you save energy and money. By dimming your lights, the device can cut your energy costs and extend the bulb life at the same time. You can adjust brightness levels from zero to 100 percent, and also set scenes to automatically adjust lighting during the day, whether you are home or not.
In order to set up this device, you will need to have a 2.4 GHz Wi-Fi connection. To start, scan the QR code on the side of the box or enter the code, if prompted, when adding your device to a Zigbee 3.0 hub. Finally, follow the instructions in the app which are very intuitive. We found the entire setup only took a few minutes.
Side View Enbrighten Plug-In Zigbee Smart Dimmer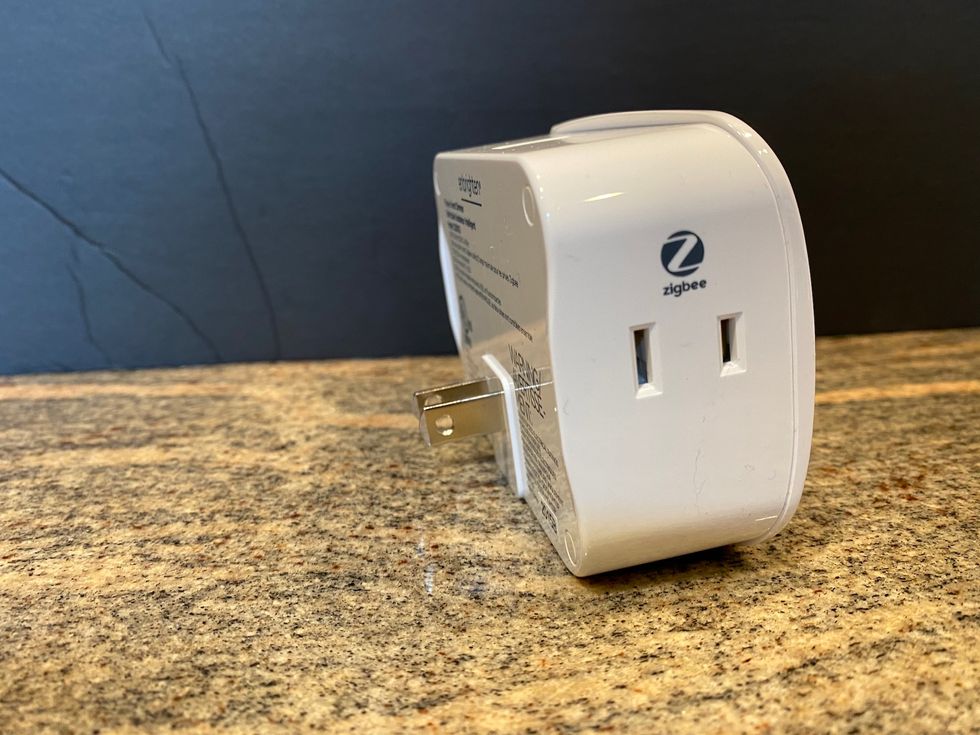 On each size of Enbrighten smart plug for Zigbee are two outlets (2 prong).
GearBrain
Backside View Enbrighten Plug-In Zigbee Smart Dimmer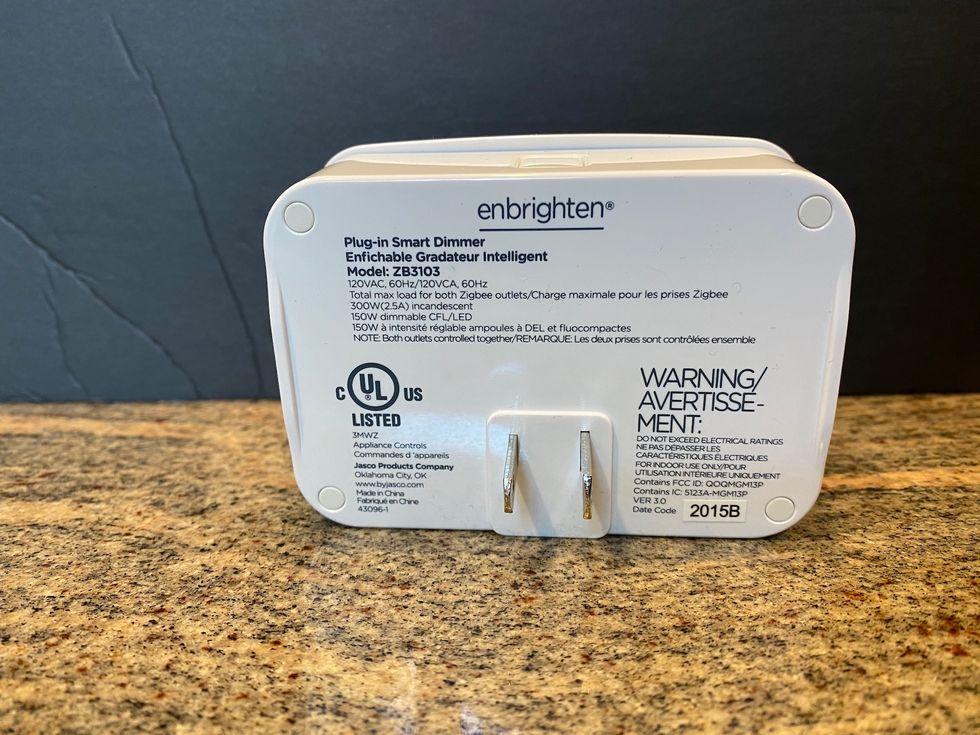 Backside of Enbrighten Zigbee smart plug.
GearBrain
Smart Home Integrations
As a Zigbee compatible device, the Enbrighten Smart Dimmer will work with any Zigbee 3.0 compatible hubs. That include the Samsung SmartThings (3rd Gen) hub which works nicely, plus Amazon makes Zigbee hubs too. The company, for example, recently added Zigbee to their all-new Amazon Echo smart speakers. That means the the 4th Gen Amazon Echo smart speakers can act as a hub for all your Zigbee compatible devices. Other Amazon Zigbee hub-like devices are Echo Plus (1st & 2nd Gen), Echo Show (2nd Gen) and new Echo Studio with Zigbee 3.0 built-in as well.
Enbrighten is owned by Jasco, which has a full line of smart home devices, including smart plugs. These devices work on Wi-Fi, Z-Wave and Bluetooth connections. We find Enbrighten's new smart plug a major improvement over the company's first Zigbee compatible plug, and helps to round out the product line to meet all smart home systems.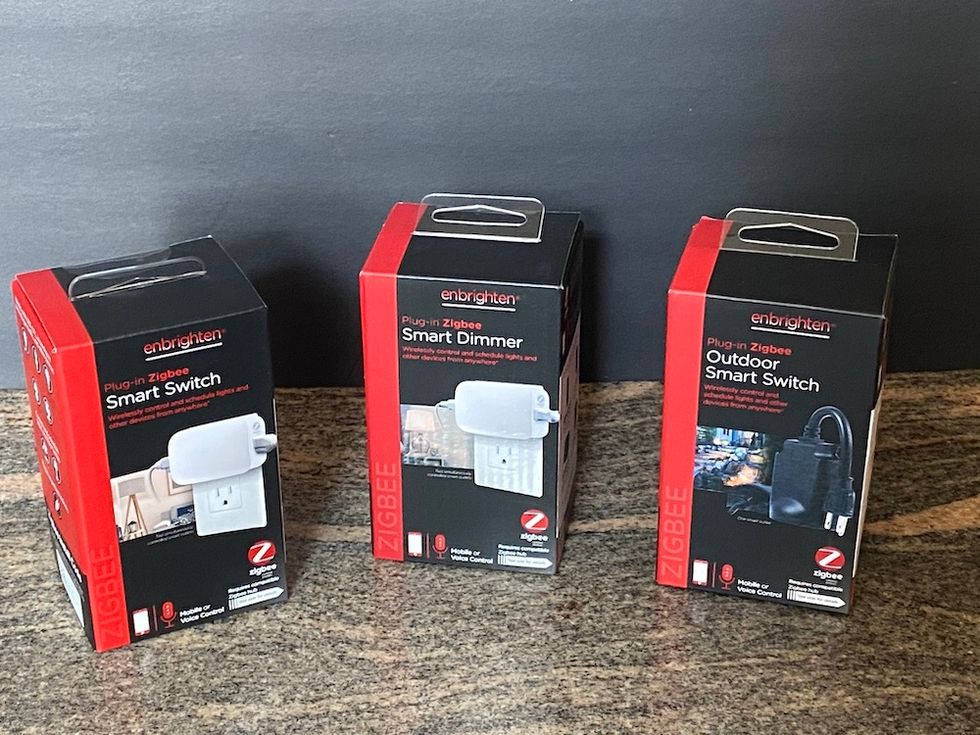 Enbrighten offers a full line of Zigbee smart plugs for your smart home.GearBrain
Cost

You'll pay $37.99 for the Enbrighten Plug-in Zigbee Dimmer Switch, which is available on the Jasco website or Amazon.
Performance
One of the easiest smart devices for us to test is a smart plug. Since all homes come with outlets, it's easy to set these smart devices up, and then move them around our test house to see how they perform under normal connectivity. Our testing process is simple: Once we have the smart plugs paired to our Zigbee hub, we look to see how they perform in various rooms and distances from the hub. Enbrighten Dimmer Switch did not let us down, performing as advertised. Lights and devices plugged into the Enbrighten smart plug responded to both app and voice commands. We also didn't have any connectivity issues, even when testing the plug on the other side of our test house.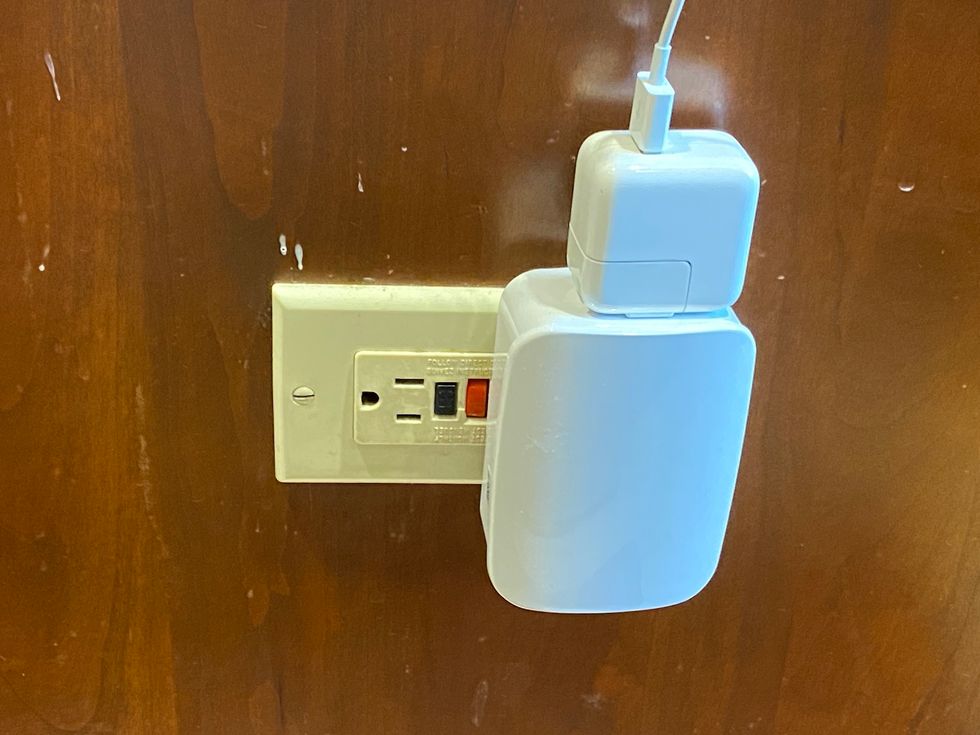 Enbrighten zigbee plug-in Smart Dimmer works in any outlet.GearBrain
Summary

When you're looking for a good smart plug, you need to consider a few things before buying one. First, take a look at the design of the device. How big is the plug and will it take over the entire wall outlet or just one socket? Does the device have a manual on/off button? Can the plug monitor energy usage? And finally, is the smart plug compatible with your existing smart home devices, and can you add it to your existing smart home system?
We are starting to see many smart plug manufacturers address the size and design of the plugs to make them more efficient in terms of space and features. But, Jasco's Enbrighten line also addresses the last question, offering a smart device that is compatible with your smart home system no matter what wireless protocol it uses. Whether it's a Bluetooth, Zigbee, Z-Wave or Wi-Fi connection, you will find a smart device that works on any of these wireless connections.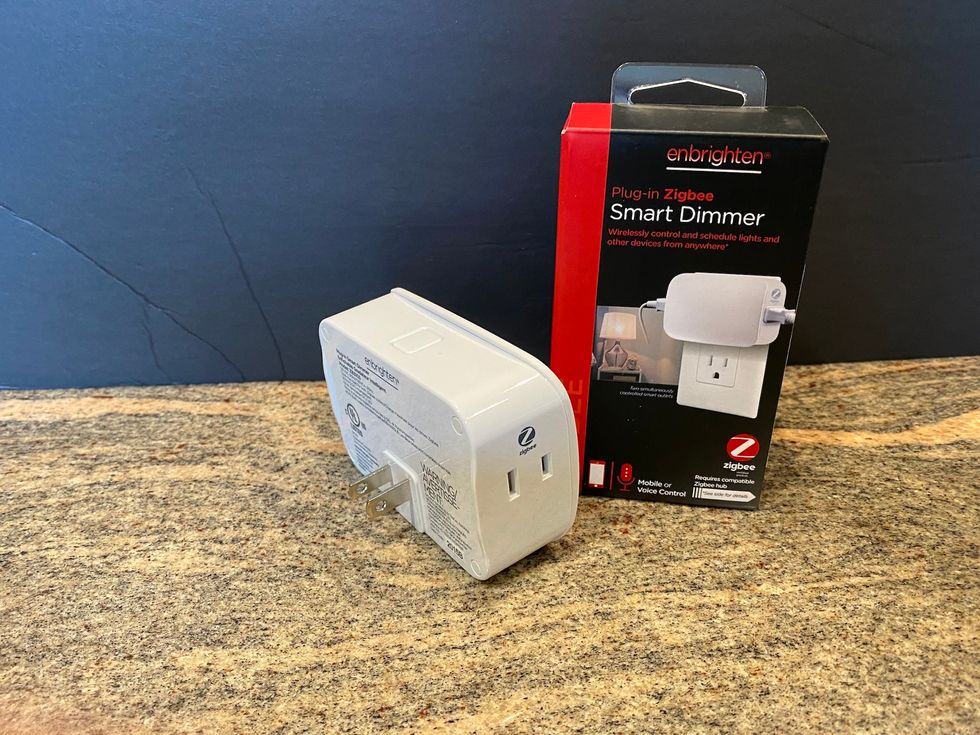 Enbrighten Plug-in Zigbee Smart Dimmer is perfect smart plug for a smart home system on Zigbee connection. Just make sure you have a compatible Zigbee 3.0 hub.GearBrain
The Enbrighten Plug-in Zigbee Smart Dimmer is specifically, however, a good reliable smart plug designed for those with Zigbee hubs and compatible devices. If you are not using a Zigbee hub or gateway, you will need to buy a compatible Zigbee 3.0 hub to be able to remotely control the smart plug. Remote control will allow you to connect the plug to Google Assistant and Amazon Alexa voice platforms as well as other smart home systems, like home security systems, so you can create scenes or schedule your lights to go on when you are not home.

If you are using a compatible Zigbee hub already, and are in the market for a smart plug, the Enbrighten line of Zigbee plugs is one you should consider. We like how the plug can function as a range extender inside your home, and energy monitoring is a nice feature.
As I mentioned at the beginning, smart plugs have come a long way in the past few years. They are better designed, have more functionality and can help round out your smart home system to provide a customized connected lifestyle. Enbrighten's lineup of smart plugs are good smart devices to consider, especially if you are renting and can't install a smart switch in your space. Enbrighten's Plug-in Zigbee Dimmer Switch can function just like a smart switch, however, if a lamp is plugged into it the outlet — as long as you have a compatible Zigbee 3.0 hub to pair with it as well.
Pros:
Sleeker design
Range extender
Energy Monitor
Cons:
Price
Works only with Zigbee 3.0 hubs
Need a hub for Google Assistant and Amazon Alexa voice control
Introduction of The GearBrain, The First Compatibility Find Engine for Smart Devices www.youtube.com