What makes a good indoor security camera? Is it the camera's video resolution or maybe its field of view? Or could it be other features like custom alerts and two-way talk? From experience, we have found it's all these as well as ease of use. No one wants to spend a lot of time trying to figure out how to setup a security camera. It must be simple and quick to install. And we have a camera that offers all these things and more. Let us introduce to you Google Nest's new Nest Cam (2nd Gen) Indoor Wired Security Camera. We tested this new security camera over the past few weeks in a normal home and here is what we found.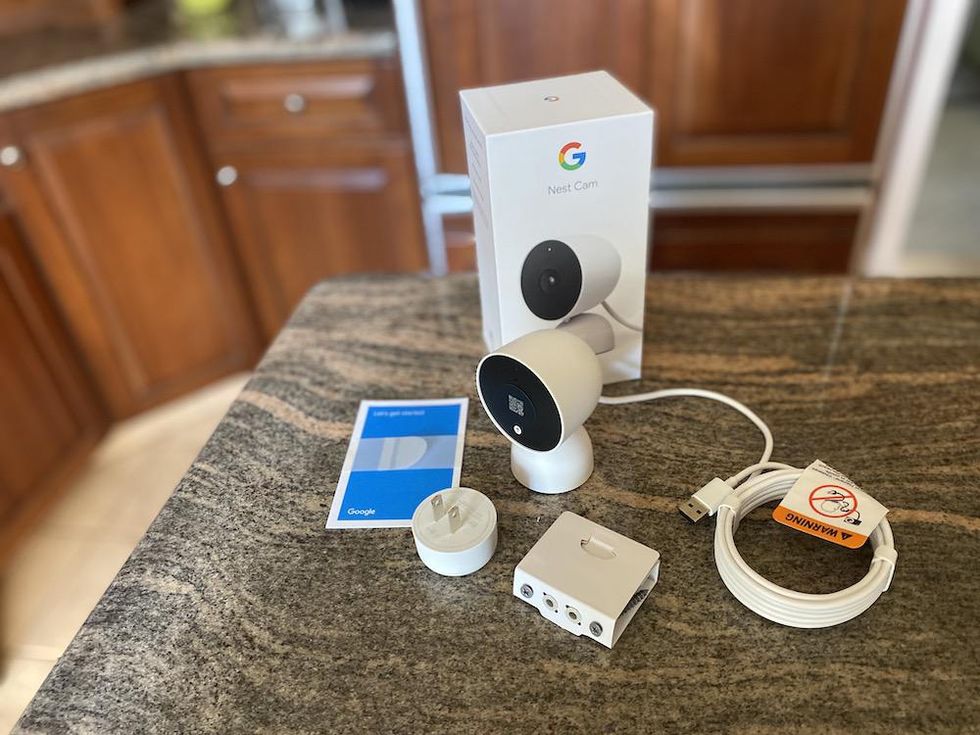 Google Nest Cam (2nd Gen) Indoor Wired Security CameraGearBrain
What is the Nest Cam (2nd gen) Wired Security Camera?
Google's new Nest Cam (2nd Gen)is an indoor wired powered security camera with 1080p HD video resolution, night vision and HDR. It has a 2-megapixel color sensor, 135-degree diagonal field of view (FOV), 6x digital zoom and 16:9 aspect ratio. For night vision, the Nest Cam can see objects 15 feet away (or 4.6 meters) using 2 high power 850 nm infrared LEDs.
The Nest Cam (2nd Gen) can also store up to 3 hours of event video history and has a high-quality speaker and microphone for 2-way communication with noise cancellation.
For power, the new Nest Cam (2nd Gen) comes with a 10-foot (3 meter) power cable with a USB-A connector. You can mount the camera either on a table, shelf or in the wall if you have a power outlet in range. If attaching it to your wall, the camera comes with an integrated wall plate and 2 screws for you to use to secure the Nest Cam.
To control your Nest Cam (2nd Gen), you will need to download the Google Home app which is available in the App Store (iOS) or Google Play (Android). If you are an existing Nest user and using the Nest app to control your Nest Thermostat, you will not be able to connect the new Nest Cam to your existing Nest app. You must use the Google Home app to connect the new Nest Cam to your home Wi-Fi network. The Nest Cam works on either a 2.4GHz or 5GHz Wi-Fi connection as well as Bluetooth Low Energy (BLE).
Size of Nest Cam (2nd Gen) is rather small compared to the other security cameras we have tested recently. The camera is only 3.88 inches high and 2.52 inches wide and 2.24 inches deep. It also weighs less than a pound (only 14.1 ounces.)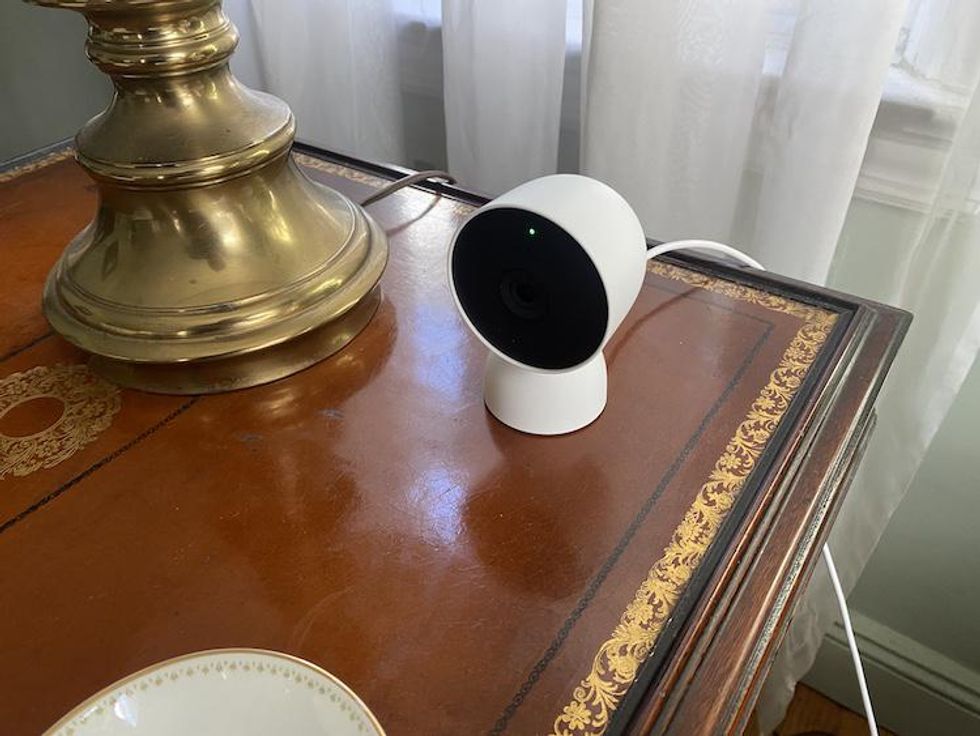 The Google Nest Cam 2nd Gen is not very big and can easily be hidden if needed.GearBrain
Where to Store the Videos
Storing videos taken by your smart indoor security camera comes at a cost. Some manufacturers only offer cloud storage while others offer either cloud and/or local storage options. Local options would involve a MicroSD card. For the new Nest Cam, Google offers 3 hours of event video history storage in the cloud for free. You can't store videos on the camera, but you can get a monthly subscription to Nest Aware which will provide 30 days of event video history and up to 10 days or 24/7 continuous video history. This is not bad since many security camera manufacturers require you purchase a storage plan to store any videos in the cloud. You can learn more about Nest Aware plans by visiting here.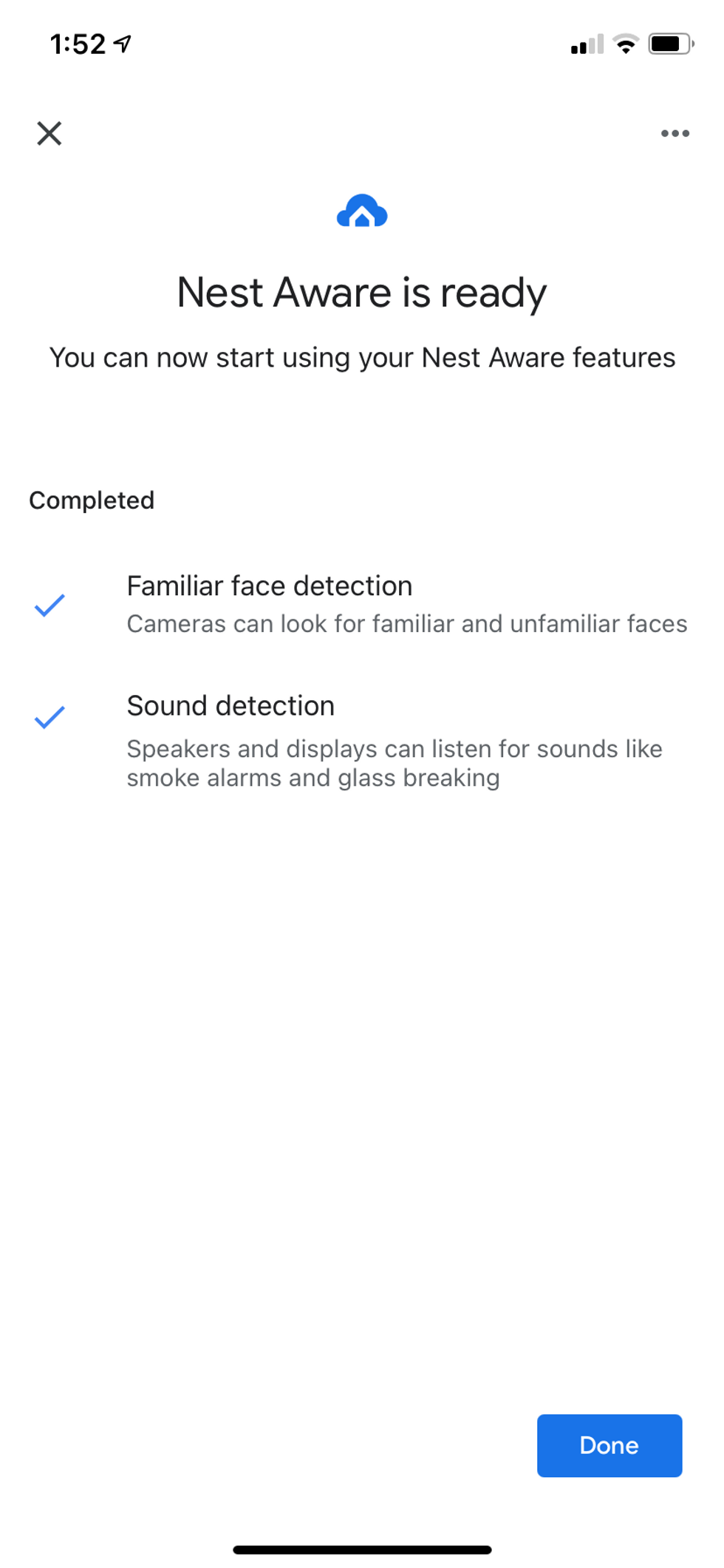 Google Home App is where you will setup Nest aware and familiar face detection.GearBrain
Additional Features
With all good security cameras, there are alerts and notifications you can setup using their app. Just go into the Google Home app and you will see in the camera settings Notifications. Click on notifications to setup push-notifications and away-only notifications.
Nest Cam (2nd Gen) comes with intelligent alerts just like Google's new Nest Doorbell and other security cameras. These special alerts help the camera detect if the object in view is a person, animal, vehicle or familiar face. The Familiar Face detection is Nest's facial detection capability and can be accessed under the Events Section in settings. Click on Zone and then click on manage button underneath Familiar Face detection. This is where you will be able to see whose face has been seen by your Google Nest Cam. You will need to label that person for Google to recognize them by name. If you have a pet or children in the home, familiar face detection can be helpful in letting you know when they are home from school, or the dog is up and moving in the house. But note this feature does require a Nest Aware subscription.
Once you are done setting up notifications and facial detection, you can setup custom zones. They are easy to do and can help prevent false alerts when family is in the house. Just follow the instructions in the Google Home app.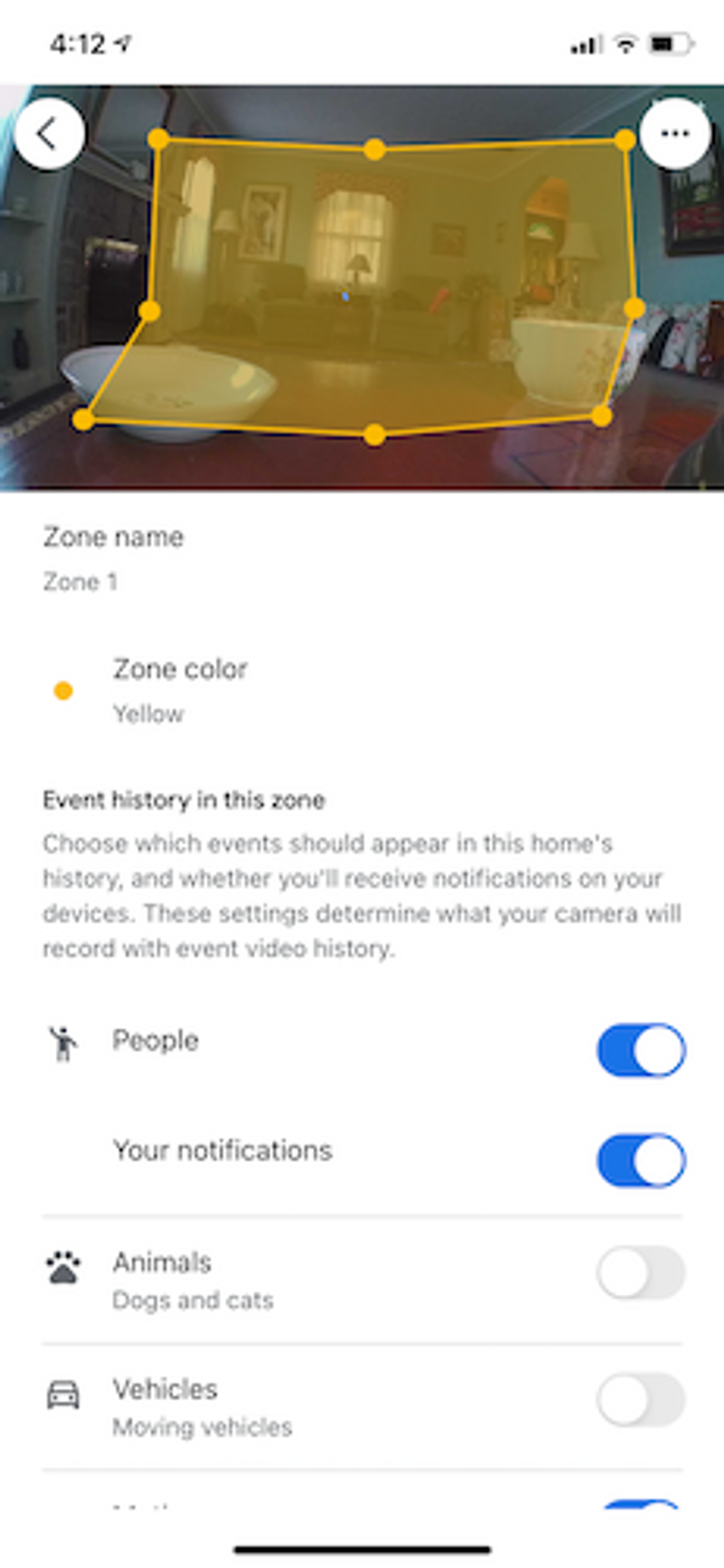 In Google Home App, you can customize Zones for motion detection of people, familiar faces, pets and more.GearBrain
How to Setup Nest Cam (2nd Gen)
Setting up the Nest Cam is extremely easy, especially when compared to other leading smart home security cameras. The first thing you need to do is unboxed your Google Nest Cam and plug it into an outlet. Then download the Google Home app or if you already have it, just go to the plus sign (+) in the upper left-hand corner of the Google Home app and click on it. Then select "setup device", then choose "New Devices" and follow the prompts. You will select camera, then choose Nest Cam (2nd generation). You will need to scan the QR code on the cover of your Nest Cam which should be covering the camera lens. Follow the instructions in the app. It should take you no longer and a few minutes to setup and pair your security camera with your home Wi-Fi network. Once done, you are good to go.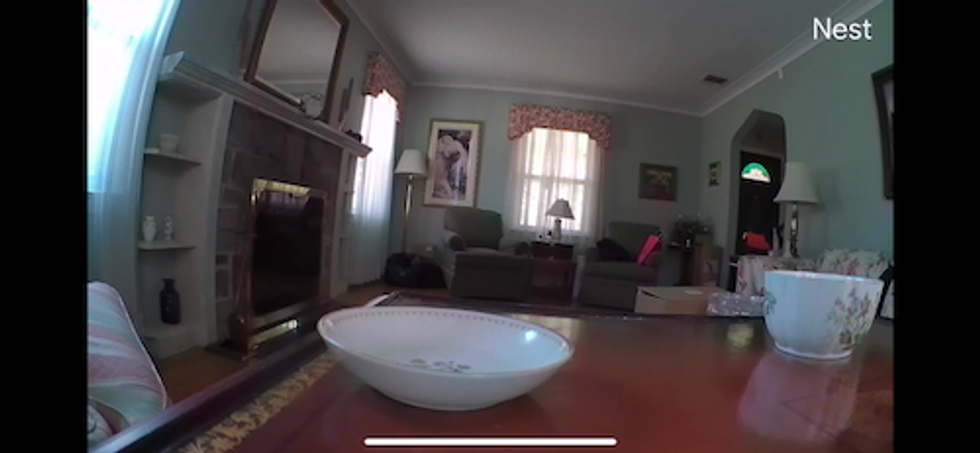 Daytime vision from Google Nest Cam 2nd gen in the Google Home appGearBrain
Smart Home Ecosystem
One of the two major voice platforms for smart devices is Google Assistant. If you already use Google Assistant enabled devices and are adding this new Nest Cam to your collection, you are in good shape. You will be able to use Google Assistant smart displays to access your camera's Live Video feed as well as tell it to start recording. Or you can setup your own DIY smart home security system using your Google Assistant speaker or display as the hub, and the Nest Cam (2nd Gen) as your indoor smart home security camera. However, you will not be able to connect the new Nest Cam to your existing smart home security system even if the system works with Google Assistant. The reason is the Nest Cam is not compatible with your home security system's app. However, if using voice commands with your Google Assistant speaker or display to control your smart home security system, you could set up the Nest Cam to be a secondary camera. This might be a little over kill and redundant, but it is possible.
Cost
The cost of Google Nest Cam (2nd Gen) is $99.99 and is available on Google Store, Best Buy, and The Home Depot. It's also available in four colors: Snow, Linen, Sand with maple wood base and Fog.
Performance
When testing security cameras, our goal is to make sure we put it through the ringer to see how it performs in a real-life environment. Our test house has a dual band Wi-Fi router (2.4GHz and 5GHz) and no Wi-Fi extenders. We placed the Google Nest Cam all over our test house to see how it operated with weak and strong Wi-Fi signals. The Nest Cam did not disappoint us. It performed as we expected. Setup was extremely quick, and we had no connectivity issues no matter where we placed the camera in our test home.
The audio communication was delayed slightly but clear. We could adjust the volume levels for better clarity which helped improve the sound quality. The daytime vision was crisp and clear, but night-vision was a little too clear. It seemed we had another security camera in view, and we could see the camera's LED infrared lights. The camera's LED lights were very bright and distorted our view, especially when we zoomed in an image. We would recommend checking your camera's viewing position during the day and at night. Make sure light is not spilling over to your Nest Cam's view. If so, it might distort the Nest Cam's video.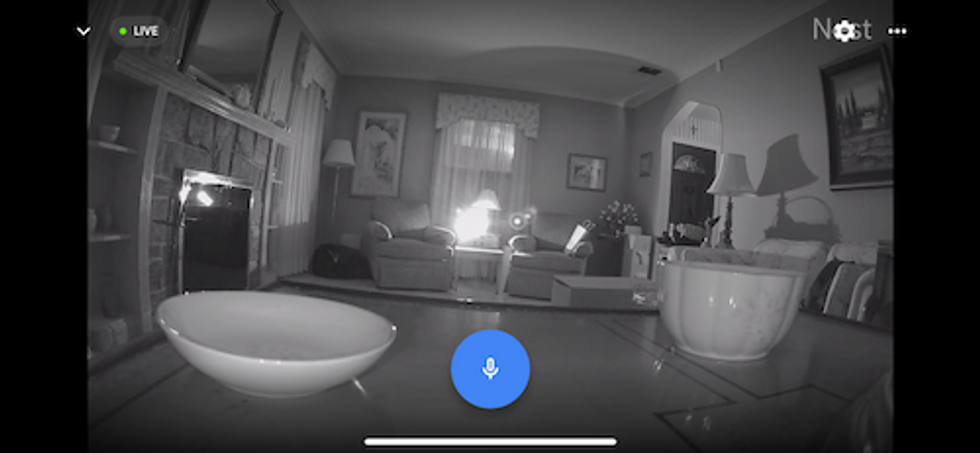 This is a photo of the Live Video from Nest Cam (2nd Gen) at night time. Notice the bright lights. These are the LED infrared lights from other security cameras. GearBrain
Lastly, we used a Lenovo Smart Speaker display to view Live Video from the camera on the smart display. After asking Google to see live video on our Nest Cam, Google Assistant quickly recognized our camera and started broadcasting the live video on the smart display. We were also able to speak to people in the room with the Nest Cam through the smart display. The sound on both ends was clear but slightly delayed.
Summary
Nest has been making security cameras for a long time. One of the first security cameras GearBrain tested was a Nest Cam years ago. At the time, the Nest Cam was one of the most popular security cameras around. However, over the years new players arrived with cameras that had state-of-the art technology features like improved HD video resolution, night vision, two-way talk, AI and more. Many of these cameras were also connected with a smart home security ecosystem, like SimpliSafe and Abode. This meant you could only use the cameras if you bought their system. However, after Nest got bought by Google and was integrated into the Google Home app, the company has been able to catch up and build innovative smart home security cameras for consumers who want to build their own DIY smart home security on the Google Assistant platform. But keep in mind, you will need a Nest Aware subscription to take advantage of some of these new features as well as call emergency services from the Google Home app when needed.
Who should buy the new Google Nest Cam (2nd Gen)? We would recommend any existing Nest Cam owners who are looking to upgrade their existing Nest Cam. They would benefit greatly from buying this new security camera. If you are looking to build a DIY smart home security system and want a good reliable indoor Wi-Fi smart security camera as part of your system, the Nest Cam is a camera you should consider. It's priced in the middle of the pack. However, when you consider the Nest Cam's features including its intelligent alerts, the price looks a lot better.
In sum, Google Nest Cam (2nd Gen) Indoor Wi-Fi security camera is a good security camera that is easy to setup and operate. It works on the Google Assistant platform and if needed, you can add a video storage and e911 service for a few bucks a month to get a reliable smart security device to secure the inside of your smart home.
Pros
Intelligent alerts including familiar face detection
Good quality sound and video resolution, especially night vision up to 15 feet.
Easy to setup and operate
Cons
Does not work with Amazon Alexa or other smart home ecosystems
No integrations with smart home security systems
Only 3 hours of free video event history stored
Check out The GearBrain, our smart home compatibility checker to see the other compatible products that work with Google Assistant enabled devices.
How to Find Products in The GearBrain, Our Compatibility Find Engine for Smart Devices www.youtube.com