Do you have elderly parents or grandparents you want to do video calls with every week, but they are not tech savvy enough to handle even a Facetime call? Or their smartphone is not up-to-date and can't make video calls? We found a new simple solution to try by ONSCREEN. It's their new ONSCREEN Spark, a TV video calling smart camera system which allows you to make video calls between two devices, a smartphone and your television. ONSCREEN sent us a system to test in a real home with grandparents who were a little tech savvy. Here is what we found.
Features of ONSCREEN Include Hands Free Auto Answer - See How it Works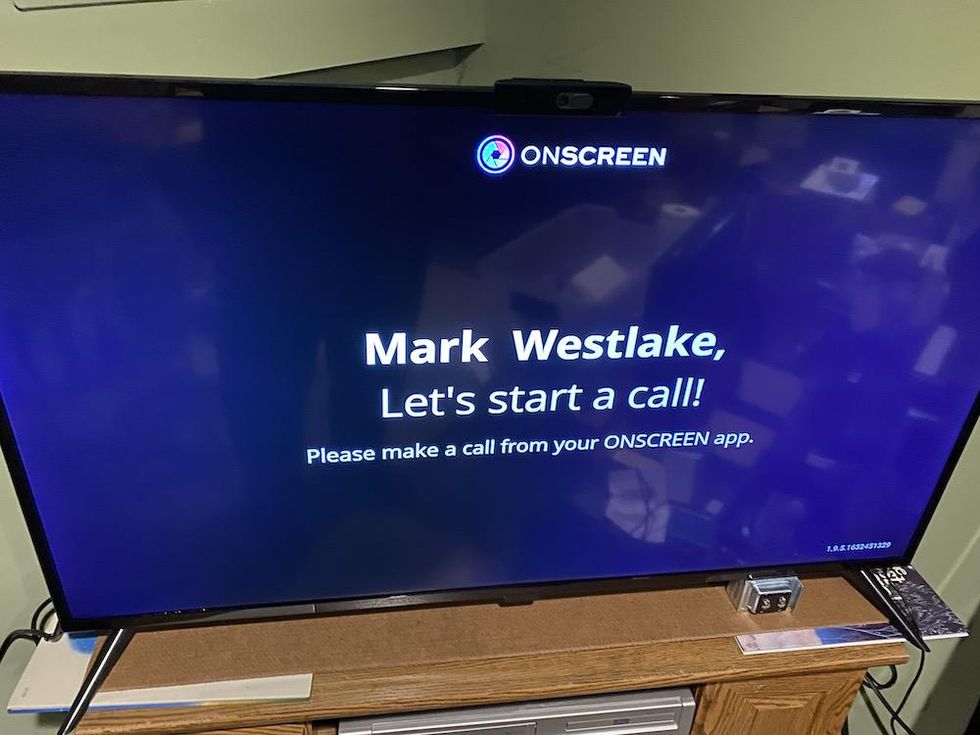 ONSCREEN walks you through how to make video calls using your TV.
GearBrain
One of the unique benefits ONSCREEN offers is ease of use. Whether you are using the ONSCREEN on your TV or the ONSCREEN mobile app, it is very easy to make a call as well as answer one. Just open the app on your mobile device and tap the contact you want to call. ONSCREEN will initiate the call. If the person you are calling has ONSCREEN on their TV, answering the call will be extremely simple. ONSCREEN has an auto-answer feature which will automatically change the TV input and count down 30 seconds before automatically connecting the video call. This helps prevent surprise calls which you don't want to do with elderly parents or grandparents. Startling them might not be a good idea. Also, it gives you 30 seconds to prepare yourself before you can start talking.
What is ONSCREEN Spark?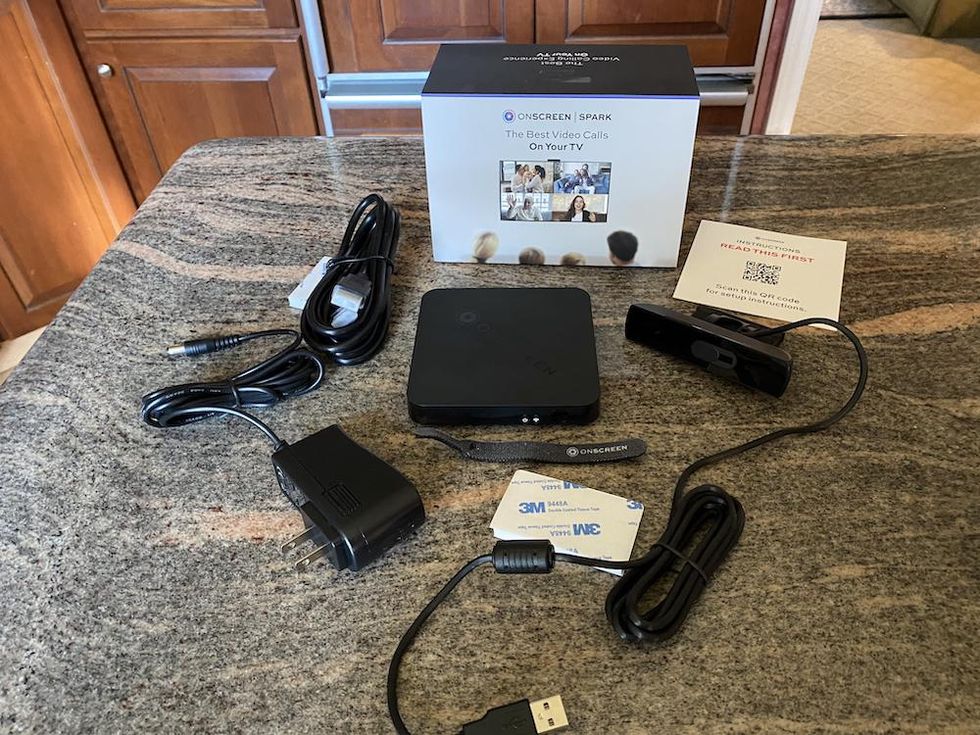 ONSCREEN Spark video conferencing system for your TV unboxed.
GearBrain
ONSCREEN Spark is a video calling device you connect to your TV or monitor and conduct HD quality video calling to another TV or mobile device with the ONSCREEN app. It provides an easy way to conduct a video call with family and friends with very little setup.
The device uses end-to-end encryption to make video calls and there is no data collected. Just make sure your home Wi-Fi router is set to 2.4GHz and the TV with ONSCREEN is nearby. Also, be aware appliances, like microwaves or someone streaming media on another TV in the house will impact the video calling experience. If needed, you can connect ONSCREEN to your Wi-Fi router using an ethernet cable. For best results, ONSCREEN recommends a minimum upload/download speed of 3 MBPS.
ONSCREEN Spark comes with a Spark Base, Spark camera, HDMI cable, power adapter, sticky tape, cable twisties and instructions. The Spark Base is the brains of the system. It is where all the computing and video encoding occurs. The Spark Camera is a webcam that connects to the Spark Base using a USB cable. It comes with a privacy shutter which you can close when done with your video calls.
How to Make Zoom Calls from Your Smart TV with ONSCREEN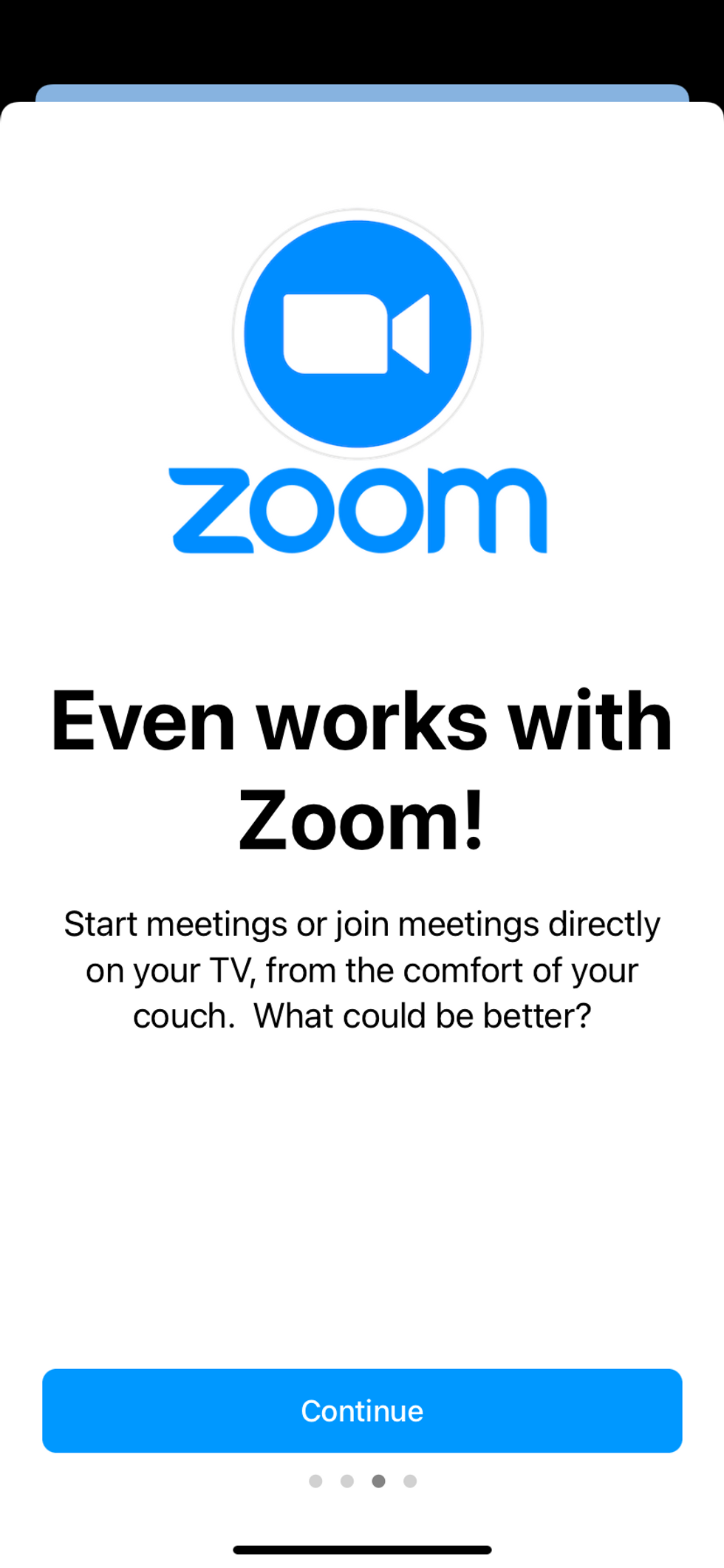 ONSCREEN allows you to make Zoom calls from your TV
GearBrain
Another nice feature of ONSCREEN is its ability to allow you to conduct Zoom calls. This is a key advantage for ONSCREEN. According to ONSCREEN, you can't conduct Zoom calls on a standard consumer-grade TV. We checked and they are somewhat right. Many standard TVs don't come with a camera or microphone and can't connect to the Internet which you will need for Zoom calls. If you have a smart TV with a camera and microphone, you might be able to make Zoom calls from these types of televisions but it's not easy and it does require extra devices and cords. Here are a few ways you can make Zoom calls from a smart TV:
Hook up your laptop via an HDMI cable to the back of your smart TV using an HDMI cable. This allows you to use the smart TV as a monitor for your laptop to make Zoom calls.
If you live in an Apple House, you can use Apple AirPlay to make Zoom calls. But your smart TV must have Apple AirPlay and you need to use your iPhone or iPad to make Zoom calls.
If an Android user, you can use Chromecast to cast your phone screen or laptop with Google Chrome to the TV and them make a Zoom call.
All these setups are doable but not easy, especially for the elderly. They require you to connect wires to the back ports of your TV and some technical knowledge is needed. And if you don't have a smart TV with a camera, you will need to connect a webcam to your TV which could be a problem if you don't have enough HDMI ports. ONSCREEN Spark simplifies this setup process and gives you all the cords and cameras needed to make video and Zoom calls easy for all parties.
What's the Difference between Facebook Portal TV and ONSCREEN Spark?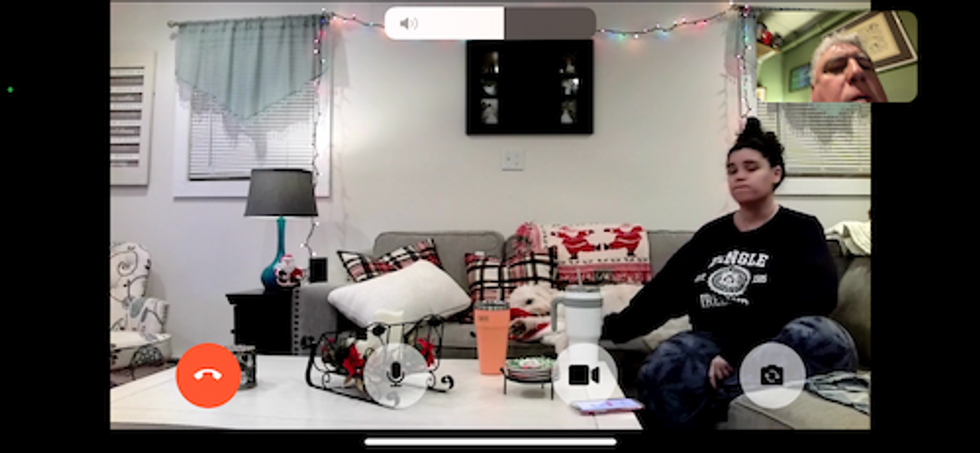 Video calls using ONSCREEN are more secure than using Facebook's Facetime call.
GearBrain
Many might think these two smart video-calling systems are similar because each comes with a camera, microphone and cords. And they connect to your TV's HDMI ports to allow you to make video calls. Also, each is rather easy to install and require an app. However, this is where the similarities end.
From a security standpoint, ONSCREEN provides all generations, including seniors, parents and children with a more private and secure communication method than Portal. They use a 128-bit Encryption with DTLS-SRTP to secure your video calls and Portal does not.
We also found ONSCREEN Spark to be more intuitive to use than Portal. With their Easy Mode, the controls and ability to automatically change TV inputs to answer calls, and auto answer calls from select contacts, is extremely simple to use than Portal.
Lastly, ONSCREEN does not require you to have a Facebook or any social media account. Facebook Portal TV does require you to have a Facebook account. This means your grandparents would need to get a Facebook account which I am not sure would be of interest.
How to set up your ONSCREEN Spark on your TV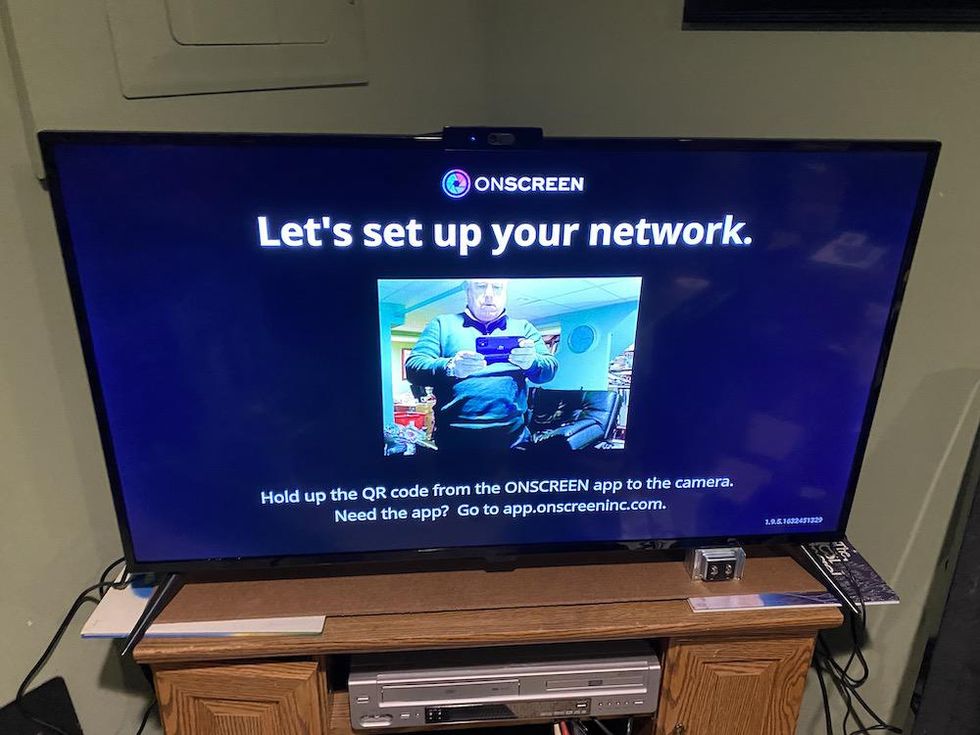 Set up of your ONSCREEN is easy. Just follow the instructions on your TV.
GearBrain
Before setting up your ONSCREEN, you need to have a good internet connection on both ends. This means the place you will be making the calls from needs to have a strong wireless Internet connection as well as the device you are calling. Whether this device is another TV with ONSCREEN or a mobile smartphone/tablet with the ONSCREEN app, you need a good connection. Remember, you are making a video call and it needs a good broadband connection to work properly.
The next step is to start with downloading the ONSCREEN app from the App Store (iOS) or Google Play (Android). Then watch the Setup video in the app. The video is very helpful and will walk you thought the setup process. Once completed, you can make your first video call.
Performance

When testing the ONSCREEN system, we did run into a few connectivity issues. It seems one of our smart TVs with ONSCREEN could not connect to our home Wi-Fi network. It is important to note the TV was not in the same room as our home Wi-Fi router. Our smart TV with ONSCREEN was in the basement. The person we made our first video call to had ONSCREEN installed and they had no issues with connecting ONSCREEN to their home Wi-Fi network. After rebooting our router, we were able to connect ONSCREEN to the Internet and make our first video call.
We made several calls with ONSCREEN to a smart TV with ONSCREEN as well as a smartphone with ONSCREEN app. When you are on a video call, the experience is very similar to a Facebook Facetime call. The person you are calling will appear on your TV while your video feed appears in a small window on the screen. The video quality of the TV screen is not as clear as the video in the window from the smartphone user. We thought it might have been the connection, so we tried making the call from our smartphone to the other parties' TV. The quality of the video on the smartphone was excellent but the TV video for our other party was not as sharp or clear. We asked ONSCREEN about this user experience, and they mentioned this is due to pixel density between the two screens, your TV and smartphone. The smaller video stream will be better, and the TV screen will experience a minimum level of picture degradation. For us, it's seems more than minimum.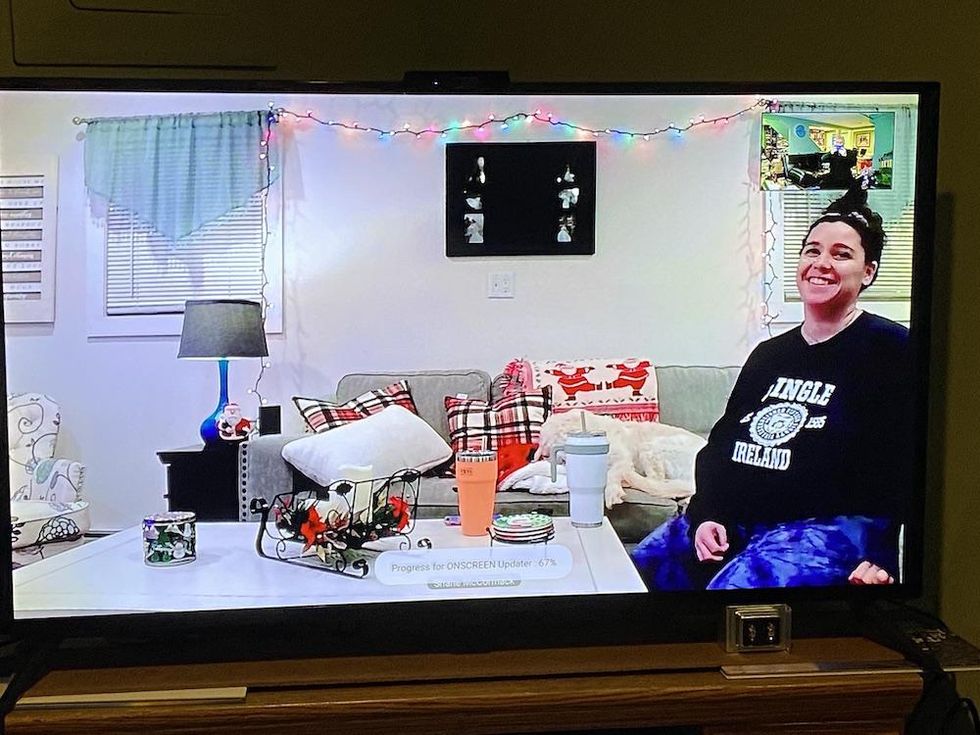 Example of picture quality on a video call using your TV and ONSCREEN Spark.GearBrain
For audio, we had no issues. In fact, the sound was not delayed and very crisp. It was easy to hear on both a smart TV and smartphone.
During testing, we did like ONSCREEN's ability to conduct Zoom calls. This is something we have not seen in smart displays before or many other video devices. ONSCREEN's video conferencing supports 1-on-1 calls while Zoom supports numerous callers simultaneously, with the ability to show 9 windows at once. If you are a small business and want an affordable video conferencing solution to keep connected with your employees, ONSCREEN can be an option. Just make sure you have a good broadband connection on both ends of the video call.
Who can benefit from ONSCREEN Spark Video calling system?
Based on our tests, there are several groups who can benefit from this unique video calling system. If you are a caregiver for your elderly parents ONSCREEN can be an effective communication tool for both you and your parents or grandparents. The system is easy to use and provides a new way for you to check-in anytime of the day. For the elderly, ONSCREEN offers a secure and easy to use video conferencing solution. You will need to teach them how to change the TV input which they would have to do when the video calls are over.
Small businesses could benefit from ONSCREEN too. Since you can make Zoom calls on ONSCREEN, small businesses can setup each of their conference room TVs with ONSCREEN Spark for group meetings. They would need to make sure each employee who is not in the conference room with ONSCREEN Spark, has the ONSCREEN app on their laptops or smartphones. Then you can conduct company gatherings virtually and securely.
Finally, the overall experience in using ONSCREEN reminded us of the video calling experience with Facebook's Portal Plus smart display as well as the Google Duo calls from a Google Assistant smart display. The sound was good, but the video quality was average. However, we did like how Facebook Portal Plus provides a way for you to adjust the video frame and ONSCREEN doesn't. But with ONSCREEN, you can make video calls from your TV to a smartphone or from a smartphone to a TV. This is something you can't do with Facebook Portal TV or the other Facebook smart displays.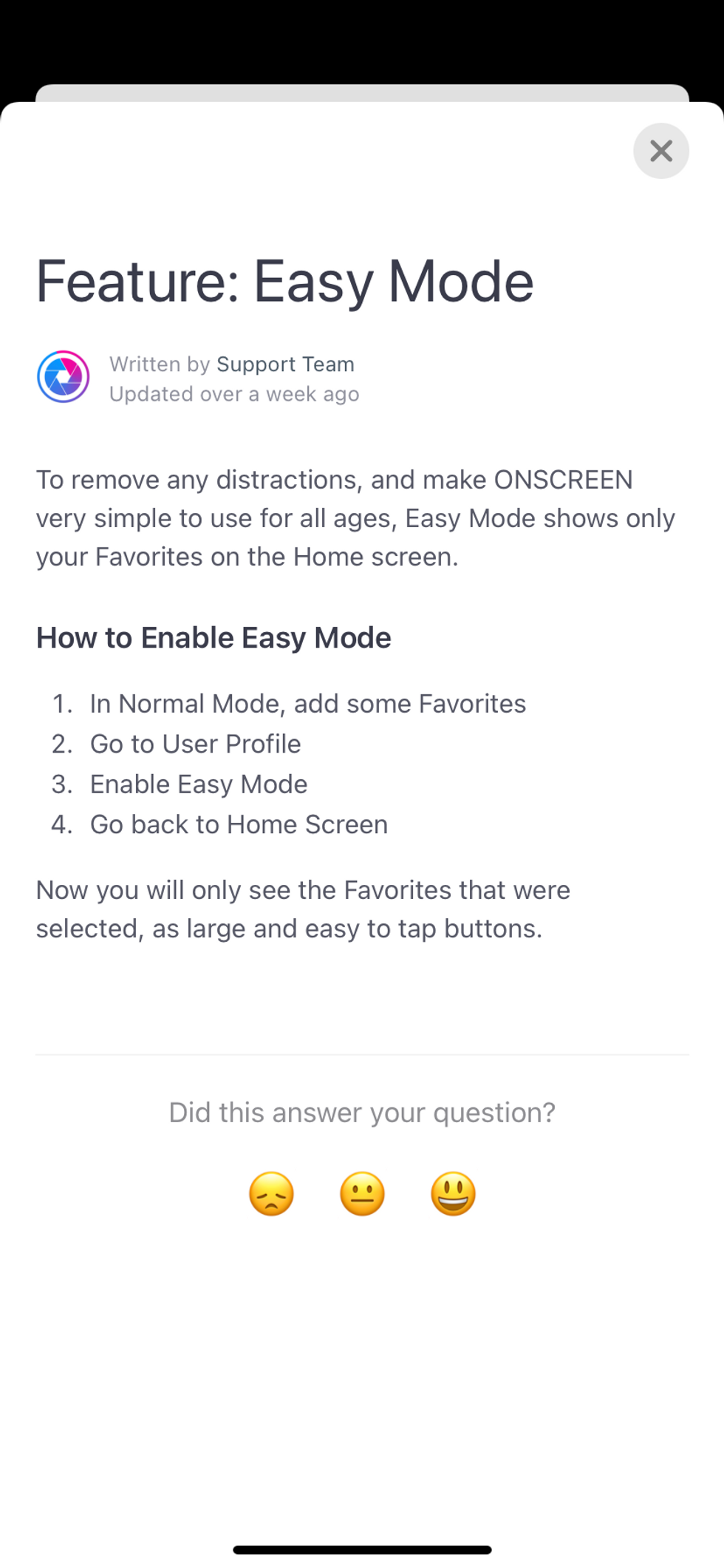 A key feature of ONSCREEN Spark is Easy Mode which you setup in ONSCREEN app.GearBrain
Cost of ONSCREEN Spark
The retail cost for ONSCREEN Spark is $119.99 but is available for $99.99 on their website and Amazon.com. ONSCREEN Spark comes with a base processing unit, an HD camera with dual microphones, and access to the ONSCREEN service. ONSCREEN mobile apps are free to use and can be downloaded on Google Play and the Apple App Store.
Is this a good price? Facebook Portal TV costs $149. You be the judge.
Summary
After testing ONSCREEN in a real home with non-tech savvy adults, we can say this is a good communication tool for families and small businesses.
The device is easy to setup and allows you to communicate with your family or friends through your TV on a secure connection. If you have a small business and can't afford a sophisticated video conference solution, ONSCREEN could be the answer. It will allow you to do Zoom calls with employees in conference rooms if all the smart TVs have ONSCREEN installed.
Overall, ONSCREEN is a good video solution for your grandparents because it is not complicated to setup and offers a focused user experience with no app or monthly contract required. Something not many new smart devices or systems do today for the elderly.
Pros
Easy to setup
Secure connection
Cost
Can make Zoom calls on your TV
Cons
Poor video resolution on your TV
Need a strong internet broadband connection.
Can't control camera view (framing)
If you need help in finding a new smart TV, to work with ONSCREEN or any smart device, you can use The GearBrain. It's out compatibility find engine for smart devices. Free and easy to use.
How to Find Products in The GearBrain, Our Compatibility Find Engine for Smart Devices www.youtube.com