It's easy to look at the smart home landscape and see no further than Amazon Alexa and Google Home.
The two tech giants have seemingly taken over the smart home market over the last couple of years, but other options exist. Not everyone wants to use a voice assistant and smart speaker to control their home, and some people just want an alternative to the Amazon/Google duopoly.
Here are eight alternative smart home systems to try out.
Nest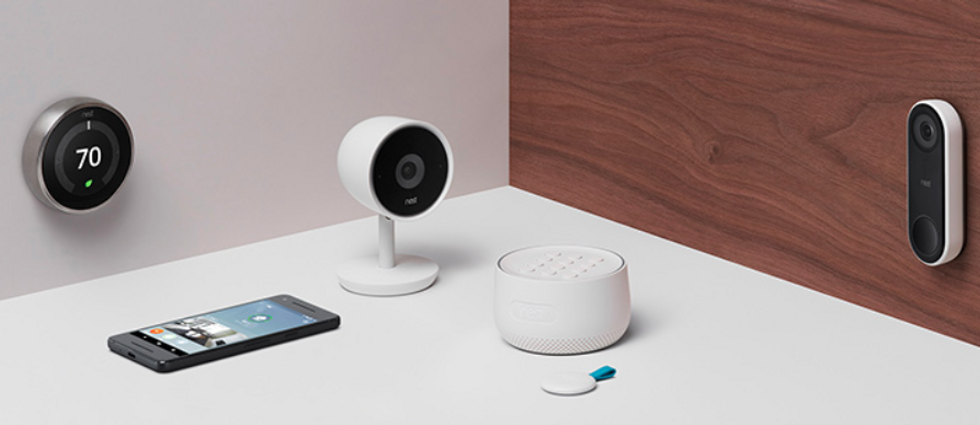 Google-owned Nest began by offering a smart thermostat which learns your behavior and begins to automate control over the heating and cooling in a bid to save you money. Now, the company offers a couple of different learning thermostats, plus a range of cameras, a video doorbell, a home alarm system, a door lock, and a smoke and CO2 alarm.
All of these connect to each other and can be controlled via the Nest smartphone app for iOS and Android. Products can be bought individually (and controlled by Google Home, if you prefer), or as part of a wide range of bundles.
These range from a set of three smoke and CO2 alarms for $327, to a complete security kit made up of indoor and outdoor cameras, a video doorbell, smart lock, sensors and alarm system with keypad and key fobs for $1,400.
Being owned by Google, the Nest system can be controlled by a Google Home, Home Mini or Home Hub (which uses its screen to show video from your Nest cameras) but none of these are necessary, should you not want them.
(Check out The GearBrain, our smart home compatibility checker to see the other compatible products that works with Nest as well as Google Home, Home Hub and Home Mini.)
TP-Link Kasa

The expanding Kasa family includes cameras, smart plugs, and an upcoming video doorbell
TP-Link
As well as making devices like whole-home mesh Wi-Fi networks, TP-Link also sells a growing range of smart home products under its Kasa brand. This includes indoor and outdoor security cameras, smart lighting with multi-function dimmer switches, LED light strips, and smart plugs for adding smarts to non-connected devices. A doorbell camera with 2K HD video is coming soon.
All of these can be controlled via the Kasa smartphone app for iOS and Android, or they can be added to other systems like Alexa and Google Home, giving them voice control.
The Kasa app can be used to set routines and split TP-Link devices into different rooms of your home, and creates custom scenes, making it easy to control several things at once, like all of the smart plugs in a room or on a whole floor of your home.
TP-Link offers a wide range of useful smart devices you can't get directly from Amazon's Alexa system, like a smart power strip for controlling the power supply of six devices at once (or independently), and a weather resistant smart plug for controlling outdoor devices.
Belkin Wemo

Belkin's Wemo range includes plugs, cameras and Apple HomeKit compatibility
Wemo has a smaller catalogue of products compared to some other smart home systems, but it comes from Belkin, a highly regarded name in the consumer technology space.
The product range include smart plugs which connect to the internet via your Wi-Fi network, where they can be controlled from a smartphone app. Alternatively, they can be added to Alexa and Google Home, if you'd rather use those apps (and their respective smart speaker and voice assistants) to control them.
Belkin Wemo also offers smart light switches for fitting to the wall and adding smartness (and remote app control) to your existing lighting. Then there is the Wemo Insight, which acts as a smart plug but also tracks your energy usage, to help you potentially save money by switching devices and appliances off when they aren't being used.
Finally, the Wemo Bridge is a $35 accessory which gives Apple HomeKit support to any existing Wemo smart devices you already own.
Insteon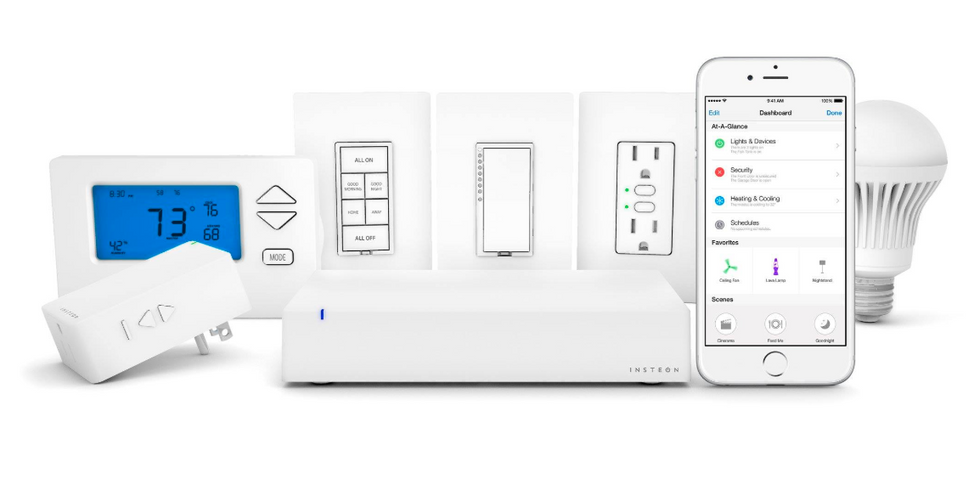 The insteon smart home family includes switches, outlets, thermostats and more
Insteon
Insteon is a hub-based smart home system which prides itself on its simplicity and ease-of-use.
The hub connects to your router, then is controlled via a smartphone app. As you add Insteon smart home devices to your system - such as plugs, sensors and wall switches - these all show up in the app, ready to be set up and interacted with.
Inteon offers compatibility with Alexa and the Google Assistant, so you can ask them (via an Echo or Google Home device) to control your devices, but the focus here is on using Insteon own app and sticking within the ecosystem.
As well as your smartphone, Insteon devices can be controlled by your tablet and computer too, and there is no monthly fee. Insteon smart devices include plugs and wall outlets for switching previously unconnected (like lamps and heaters) on and off; sensors for detecting motion, opening door and windows, water leaks and smoke; and wall switches for adding smart control to your existing lights.
There are also smart thermostats, an HD security camera, and remotes, plus the option to control other devices, like the Nest Learning Thermostat.
Finally, wall keypads give you an easy way to switch on and off certain scenes. For example, you can create a scene where all your home's lights are switched off, then assign it to the Goodnight or All Off button; press it, and all lights will be switched off at once. No more running upstairs to check before you head out.
This is a great option for those who want to control smart lighting with a physical switch, as well as have the option to use their smartphone or voice.
Nexia

Nexia works with smart home products from a range of trusted manufacturers
Nexia
Nexia is a smart home system which includes devices built by the company itself, along with compatible products from other, certified, companies.
This, Nexia says, helps customers make sure they know everything buy will work perfectly with their existing system - something which can be tricky to work out for yourself when new to the smart home market.
Devices Nexia makes itself include wireless indoor temperature and humidity sensors, garage door tilt sensors, smoke and carbon dioxide sensors, a thermostat, indoor and outdoor cameras, and wall switches.
Certified devices from other companies, which are designed to work seamlessly with the Nexia system, include flood sensors and sirens, smart light bulbs and switches, door locks, glass break sensors, and motorized blinds. Also, certain appliances like washers and dryers by Samsung work with Nexia, and so too do sensors and dimmers by Fibaro, locks by Schlage, and a range of products by Nest.
All of these devices connect to the Nexia Bridge, which plugs into your Wi-Fi router. You can then set everything up via the Nexia website, and control you home from the smartphone app for iOS and Android. Nexia's platform costs $9.99 per month.
Nexia also has a diagnostics system which can alert you to potential problems with your home's heating and cooling system before a part fails and causes an expensive repair.
Samsung SmartThings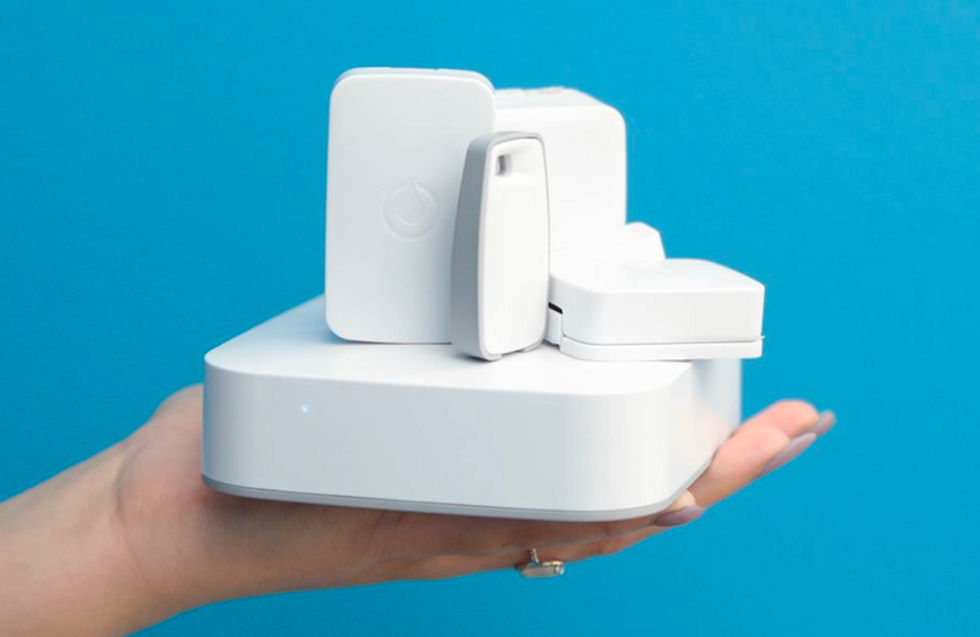 SmartThings devices include window and door sensors, alarm systems, and a highly configurable hub
Samsung
The SmartThings smart home system by Samsung includes plugs, buttons and sensors, along with the brains of the outfit, the Hub. The sensors can be used to monitor movement, water leaks, and if a door or window has been opened, adding to the security of your home.
The plugs work much like others, giving you control of the power outlet used by a non-smart devices like a portable heater, dehumidifier or air conditioning unit.
SmartThings buttons can be configured to control several devices with one press. For example you could place a button by the front door which, which pressed, switches off all of your upstairs lights and smart plugs (such as one connected to hair straighteners) and switches on a lamp in the living room, to make it look like someone is home while you are out for the evening.
The SmartThings app allows for smartphone control, but it also appears on recent Samsung televisions, turning the TV into a central home command unit.
Finally, the hub works with all SmartThings devices, but also a wide range of smart home products from other companies, like Philips Hue, Arlo, Ring, Ecobee, Honeywell, Yale, Schlage and more. The hub can also be controlled by Amazon Alexa and the Google Assistant.
(Check out The GearBrain, our smart home compatibility checker to see the other compatible products that work with Samsung SmartThings.)
Hive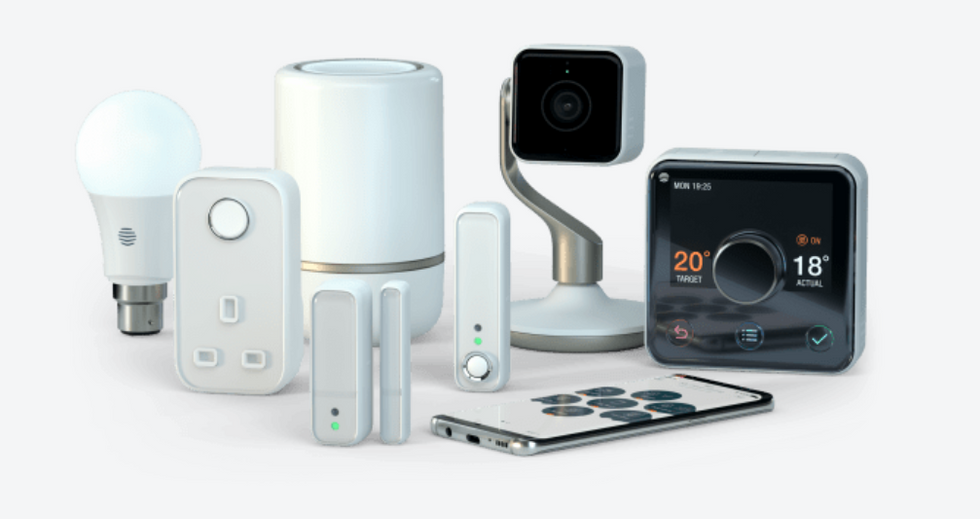 Hive's smart home system includes a thermostat, window sensors, and light bulbs
Hive
A division of UK energy firm British Gas, Hive is a relatively new entry in the smart home space, and also sells its products in the US. Smart devices available from Hive include a thermostat, indoor and outdoor security cameras, light bulbs, sensors, plugs and accessories,
All of these can be bought individually or as part of larger packs of products, and they are controlled by a smartphone app. One such pack, called Welcome Home, costs $250 and includes a Hive hub, thermostat, smart plug, window or door sensor, motion sensor, and two smart light bulbs.
You can control these through the Hive app, which is available for iOS, Android and the Apple Watch. The app can be used to automate how your devices work, monitor the security of your home with motion and window sensors, and set up scenes called Hive Actions.
Ring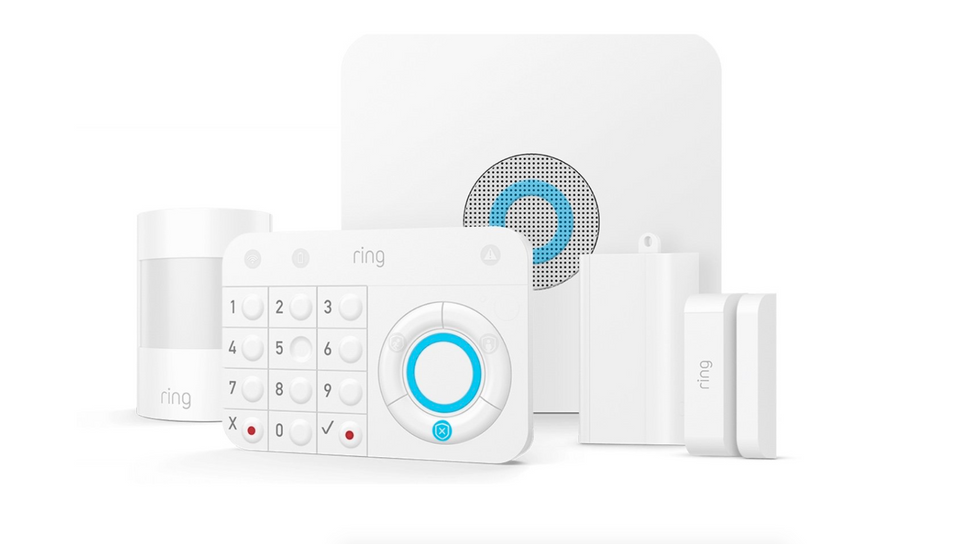 Apart from video doorbells, Ring does smart home security, too
Ring
Best known for its video doorbells, Amazon-owned Ring has quickly expanded to offer a wide range if smart home devices. These include flood and freeze sensors, smoke and CO2 alarms, a panic button, motion detectors, outdoor cameras with flood lights, and a complete home alarm system.
With everything installed, this is a system which will alert you when someone is at the door, when a door or window is unexpectedly opened, when there is a buildup of smoke or CO2, and when there is a floor in your home. By paying from $10 a month for Ring Protect Plus, customers also get access to a 24/7 monitored home alarm system.
All of this can be installed and used without the need for a hub or any smart devices from another company. However, if you want to you can integrate Ring products with Amazon Alexa.
Support for IFTTT (If This, That That) means Ring devices can control other smart home products you might own. For example, Philips Hue lights can be set to flash when someone presses your Ring doorbell.
The 5 Best Questions To Ask Before Buying Security Cameras - GearBrain www.youtube.com