Like GearBrain on Facebook
The global car industry was one of the first to be struck down by Covid-19, with the cancellation of the Geneva International Motor Show in late-February, just days before the doors were due to open. Inside, the world's carmakers had already built their stands and wheeled their latest vehicles, many of them electric, into place.
The show would have seen electric cars of all sizes and prices, each poised to end the conversation on whether they are 'Tesla-killers' or not, and instead get on with the job of giving electric transportation a viable, affordable future.
Read More:
Fiat would have shown its all-new, electric-only 500 citycar, BMW would have revealed its electric i4 Concept and, at the other end of the scale, Croatian startup Rimac would have announced its latest battery-powered hypercar.
Instead, the industry headed home, battened down the hatches and braced for a year of massive uncertainty. Glitzy launch events were put on ice as fears of a global recession loomed and production lines shuddered to a halt as staff were sent home to isolate. Design studios reconfigured to work remotely, and factories retooled to produce hand sanitizer, protective clothing and ventilators.
Fast-forward a few months, and as the auto industry emerged from a post-lockdown world, it quickly got back to work. Swedish newcomer Polestar released the 2, its first all-electric car and arguably the closest rival yet to the Tesla Model 3. We loved its Scandinavia design and how it is the first car to use Android Automotive, putting the Google Assistant in a car and using it in ways no other vehicle does. The Polestar 2 is also quick, quiet, refined and comfortable, while offering a respectable 233 miles of range (or 292 using the WLTP testing standard).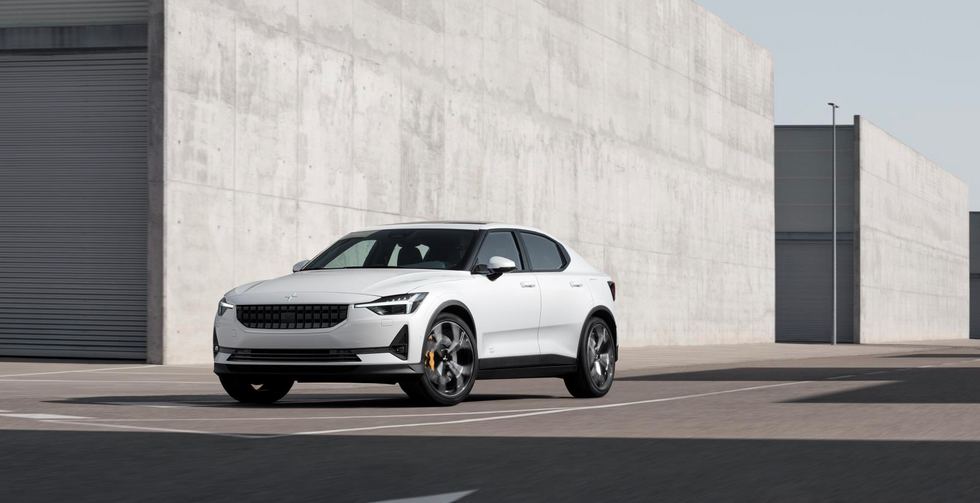 The Polestar 2 is a key rival to the Tesla Model 3 Polestar
Next came the Honda E, a charming city car that can comfortably match Tesla when it comes to tech trinkets, thanks to a dashboard full of screens, cameras for door mirrors, and a digital aquarium to entertain children while parked at the charger. Only available in Europe but a strong indication of Honda's future battery-powered direction, the E can only manage 100 miles on a charge, but won our hearts with its retro charm.

The Honda E goes up against a whole range of EV city cars, from the Renault Zoe with its excellent 200-mile-plus range, to the fashionistas' favorites, the new electric Mini and Fiat 500. Only the Mini with its 110-mile range is available in the US for now, with Fiat still undecided on selling the new 500 stateside. A previous generation of electric 500, produced in small numbers as an experiment a decade ago, was sold exclusively in California, so revisiting at least some of the US market with a new model isn't out of the question.
It is a similar story with Volkswagen and its new ID3, which also went into production in 2020 but isn't destined for the US. Instead, the larger ID4 is the chosen flag-bearer for VW's electric debut in the US from 2021. Both are hugely significant cars for Volkswagen, and with sensible prices, inherent reliability and a range of over 300 miles, they could well be the Model 3's biggest test to date.
And, this being the Volkswagen Group, many, many more electric cars will be on the way soon. In fact, the group says 27 EVs are coming to its Audi, Seat, Skoda and VW brands worldwide by 2022, and that figure will grow to 70 by 2028.
Elsewhere, BMW now has an electric version of its best-selling X3, called the iX3. This will be joined in 2022 by the all-new iX (formerly the Vision iNext concept), also revealed in 2020.
Has Tesla lost its lead?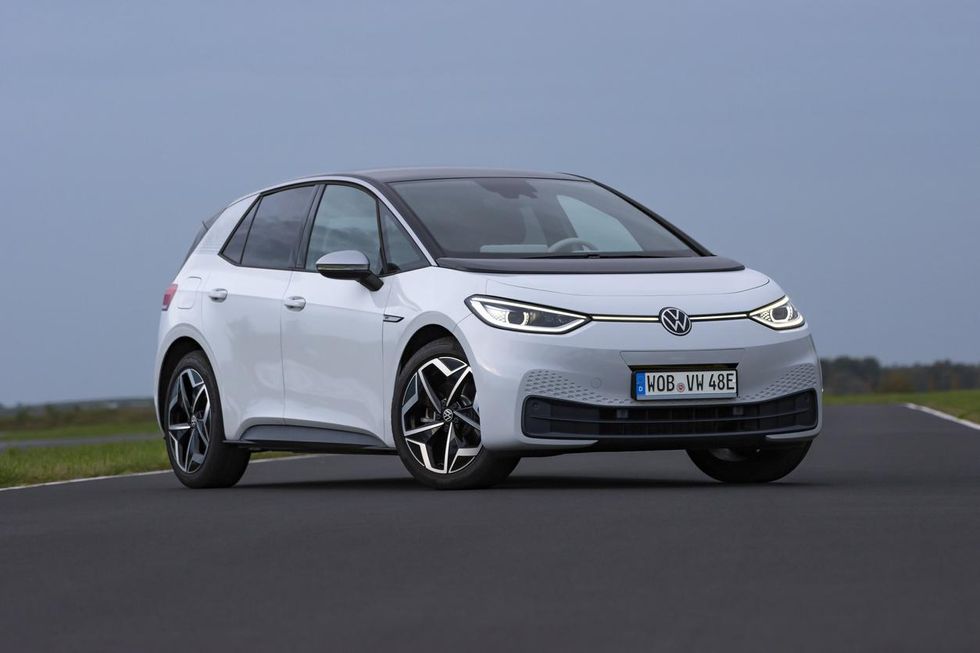 The Volkswagen ID3 introduces a whole new family of electric carsiStock
Despite an onslaught from industry veterans, there are still plenty of reasons to buy a Tesla as we head into 2021. The company's Supercharger network offers unparalleled convenience and will continue to do so until the dozens of companies building a fragmented public EV charging infrastructure can catch up. The likes of Electrify America and its European sibling Ionity are quicker than the Tesla Supercharger in some cases, but they haven't yet reached the scale of Tesla.

Range-anxiety is less of an issue than ever, but Tesla still wins when it comes to going further than anyone else. The Model S cracked the 400-mile barrier in 2020, reaching an EPA-estimated range of 402 miles for the Long Range version, thanks to hardware improvements and frequent software tweaks. Even the basic Model 3 has an EPA estimate of 263 miles, with the Model 3 Long Range reaching 353 miles.
It seems like no time ago that issues with Model 3 mass-production almost ruined the company, and yet now Tesla's market cap of over $590 billion is over seven times larger than the Volkswagen Group.
Undercutting Tesla
But Tesla can't afford to get complacent. The current price of the base Model 3 is almost exactly equal to the average new car sold in the US ($37,851), giving every other Tesla, across the Model Y, S and X ranges, an above-average price. This carves out space for Mini, Nissan, Kia, Hyundai, VW and many others to sell less expensive EVs.
In Europe, where smaller cars are more commonplace, legacy brands selling electric hatchbacks at affordable prices are sure to have a successful decade, with the likes of the Renault Zoe, Peugeot e208, Vauxhall Corsa E, Mini and Fiat 500 giving plenty of choice to buyers on a budget.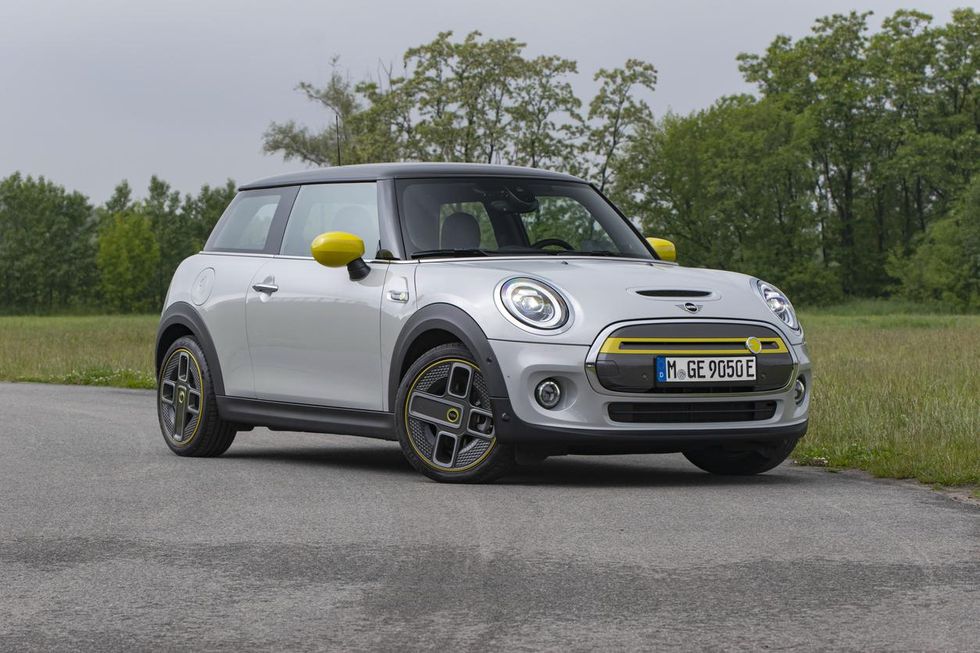 The electric Mini and a range of cheaper EVs pose a threat to TeslaiStock
Tesla boss Elon Musk recognized this threat in November 2020, saying in an interview how a new, small Tesla hatchback would make sense for the European market. Musk came to this conclusion after struggling to find an adequate parking space for a Model X while in Berlin, Germany, home to one of Tesla 'gigafactory' manufacturing facilities.

As traditional brands accelerate their EV output, an all-new, entry-level Tesla seems unlikely for now. The company is yet to sell its Model Y beyond the US, while the 2020 Roadster supercar and Semi haulage truck have both been delayed. Little has been seen of the radical Cybertruck since its botched reveal in November 2019.
With the 2021 Geneva motor show also cancelled, all bets are off as to when the next round of electric cars will break cover. But when they do, they will likely go further, cost less and be sold in even greater numbers. And with some country-wide bans on internal combustion arriving at the end of the decade, they now have much more on their plate than simply beating Tesla.
GearBrain Road Trip Gadget Guide www.youtube.com
Like GearBrain on Facebook