Like GearBrain on Facebook
When Steve Jobs revealed the first iPhone in 2007 he introduced it as three devices in one; a telephone, an iPod with video and an internet communicator. Now, we think his predecessor Tim Cook could pull off a similar trick by taking Apple into another new product category – the smart display.
By smart display, we mean a device like the Nest Hub by Google, the Echo Show by Amazon, and to a lesser extent the Portal by Facebook. Available in a range of sizes, these displays play music, stream video, offer smart home control, have voice assistants, and can handle video calls.
Read More:
Such a product would tie together many of Apple's services in an aesthetically-pleasing package that is designed to fit in a room currently not occupied by Apple – the kitchen.
Apple hasn't spoken publicly about any plans to make a smart display, but it is reportedly looking into such a product behind the scenes. The often well-informed Mark Gurman of Bloomberg reported in March: "Before the discontinuation of the larger HomePod, the company had been working on an updated version for release in 2022. It has also been developing new speakers with screens and cameras, but such a launch isn't imminent."
We don't expect to see a smart display at Apple's 'Spring Loaded' event on April 20, as new iPads, iMacs and the long-awaited AirTag are most likely this time around. But we wouldn't put it past Apple from one day expanding its smart home device offering.
Somewhere between an iPad and an iMac
We see the Apple smart display being roughly the size of an iPad, with the squared-off edges of the current iPad Pro and the central foot of an iMac. Given the all-in-one computer is due to be upgraded imminently, and with new color options likely, the smart display could borrow both its design and its color options.
It would also need to offer great audio, and in that regard we see a smart display as the perfect replacement to the original HomePod smart speaker, which Apple unceremoniously discontinued earlier in 2021 with no immediate replacement. The Apple smart display could then be paired with a bunch of HomePod Minis for a whole-home audio system. We would also like to see Apple expand its HomePod range to offer speakers at several price points, as Amazon and Sonos both do.
Made of glass and aluminum, the Apple smart display we envisage would be pitched as a more premium product than the Nest Hub and Amazon Echo Show, and so would no doubt be priced accordingly. Perhaps $399, making it $50 more than where the original HomePod started before its price cut. We would expect Apple to keep such a product relatively simple, with no sleep tracking like the latest Nest Hub, and no rotating screen like that of the Amazon Echo Show 10.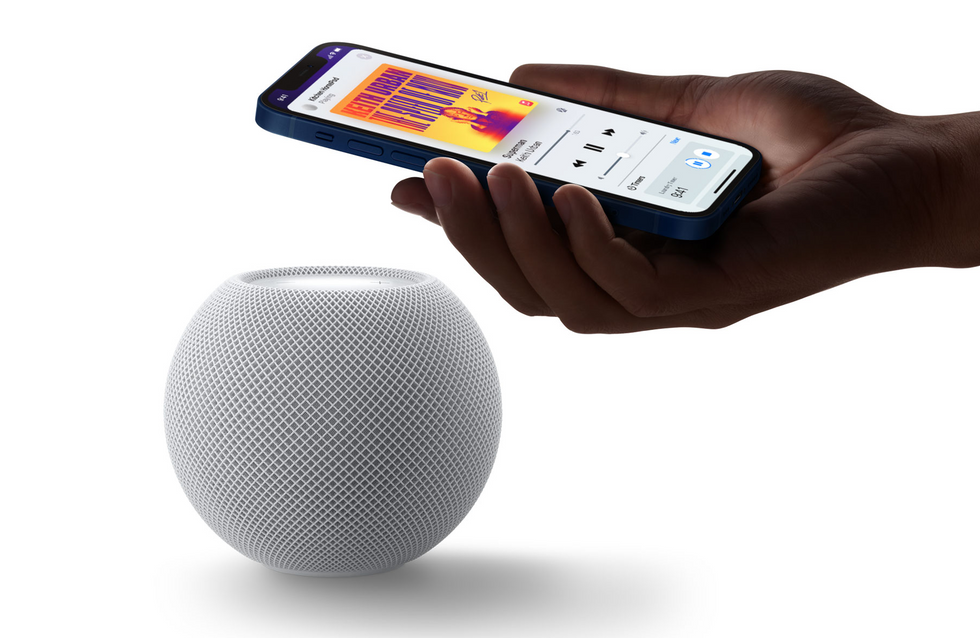 Apple currently only sells one smart home product, the $99 HomePod Mini Apple
All of Apple's digital services in one place

We think it's a no-brainer for a smart display to have access to all of Apple's digital services. There would be a camera and FaceTime, of course, with support for phone calls via your iPhone too, plus video streaming from Apple TV+, music from Apple Music, wallpapers and screensavers from the Photos app, and perhaps even the company's new Fitness+ for exercise classes logged by your Apple Watch.
Speaking of software, we would like to see Apple create a new operating system for the smart display. The temptation to use iPadOS or macOS would surely be there, but we think a unique OS would be best, and one that can be controlled almost exclusively by speaking to Siri. Given smart displays tend to be designed for the kitchen counter, software that can be navigated without touching the screen, especially while cooking, is a must – and, yes, that means Apple needs to give Siri a serious upgrade to put its intelligence on par with Alexa and Google Assistant.
If we stick with the kitchen location, we'd also like to see apps for household management, like a form of the iPhone's Notes app made for family members to leave lists and messages for each other.
Other software elements borrowed from Apple's ecosystem could include the Live Widgets of iOS 14, where app icons show live data like the weather on the home screen. That way, the weather or your next calendar event could be seen at a glance as you walk by the display.
With Wi-Fi and Bluetooth, the display could be accessed via AirPlay for playing music or video from an iPhone, and an upgraded Clock app with multiple timers (something the iPhone still doesn't have) would be useful in the kitchen. It then doesn't take much imagination to see Apple offer exclusive recipes or even cooking tutorials as part of a new channel of the Apple TV+ service.
In what could be seen as a controversial move, we don't believe the Apple smart display should have an application store of its own. This isn't a fully-fledged computer or tablet, but instead a device with a few specific use cases that we think could become polluted if too many applications are offered by third-party developers.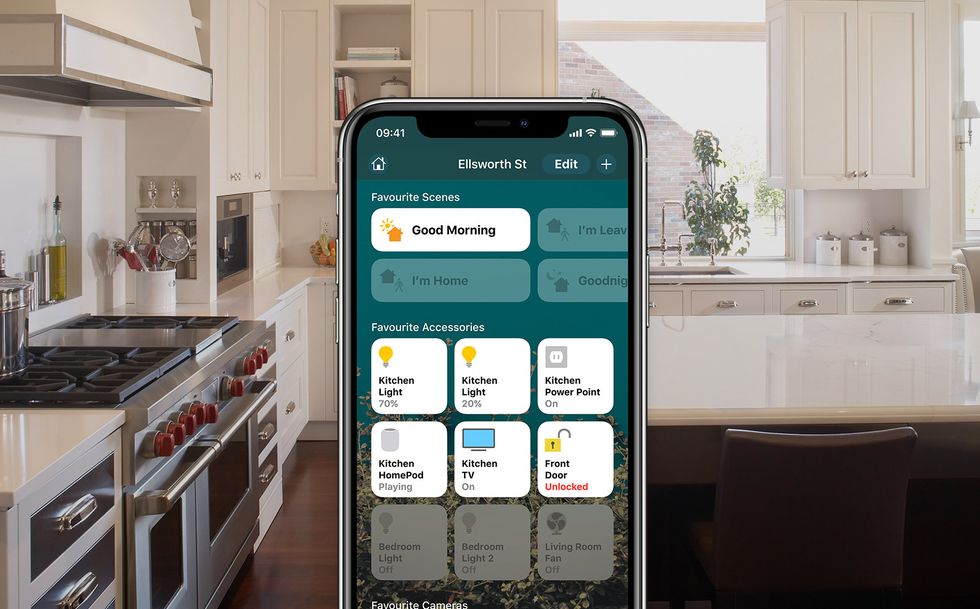 The display could run a more advanced version of Apple's Home app for iOS Apple
Smart home control

For us at GearBrain, the most exciting feature of an Apple smart display would be smart home integration. Apple has its HomeKit platform and Home app, but has done little to challenge the dominance of Amazon and Google in the smart home sector.
Like the Nest Hub and Echo Show, the Apple screen could become a command center for all of your smart home devices. An all-new version of the Home app would make it easy to control lighting, heating, plugs and other connected devices, play music throughout the home, and view live feeds from security cameras and video doorbells.
Without an App Store, the smart display will have to work natively with a huge range of smart home devices. To help this, we'd like to see support for the Zigbee and Z-Wave smart home standards — and for Siri to gain enough intelligence to control all of your devices precisely and reliably.
An Apple smart display is unlikely to be even half as popular as the iPhone, and may not even appear in as many homes as Macs and iPads. But we think there is room here for Apple to work its magic by creating a premium device for the kitchen counter, and which taps neatly into HomeKit, FaceTime and Apple's subscription services.
Like GearBrain on Facebook