Robot vacuums have matured over the past few years. These new smart home cleaning robots have gotten better at cleaning not just carpets but all types of floors, including tile and hardwood flooring. They have also improved suction power, navigation and battery life. All of which can help make cleaning your floors quick and easy. Recently we were sent the latest robot vacuum from Neato Robotics, a leading manufacturer of robot vacuums whose devices GearBrain has tested in the past. Their latest robot vacuum, D10, is their most powerful and intelligent robot vacuum designed for large homes. We tested this powerful robot vacuum in a real home to see how it would perform the past few weeks. Check out below to see how it did when put through the GearBrain testing program.
What is Neato D10 smart robot vacuum cleaner?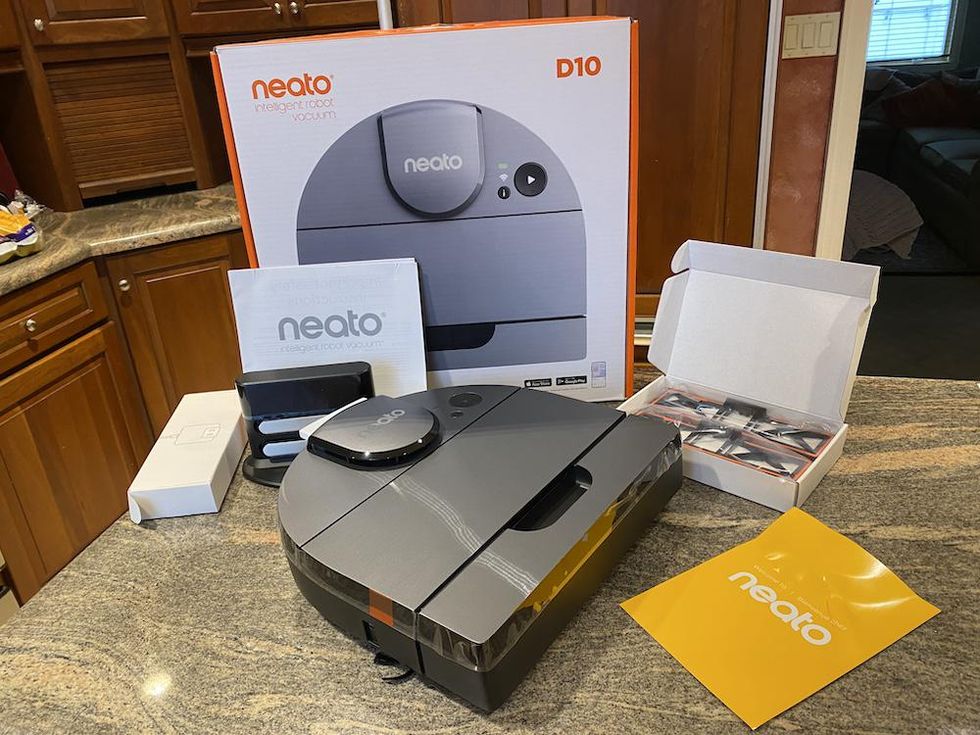 Neato D10 Smart Robot Vacuum Cleaner unboxed.
GearBrain
Neato D10 is the company's newest and most powerful robotic vacuum. It is designed for larger homes and comes in the company's signature D-shaped design with LaserSmart Technology. It can run for up to 300 minutes which is long for a robot vacuum. The D10 can cover up to 2,700 square feet on a single charge and has 60% more dust pickup than Neato D3 and D5 robot vacuums.
The D10 vacuum also comes with a True HEPA filter and Helix Multi-Surface Main Brush which provides outstanding debris pickup on any type of surface – hardwood, carpet or tile - and reduces brush noise by up to 50% on hard surfaces. The Helix multi-service brush is also 70% larger than brushes found on round robot vacuums. And to help store all the dirt this brush pulls in is a 0.7-liter dirt bin.
Features on your Neato 10 Robot Vacuum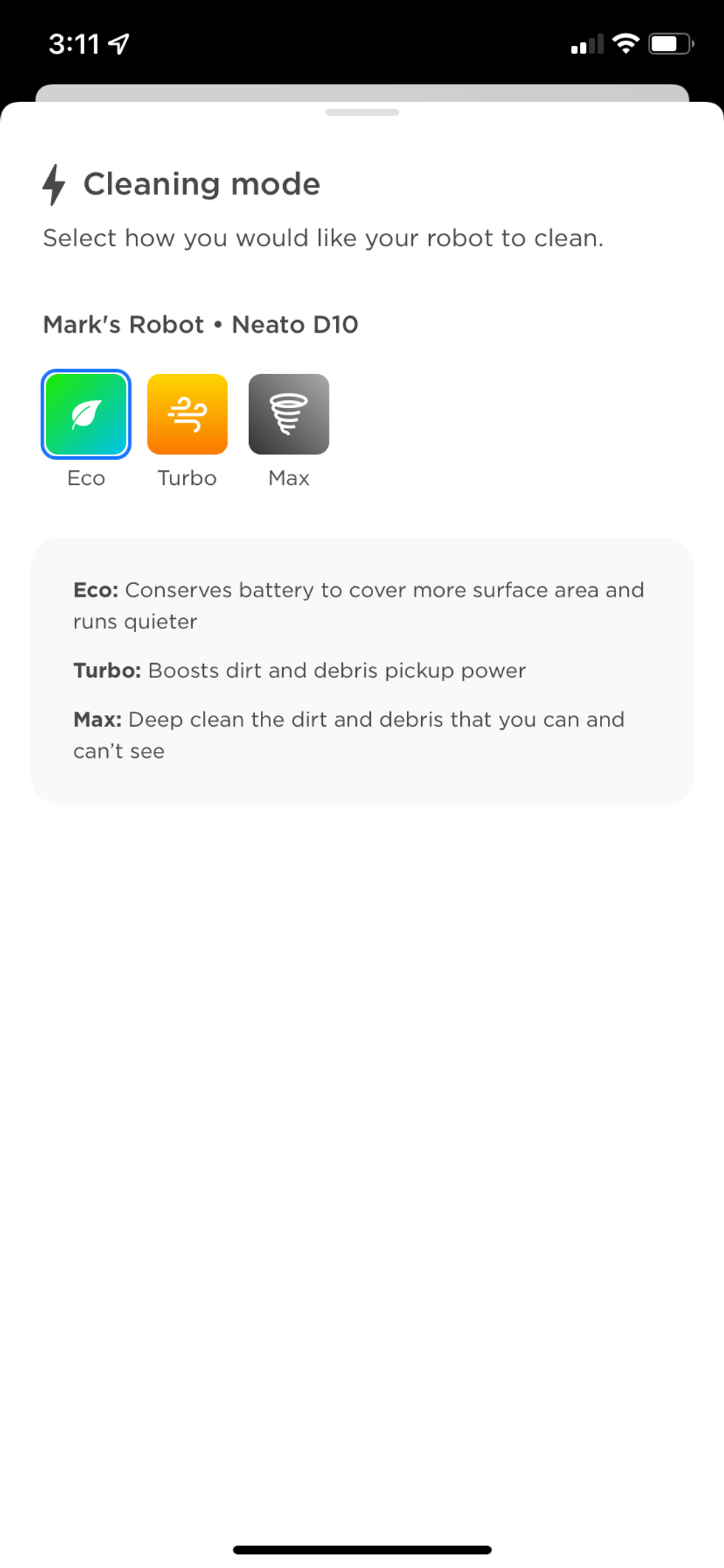 Neato app has three cleaning modes: Max, Eco and Turbo.
GearBrain
Neato's new robot vacuum comes with three cleaning modes: Max, Eco and Turbo. Eco mode is the lowest setting and design to clean with the lowest noise level. It's also the mode that helps conserves the battery. The Turbo mode comes with increased suction power to clean dirt and debris on the floor. Max Mode is the highest suction power and the setting you choose if you want to deep clean dirt and debris you can't see in your carpet. But keep in mind, Max mode is also the setting which will drain your battery and is very loud when cleaning.
One nice feature of your D10 robot vacuum is Zone and No-Go Zone cleaning. These are customized floorplans with zones you define as areas to clean more often or places to avoid. You set up this feature in the MyNeato app which available in App Store (iOS) and Google Play (Android.)
Another nice feature Neato offers users in their app is routines. You can setup weekly routines for your Neato D10. You can select the time, day of week, zones (entire map or select zones) and cleaning mode.
And the last key feature for any robot vacuum is its mapping technology. Neato D10 comes with the company's LaserSmart SLAM technology with LIDAR. This technology allows your D10 to map, navigate and clean your floors. It's different from camera-based technology used by other robot vacuum manufacturers. Neato uses LIDAR to help navigate your floors and avoid obstacles while cleaning. Also, once a map is created, you can save it and use it for future cleanings which is nice.
How to set up Neato D10 Robot Vacuum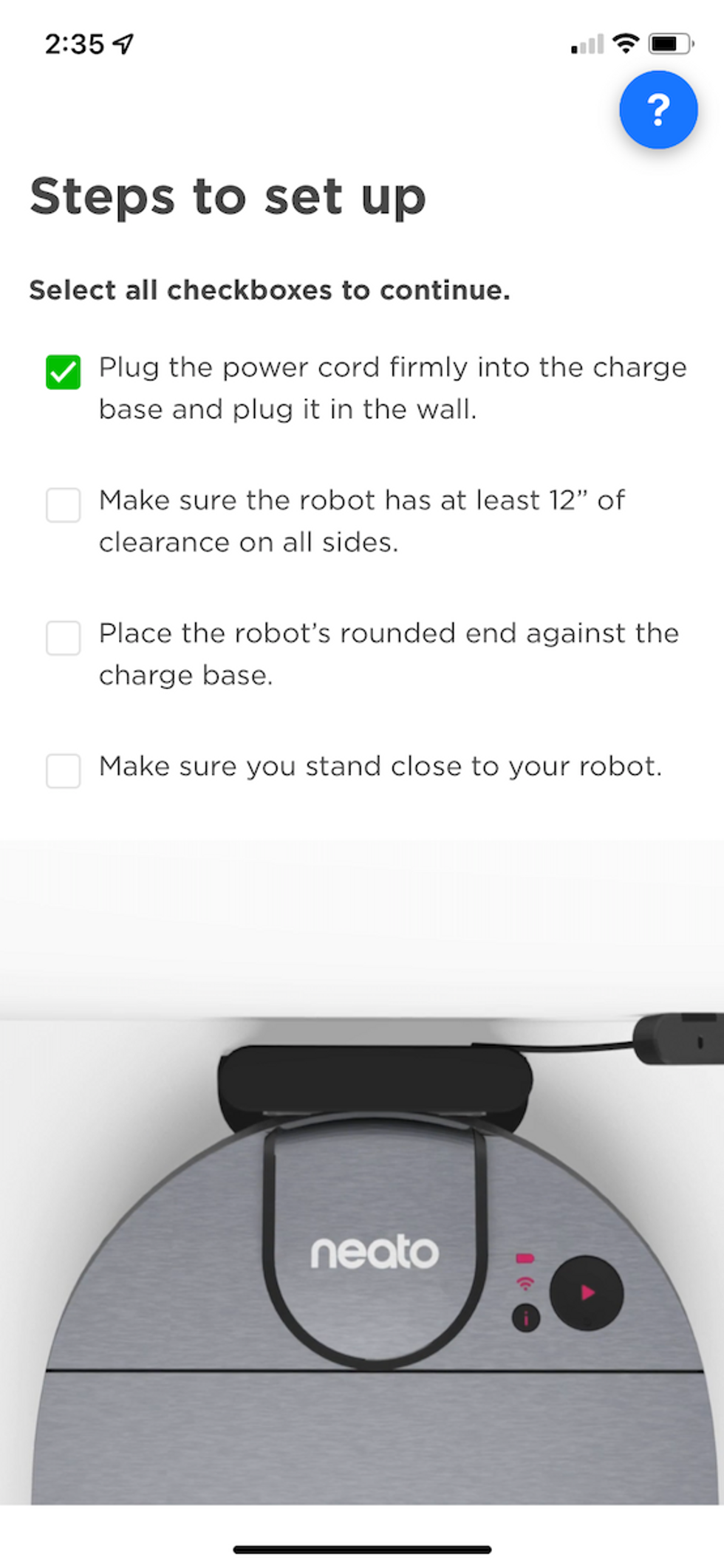 Setting up your Neato D10 is extremely easy. Using the MyNeato app, you will give prompts throughout the setup process to get your D10 working the way you want in your home. These prompts are easy to follow. But before you start the setup process, you will need to allow Neato access to your location so your smartphone can detect the robot during the setup process. And you need to enable Bluetooth for Neato D10 to connect to your home's Wi-Fi network. Once you complete these two steps; you will begin the setup process. Setup process takes only a few minutes unless you have connectivity issues.
Once the setup process is complete, make sure your Neato's firmware is updated. Next, you can prepare for your first cleaning. Depending on what areas of your home you want Neato to clean, make sure the doors to these rooms are open, all objects are removed from the floor and there are no loose cords lying around. Lastly, select the cleaning mode: Eco, Turbo or Max. Now you are ready to activate Neato and start cleaning your floors.
Neato Smart Home Integrations – What Products Work with Neato?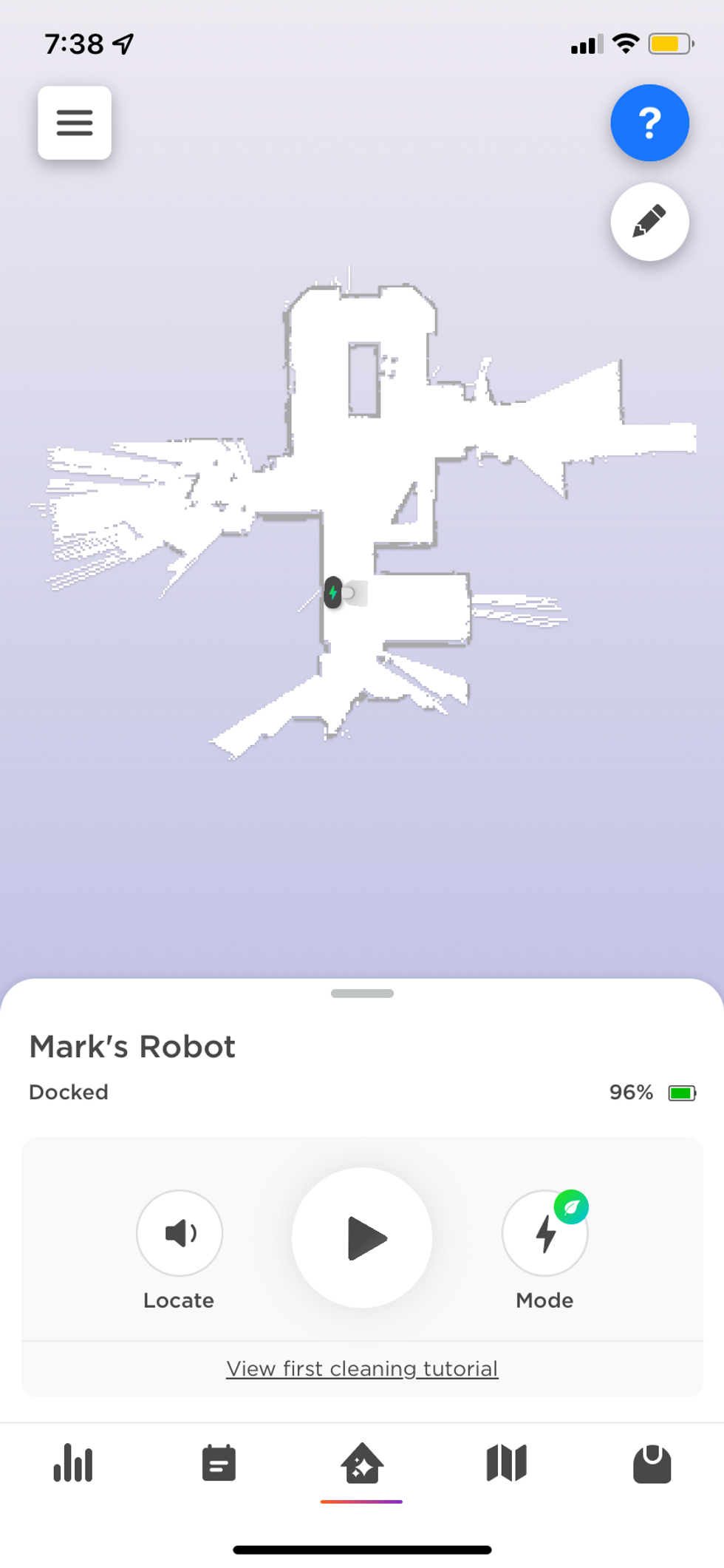 On dashboard, users can locate your Neato, set the cleaning mode, start and stop a cleaning and see your map.
GearBrain
If you own either an Amazon Alexa or Google Assistant enabled device, you will be able to use voice commands with your Neato DE10. Neato is compatible with both voice assistant platforms. You will need to connect your MyNeato app with the voice platform's app. Once connected, you can tell your smart speaker or display to have your D10 do the following:
Google Assistant:
Stop cleaning
Start cleaning
Pause cleaning
Resume cleaning
Find the vacuum
Dock vacuum
Vacuum status
Check if charging
Zone based cleaning - example, "Cean the <zone name>"
Amazon Alexa (Skill):
Same voice commands as Google Assistant but use Alexa wake word
Other variances of Alexa Commands include stop the Neato Skill
Besides smart speakers and displays, Neato also works with Apple Watch, If This Than That applet (IFTTT). We found 8 applets on IFTTT site you can use. One was very interesting – you could pause your Neato when someone rings your Ring Video Doorbell. You can visit IFTTT to learn more about MyNeato applets and how to create your own if you feel ambitious.
Neato D10 smart robot vacuum has a MSRP for $799 and is available for purchase in store and online at Amazon, Bed Bath & Beyond, Best Buy, Lowes and the company's website. The D10 is only available in sliver with polished brushed metallic finish.
Is this a good price? The Neato D10 ($599.99 on Amazon) falls into the same price range as Roborock S6 MaxV ($699.99), yeedi Vac Station ($499.99) and Ecovacs Deebot N8 Pro+ (594.99). (Note: Prices are from Amazon.). These latter two robot vacuums come with self-emptying stations. If you don't need or want self-emptying, Neato D10 is priced right and in line with the other robot vacuums with similar features.
How well does Neato D10 Robot Vacuum Perform?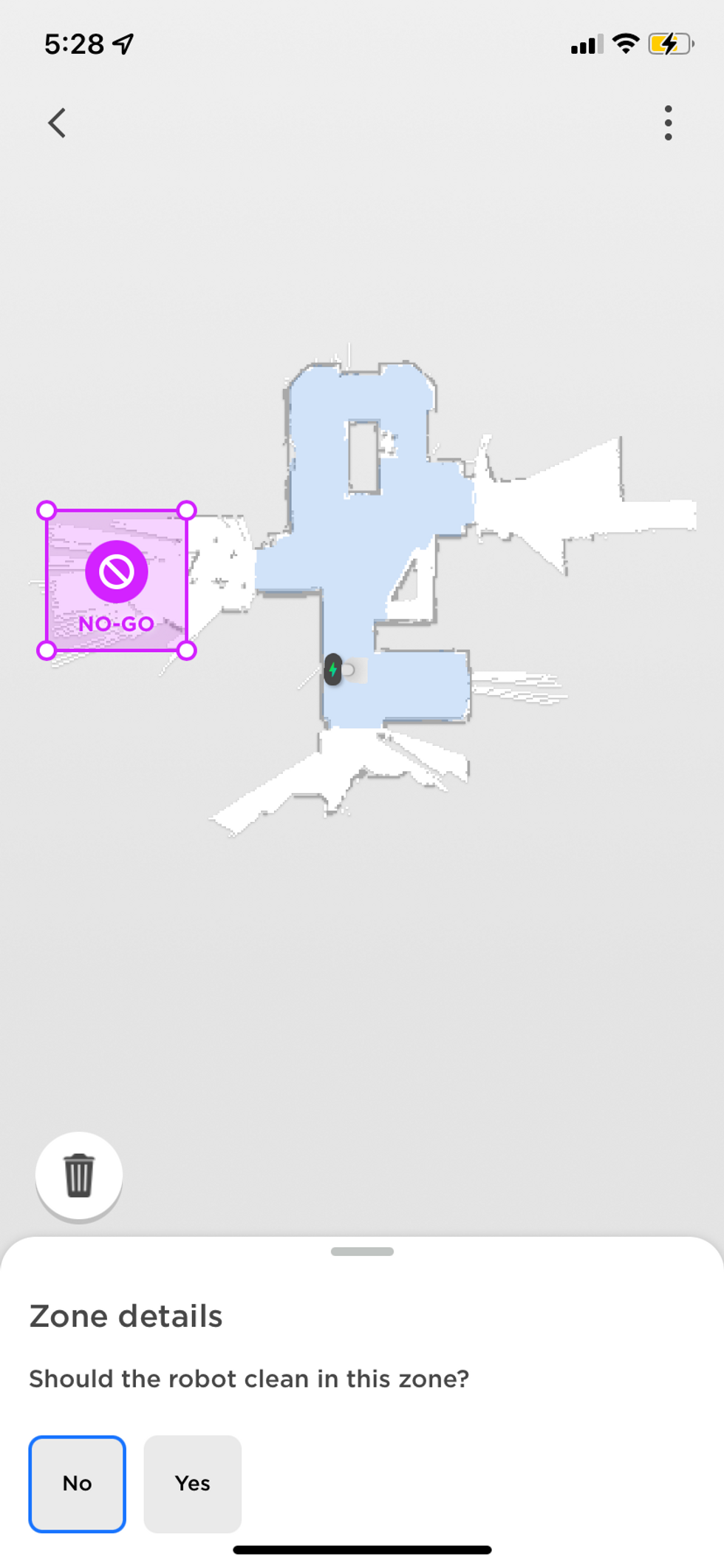 When testing smart robot vacuums, we look for ease of use, including the set-up process. Noise level of the robot vacuum when running. How well does the robot vacuum clean carpets, tiles and wood floors. And we look for battery life while running and how the mapping/navigation works. After testing for two months, we thoroughly enjoyed the Neato D10 smart robot vacuum.
This smart vacuum was easy to setup and operate. We experienced no issues with connecting it to our home Wi-Fi network. The navigation took right away in the app when we started, and it was not too loud when running in Eco mode. It was loud on the other modes (Turbo and Max). That is something you need to be aware of, especially if you are working from home. We also liked how you can save the maps for future cleanings.
There was one hiccup we came across when testing the D10. Our testing included running the robot vacuum on one floor in multiple rooms and then we use the robot vacuum on different floors in our house. When the robot finished on a different floor or in a new room, it started to look for the base and ended up going in circles when it couldn't find the base. We were able to rectify this issue by bringing the base into the room we were vacuuming. Once we did this, we no longer had the "going in circles" issues.
In our test house, we put Neato D10 into the kitchen which has three entryways. Two of the entryways have a large saddle in the middle. The saddle drops off about an inch onto hardwood floors. The third saddle leads into another room and is a step down. When testing other robot vacuums in this room, all of them stopped at the third saddle but vacuumed over the other saddles and continued vacuuming into the other rooms. With Neato D10, it recognized the drop down on the two saddles and did not vacuum over into the other room. For us, this was the behavior we wanted but if you have a home with big thick saddles on internal entryways, you might want to make a note and adjust the mapping in the MyNeato app.
Another nice feature we noticed when testing MyNeato app was the mapping and navigation. We don't normally see easy to read maps. Many of the other robot vacuum's apps we have tested gave maps but were hard to decipher sometimes. With MyNeato app, it was easy to read.
Lastly, Neato D10 is a powerhouse robot vacuum with a unique shape that works very well for cleaning. The suction power when on Max was excellent. It was loud and does eat into battery life. However, it cleaned the carpets much better than the other robot vacuum we recently tested. And since Neato D10 is not a round robot vacuum, it's D-shape designed came in handy for the rooms where we had corners. The Neato was able to get into these hard-to-reach areas and clean the floors, whether it was carpet or tile floors.
Summary

Today, robot vacuums come in all shapes and sizes. They all have unique features too. Some have security cameras built-in while others can mop and vacuum your floors from the same robot. We always recommend when looking for a good robot vacuum, you make sure it has good suction power, simple setup process, easy to use navigation and can set up schedules to clean your floors. The Neato D10 meets all these qualities and more. Though it was very loud when cleaning our kitchen floor on either Turbo or Max Mode, it made up for it with the thorough cleaning it did on our floors.
If looking for robot vacuum for your apartment, Neato D10 will be a little overkill. You are better off going with another Neato Model, like the D8. It's designed for smaller spaces. But if you are looking for a robot vacuum for a house with large rooms, Neato D10 is one robot vacuum we would recommend. Though it doesn't come with self-emptying or ability to mop your floors too, it's got the perfect design to clean those hard-to-reach areas. You also get a long-lasting battery and exceptional mapping technology which you can adjust to add "no-go" zones when cleaning. Though the price might be high for some, the suction power on this robot vacuum makes up for it and more.
Pros
Suction power
LIDAR and Mapping navigation
D-design
Cons
Price
No self-emptying
No-Go zones are boxes and not lines to avoid.
How to Find Products in The GearBrain, Our Compatibility Find Engine for Smart Devices www.youtube.com