Like GearBrain on Facebook
Leak detectors are important smart devices that can help save you money by preventing water damage caused by broken pipes in hard-to-reach areas of your home or overflowing toilets. We have been testing these devices for years in real homes and have a good understanding on how they function and work with other smart devices in the home. We recently tested Phyn's new smart water sensor in a real home to see how this powerful water sensor worked as a stand-alone leak detector as well as a paired with Phyn Plus Smart Water Monitor. Here is what we found during testing.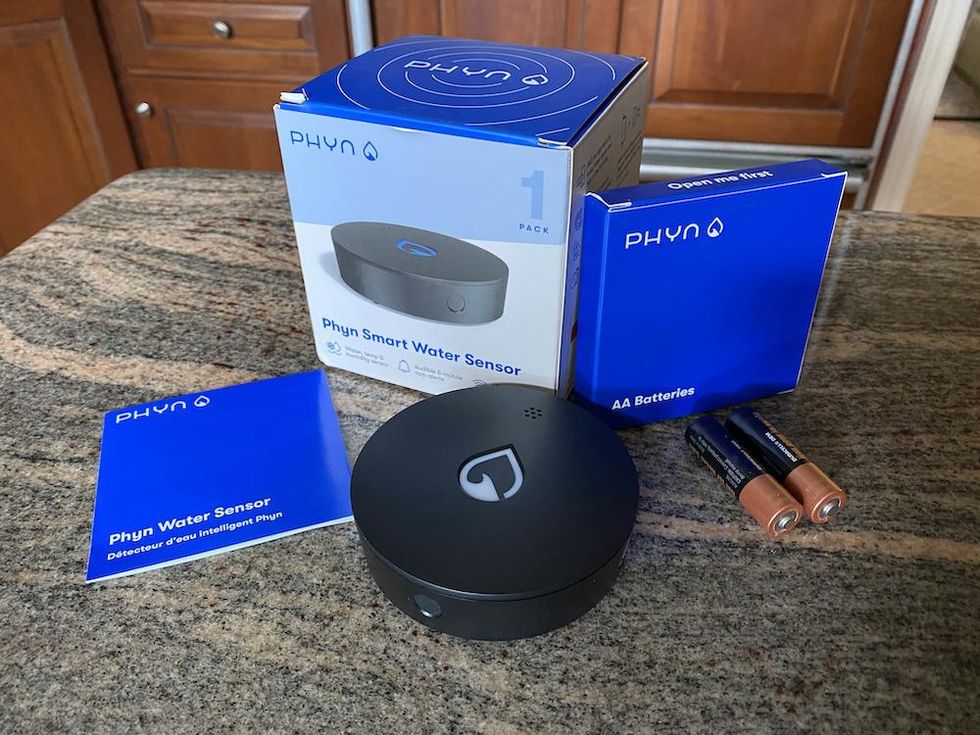 Phyn Smart Water Sensor unboxed.GearBrain
What is Phyn smart water sensor?
Phyn Smart Water Sensor is a sensor that can detect water and changes in temperature inside your home. Using the free Phyn app (iOS and Android OS), this smart water sensor can detect water leaks, frozen temperatures, high and low humidity all-in real-time. It can also notify you by an SMS text, audible sound and a flickering LED light on the sensor.
The Phyn water sensor can be placed in any area inside your home, including those hard-to-reach places, like in your basement next to your boiler or in your bathroom behind the toilet. It also can work in attics to monitor temperature and humidity levels during those hot summer days. Wherever water is not supposed to go is where this smart leak sensor should be placed. It connects to your home Wi-Fi network (2.4 GHz), and you can create custom alerts in the Phyn free app.
The Phyn water sensor has a unique design. It looks like a hockey puck with a LED light on top. It is battery powered and can last up to two years.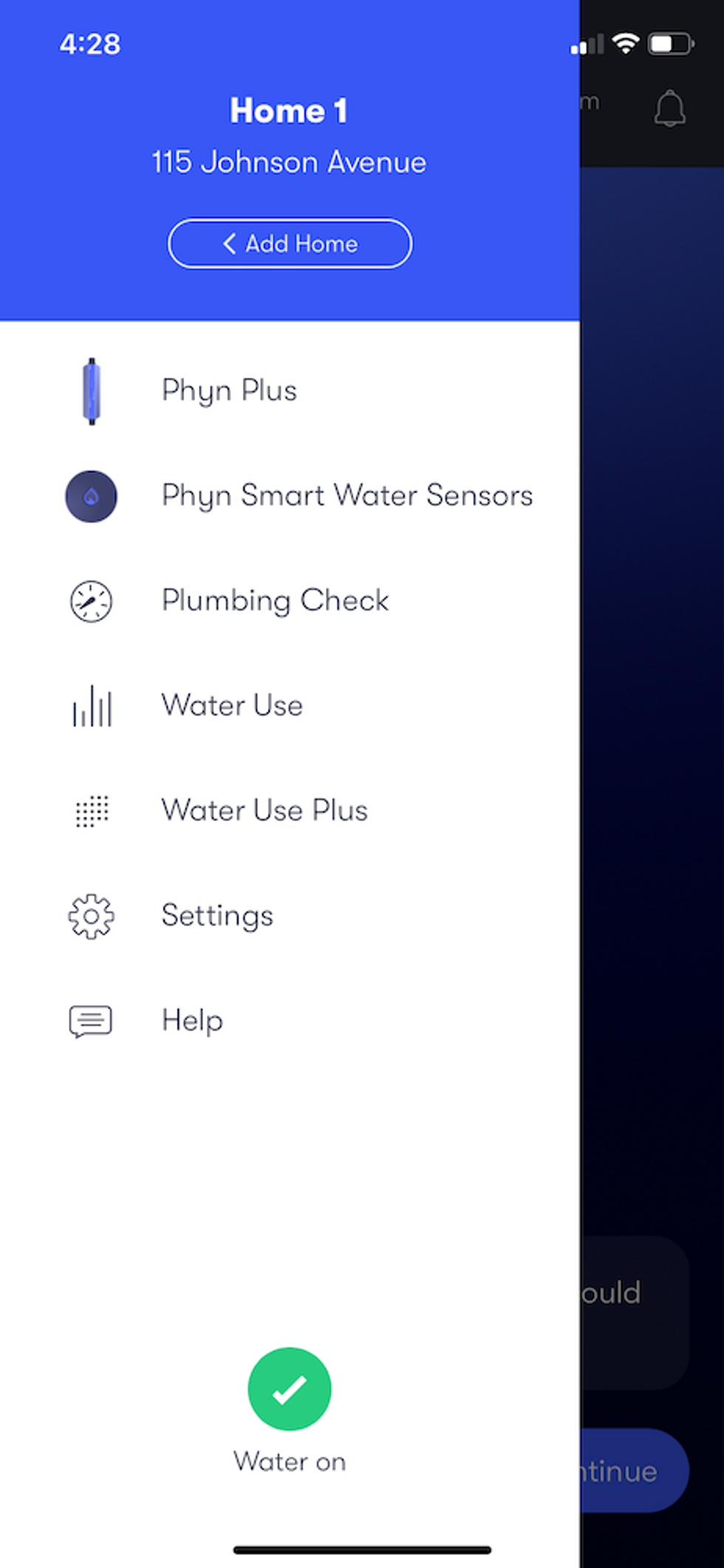 Phyn app will help you setup your Phyn Smart Water Sensor and integrations.GearBrain
How to set up your Phyn water sensor
Setting up a water sensor or water leak detector is extremely easy. With Phyn Smart Water Sensor, it's no different. After unboxing the Phyn water sensor, install the supplied batteries, download the Phyn app and follow the setup instructions. You will need to connect the sensor to your home Wi-Fi router. If you already have a Phyn water monitoring device like a Phyn Plus or Phyn Water Assistant, just add the Phyn water sensor to your existing account. Set up time should be no more than five minutes.
What if you need a water sensor to monitor a large area in your home?
A big challenge for homeowners who need to monitor large areas for possible leaks or water damage, is finding an equitable and effective way to monitor the space. Phyn offers a solution that allows you to use a leak sensor and extension sensor cable to safeguard against water damage. The company has two accessories you can pair with your Phyn Water Sensor, Phyn Water Sensor Extension Node and Phyn Water Sensor Cable. Either of these devices work with your Phyn Water Sensor to monitor for leaks within a four feet area and up to 12 feet when you add extra cables.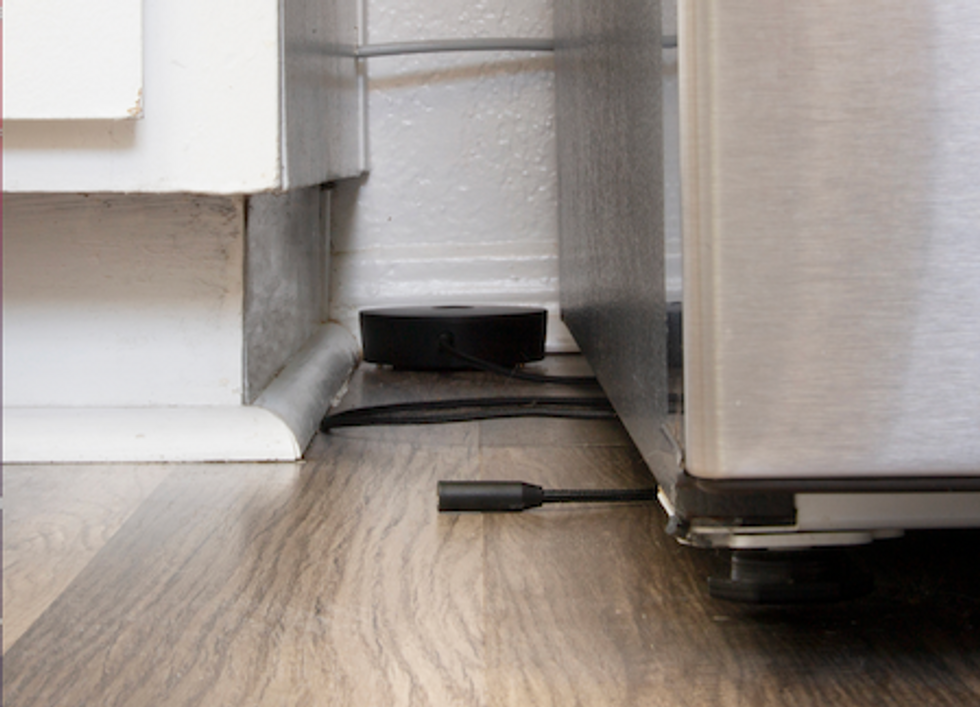 The Phyn Water Sensor Cable expands the reach of a sensor by four feet. Phyn
How many cables and leak detectors can you add together using Phyn?

Phyn can control up to 9 Phyn smart water sensors per home. Phyn Extension Node and Sensor Cables are four feet long and you could add as many as three sensor cables (12 feet) to a smart water sensor or you can add up to two sensor cables and once extension node per Phyn Smart Water Sensor.
The difference between a sensor cable and extension node is a sensor cable is a 4-foot-long cable which can detect water once it hits any part of the cable. Extension nodes is also a four-foot cable but has a node or sensor on the end. Once water hits the node and only the node, the sensor sends an alert.
By adding to each Phyn smart water sensors, three sensor cables, and based on 9 sensors in your home you would be able to cover 108 square feet. Not bad, but what would it cost?
Cost
Phyn smart water sensors cost $39.99 each and are available at Best Buy, The Home Depot and the company website. Phyn Sensor cables costs $25.99 each and Extension Node costs $9.99 each. If you add 3 sensor cables to each of the 9 smart water sensors it would cost $1,061.64 ($701.73 for the sensor cables and $359.91 for the water sensors.) that's expensive but it's a decision which can save money on repairs and possibly your homeowner's insurance premiums.
Phyn Compatibility
Phyn Smart Water Sensor is compatible with other Phyn smart devices and systems. It also works with Amazon Alexa and Google Assistant enabled devices. And for the adventurer, Phyn works with If This Than That (IFTTT) applets. You can set up automations like "Turn up your thermostat if you get a freeze warning from your Phyn Smart Water Sensor." Or you can ask Alexa what the temperature is in the room where your Phyn Smart Water Sensor is installed. All integrations are setup in the Phyn app under Smart Home Integrations.
However, the best way to use Phyn is in conjunction with a Phyn Plus or Phyn Smart Water Assistant. These types of set ups will provide your home with added protection from water damage. The Water Sensor will work in tandem to make sure your water gets turned off when water is detected. It's the perfect combination to provide an equitable solution for any smart home.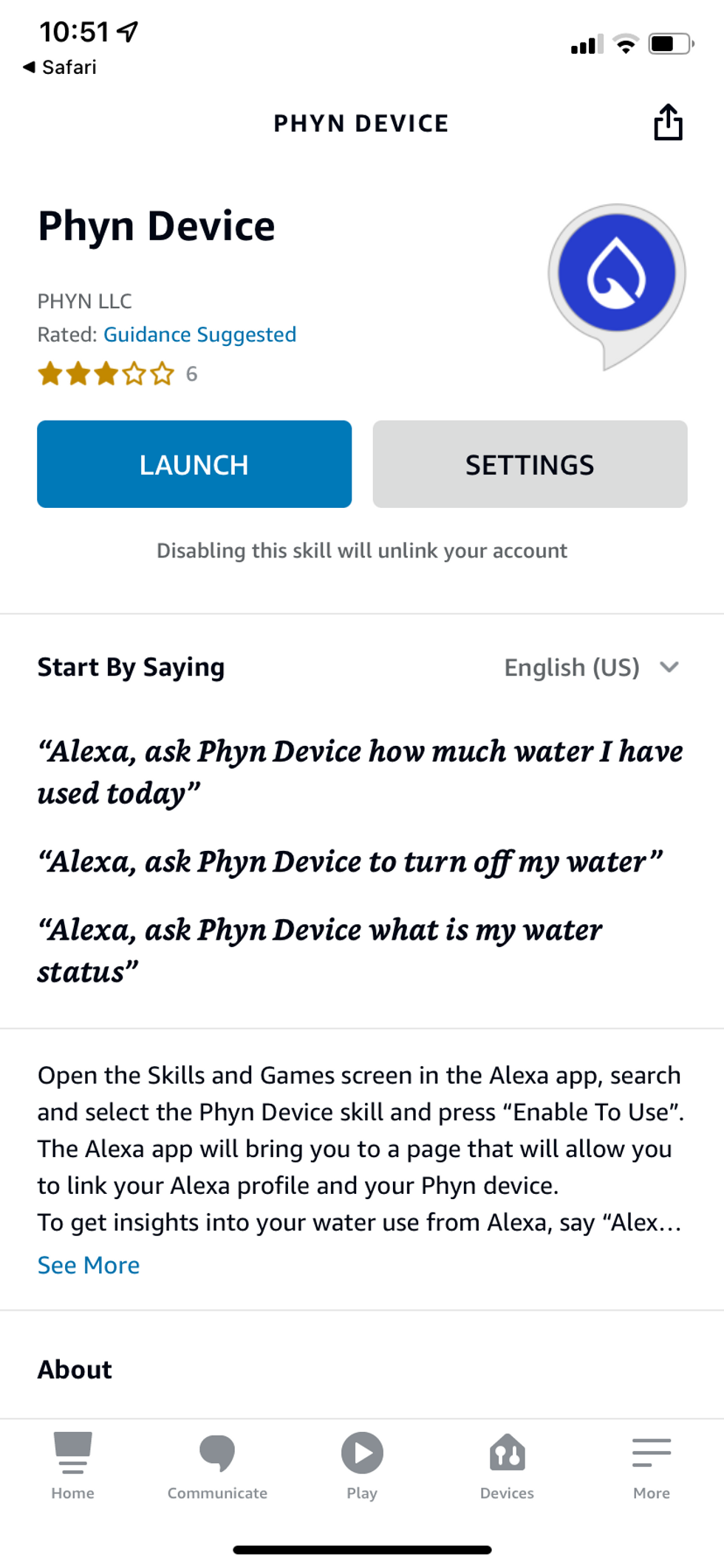 Phyn Smart Water Sensor integrates with Amazon Alexa enabled devices. Just download the Alexa skill in Alexa app.GearBrain
Performance
One of the biggest challenges with water sensors or leak detectors is making sure you have a good Wi-Fi signal for the leak detector, especially when it is in position. Many of the locations you want to place a leak detector, such as in the basement next to your boiler or hot water heater, don't normally have a good Wi-Fi signal. We found when testing other smart leak detectors, many would lose their signal on occasion. With Phyn Smart Water Sensor, we had no connectivity issues, even when moving it around our home. We had it in the attic, basement, underneath sinks, next to washing machines and behind toilets in our bathrooms. The device never lost a wireless connection which was good.
Another feature we don't often find in leak detectors is monitoring humidity levels. There are several leak detectors we have tested that can monitor changes in temperature like Phyn but monitoring humidity levels was a first. During setup, you will be able to set the humidity levels for each Phyn Smart Water Sensor. Humidity monitoring is great to have if you want to keep an eye on the heat and humidity in your attic so items don't get damaged.
Phyn App - Humidity Readings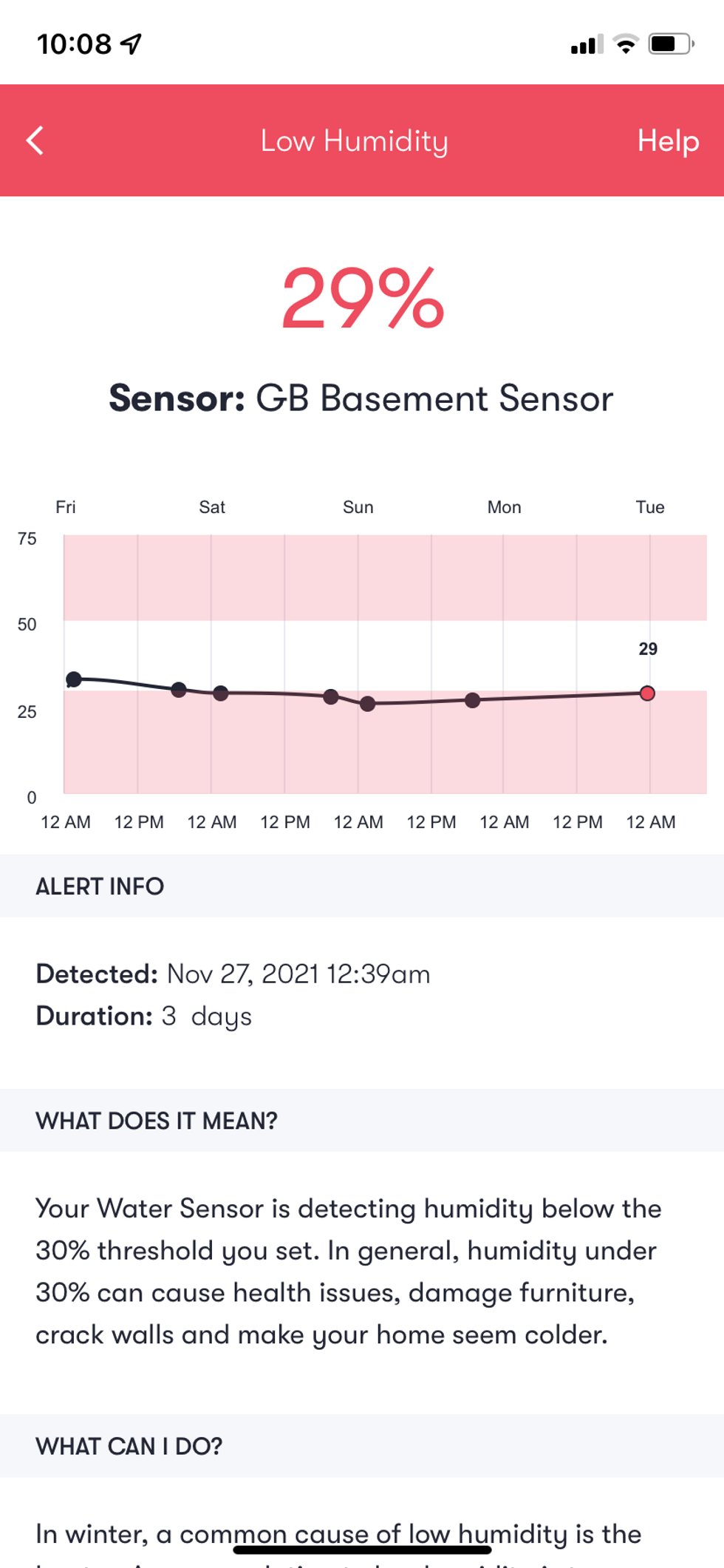 Humidity readings are tracked in Phyn App
GearBrain
Phyn App not only tracks your temperature and humidity readings, it also provides tips and info on what the readings mean. They also offer tips on what to do.
Phyn App - Insurance Discounts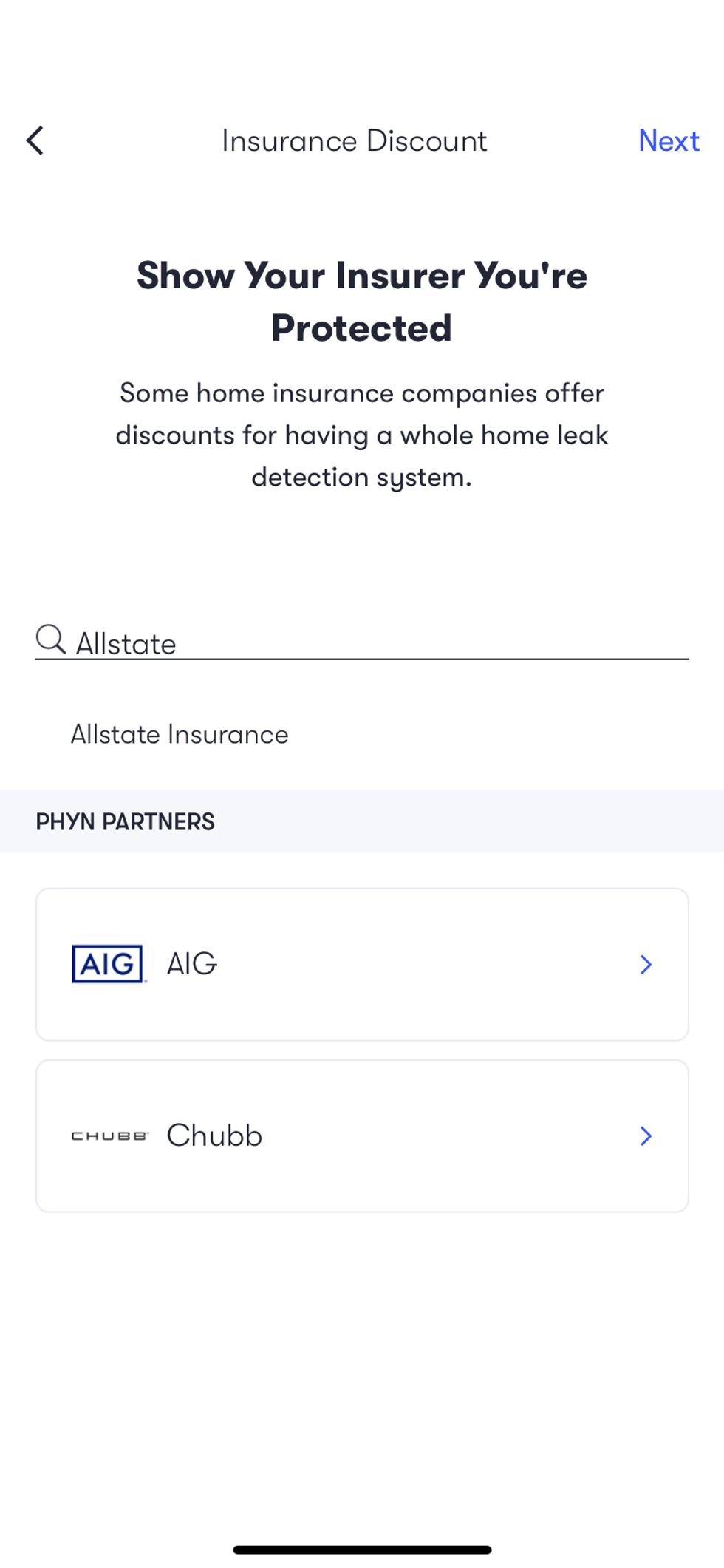 Phyn app provides insurance discounts.
GearBrain
Homeowners might get insurance discounts by installiing Phyn devices, including Phyn Smart Water Sensor. Use app to find out if your insurance company participates.
In our smart home, we have a Phyn Plus Water Monitoring system installed. Pairing the Phyn Water Sensor with our Phyn Plus was extremely easy and it's nice having the ability to control these devices in one app. Setting up alerts was quick and easy. If you can afford installing a Phyn Plus system, we would highly recommend it. The combination of this system with the Phyn Water Sensors would provide you with the ultimate protection you need from water damage. Plus, you might get bigger discounts on your homeowner's insurance premiums.
In the Phyn app under Settings, you will see "Home Insurance Discount". Click on link and see if your home insurance provider is listed. Phyn has partnerships with AIG and Chubb Insurance companies. If you don't use these companies, Phyn provides a "proof of activation certificate" which you can send to your insurance carrier via email to see if you qualify for any discounts. Since water damage in the largest expense for insurance companies, there is a good chance you can get some discount for installing a Phyn system.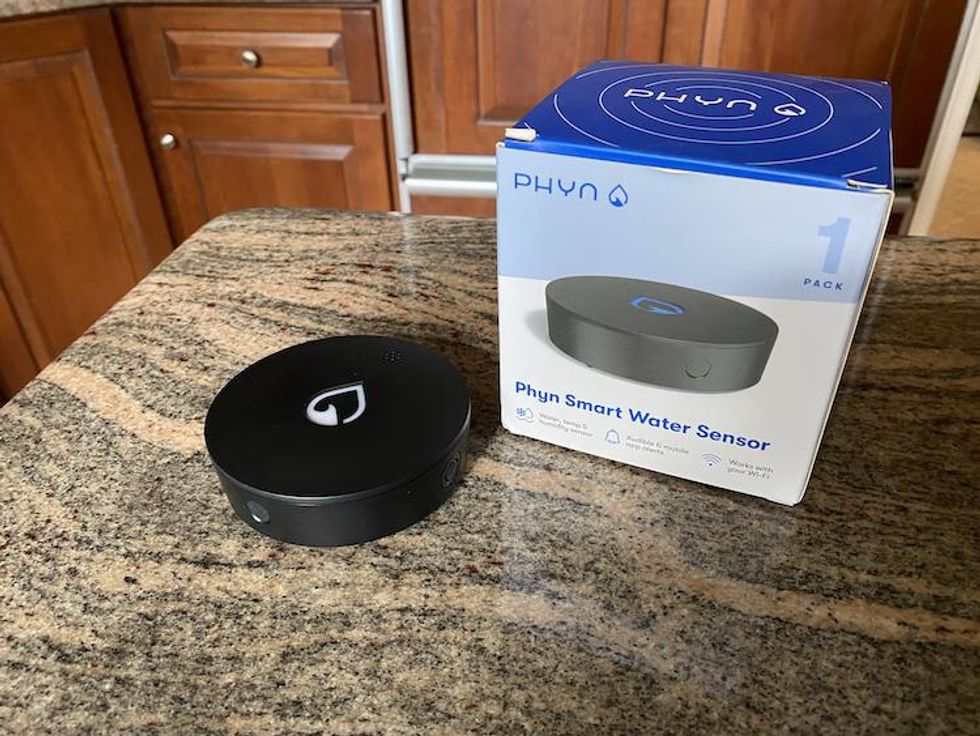 Phyn Smart Water Sensor is available at The Home Depot, Best Buy and Phyn.comGearBrain
Summary
As I mentioned early on in our review, GearBrain has been testing smart leak detectors for years. We have seen these smart little sensors morph into cost-saving smart devices essential for today's smart home. With Phyn Smart Water Sensor and its new features, they are continuing to help prevent water or humidity damage to your smart home at an eye-catching price. The cost of this smart leak detector that looks like a hockey puck is well below the cost of other leak detectors (which cost between $50 and $100), even if you were to add either a Phyn Extension Node ($25.99) or Sensor Cable ($9.99 each).
Overall, GearBrain recommends Phyn Smart Water Sensor for users looking for a good reliable leak detector that can keep an eye on leaks, temperature changes and humidity levels inside your smart home. It can help you save money on your homeowner's insurance (depending on your carrier) as well as protect your home no matter how big it may be from water damage that come with costly repairs.
Pro
Works with Phyn Plus, Phyn Smart Water Assistant, IFTTT and Amazon Alexa and Google Assistant enabled devices.
Easy setup
Monitors humidity, temperature and water detection
Reliable Wi-Fi connection
Con
Extension cables cost extra
Sensor cables cost extra
Check out The GearBrain, our smart home compatibility find engine to see the other compatible products that work with Phyn devices, Google Assistant and Amazon Alexa enabled devices.
How to Ask Questions on The GearBrain, the Compatibility Find Engine for Smart Devices. www.youtube.com
Like GearBrain on Facebook