Outdoor security cameras come in different sizes, shapes — and all of them have distinctive features. You can get cameras that are battery powered or wired into a power source. There are cameras that come with simple LEDs lights, to flood lights that fill your yard completely. You can also get cameras that have loud sirens and support two-way chat so you can scare away unwanted guests. We recently tested an outdoor security camera that had all of these features, inside a real home, called Swann Spotlight Outdoor Security Camera. Here's our take on how the camera performed.

​What is Swann's new outdoor security camera?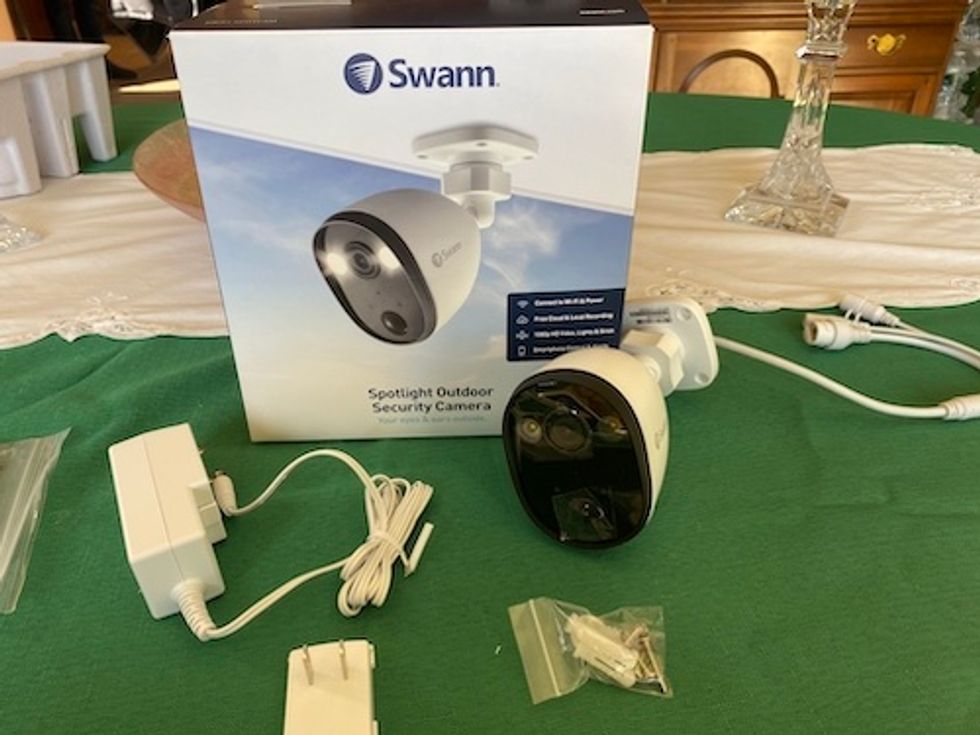 Swann Spotlight Outdoor Security Camera comes with a 60-foot long power cord
GearBrain
Swann's new outdoor security camera is a 1080p HD outdoor security camera that connects to your home's Wi-Fi network. The camera comes with two 100 Lumen spotlights, and a siren to ward off unwanted visitors. The camera is weatherproof (IP66 rating) and includes two-way communication.

You also get night vision — with a range of up to 65 feet (20 meters) — plus Swann's True Detect technology which uses heat sensing to detect people as opposed to objects. The sensor detects motion up to 32 feet away, and sound up to 16 feet (5 meters).
To control your Swann Outdoor Security Camera, you'll use the Swann Security app, available from the App Store and Google Play. You need an iPhone running iOS 11 and above, or an Android device with 8.0 and above. A good strong Wi-Fi signal is also needed to operate your Swann Camera, which works on a 2.4 GHz connection up to 65 feet or 20 meters.
Swann stores video captured by the camera for seven for free, which is great. Most security cameras only offer just one to three days of free video storage.
Smart Home Integrations

Today it's easy to view a live feed from your security camera on a smart speaker display like Google Home Hub, Amazon Echo Show or Nest Hub Max. You just need to make sure the security camera you own is compatible with the smart speaker display. Swann's security cameras are compatible with Google Assistant and Amazon Alexa-enabled devices. Once your Swann camera is setup, use the Swann Security app to start pairing your cameras with a smart speaker display. Setup is very quick and easy to do.
Setup and Installation
When installing an outdoor security camera, you need to make sure to install the camera within range of a power source (if the camera is not battery or solar powered) and that it's also in range of a Wi-Fi signal. Remember the camera is streaming live video over your home Wi-Fi network. That video connection requires a very strong Wi-Fi signal in order to see a clear picture, either day or night.
To check if you have a strong enough Wi-Fi signal, Swann has a Wi-Fi signal reader in its app under device settings. To use this feature, connect your camera to your home Wi-Fi network first, and then take the camera outside where you plan to install it. That way you'll know if that spot will actually connect to the router in your home before you set up the device.
Swann also includes a power cord that's 60 feet or 18 meters long — far longer than any power cord we've seen with other outdoor camera. This gives you a lot of options on where you can install your Swann outdoor camera.

Once you've selected a location for the camera that works, use the mounting screws to secure the base of the Swann camera on to your house or surface.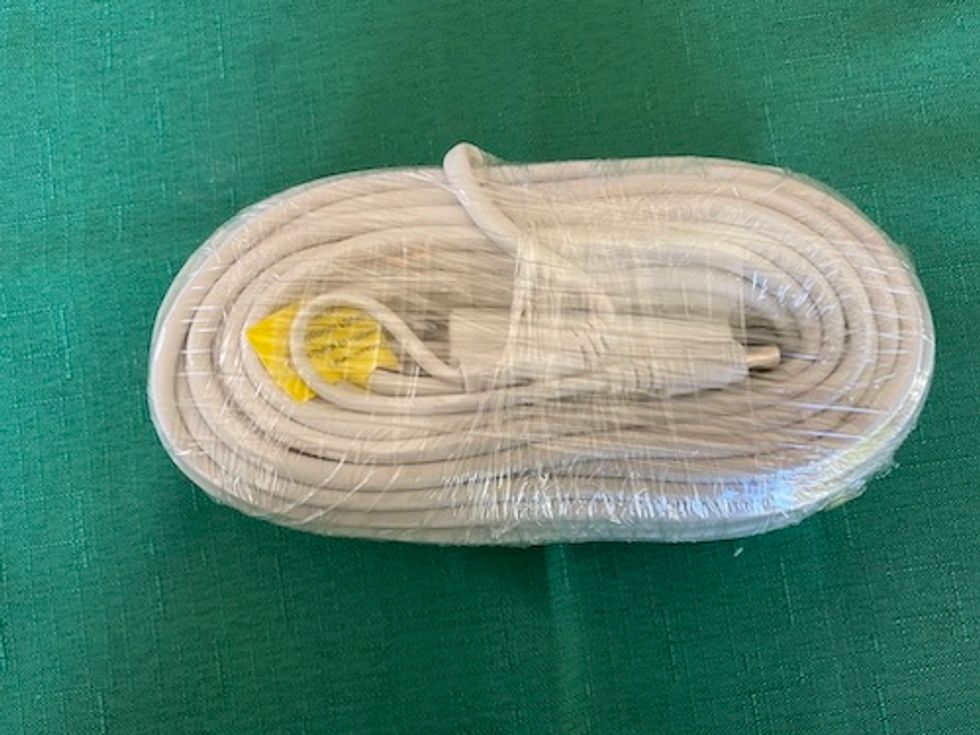 Power cord for Swann Spotlight Cam is 60 feet long.GearBrain
Performance
We tested the Swann Spotlight Outdoor Camera on a real home for a few weeks, using it at night and during the day. Setup was simple and the long power cord made it easy for us to mount the camera in an area that had a good Wi-Fi signal outside.
Swann supports multiple live streams through its app. You will have to double click a camera's video feed to get to that specific camera's live stream, which can be seen at low, medium or high video resolution. You get to decide which resolution to view while using the app. When viewing a live stream, you can also hear what's going on outside and talk to any users by pressing the microphone icon on the video screen. There is also a sound icon for the siren, a camera icon for you to take a picture, or a light icon for the spotlight to turned on or off. All are on the live video screen in the app and are nice functions to have at your fingertips.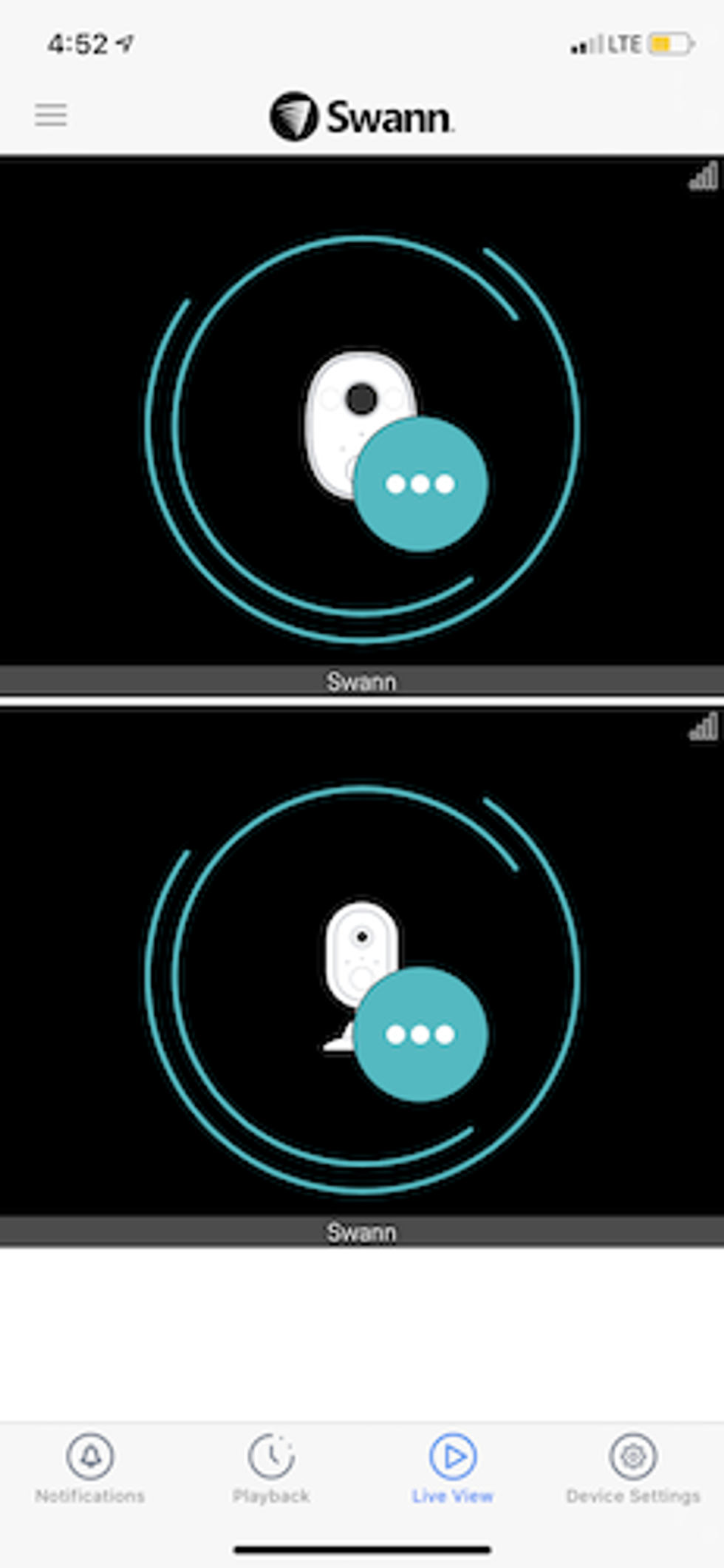 Depending on your Internet connection, it will take some time for you to connect to your Swann Cameras in the Swann Security app.GearBrain
However, we did come across an issue when testing Swann's Spotlight Camera. The app was not very responsive, taking multiple tries for us to connect to the cameras. While we know the Wi-Fi connection in your home will certainly impact a camera's performance, we experienced the same delayed response when connecting to the new Swann Alert Indoor camera. According to Swann, some apps in the security market take 12 seconds to begin streaming. The lag is due to the time required for messages to travel from your phone to Swann's servers to your camera and back again. The speed is also dependent on the type of internet router you are using and the upload speed of your internet connection.

We are certainly aware we do not have a strong Wi-Fi network inside our test home — and know this might be a result of the delays. But if you also have this concern, you should be aware you may experience some kind of delays as well.
Regarding the quality of video resolution, we found the "high" setting, understandably, provided the best quality picture of the three settings. This view was sharper and when we pinched the screen to zoom in, the picture didn't get grainy the way the other two settings did. The night vision was fine, especially when the spotlights were on in the evening. But we did find the light outside was not as bright as other spotlight cameras we have tested. For instance, Ring has a Spotlight Cam and it comes with 375 lumens, compared to Swann's 100 lumens. Ring's Spotlight Cam definitely gave off more light when you were outside.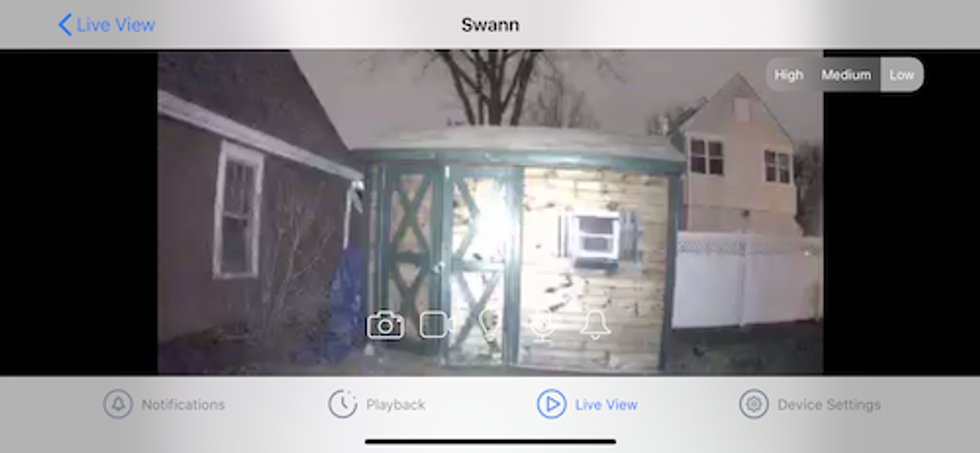 Here is Swann Spotlight Cam at night on low resolutionGearBrain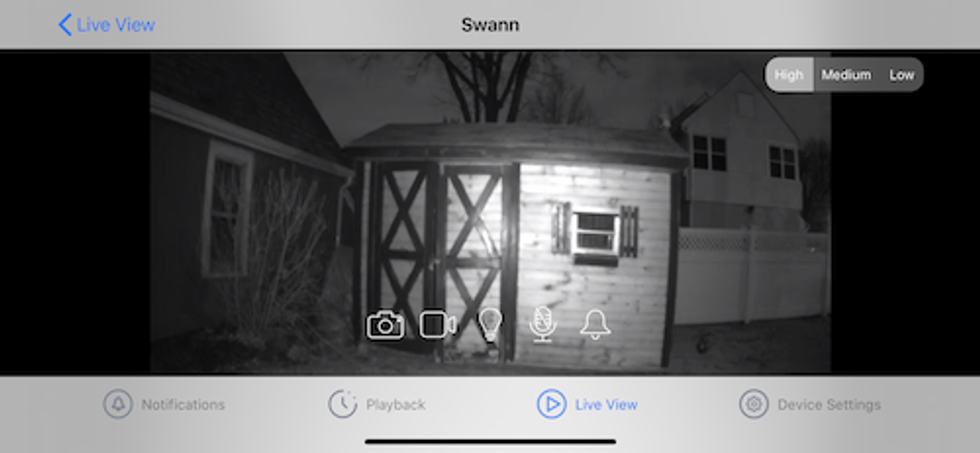 Here is Swann Spotlight Cam at night on high resolution setting. You can turn light off as well as talk to people or take a picture.GearBrain
In Swann's new app, you can also access each of Swann's camera settings. You can adjust motion and sound settings, as well as set off the siren or have the spotlights go on when motion is detected. We also like how Swann's True Detect technology works in helping you determine a person or an object, such as a car. If placing this spotlight in the direction of your driveway, you can use a virtual grid in the app to also ensure you don't get false alarms.

Cost
The Swann Spotlight Outdoor Wi-Fi Security camera costs $149.99, and is available on the company's website for only $129.99 and at Costco. You can find the camera on Amazon too.
Swann Wireless Outdoor Home Security Camera, Spotlight, Weatherproof, Color Night Vision, Heat & Motion Sensor Light, Spotlights, 2-Way Talk and Siren, SWIFI-SPOTCAM
Summary

Swann's Spotlight Outdoor Security camera is an inexpensive, outdoor spotlight camera with good motion and sound detection and a clear video resolution when on the highest setting. The light is not as bright as those on other security cameras with lights that we've tested. If you're looking for a security camera with a particularly bright light, you may need to upgrade into a floodlight cam — which Swann does make and we are testing now. A floodlight does provide better lighting, and may be more effective in scaring off unwanted visitors and even animals.
The two issues we have with Swann Spotlight Camera are its app and the compatibility with smart home security systems. Swann's mobile app performance was not consistent and it was most likely due to our home Wi-Fi network. If you don't have a good Wi-Fi network, or strong signal where you plan to install the camera, you might experience performance issues. If so, you might need to get Wi-Fi extender or Wi-Fi repeater to help get a good strong signal to your Swann camera.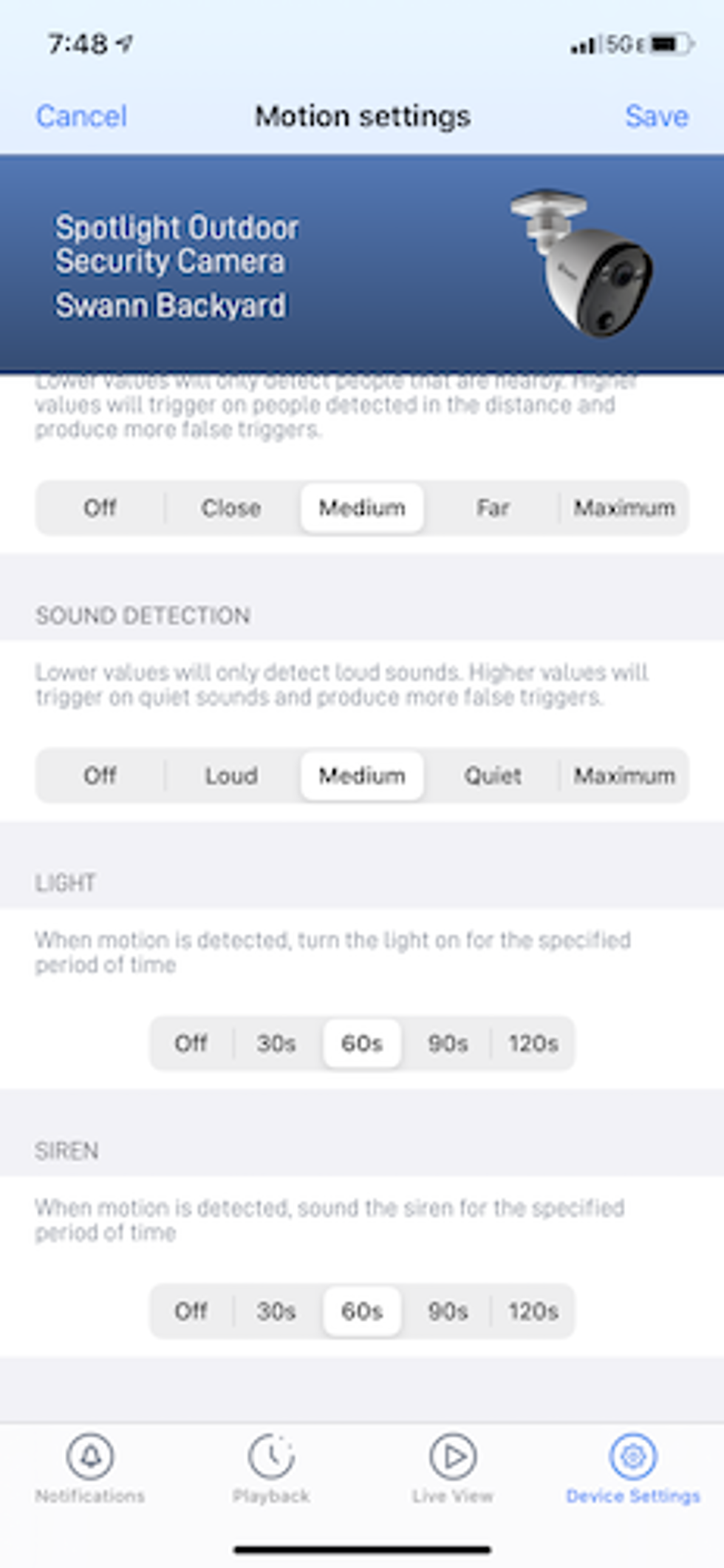 Users can adjust the motion and sound settings on your Swann camera in the app GearBrain
The other issue is Swann cameras are not compatibility with smart DIY home security systems like Blue by ADT, abode or Frontpoint. Swann is a security system, and you can build your own DIY smart home security setup with their devices. The camera does work with Google Assistant and Amazon Alexa-enabled smart displays — which can then be used as the hub or controller for your smart DIY home security system. If you believe the Swann smart camera works for your security needs, it could be a nice option in building a DIY home security system.

Pros:

Price
Works with Google Assistant and Amazon Alexa smart display
7 days of free video recording
Cons:
No smart home security integrations
Needs a very strong Wi-Fi signal,
Grainy video resolution if not on 1080p setting.
Swann Wireless Outdoor Home Security Camera, Spotlight, Weatherproof, Color Night Vision, Heat & Motion Sensor Light, Spotlights, 2-Way Talk and Siren, SWIFI-SPOTCAM