Like GearBrain on Facebook
Over the past few months, we have been testing several new smart security cameras. Seeing the new features that manufacturers are adding to these security devices has been interesting. Besides routine motion detection, two-way communication, and alarm, we are starting to see interesting, smart light integrations in outdoor security cameras. Some of these smart light integrations come in the form of night vision, where the camera has Infrared LEDs to help it see in the dark. At the same time, others are spotlights and floodlights that work in conjunction with the security camera to provide color night vision and work in tandem to deter intruders. Ezviz sent us one of their new smart outdoor security cameras with two spotlights. It's the C3W Pro Outdoor Smart Wi-Fi Security Camera, and we got to test it for the past few weeks on a real home. And here is what we found from our tests.

What is Ezviz C3W Pro Outdoor Smart Wi-Fi Security Camera?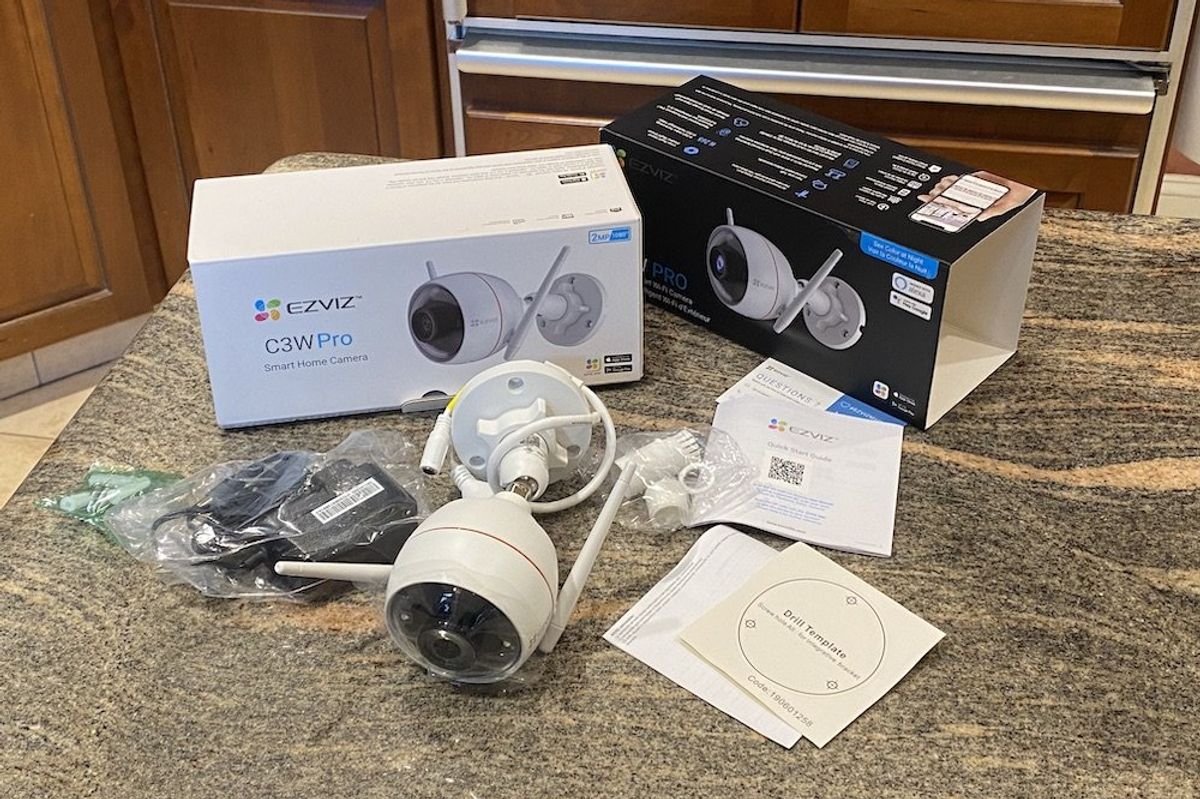 Ezviz C3W Pro security camera unboxed. GearBrain
Evziz's new C3W Pro is an outdoor smart security camera that works on a 2.4 GHz Wi-Fi connection. It has FHD 1080p video resolution, two-way communication, and IP67-rated dust and water protection. You also get up to 4x zoom capabilities and color night vision but can switch to black and white when needed. Both versions allow you to see up to 30 meters or 98 feet away in the dark.
The C3W Pro security camera also comes with AI-Powered person detection. This technology can detect in real-time if the motion is from humans or pets. And to help detect things in the dark, the camera has two spotlights. These lights help color night vision and can be used as outdoor lighting. Set up the status using the free Ezviz app from App Store (iOS) or Google Play (Android).
As for the other camera features, C3W Pro has a maximum resolution of 1920 x 1080p and a 30 fps frame rate. The motion sensor is built-in into the camera, featuring a 104-degree field of view (FOV). You will also need to make sure there is power nearby. The C3W Pro is a wired power outdoor security camera.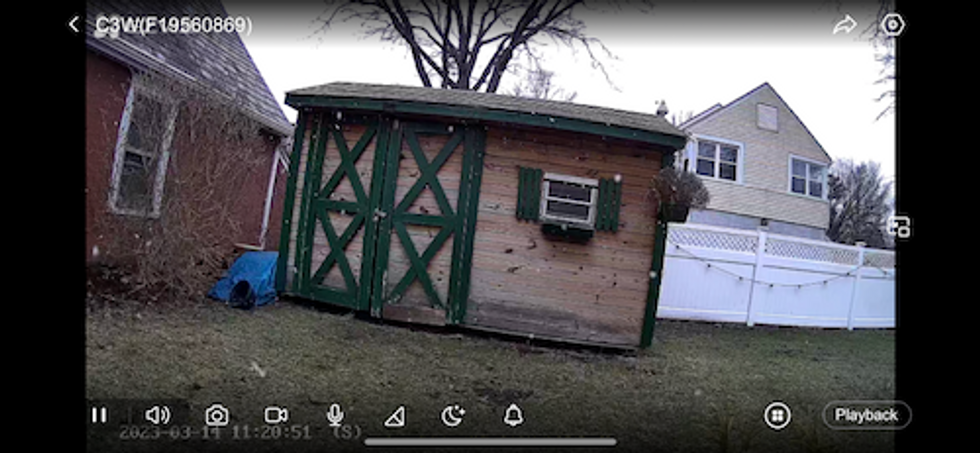 Ezviz C3W Pro has excellent video resolution. we could see the snowflakes starting to fall through the feed in the app GearBrain
What do you do with video recordings? Ezviz offers two video storage options for the videos you record with C3W Pro. You can either store videos locally or in the cloud. C3W Pro has a microSD card slot for local storage that can hold up to 256GB of storage. Ezviz offers encrypted cloud storage only for specific markets if you don't want to store videos locally. You must check their site to see which markets have eligible cloud storage.
The Ezviz app will give you a live view from your C3W Pro, track video history, and help you set up instant alerts and smart home features. For instance, since the camera has a microphone and speaker, you communicate with visitors or unwanted guests through the app. You can also record three 10-second audio messages to greet or deter visitors. You can also activate the Active Defense function. This setting will sound the camera's siren when an intruder is detected. The two spotlights will also flash if you have them on Black and White night vision setting. Color night vision setting does not flash the lights when the siren goes off.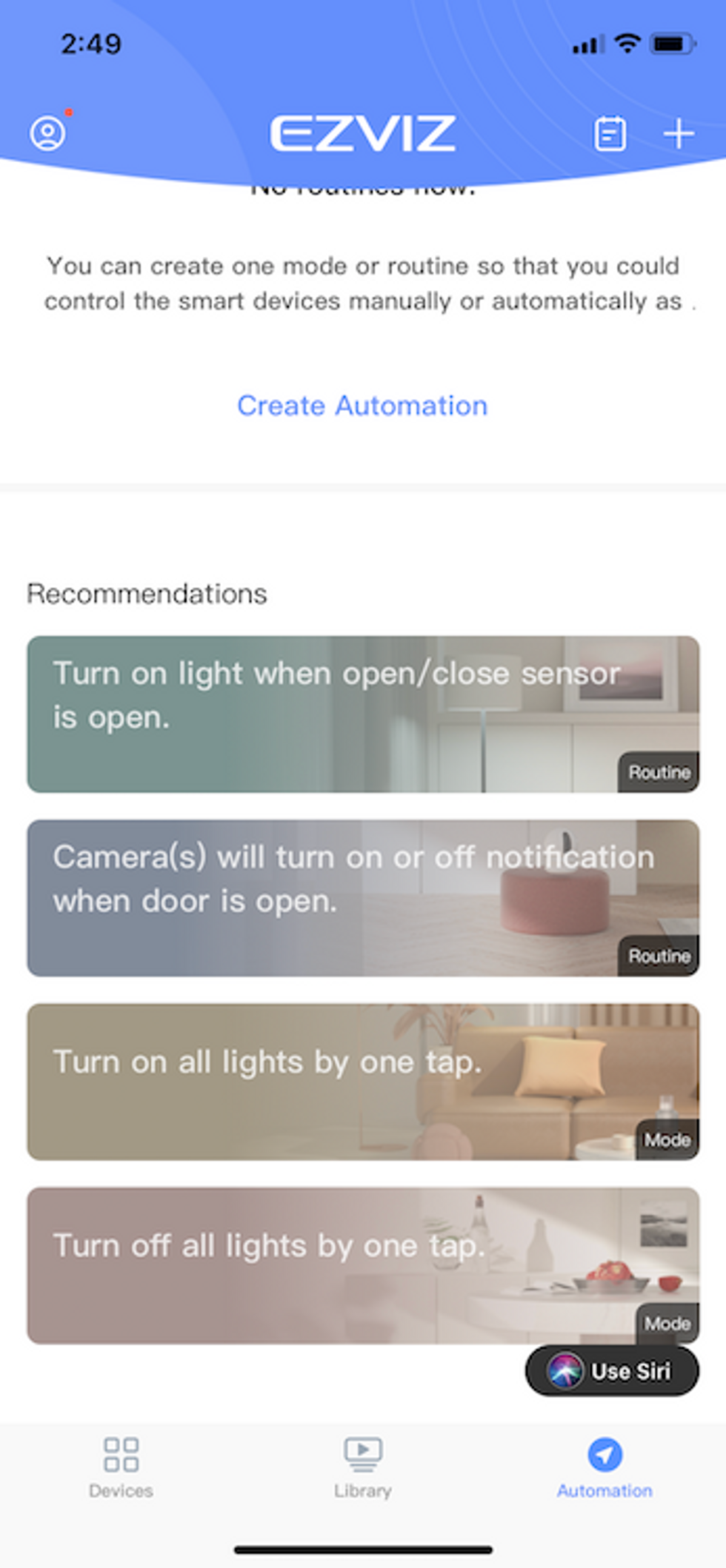 Setting up routines or automations in Ezviz is easy but you need other Ezviz smart devices. GearBrain
Smart Home Integrations
C3W Pro is compatible with both Google Assistant and Amazon Alexa-enabled devices; however, there are a few steps you need to take to see live video on your Echo Show or Google Nest smart display. Listed below are the instructions you need to follow for each voice platform:
How to connect Ezviz C3W Pro cameras to Amazon Alexa-enabled devices:
First, you need to turn off image encryption in the Ezviz app. Go to Settings for the camera, look for "Image Encryption," and turn it off. You will get a notification saying, "When disabled, the security level of videos and pictures will be decreased. Continue?" hit ok.
Next, you need to change the name of your Ezviz camera to a name that you will use for Alexa. Make it simple and easy to say so Alexa can understand. This is also done on the settings screen. Once done, ensure the Ezviz app is connected to the Amazon Alexa app. Once completed, you can see live video from your Alexa display and use voice commands on any Alexa-enabled device.
How to connect Ezviz C3W Pro cameras to Google Assistant-enabled devices:
You must also turn off the image encryption in the Ezviz app for Google Assistant devices. Then rename your camera before going to the Google Home app to pair your C3W Pro camera with Google Assistant-enabled devices. It should take only a few minutes. Once complete, you can use Google Assistant devices to see live video and voice commands.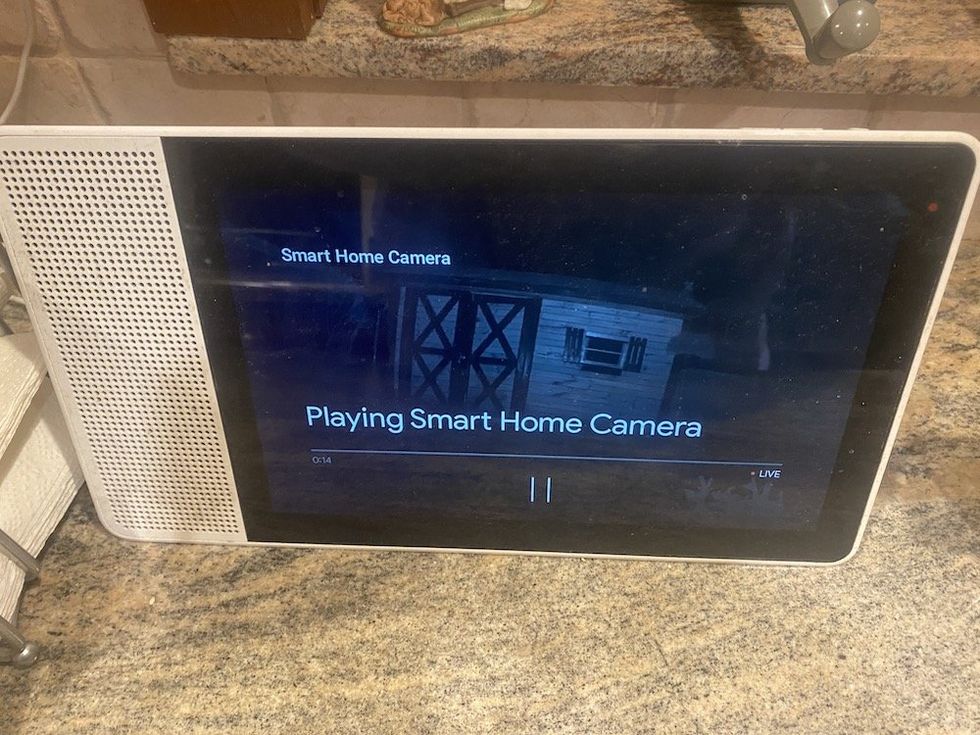 Users can live stream video from Ezviz C3W Pro camera onto a Google smart display GearBrain
In addition, you can set or create an automation in the Ezviz app which is nice. However, automations only work with Ezviz smart devices. For instance, in the app, you can turn on one of the recommended automations, like "Camera(s) will turn on or off notification when door is open." This automation will trigger when you door opens, but you need a Ezviz magnetic device on your door. It will not work with a standard wireless door sensor. If feeling ambition, youi can create your own automation and have the triggers be a mode, device, when you arrive or leave and a schedule. All seem easy to set up but you need Ezviz devices to have them work.
Ezviz cameras also work with If This Than That (IFTTT) . Users can create IFTTT applets for simple automation like "turn on sleep mode when I arrive home." We found 34 applets on IFTTT's site, including simple automation and integrations with other smart devices from companies like Somfy, Philips Hue, and tado. I liked the Philips Hue applet, which will turn off your Hue smart lights when the Ezviz camera detects motion. Good automation with Ezviz outdoor smart cameras and Philips Hue's smart outdoor lights. Easy way to deter unwanted guests.
How much does C3W Pro cost?
Ezviz C3W Pro Smart Security Camera has an MSRP of $69.99 and is available on Amazon. This is a reasonable price for a wired-powered outdoor Wi-Fi camera with color night vision, AI-powered motion detection, two-way talk, and FHD 1080p video resolution.
How well did the C3W Pro perform?
We installed the C3W Pro outside of a normal home. We did have power nearby which was helpful. And the Wi-Fi signal was good, which is essential. When installing an outside wireless security camera, you need a good signal, or you will have performance issues. It did help that the location where we tested the camera was just outside the room where we had our Wi-Fi router.
When setting up the camera, we needed to do it inside, next to the router. This seems to be familiar to most outdoor Wi-Fi security cameras. It would be best to have an excellent initial wireless connection for Ezviz to recognize and connect your camera to the app for control. Once we registered our camera and connected it to the Ezviz app, we took it outside and installed it on the side of the house.
Once the camera was installed outside, we did experience some performance issues. When we initiated the live video feed on the Ezviz app, it took us a long time to connect, and a few times, it timed out. We had to hit "retry" to get connected.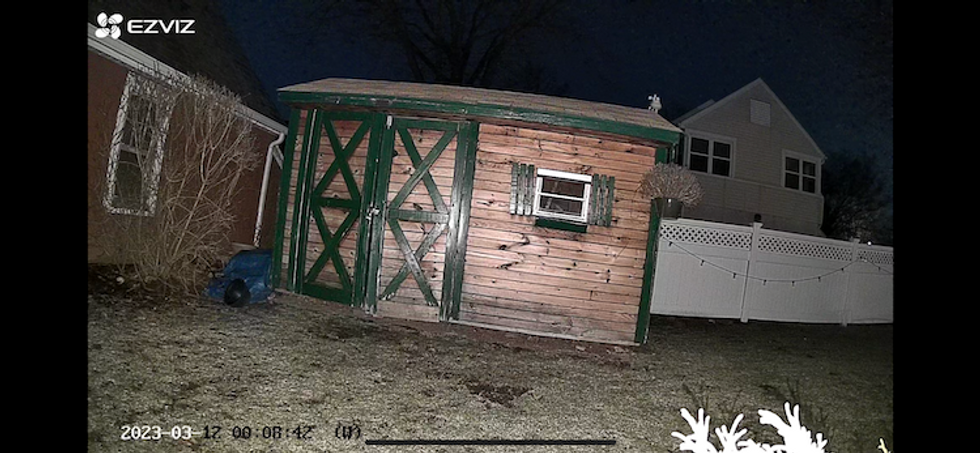 Color night vision is made possible by the two spotlights on the C3W Pro camera. Notice how clear the house in the background is in total darkness. GearBrain.
Another issue we had was the delay of the video. When you speak with someone through a Wi-Fi security camera, there is usually a 1-2 second delay. This is because the signal gets sent to the cloud and then travels via the Internet to your phone. However, with the C3W Pro, the sound was sometimes delayed more than 3 seconds. Not sure if this was due to the connection but something for you to be aware of if you plan to speak through the camera.
Next, we tested the video resolution and 4X zoom. Both worked excellently. We didn't lose any clarity when we zoomed in, and the color night vision worked great. This was due to the brightness of the lights, which functioned as an excellent deterrent. The daytime live video was also crisp and clear.
We also tested the siren on the camera, and it was average. The loudness is enough to grab the intruder's attention, but you can barely hear it inside your home. Luckily you can get alerts and notifications on your smartphone when it goes off.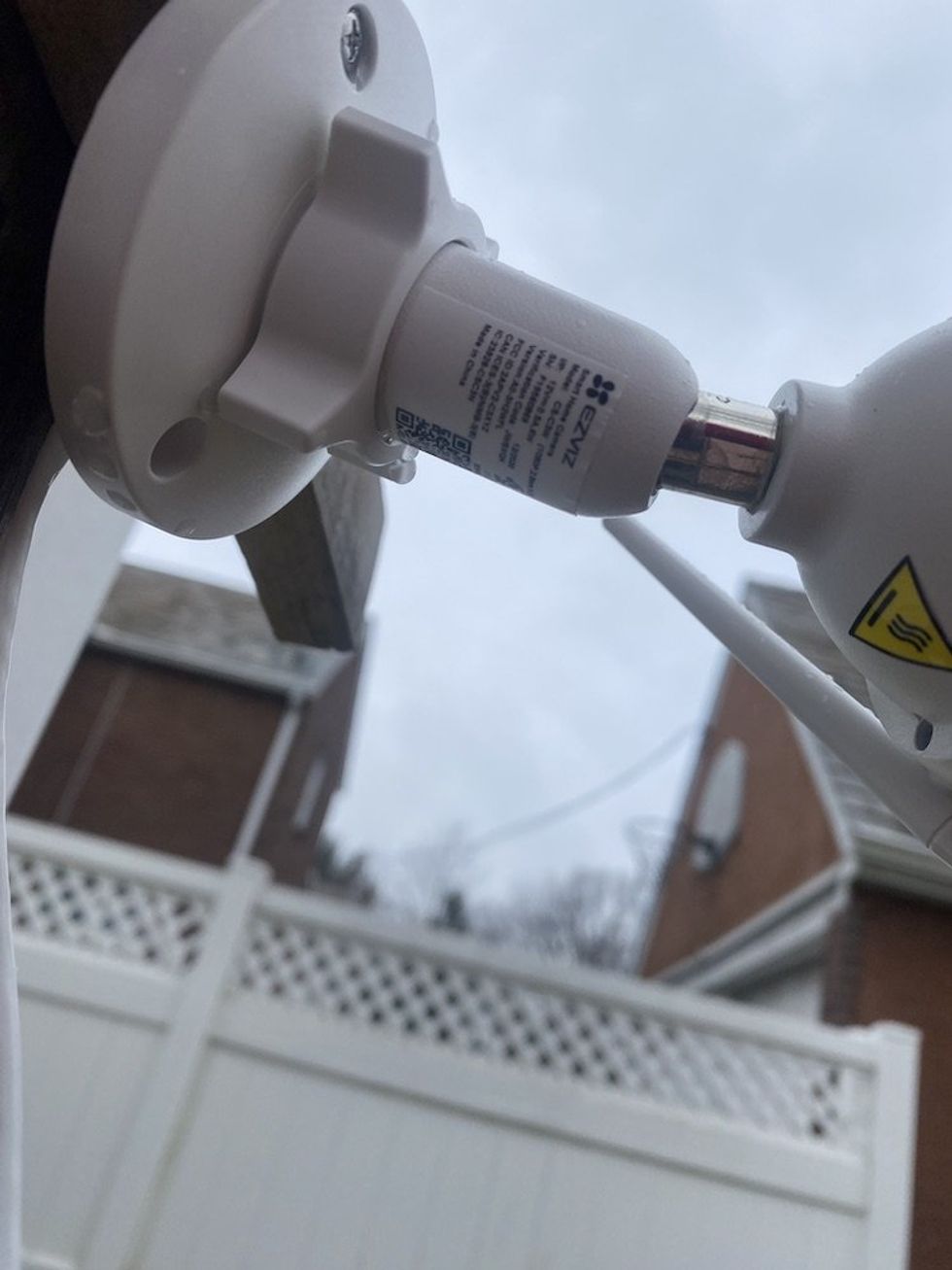 The mount for Ezviz C3W Pro is easy to install and provides a swivel to help you find the perfect viewing angle. GearBrain
Regarding setup and installing the camera, C3W Pro's mount is lightweight and easy to install either on the side of your house or on a ceiling/awning. Also, the mount features a 360-degree swivel base which will help you find the perfect angle for optimum viewing. The most significant challenge users will have is to find an outlet to power their camera and make it hard for an intruder to unplug the camera.
Lastly, we tested live streaming video from C3W Pro cameras to our Google Assistant smart display. At first, we had issues connecting with the Ezviz camera. It took a fair amount of time before we finally got the connection. Once we got the connection between these two smart devices, we could see and easily hear what was going on outside through the C3W Pro's camera and speaker.
Summary
We have tested several Ezviz outdoor security cameras and found their video resolution crisp and clear. The motion detection works, and they integrate nicely with both major voice platforms so you can easily see live video from your cameras onto your Alexa or Google Assistant-enabled smart TV or display. And all at an affordable price.
We also like how you can store videos locally, and the camera has an ethernet connection, allowing you to use a PoE plug to connect your C3W with power and your router. And if you want cloud storage, you can easily add it for a small monthly fee.
And the local voice messages are nice to have, but the speaker is ok if the user is close to the camera. If you place the camera high up on the side of your home, it might be hard to hear.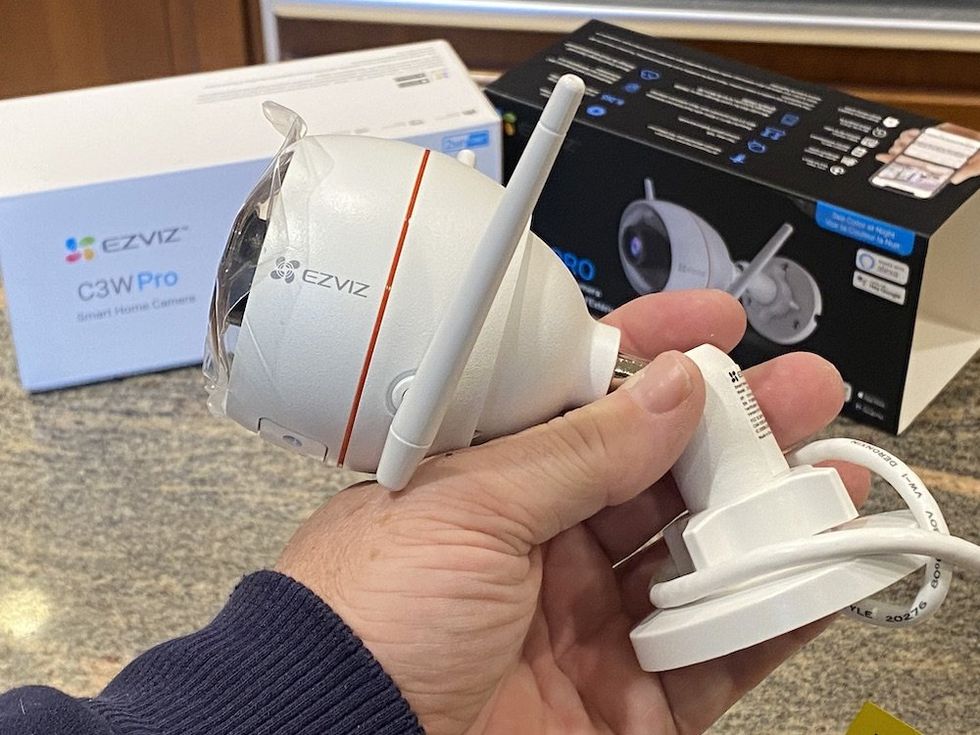 Ezviz C3W Pro is lightweight, IP rated and easy to install. Plus you can store videos locally if you want. GearBrain
However, there are two issues you will need to address before buying any outdoor security camera, including ones by Ezviz. You need to have a solid wireless Wi-Fi signal and power if buying a wired-powered security camera. Ezviz cameras need a strong Wi-Fi signal when you install the security camera. If you don't, you will experience performance issues that will impact the security of your home. Several times we had connectivity problems which caused the video in the app and our Google Assistant smart display to be highly delayed.
Who should buy C3W Pro? Suppose you are looking for an outdoor security camera that will work with your home security system. In that case, this Ezviz device is not the camera for you unless your home security system's hub is a Google Assistant or Amazon Alexa smart speaker or display. We recommend the C3W Pro for users with Ezviz products who want a good outdoor security camera that can function like a floodlight cam. Or for users who plan on using a smart display by Google Assistant or Alexa and want an outdoor security camera with a spotlight for additional security, the C3W Pro is a good addition to your outdoor cameras. Plus you can tie in your other Ezviz smart devices using custom automations or you can create your own to help secure your home. But make sure you have a good Wi-Fi signal outside for your camera. If you don't, we recommend a Wi-Fi extender or repeater to help you get the signal strength needed to keep your smart home safe.
Pros
Store videos locally or in the cloud
High-quality video resolution and zoom
Works with Google Assistant and Amazon Alexa smart speakers and displays
Price
Cons
It needs a powerful Wi-Fi signal to work properly
The app had spotty performance issues due to the Wi-Fi connection
It does not integrate with home security systems
Siren is weak
How to Find Products in The GearBrain, Our Compatibility Find Engine for Smart Devices GearBrain helps simplify the Internet of Things or new connected devices for consumers. The GearBrain is the first and only ...
Like GearBrain on Facebook