Water leak detectors come in many different sizes and special features, all designed to keep something crucial from harming your home — water. Some of these devices can alert you when water is detected in the bathroom, underneath the sink or next to the washer machine. Others detect when the room temperature is dropping enough to freeze pipes. A few can do both while connected to the Internet, allowing you to monitor your home from anywhere — and potentially preventing damage, and a financial loss. SimpleSense is a smart home device, a Wi-Fi connected leak detector, that can also detect freezing issues, which we just finished testing in a real home. Here's what we found.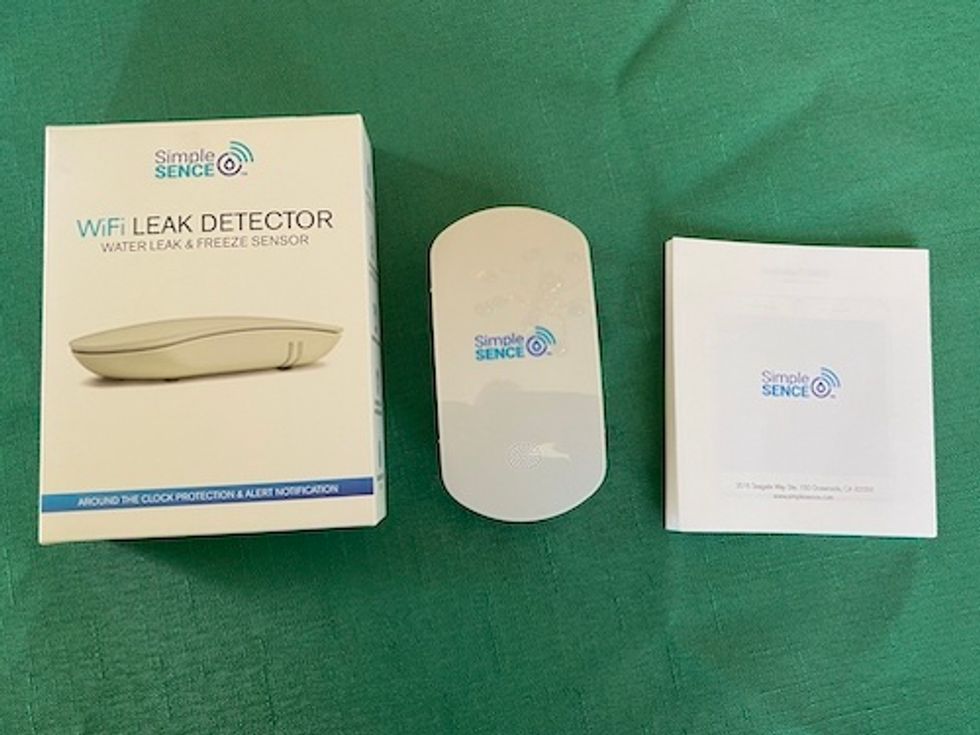 SimpleSence comes with a sensor and user manualGearBrain
What is the SimpleSence leak and freeze detector?

SimpleSence is a sensor that picks up water leaks, plus freezing temperatures in your home. You place it anywhere you believe a water leak can appear, or freezing temperatures may appear inside your space during winter months. Crucial is making sure you have a good wireless Internet connection in any location you choose, as this is how SimpleSence alerts you when it picks up water or freezing temperatures.
Installation is simple. First, download the app from either the App Store for iOS devices, or Google Play for Android. Next, follow setup instructions in the app to sync your SimpleSence detector with your home's Wi-Fi network. The sensor comes with two AAA alkaline batteries, designed to last up to two years. Place the batteries inside the sensor and turn on the power. Now pair the device to your home Wi-Fi and set up alert notifications in the app. Finally, place the sensor in the desired location. It's that easy and should only take a few minutes.
Where to best position the SimpleSence sensor?
Keep in mind SimpleSence needs a good Wi-Fi connection to work correctly. To check signal strength, open the SimpleSence app, and look for the Wi-Fi symbol for each sensor. Next to the symbol is a negative number, the Wi-Fi RSSi value, and signal strength, for your sensor. Readings between -2 and -40 means you have a very good Wi-Fi connection. Between -40 and -70 is a good signal strength, and anything below -70 is a problem and according to SimpleSence your sensor might not perform as expected.
SimpleSence not only detects water leaks but the temperature in the room, able to pick up a range between -40º to 302º Fahrenheit (F). When the sensor reads 34ºF, the device will sound an 80 dB alarm sound which is loud enough for you to hear if you're in the other room, or on the same floor of a building.
For our test, we had Wi-Fi signals ranging from -2 to -67. As expected, the farther we positioned the sensor from our router, the weaker the signal. If you can't get a strong enough signal, you might also need to get a Wi-Fi extender, which brings the Wi-Fi signal closer to certain points in your home. But having the SimpleSence under a washing machine or water heater can also block the signal. So try to place the device next to an appliance like this, not directly underneath.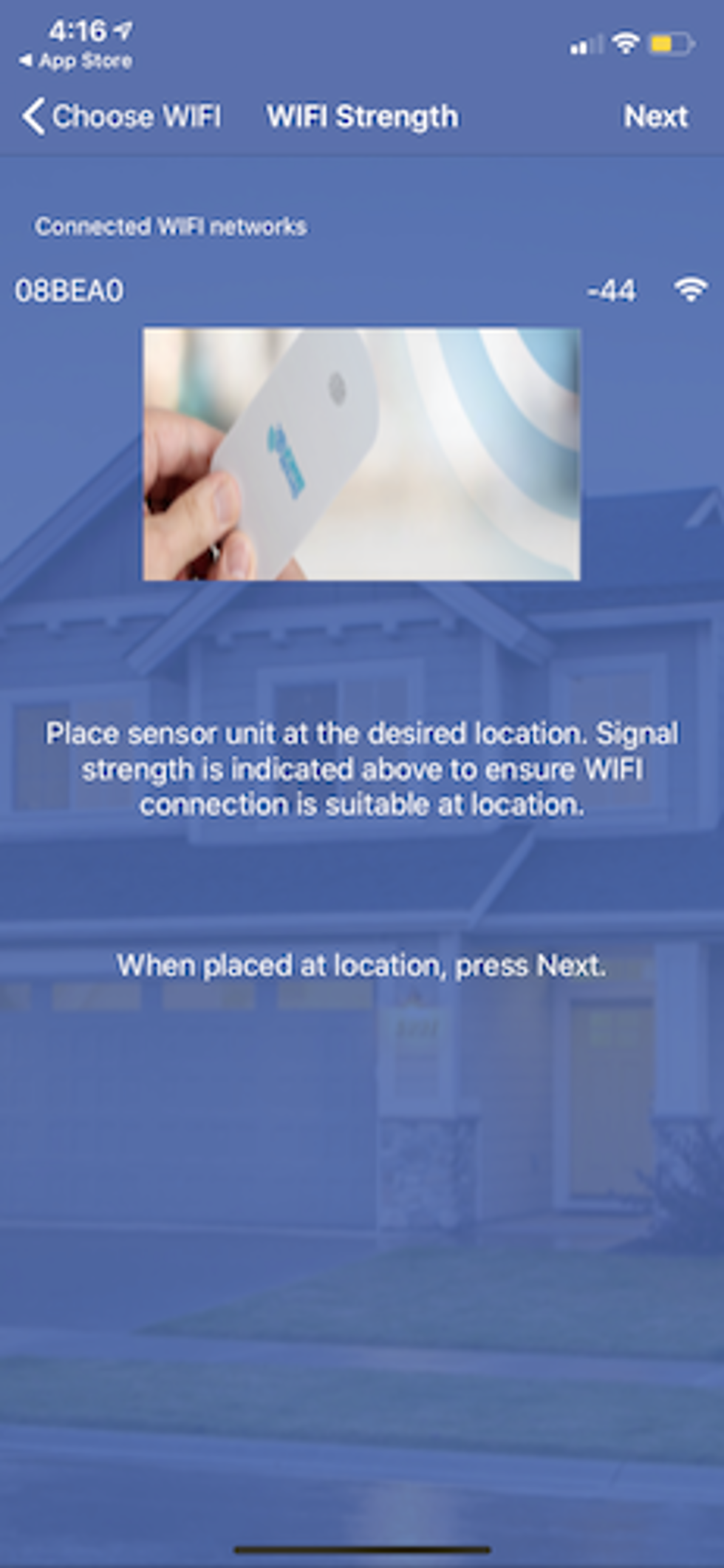 SimpleSence app will provide Wi-Fi signal strength for your sensor.GearBrain
Cost

The SimpleSence Water Leak and Freeze Detector costs $69.95 for each device. You can buy just one, get a three-pack for $209.85 or a five-pack for $349.75. The sensors are available for purchase on the company's website as well as on Amazon. Is $69.95 per sensor a fair price? Many Wi-Fi water leak detectors cost around $30 to $40 each and leading Wi-Fi water leak and freeze detectors range in price from $60 to a high of $800. The more expensive ones, like Phyn Plus and Flo by Moen, are more sophisticated leak detectors, monitoring water flow through pipes to detect leaks. SimpleSence works differently, working outside of your pipes, and considered then a more entry level product. We think it's priced fairly.
Performance

SimpleSence did a decent job in our test home. We positioned the sensor in a few locations, one in the bathroom, one underneath the sink and another between the washer and dryer on the second floor. Wi-Fi signal strength was strong in each spot, even on the second floor. We did have an issue where our app was stuck on an "Updating" message. SimpleSence knows this problem — it's a compatibility issue with iPhones using iOS 13.4 and 13.4.1. There is a simple fix —update to iOS version 13.5. This new release, which came out on May 20, 2020, updates the issue and gets your sensor connected.
Keep in mind, though, that if the sensor is not connected to your home Wi-Fi network, it will still work, setting off its alarm if water is detected, or your room temperature drops below 34º F. You just won't get an alert.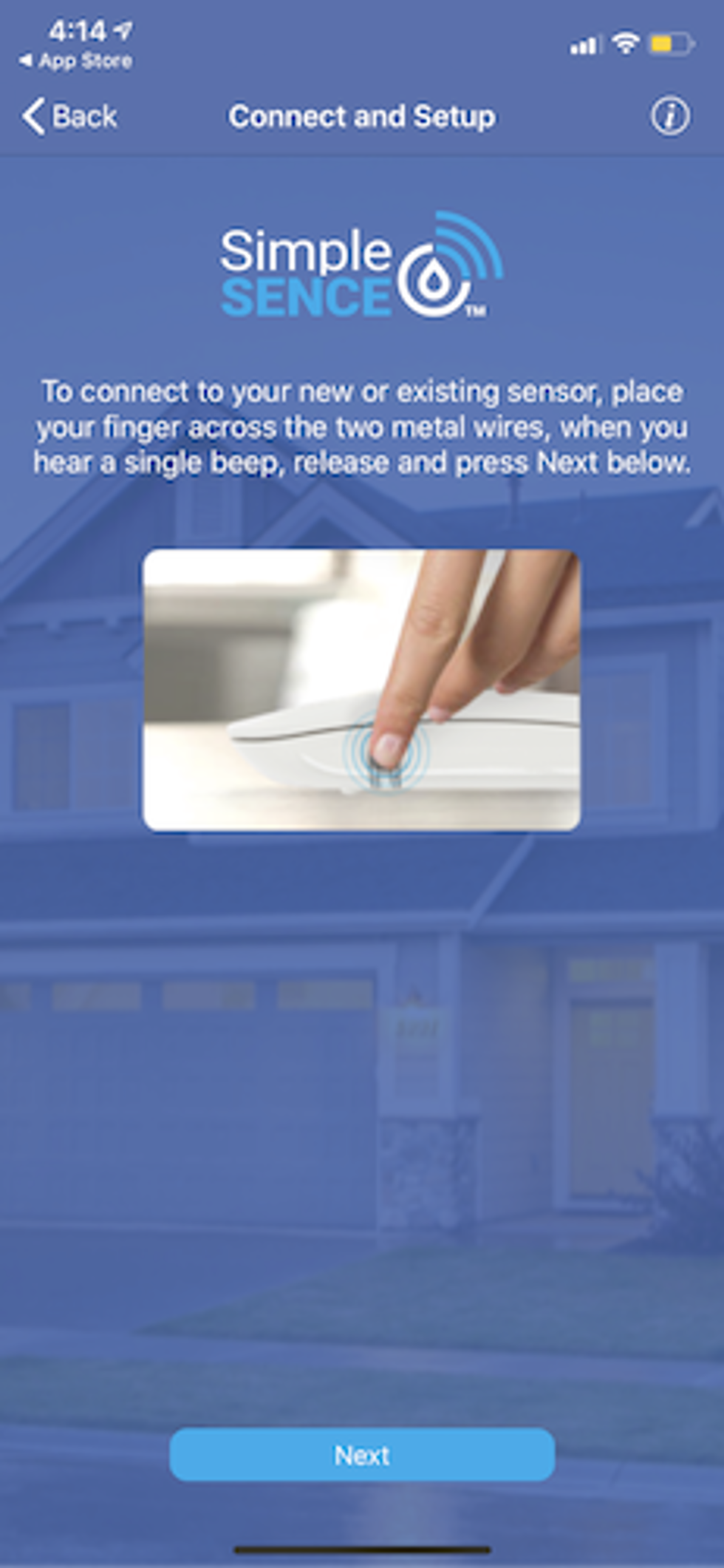 SimpleSence app walks you through the setup process for your sensor.GearBrain
Smart Home integrations
SimpleSence does not integrate with connected smart devices, systems or voice assistants including Google Assistant, Apple HomeKit or Amazon Alexa. Nor does it work with home security systems including Vivint, SimpliSafe or Scout. We mention this because integrating with home systems and voice assistant would be another avenue people could use to extend the kind of alerts someone could get about water issues.
These type of systems are used frequently by homeowners, and we believe it would be helpful to integrate an alert from a leak detector in one app. We asked the company if there are plans for any integrations in the future. SimpleSence said they initially did not focus on this area, stating they wanted to offer a more streamlined solution that would work to detect water leaks, that people could launch quickly and easily, according to a spokesperson. However, the company is working on integrating its sensor into smart home systems, with a connected version it expects to unveil by the end of 2020.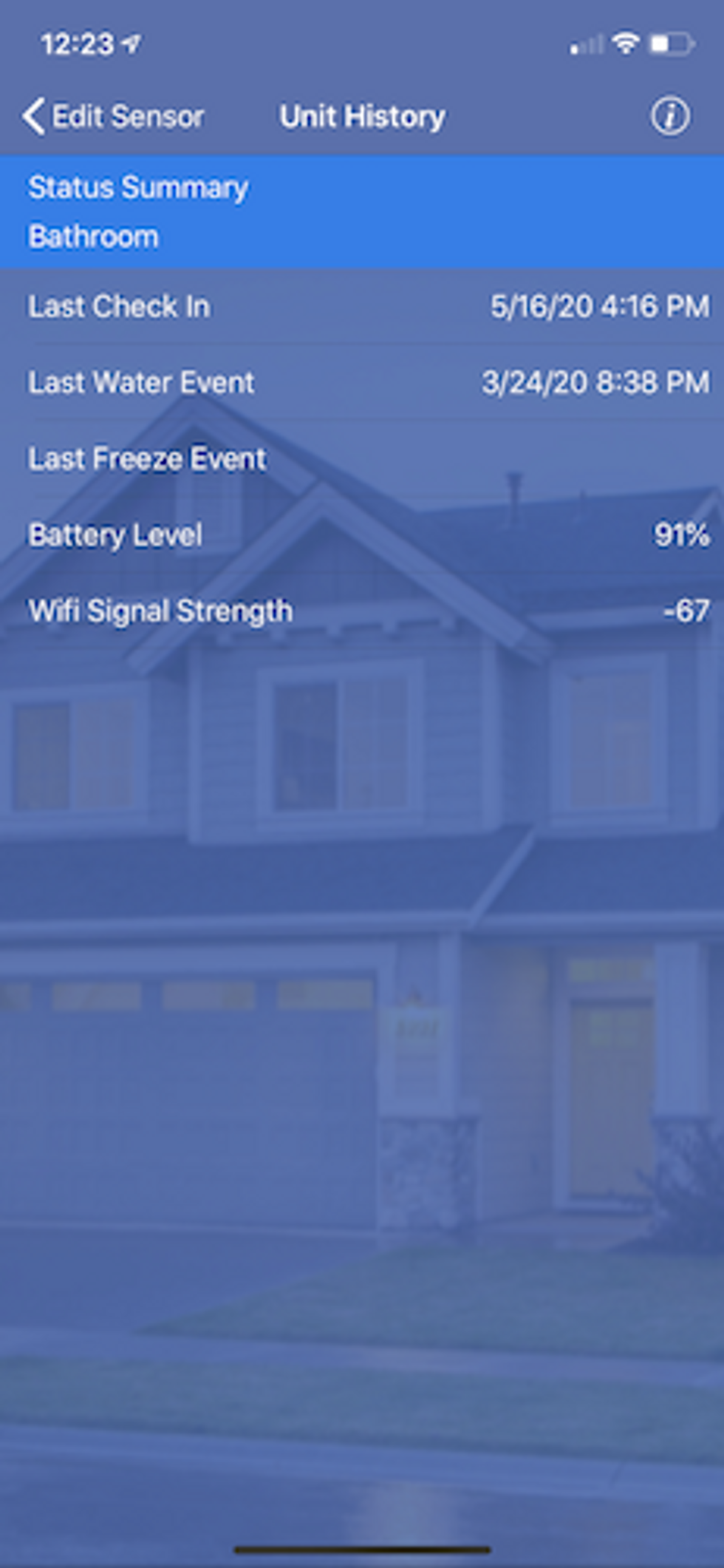 SimpleSence app provides history for each of your water leak and freeze detectors.GearBrain
Summary
SimpleSence is a good water leak and freeze detecting sensor. The unit is a little bigger than those we have seen in other leak detector but it's still easy to position this device next to a washing machine, a toilet or underneath a sink. The sensor has a long battery life and is easy to install, and we like how you can monitor your Wi-Fi signal in the app for each device.
We would like to see SimpleSence integrate the sensor with other smart devices, from smart speaker assistants to smart home security systems. We know many smart home security systems also have fire and smoke alarms which monitor CO2, as well as temperatures in a house. It would be great if SimpleSence would integrate with these systems as well.
Who should buy SimpleSence? Anyone who wants a reliable water leak detector and a freeze detector to help prevent water damage in their home or even a second home. Since water damage is one of the most devastating events a homeowner can experience, a simple, affordable sensor can help to protect one of your biggest investments for very little investment of money and time.
Pros:

Water leak and freeze detection in one device
Easy setup and long battery life
Price
Cons:
Lacks smart home integrations
Need iPhone iOS 13.5 or higher installed
The sensor is rather big
SimpleSENCE WiFi Leak and Freeze Detector (5-Pack), Wireless Water and Freeze Sensor with Water Alarm and App Alert Notification, Continuous Leak Monitoring for Your Home and Investment Property. (5)