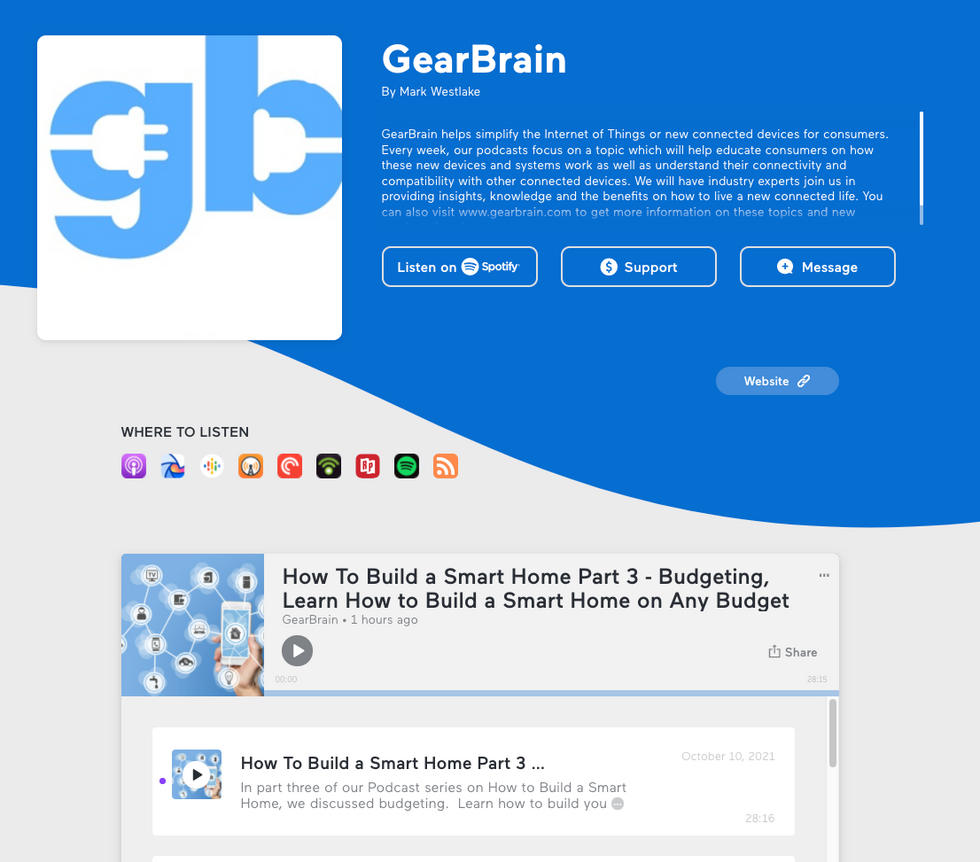 Part Three of GearBrain Podcast on How To Build. a Smart Home focuses on budgeting.GearBrain
Welcome to part three of GearBrain's podcast on how to build a smart home. I am Mark Westlake, founder of GearBrain. In this episode, we're going to look at the cost of all these devices that can make your home smarter and the budget you need to set aside to get started.
In looking back at our previous episodes, we talked about what you needed to know before you started to go down this road of building a smart home. We covered all the different type of devices and the wireless protocols they work on like Z wave, Zigbee, Bluetooth and Wi-Fi. And we helped you learn where to buy these devices and who can help you in a time of need in building a smart home.
In our second episode we talked about how you go about building a smart home if you live in an apartment, a rental property, or own an Airbnb property. We spoke all about the different types of products that you could consider, as well as how much you should spend for these tiny and large dwellings that you rent or own.
Echo Show 10 (3rd Gen) | HD smart display with motion and Alexa | Charcoal
Which leads us to episode 3 on how to build a smart home. Let's get started.
When looking for smart home devices you want in your smart home, you are going to see how the price tag can add up quickly. Sometimes you can get overwhelmed with how much you can spend on these smart connected products. But GearBrain is here to help you. I will walk you through some of the products and steps to consider as well as the costs for each. Whether it be $100 or $10,000, I will give you some suggestions on where to start and the products and systems to consider no matter how much you want to spend.
So, let's start off with understanding the devices and how much they cost to turn the average house into a smart home. Most people's idea of a smart home is just adding a smart speaker or smart home hub which can control basic devices like your lights, plugs, and perhaps a door lock and security camera.
But what if you want to make your entire home smarter? It's more than that. We're talking about replacing every regular bulb with a smart bulb or swapping out your door locks for smart ones or fitting motorized window blinds on each window and making the garden more intelligent. The short answer is that no matter what you spend it can be an ambitious project. Even if you live in a small apartment, the cost could run you $1,000 by just replacing every bulb in the place and introducing new mood setting light strips. This can become very expensive very quickly. But you could opt to spend a few bucks and just get a couple of smart bulbs and still get the same effect at a lower cost.
So, the first thing you need to consider is the size of your home. Did you know according to Survey of Construction, the most common new build layout across the country is a three-bed, two-bath property. At GearBrain, we have created articles on how to build a smart home on all types of budgets for this size house as well as apartments and rental properties.
For this podcast, you will learn how to make your home smarter on any type of budget and the type of devices you can add to your bedrooms, living room, kitchen, dining room, den and a modest garden and driveway or garage.
Connected Hubs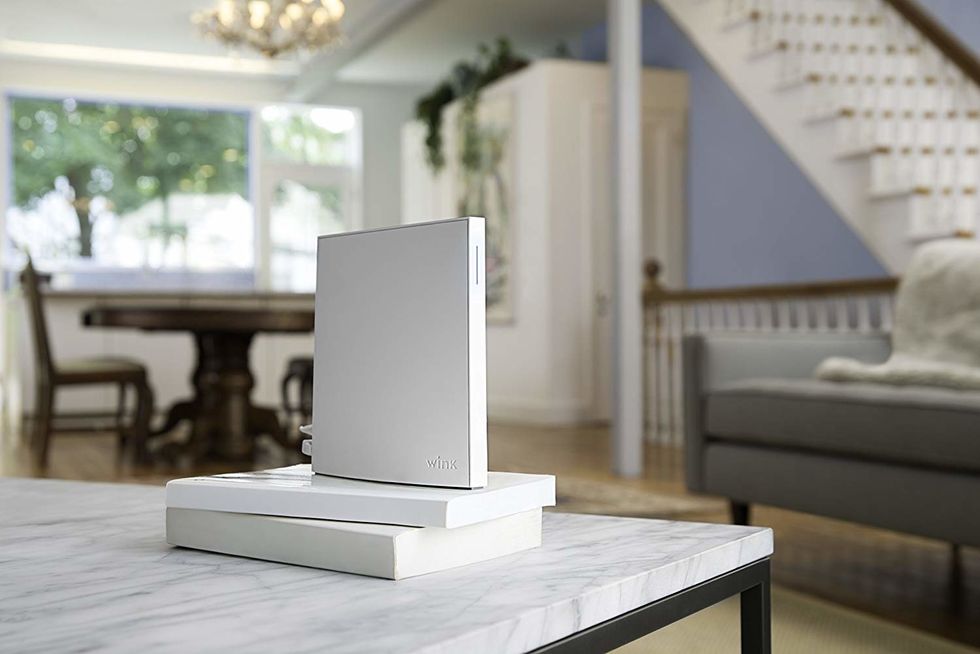 The Wink Hub connects to just about every smart home device Wink
So, what is the first device you need to start with for your home? The item we recommend you buy first is a controller. As we mentioned in episode one, about smart home systems, you need to determine how you plan to control all your smart devices. Whether it be with an app, a controller and/or voice, you need to make this choice first. If you plan to use a smart home hub or a smart speaker, you will find these devices can be surprisingly cheap or extremely expensive. But this is the first device you need to determine when getting started on building your smart home.
Years ago, a standalone hub would cost you between $70 and $100. Hubs by Samsung SmartThings or Wink cost were on the low end. Today, hubs come in all shape and sizes. Besides these standalone hubs, you can use your smart TV as the hub. Did you know Samsung's smart TV's can act like a hub because they have Samsung SmartThings platform built-in along with the voice assistive platforms like Google Assistant and Amazon Alexa. You can even use a streaming media device, like a Fire TV Stick or Google Chromecast if you don't have a smart TV. You could also use your home's alarm system hub or controller as your hub, if they have a good ecosystem of compatible devices for you to choose from. Some smart home security systems like ADT, Vivint, and SimpliSafe have hubs that can connect with all your devices using Wi-Fi, Bluetooth, Zigbee and Z wave. Just find out what wireless protocol your system is using, and you will be able create a setup that gives you a hub that can be the central controller for all your smart home devices and not just your security system.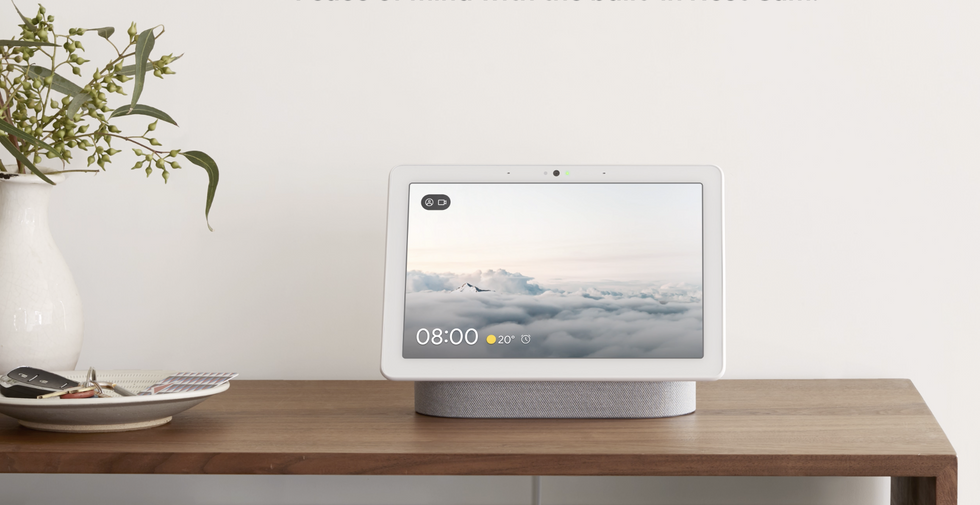 The Nest Hub Max has a 10-inch screen and Google Assistant Google
Alternatively, you can elect to use your smart speaker or display as the hub of your home. These simply price smart speakers by Amazon and Google can act as the hub and you can use your voice commands to control your devices. These smart speakers can be installed across your house which will allow the system to hear you no matter where you are. They can be setup to act as an intercom system, as well as speakers to play your music throughout your home.
Now given we are helping you budget for turning your home into a smart one, if you were to go the route of using your smart speakers as the hub, you could save some money depending on the type of smart speakers you get. For instance, you could put a smart speaker in each room in your home, including the den, kitchen and dining room. These devices range in cost from $30 to $250. The lower priced devices are the smart speakers like Echo Dot and Nest Mini. You can get these smart assistants cheap during holiday time, around $20 to $50 each. And if you go the high-priced route, you can get new smart displays which cost $150 and up. If you're an Apple home, you'll want to use the Apple HomePod or Apple TV, but these devices are not cheap compared to the other smart speakers.
Depending on what size speaker you go with and the number of rooms in your house, you could easily spend less than $100 if you were to put two Echo Dots in your bedroom and kitchen. Or you could go nuts and put Echo Dots ($59.99) in each bedroom, Echo 4th Gen ($99.99) in the den and Echo Show 10 (3rd Gen - $249.99) in the kitchen. This would run you over $500 for a three-bedroom home.
I would advise picking one voice platform to build on. Though Amazon and Google's smart devices are compatible with many of the same devices, it will be easier for you when you go to control the automations and get notifications. You will want them coming in from one app and not two. So, pick one platform if you can.
Smart Devices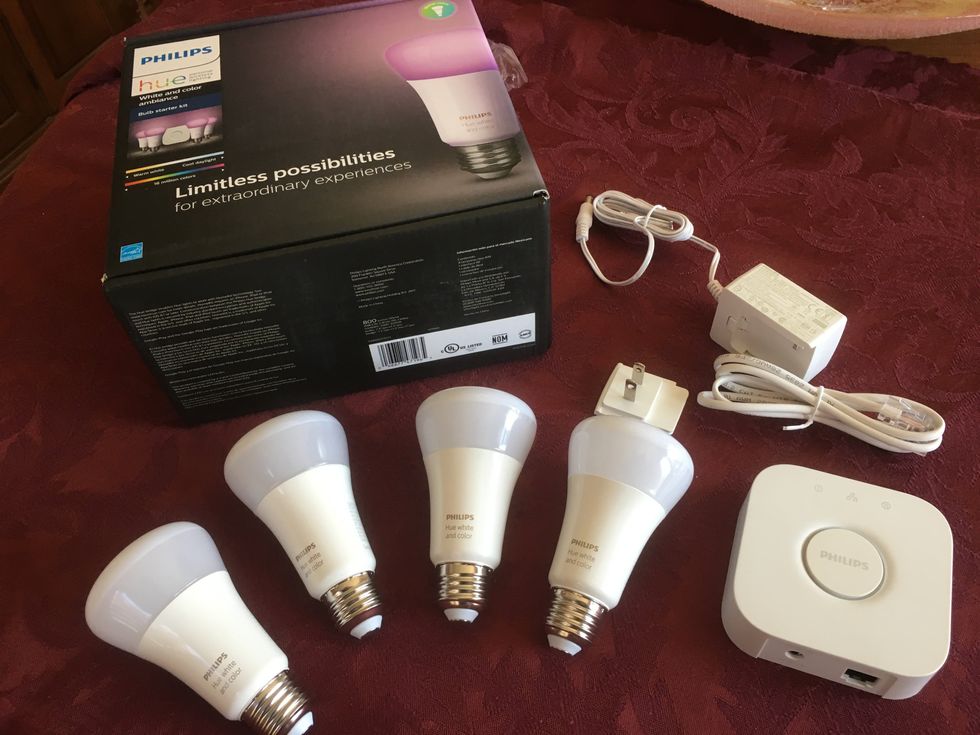 Phlilips Hue smart lights work with Vivint Smart Home Security Systems. GearBrain
Once you figure out what hub or controller to go with, you can start to look at other smart devices for the home. One of the most obvious smart devices to add to your smart home is smart lights. This is where things can get tricky. Smart lights or smart bulbs can be rather inexpensive. However, if you have a lot of lights in your home, adding smart light bulbs could run up a big bill. For instance, if you had an eight-room home with 47 light bulbs, at $30 a smart bulb, you could run up a bill of over $1400.
You need to decide should you go with smart lights or smart switches. Dimmer switches can help make rooms with recessed lighting or chandeliers smarter and for a lot less money than replacing each bulb in the chandelier or in your ceiling. Look at your property and based on the number of light bulbs and switches you have in each room will dictate the path you'll take to make you're lights smarter.
Sengled Alexa Light Bulb, WiFi Light Bulbs, Smart Light Bulbs, Smart Bulbs that Work with Alexa & Google Assistant, A19 Daylight (5000K) No Hub Required, 800LM 60W Equivalent High CRI>90, 4 Pack
Smart Locks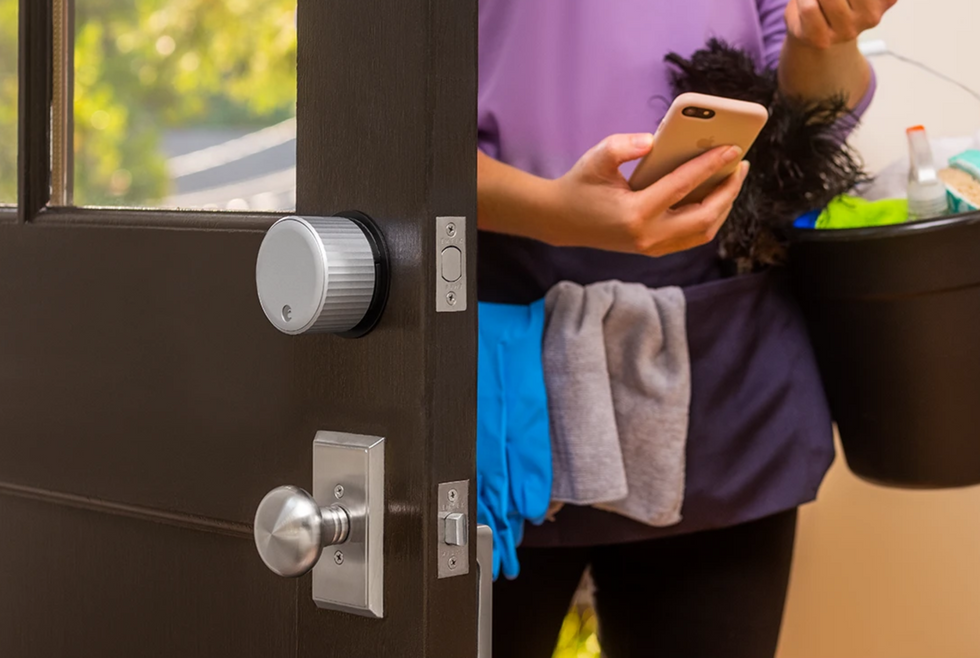 August Wi-Fi Smart Lock August
Next up are smart locks. These security devices are essential in a smart home. And normally you only need to purchase two smart door locks for your home, one for the front door and the other for the back. Depending on if you want to add smart locks to other doors in your home, you need to keep in mind since this could increase your budget.
With smart locks I'm a big believer of finding smart locks that work with my home security system. That is just my preference. The reason is, I want my home security system to work in tandem with my smart locks. I want my door locks to lock when I arm my system, and I want the locks to unlock when I disarm the system. This assures me that my home is secure. But not everyone has a home security system.
The cost of smart locks varies depending on the type of smart lock you're looking to add to your home. You can get smart locks that work with your home security system, and you can get ones that are easy to install and only require you to change half your existing door lock. One of our favorite smart locks is the August Smart Lock Pro. It runs around $280 and comes with a sensor for letting you know when the door is ajar and not just unlocked. You can program the lock to unlock automatically when you approach it by using your smartphone and you can control it remotely if it has an August Connect, a Wi-Fi extender plug. It connects your door lock to your home Wi-Fi system to provide remote access no matter where you are. It's also a smart lock that can work across multiple wireless protocols, like Z-Wave and Wi-Fi. And it's compatible with many smart home security systems which work on Z-Wave connections.
August Smart Lock Pro + Connect Hub - Wi-Fi Smart Lock for Keyless Entry - Works with Alexa, Google Assistant, and more – Silver
For budgeting purposes depending on the type of smart lock you're looking for you could spend as little as $80 or as high as $800. The cost of a smart lock will depend on the lock's color and finish as well as it's designed and functionality. Some smart locks come with keypads or touch screens. Others come with just a keyhole and smart functionality is done with touch. And others come with all of these and a key. You also can get biometric smart locks, where you just use your finger to unlock your door and there's locks that just change the guts of your existing deadbolt lock. No matter which smart lock you go with, we recommend you make sure the smart lock is compatible with your controller. This will make automations easier for you and your family.
Video Doorbells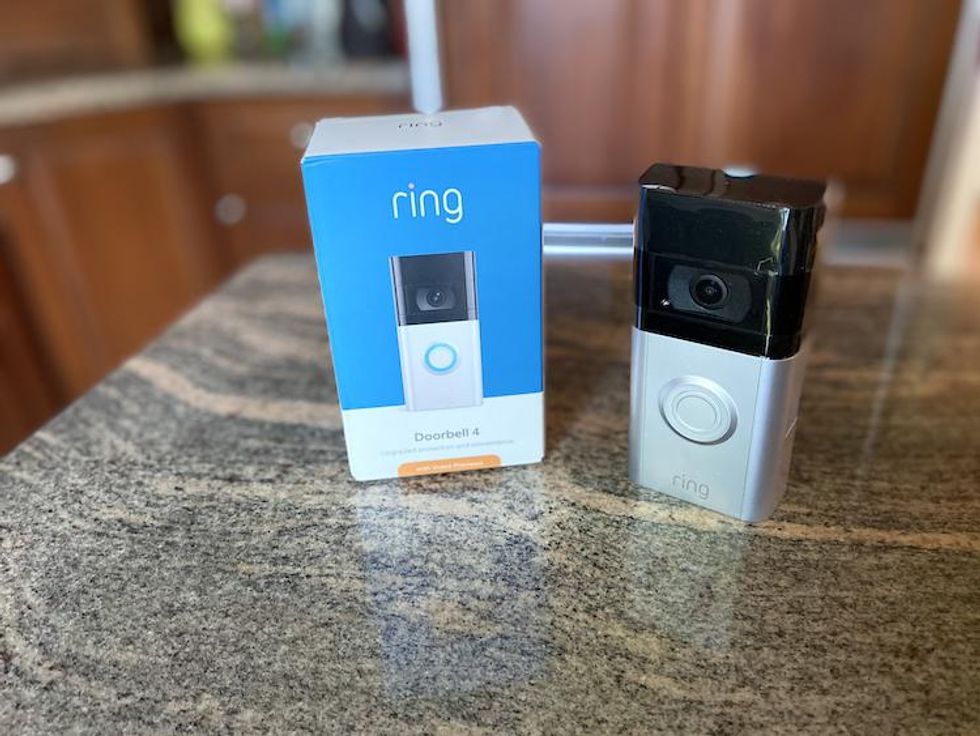 Ring Video Doorbell 4 GearBrain
The next smart device up for you to consider is a video doorbell. These devices look like a regular doorbell or buzzer but comes with a camera, speaker and microphone so you could see and talk to whoever is at your front door or back. These devices connect on your home Wi-Fi and can ping your smartphone when someone comes to your door. The cost of these devices can range from $100 to $250. Some of the companies to consider who make good video doorbells our Ring, Google Nest, Arlo as well as your smart home security system. Smart home security systems like Vivint and ADT come with their own video doorbell. And just like smart locks you're going to want this video doorbell to be compatible with their home security system as well as your controller. The reason is it will make it easier for you to operate and control your video doorbell. Also, by having a video doorbell compatible with your controller and or smart locks, you'll be able to not only speak and see your visitors, but you'll be able to unlock the door from the same screen on your smartphone or smart speaker display. This is a nice feature to have and only works if all your devices are compatible.
So now we covered controllers, smart lights, smart speakers, smart locks and video doorbells. Next up are smart plugs. Smart plugs are simple and affordable devices that can make dumb devices smarter. You can plug a heater into one and set up automations for it to go on and off at specific times of the day or when the temperature goes down. You can control other appliances like fans, air conditioning units, dehumidifiers, and lamps.
Smart Plugs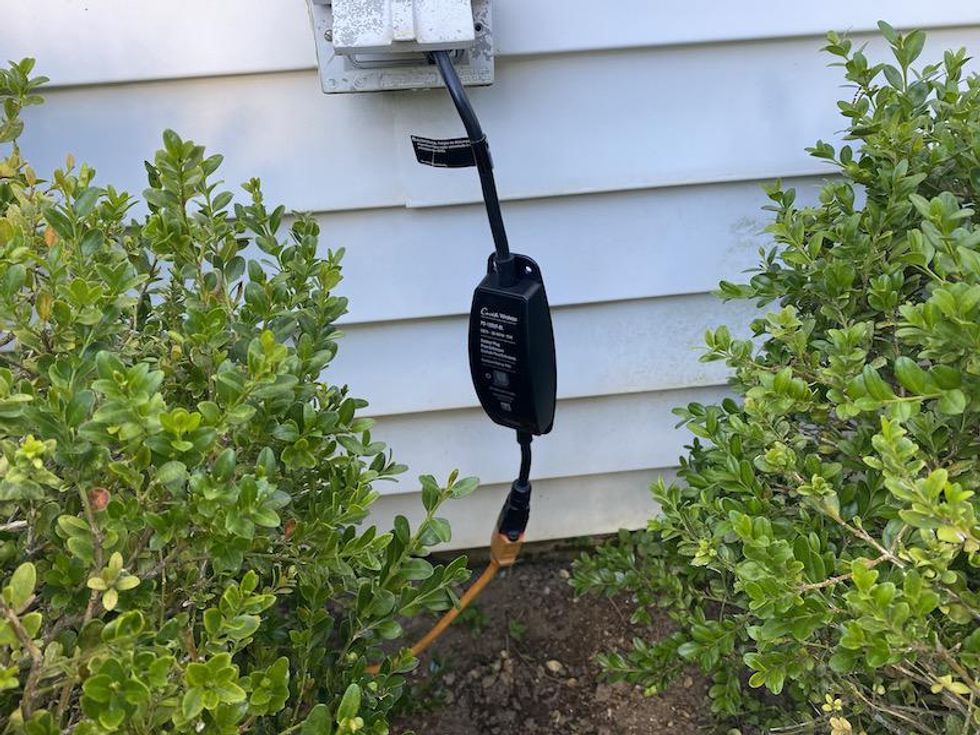 Lutron Caseta Outdoor Smart Plug plugged in outside our smart home. GearBrain
Smart plugs start as little as $5 each and you can get them in two and four packs. Brands like TP-Link or Belkin WeMo make good smart plugs, but they might be a little bit more expensive. Reason is they come with designs that allowed the smart plug to cover only one of your outlets in your home and are compatible across many different wireless protocols. The more expensive smart plugs could run you $20 to $30 each. They're good for homes where you are renting and can't put a smart switch on the wall. Smart plugs are also good for vacation homes and could help you monitor energy usage.
So, putting these into your home is a good option specially if you have a lot of lamps and appliances you want to control.
Smart Motorized Window Blinds

Lutron Caseta Lutron
Next up are motorized window blinds. This is going to be the most expensive smart device or system you can add to your home. Things can get expensive when adding these motorized or remote-controlled window blinds and shades. Prices could start around $300 to $500 a window. They could go even higher depending on the size of your window and the type of fabric you want to use. Companies buy like Lutron and Hunter Douglas offer controllers for your window blinds and shades. And they work with all the smart speakers as well as some of the hubs like Samsung SmartThings and Wink. And for the more advanced smart home builder, you can use If This Than That or IFTTT to build custom automations with these smart window blind controllers. The Lutron Smart Bridge is a blind controller that costs around $80 a bridge. They sell the bridge as a standalone product and in a starter kit which includes the bridge and switches. Starter kits start around $250.
What's good about smart blinds is you can schedule them to lower and raise at certain times of the day using the app or by asking Alexa or Google Assistant to move them on voice commands. And you can set up automations using either smart thermostat integrations or IFTTT applets to have your blinds open and close based on the weather in your area as well as when you leave your house. This can help you save money on your heating and cooling bills as well as keep you home safe.
For budgeting, if you had a house with 18 windows and you were to add Lutron Caseta smart switch kit and switches, you're looking at spending $6000 to $7000 on motorized blinds. So, you could see how this can run your bill up quick.
There are cheaper options out there for you to consider. There was an option by Soma which comes with retrofit motors that fit to the wall next to your window and can pull on the chain to open and close the roller blind. These costs around $150 each and are compatible with Amazon Alexa and Apple HomeKit compatible devices.
And if you're an IKEA shopper, they sell motorized smart window blinds at a more affordable price of $129. Depending on the route you choose for motorized blinds and shades, you could spend easily over $6000 to bring this functionality into your smart home. Something to consider.
Smart Thermostat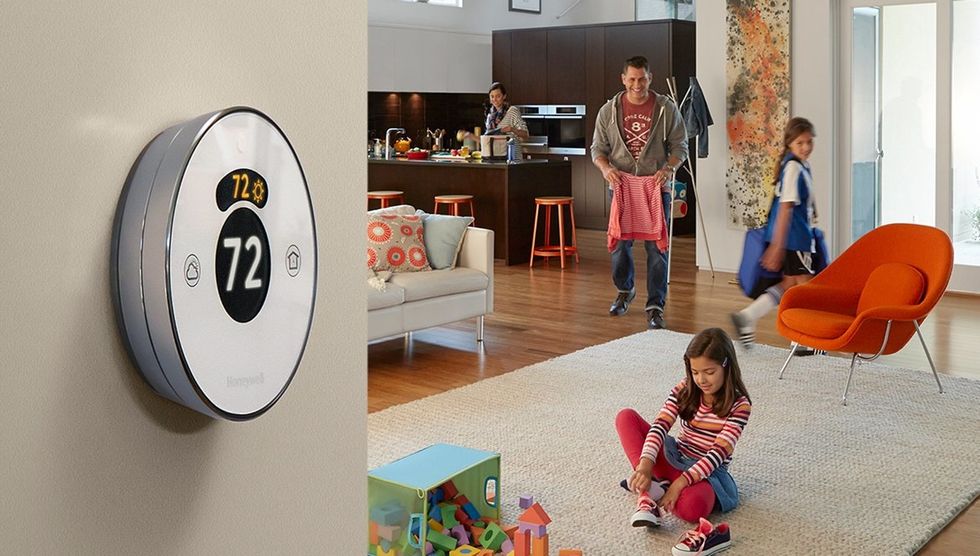 Lennar offers home with Honeywell smart thermostats Honeywell
Next up is the smart thermostat. Smart thermostats today are designed to save you money by heating and cooling your home as efficiently as possible. They're able to do this by learning your temperature habits and knowing which rooms are a priority to heat and cool in your home.
Compared to lights and blinds, this is a more affordable device, and one that should save money on your energy bills every month. The cost of smart thermostats ranges from as low as $130 to over $300. Companies that make good smart thermostats are Google Nest, with their Nest Learning Thermostat which cost $250. There's the ecobee smart thermostat which costs around $249. And you have Honeywell, a long-time manufacturer of thermostats. They have a few smart thermostats options for you to consider that cost around $170 to $250. We do like their T9 smart thermostat because it comes with a room sensor to help direct the heating and cooling to the room it's installed.
If you have a larger home and zone heating and cooling systems, you're going to need a smart thermostat for each zone. As you're considering your budget for turning your home into a smart home, and want to add smart thermostats, keep in mind you're going to need one for each of the existing thermostats or zones. You're also going to need to check to see if your existing thermostats have the correct wiring. Many smart thermostats require a C wire. This is the wire that powers the smart thermostat. If you don't have a C wire, no worries. You could buy smart thermostats that are battery powered and can work with only two wires. Or you can get a C wire power adapter that works with your smart thermostat. Both options though will increase your budget, especially if you need more than one power adapter.
Honeywell Home RCHT9610WFSW2003 T9 WiFi Thermostat with 1 Smart Room Sensor, Touchscreen Display, Alexa and Google Assist, White
Home Security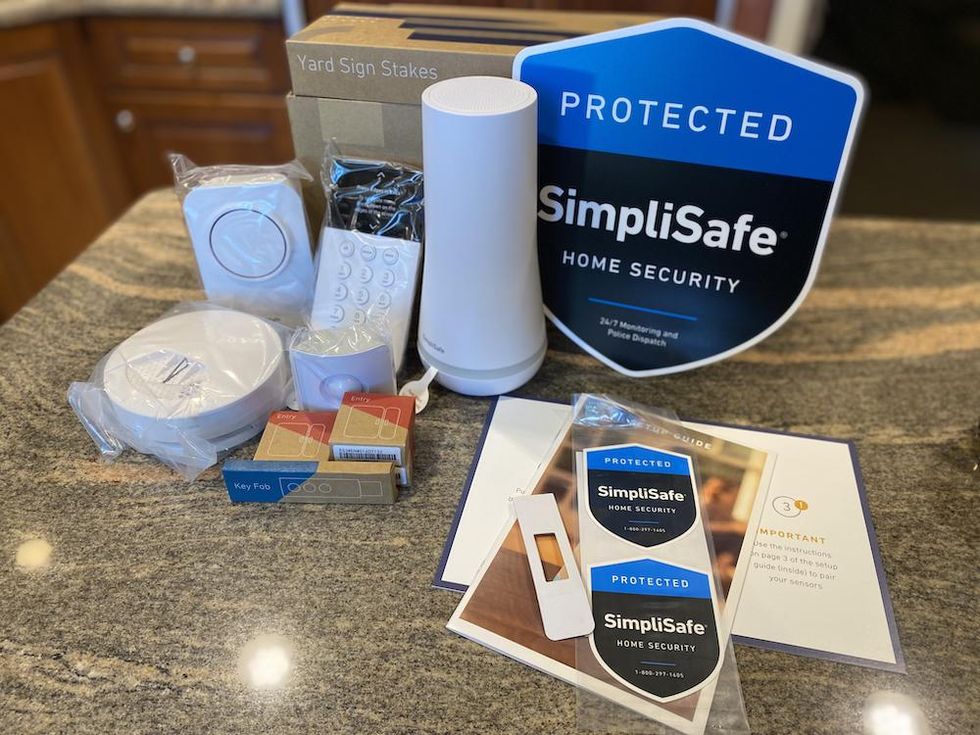 The Hearth Security SystemSimpliSafe's The Hearth DIY Wireless Smart Home Security System GearBrain
We've talked about a lot of smart devices and controllers. Now let's focus on home security. I mentioned before, if you are using the controller for your home security system as a hub, then you're more than halfway there in understanding how much to spend in securing your smart home. But if you don't have a home security system, and are considering getting one for your smart home, you have a couple of options to consider. You can get a professionally installed and monitored home security system. This would be a system by ADT or Vivint. You can get a professionally monitored but do-it-yourself installed home security system. Companies like abode, blue by ADT and SimpliSafe fall into this category. Or you can go the DIY monitored and installed system route and just get a security camera and a few compatible door and window sensors to secure your home.
As we did with determining a hub, you need to decide if you want to install a system yourself or do you want to hire someone to install it for you. And you need to decide if you want 24/7 monitoring? Or do you need it only a few days a month.
The cost of these systems varies greatly. The professionally installed and monitored systems will come with monthly fees that are based on the type of monitoring the company is offering as well as the cost of all the sensors cameras and alarms they've installed in your home. These systems usually come with a contract and a monthly payment that can range from $30 to as high as $100 to $200 a month. You can finance the cost of the devices they installed but you will have to pay the monthly fee.
Your do-it-yourself monitoring and installation systems are the least expensive options for you to choose. Sometimes it's just a camera and a few door sensors and window sensors. Or it could be a hub with a few door and window sensors, but you could add more if needed. These systems tend to be like the professionally monitored and DIY installed systems. These can run $100 to $200 for a kit and then you monitor your home. You can add for a modest monthly fee professional monitoring services and cloud storage for your video cameras if you add any.
What normally drives up the cost of a smart home security system besides the professional monitoring services, is the video storage for security cameras. All these smart home security systems can get very expensive when you start to add security cameras which can go inside and outside your home. Now we talked earlier about how important it was when adding a video doorbell to your smart home that it works not only with your smart locks but it's compatible with your smart home security system. This is the reason why many home security systems have their own video doorbell or security cameras. They want to make sure that they can cover the costs of the video that you store in the cloud for you. The cost of video storage in the cloud can get very expensive. It all depends on the number of cameras and how long you plan to store your videos. You can get plans as low as $3 a month to as high as $30 a month per camera. And this cost is on top of the cost of the camera.
If you're looking to just get a security camera to be used as a DIY security device, you can buy just a camera with 24 hour rolling video storage. This type of camera costs as low as $30 and as high as $250. What drives up the cost of the camera is the video resolution and other key features like night vision, PIR motion detection, field of view and two-way talk capabilities.
Blink Outdoor - wireless, weather-resistant HD security camera, two-year battery life, motion detection, set up in minutes – 3 camera kit
Smart Outdoor Devices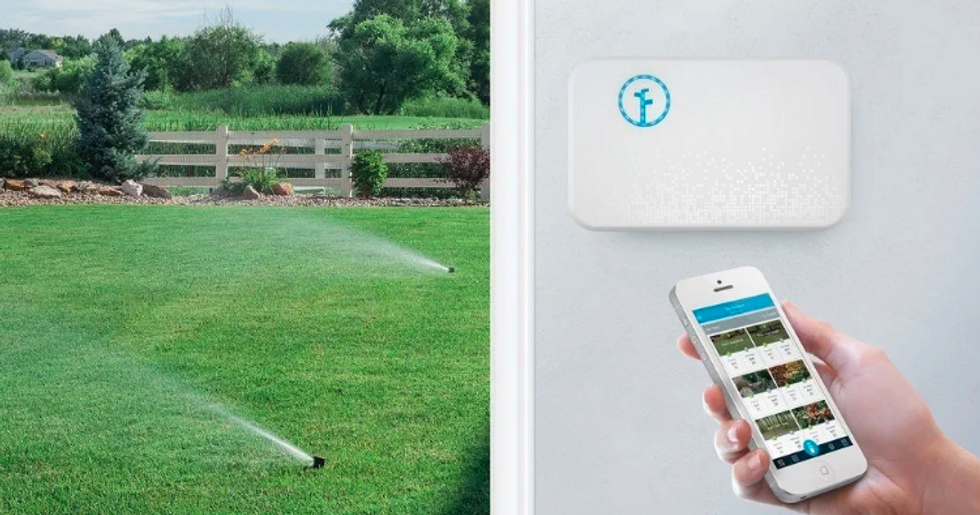 Smart irrigation systems like Rachio could boost the value of your home Rachio
Now that we covered inside the home, let's look at what you can do on the outside of your home. There are several types of devices that you could add to your home to make it smarter. You can add smart irrigation systems to help you save time and money on watering your lawn or plants. These devices connect to your existing sprinkler system and track hyper local weather forecasts to deliver exactly the right amount of water each day, skipping days when there is sufficient rainfall. They can help you save money on your water bill as well as learn how much water to disperse based on the type of plants and soil around your home as well as the level of sunshine. It can take into consideration the amount of shade and gradient of each zone and adjust the amount of water to use and when. The cost of a smart irrigation system will run you $100 to $200 depending on the number of zones your sprinkler systems has and if you want to add sensors to your system. Companies to consider are Orbit and their B-hyve line of smart sprinkler controllers as well as Rachio and Blossom. You could learn more about these smart irrigation systems on gearbrain.com
Another outside smart device to add to your house is a smart garage controller. If you have an attached garage or unattached garage, you can add one of these smart garage door openers and/or controllers with not a lot of money. These devices can act in tandem with your home security system. Many are compatible with the smart speakers. You just must check to see if your existing garage door opener is compatible. If it's not compatible and you want a smart garage door opener or controller, we'd recommend MyQ by Chamberlain. MyQ is the device you would use to turn your existing compatible garage door opener into a smart one. It costs around $30 or $50. But if you move towards buying a new garage door opener, you can get MyQ built into either a Chamberlain or Liftmaster smart garage door opener with all the security and connectivity you would need for your garage. These units cost between $300 and $600 depending on the model and come with security camera as well as smart control. Many are compatible with leading home security systems on the market. Just check your smart home security system to see which smart garage door controller they recommend.
myQ Chamberlain Smart Garage Control - Wireless Garage Hub and Sensor with Wifi & Bluetooth - Smartphone Controlled, New Design, myQ-G0401-ES, White
Summary
So, let's recap, we've talked about controllers, smart speakers, smart plugs, smart lighting, smart locks, smart video doorbells, motorized window blinds, smart thermostats, security cameras and DIY systems, and garden tax which would include smart irrigation systems. Now there are additional devices that you could add to your smart house such as a smart refrigerator by LG or Samsung as well as robot vacuum cleaners and smart connected washer and dryers. You could even add connected dishwasher and microwave. All at a very high cost. And why would you want any of these connected Wi-Fi appliances? For one thing it will help you save money on repairs. No longer will the repairman have to come over and charge you a fee to just look at the appliance to see why it's not working properly. If it's Wi-Fi connected your repair man will be able to see and tell you what's wrong with it and how much it will cost to fix. And a connected appliance has built-in intelligence to alert you when the appliances is starting to breakdown. A big question for you is at the price point for this appliance is this feature worth it or not.
Other devices that you could tie in with your smart home, depending on if you're not using your TV as a hub, are smart televisions and connected speaker systems like Sonos. These types of devices will run you up your budget quickly.
Two Room Set Sonos One SL - The Powerful Microphone-Free Speaker for Music and More - Black
Overall, what we've learned is you can spend a few $100 or thousands of dollars turning your apartment or home into a smart and safe home. We recommend you start off on the right foot and determine what you want your smart home to be and to do. Smart homes are designed to make your life easier. They can help you save money. and they can help keep you safe and sound. But it all comes at a cost. Luckily you get to decide the budget for your smart home.
Hope this was helpful. You could always visit GearBrain.com to learn more about building your smart home. You could also visit The GearBrain, our compatibility find engine, which is designed to help you find these devices as well as find products that are compatible with your existing smart devices in your home. The GearBrain is free and easy to use and can make building your smart home simpler.
Next week our episode will be about smart hubs. We will help you understand all the different types of controllers that you can use in your smart home. Whether you want to use your home security system or smart TV as a controller, we'll do a deeper dive into helping you find the right smart home hub for your home.
Until then, thanks for tuning in and talk with you next week.
How to Find Products in The GearBrain, Our Compatibility Find Engine for Smart Devices www.youtube.com