When building a do-it-yourself (DIY) installed home security system, one item to include is a smart video doorbell. These devices make it easy to monitor your home, letting you arm and disarm a security system, while also viewing guests or unwanted guests outside your front door. Many DIY smart home security systems work with third party smart video doorbells like Skybell or Ring, but some include their own products. That's the play Blue by ADT makes, using its own smart video doorbell, the Blue Doorbell Camera. We ran a several months-long test on the device in a real home, with Blue by ADT home security installed.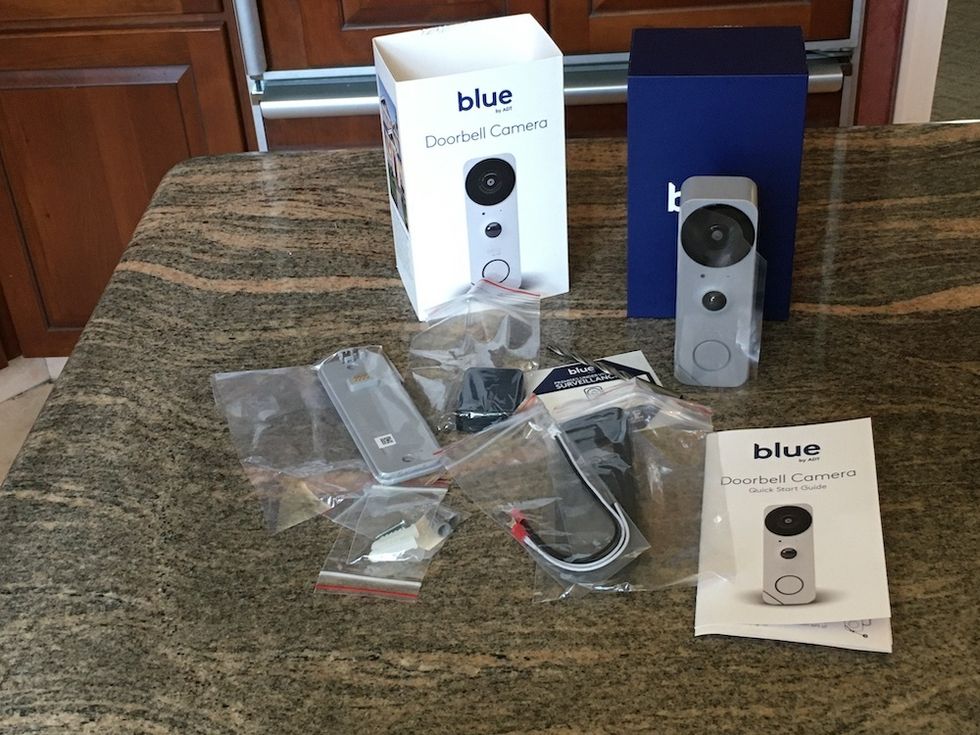 Blue Doorbell Camera unboxedGearBrain
What is the Blue Doorbell Camera?

Blue by ADT's Blue Doorbell Camera, is a smart video doorbell which can help protect your home's entrances, front door and back. The device comes with many of the same features we found in Blue by ADT's security cameras. The doorbell has two-way communication, custom motion detection zones, integrates with Amazon Alexa and IFTTT, and supports facial recognition. It also can be used with the Blue Extender + Chime, which creates an excellent wireless signal, and can also work independently or with any Lifeshield system.
The Blue Doorbell Camera supports 180 degree field of view (FOV), one of the largest we've seen in a doorbell. It has full 1080p HD video resolution, night vision and motion detection range of up to 3 meters or 9.8 feet. Note that the doorbell does require a 16-24 VAC transformer for power and is water resistant.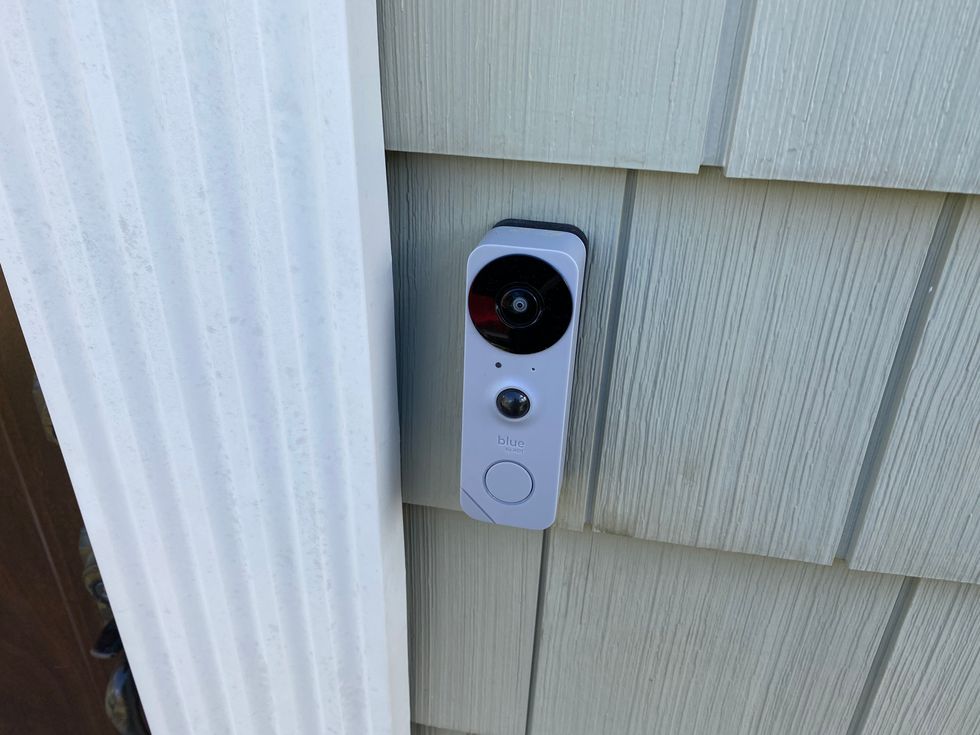 Blue Doorbell CameraGearBraiin
Installing the Blue Doorbell Camera

Installation of Blue Doorbell Camera requires the same steps as most wired smart video doorbells. First, check that your existing doorbell is wired and has at least 16-24V. Second, determine what type of doorbell chime you have inside your home. Next, have a drill, drill bits and a Philips screwdriver, along with your home Wi-Fi network's password standing by. The Blue Doorbell Camera will work with both digital and mechanical doorbells, however, you might need to use your power converter supplied by ADT. Check the Blue by ADT mobile app to determine if you need to use this extra device.
Once you know the type of chime in your home, turn the power off to the existing doorbell and remove it, following the instructions in the Blue by ADT app (both iOS and Android.) The process should take about 30-35 minutes unless you are installing a new wired doorbell. That type of installation is more complicated, and may require an electrician. If using your existing wires from your doorbell, note the longest piece of the installation will be mounting the doorbell bracket and connecting the wires. Make sure to identify the top and bottom of the mounting bracket, because if you install it upside down, the doorbell will not fit correctly.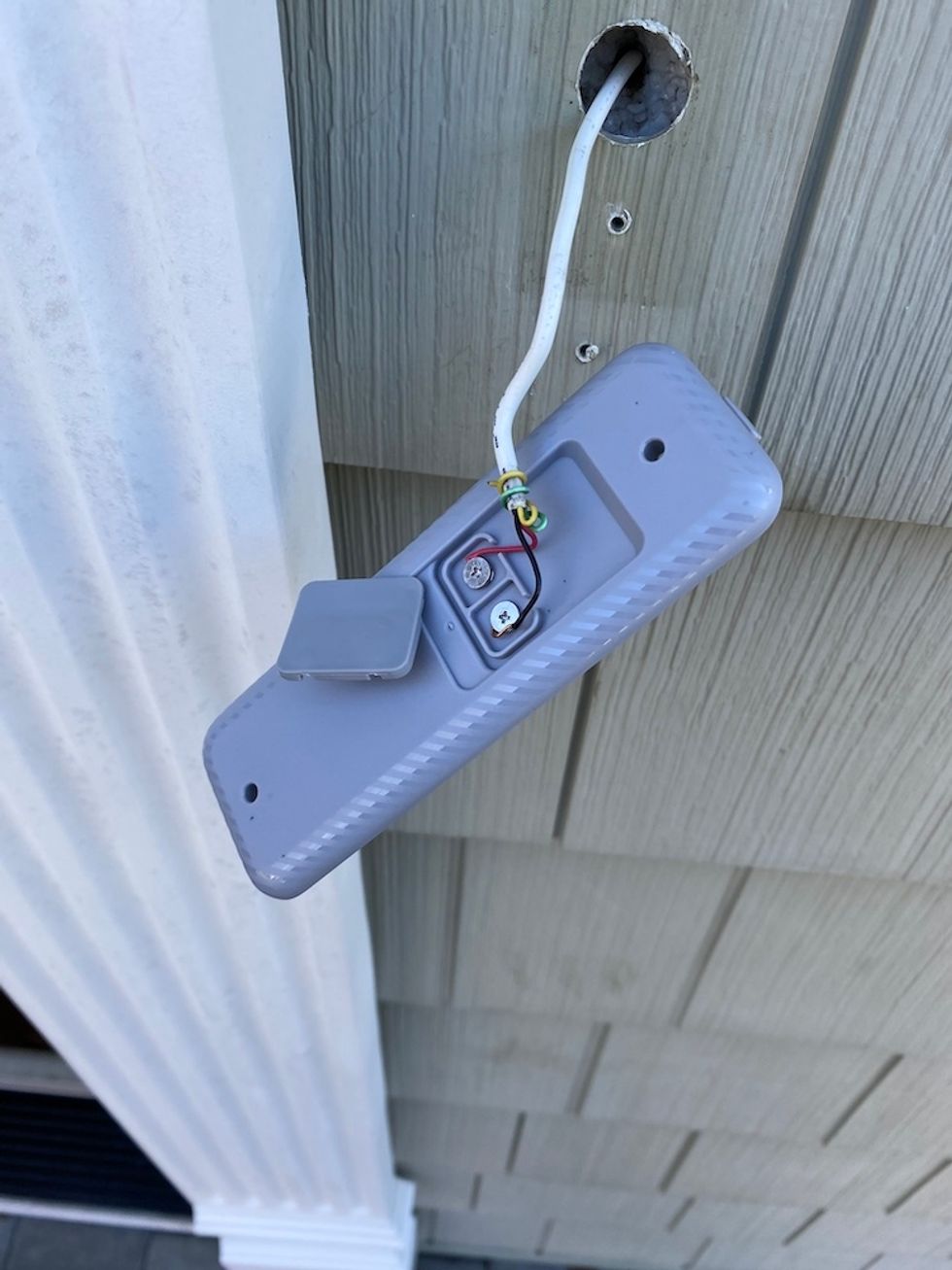 Connect Blue Doorbell Camera to existing wires from your wired doorbell.GearBrain
Once your doorbell is ready to be mounted, you need to turn it on, by flipping a tiny switch on the back of the unit — and you might need to use a pen or a paper clip. Next, mount the doorbell, turn the power on, and look for the blue light which means it's working.

Next, connecting your doorbell to your home's Wi-Fi network. If your Wi-Fi signal reaches your front door, you're fine. But if you don't have a good Wi-Fi signal, the Blue by ADT's new Blue Extender + Chime can help. It's a new Wi-Fi extender and doorbell chime, that helps strengthen the Wi-Fi signal to your Blue Doorbell Camera, by plugging it into a wall outlet within 30 feet of your doorbell. Note the Blue Extender + Chime only works with Blue by ADT cameras, and will broadcast a loud doorbell chime or a custom tone you pick in the ADT app.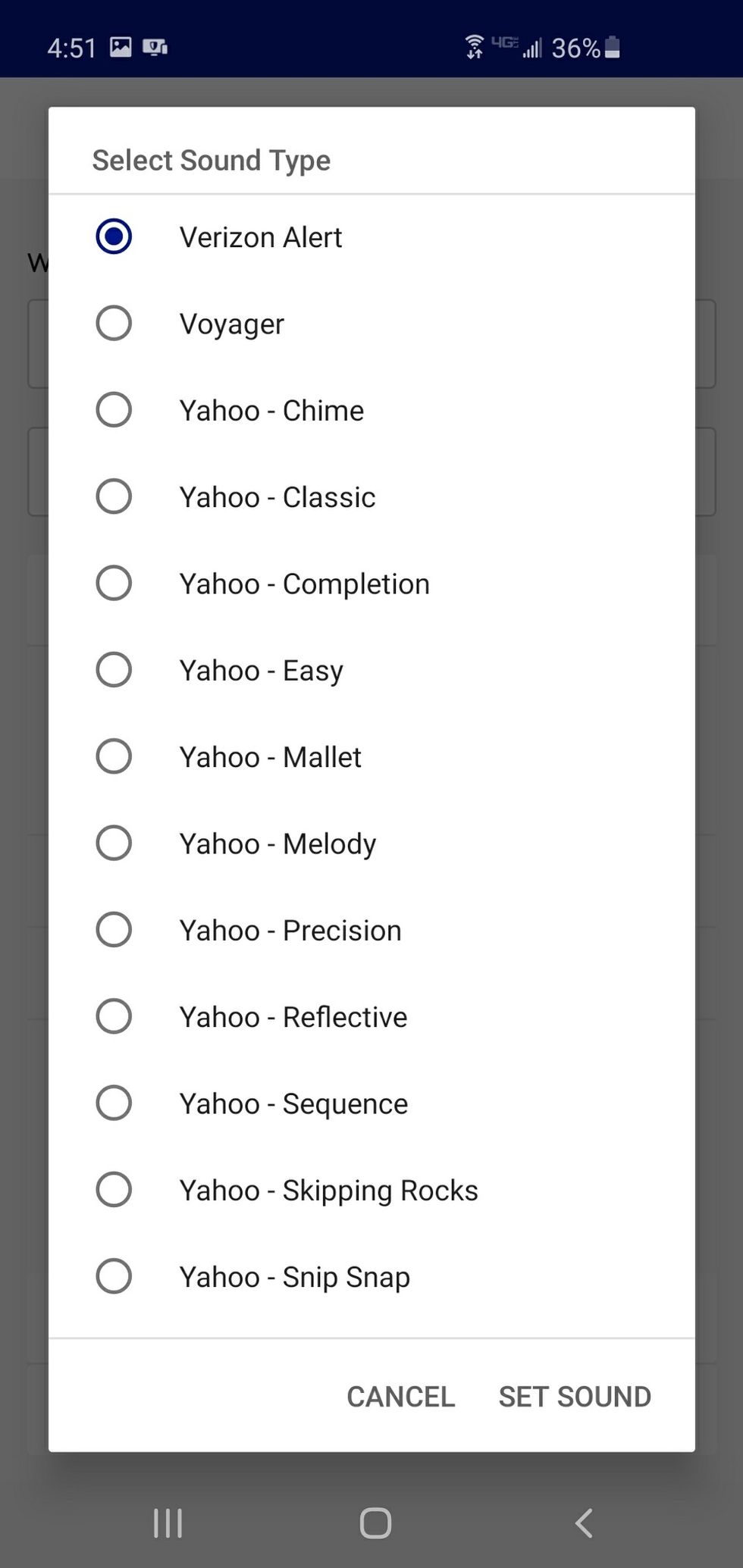 User blue by ADT app to select your doorbell sounds.GearBrain
Performance

When GearBrain tests products, we typically test products over a few weeks. We tested the Blue Doorbell Camera, over four months in a real home, that also had the Blue by ADT security system installed. This helps us see how smart devices work under normal conditions, including spotty home Wi-Fi networks.
We installed the new doorbell, and getting connected it to our home Wi-Fi, easily. Facial recognition worked well, video resolution was crisp, and night vision was solid through the Blue by ADT app. We particularly like the facial recognition feature as it's not the norm for video doorbells. We also appreciated the ability to add custom motion detection zones, and the fact that the FOV is very wide at 180 degrees. (Note: Ring Video Doorbell 3 Plus and Nest Hello only have 160 degree FOVs.)
Daytime Video from Doorbell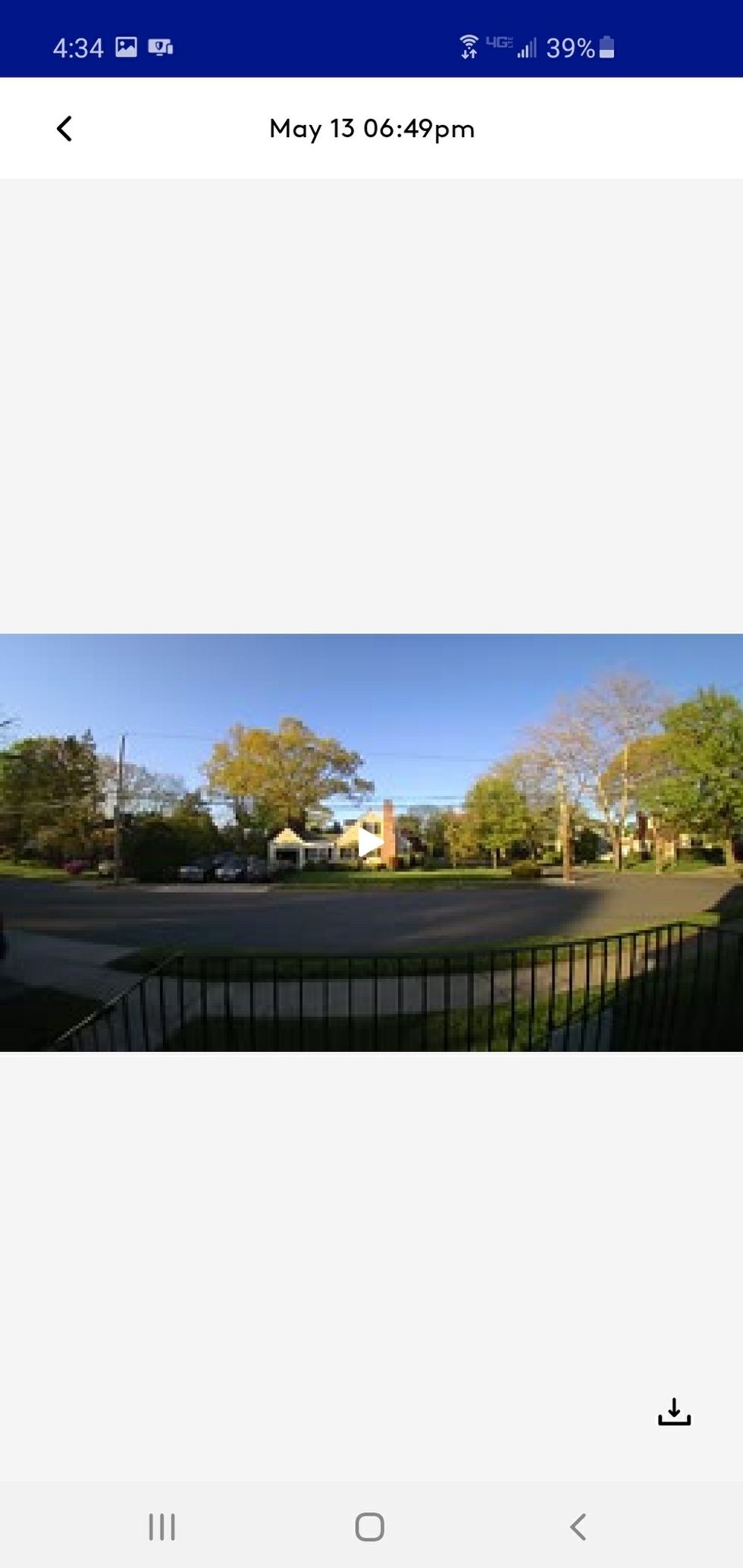 Daytime video is clean and crisp in app
GearBrain
Blue Doorbell Camera has excellent video resolution during the day.
Night time Video from Doorbell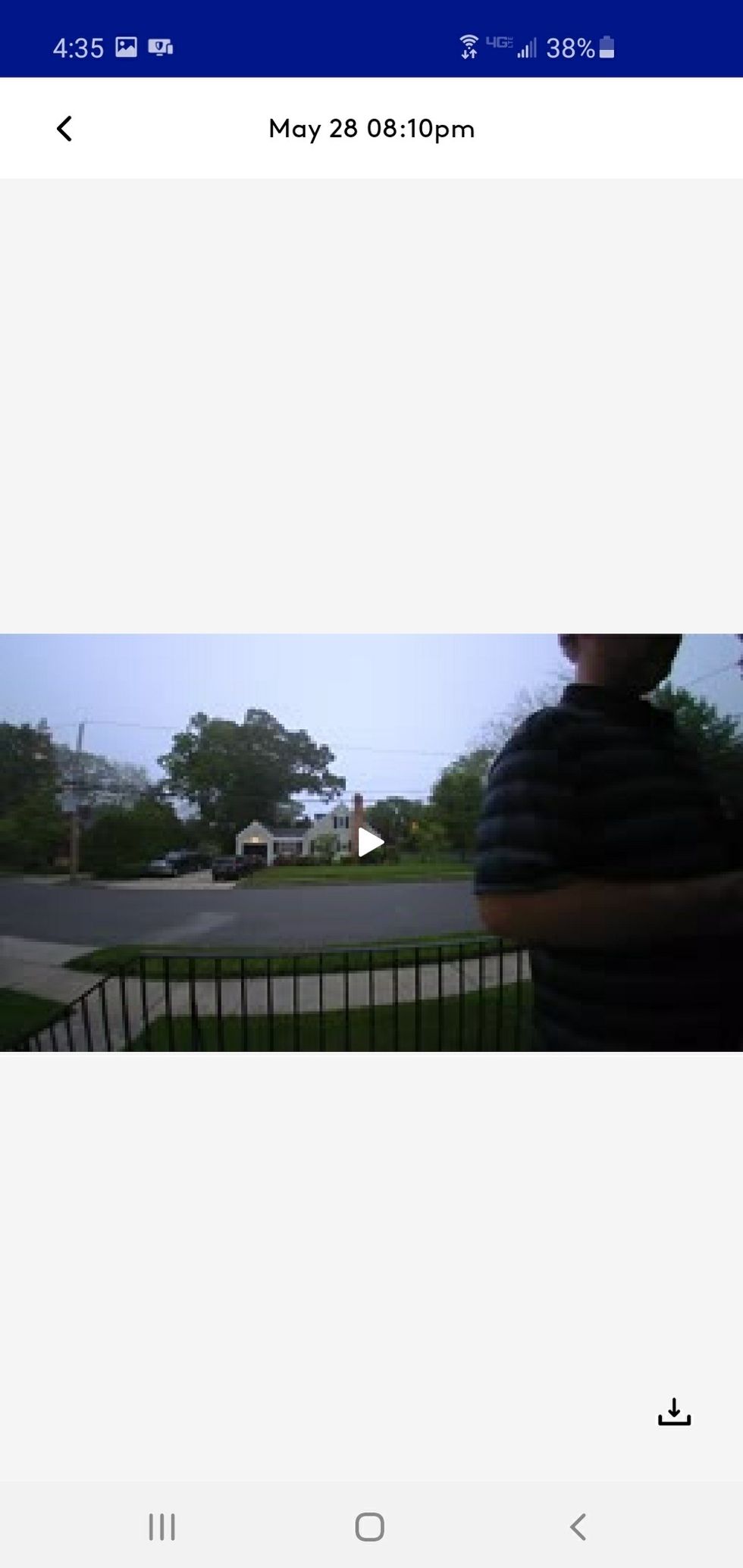 Night time video from app
GearBrain
And at night time. The video is clear and crisp looking and easy to setup recording.
Four hours after we installed the doorbell, though, the doorbell began to ring in a series of loops. The Blue Doorbell Camera would ring and then a few minutes later it would ring again. We first contacted ADT, reaching out to its engineering team, who were also baffled. We tried rebooting the doorbell, installing the power converter and then taking it off our indoor chime, but we couldn't get the ringing to stop. Blue by ADT engineers checked remotely and were able to see that our doorbell had enough power coming from the mounting bracket, seeing that there were 17 volts. (You need between 16-24 volts for the doorbell to work properly.) The company even shipped us a new doorbell, which we installed, but still experienced the same looping. We finally removed the doorbell and reinstalled the old HD Video Doorbell which worked well.
We're aware that other reviewers have not had this experience with the Blue Doorbell Camera. This issue then might not happen to you — and we hope it doesn't. But if it does, make sure to contact Blue by ADT, as we did find their customer service team very responsive.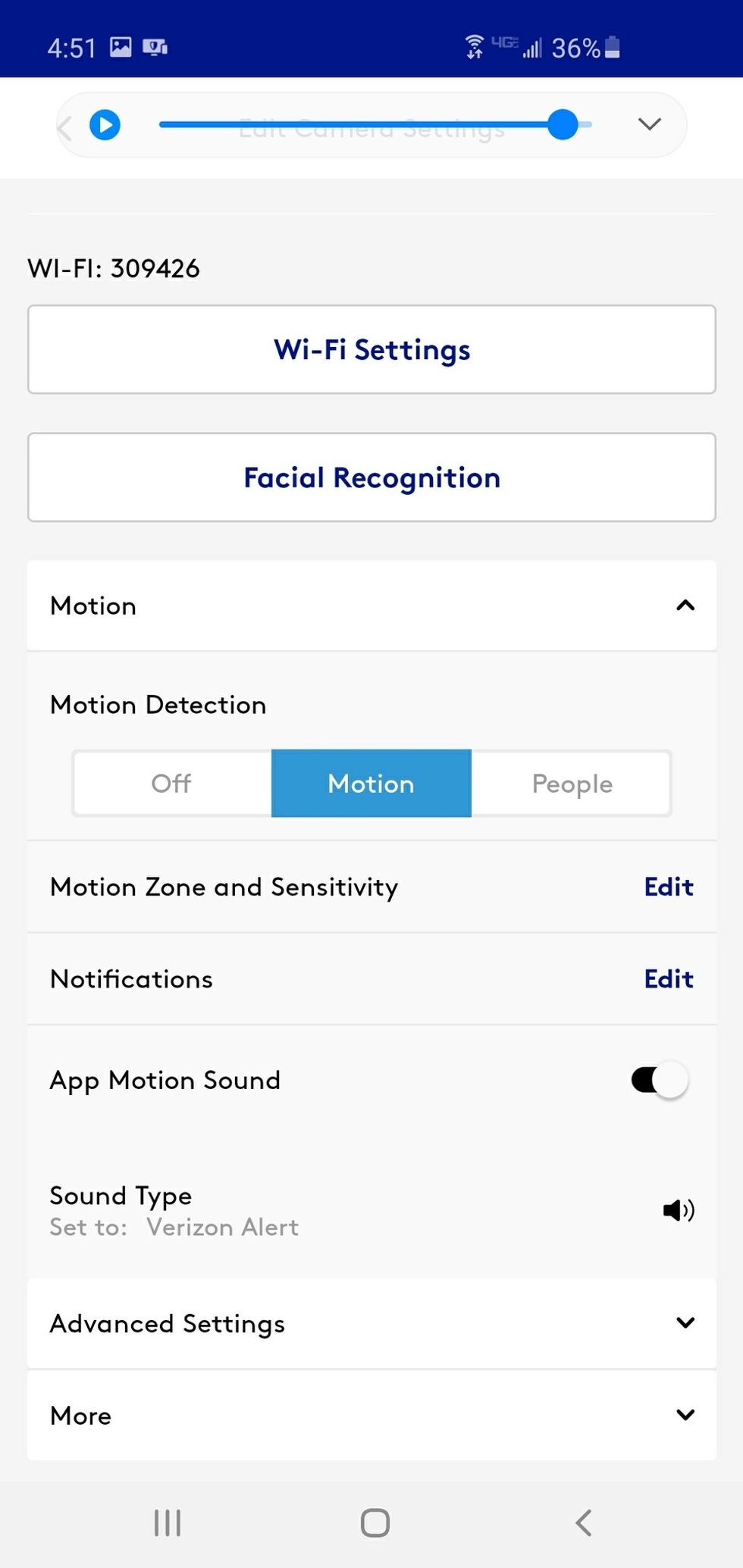 Setup facial recognition for your Blue Doorbell Camera using the appGearBrain
Smart Home Integrations
Blue by ADT home security system works with both Amazon Alexa and Google Assistant smart speakers However, only Blue by ADT cameras work with Alexa to show video from your doorbell on an Echo Show. The company is working on integrating its system with Apple HomeKit and Google Assistant-enabled devices. But people can create IFTTT applets for their Blue by ADT cameras, if they're feeling creative and adventurist.
Cost
The Blue Doorbell Camera costs $199.99 and can work as a standalone device or part of Blue by ADT home security system. You can buy it on the company website or on Amazon.
As with most security cameras and video doorbells, people need a video storage plan if their camera doesn't come with an SD card slot for local storage. Additionally, if a camera is part of a home security system, you need to add in the price of a professional monitoring plan, which includes the cost of storing videos in the cloud. With Blue by ADT, you do get free, 24-hour cloud video storage for the first 30 days. After the 30-day trial period, you're charged $19.99 (plus tax) each month if you don't cancel prior to the end of the trial. Or you can still use your video doorbell camera, and access the last 24 hours of recorded video.
Blue by ADT Doorbell Camera – HD Video Doorbell – 2-Way Talk – Night Vision – Facial Recognition – DIY Smart Home Security – No Contract – Alexa Compatible
Summary

Blue by ADT's new video doorbell has a number of good features including facial recognition, a wide FOV, the ability to customize motion detection zones, 24 hours of video storage, an SD Card slot to store videos locally and no monthly contracts. You can use the doorbell as a standalone security device, or use it as part of a DIY smart home security system from ADT. The price, at just $199 is attractive, especially with these features.
However, there are some things to note. The doorbell still doesn't integrate with Google Assistant or Apple HomeKit. We also think you should be aware that if you experience the same doorbell ring loop, you'll need to contact Blue by ADT's support. We also think the doorbell is a bit thick, when compared to other smart video doorbells, including Blue by ADT's previous HD video doorbell. Some users might not like the this design on their front door.
Ultimately, Blue by ADT is, itself, a good DIY smart home security system, letting people choose between self-monitoring or professional monitoring services, without a monthly contract. Blue by ADT has also made a good video doorbell you can add to your current Blue by ADT smart home system, one we think can add to the overall security of your home.
Pros:
Cost
Facial recognition, plus customized motion detection zones
Works independently or as part of the Lifeshield system
Cons:
Size of doorbell – very thick
Possible looping doorbell ring
Lacks Google Assistant and Apple Homekit integrations
Check out The GearBrain, our smart home compatibility find engine to find other smart video doorbells and compatible products that work with Google Assistant and Amazon Alexa enabled devices. You can also ask questions and troubleshoot any problems.
Blue by ADT Doorbell Camera – HD Video Doorbell – 2-Way Talk – Night Vision – Facial Recognition – DIY Smart Home Security – No Contract – Alexa Compatible