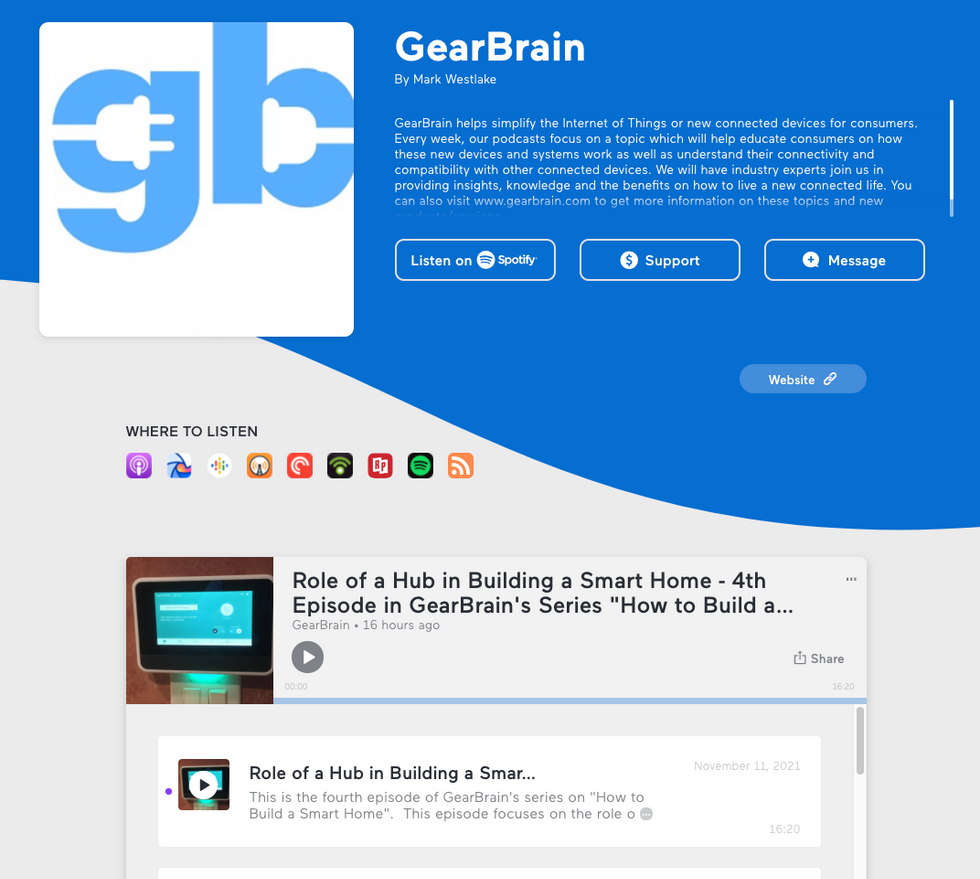 4th Episode of GearBrain's "How to Build a Smart Home" podcast focuses on the role of the hub.GearBrain
Welcome to the 4th episode of our podcast series on "How to Build a Smart Home." In this episode we're going to be focusing on the smart home hub or as many people would say the controller or foundation of your new smart home.

In our previous episodes we've covered everything from smart home systems, and the kinds of things you need to know in building a smart home system, including how much should you spend and what you can do if you are a renter or Airbnb owner in automating your home.
In this episode we're going to be talking about the controller for your smart devices. The hub is the first device you really need to decide on and buy before building your smart home. This device is the brains of your home and connects to the Internet via your home Wi-Fi router for it to connects with every smart product that is compatible.
When we look back in the early days of building a smart home, these hubs were often mistaken as a router because you plugged these nondescript boxes in to the router, you'd hide it away and forget about it, while it was connecting and controlling all your devices in the background.
Wink WNKHUB-2US 2 Smart home hub, White
Today things are different. These devices come in all shapes and sizes. A hub can be a small box or a panel on your wall. There are even smart switches that are hubs. There is a company called Brilliant who makes these smart switches which look like an iPhone on your wall and can control a lot of your smart devices without having to be wired to your home router via an Ethernet cable.
We still have Apple TV which is a small little box that you connect to your TV that can act as a hub, but increasingly it's the smart speakers and smart displays by Amazon and Google that are working as a smart home hub, as well as the source of information and entertainment. But one type of hub that is emerging is your smart TV and tablet acting as a hub. TV makers like Samsung are embedding their smart home platforms into their televisions, tablets and smartphones.
The most important function of the hub no matter if it is a smart TV or a dedicated hub, it needs to be on the same wireless connection as your other devices. If not, you will have interoperability issues. Luckily, many of the hubs around today can connect to just about every smart home product on the market. They can also be automated, controlled by a smartphone app, or you could speak to them using voice platforms like Amazon Alexa and Google Assistant.
Which smart home hub should you consider controlling your smart home today? Let's look at some of these hubs for you which can make it easier for you to build your smart home.
SAMSUNG 55-Inch Class QLED Q80A Series - 4K UHD Direct Full Array Quantum HDR 12x Smart TV with Alexa Built-in (QN55Q80AAFXZA, 2021 Model)
So, let's get started.
As you first venture into the smart home world, you might not necessarily need a hub. If you are only controlling a few devices, a hub might not be required. For instance, there are some devices like Philips Hue Smart Lights, and the August Smart Locks that come with their own hub or bridge which connects to your router and acts as the middleman between your smartphone and the devices themselves. Other products like LIFX smart lights or Yale smart locks can connect directly to your router over a Wi-Fi connection, so you don't need a hub at all.
When you look at some of the smart thermostats, they also don't need a hub. Either do video doorbells like a Ring Video Doorbell Pro or the new Google Nest Doorbell. These devices connect directly to your router over Wi-Fi connection.
But if you want to add automations and sync these automations or scenes together, you are going to need a hub to control all your devices.
And when you start looking for a hub, you need to ask yourself, what type of hub do you want for your smart home. Do you want your television to be the central focal point or brains of your smart home? Or do you want a dedicated hub like an Apple TV or Wink? You can also use your smart home security hub as the controller of your home. Many smart home security systems are also home automation systems. When looking at Vivint or ADT, these home security systems have a robust ecosystem of smart devices that will work on their platform and can be controlled all in one app and in some cases with your voice. And these systems are also compatible with Amazon Alexa and Google Assistant voice platforms. But you don't have to use your home security system or if you don't have a home security system with the hub, using one of the smart speaker and display companies like Amazon or Google or even Portal by Facebook or Sonos, these devices can be the hub of your home. If you go this route, remember Google and Amazon have apps that you could use along with you voice to control the devices, but their apps are not as robust as if you were to use a hub manufacturer's app. These apps are normally come with custom features.
When deciding on what type of hub you want, you need to keep in mind the purpose of your hub is to automate your home by controlling several devices simultaneously and creating routines or scenes, which configure everything in your home. This would include turning lights on and off, unlocking smart locks, opening and closing window blinds through automation, controlling your heating and cooling. It all depends on what you want to do in your smart home and can the devices work together with your hub to achieve this new connected lifestyle.
So, who makes good smart home connected hubs?
A good hub is one that can be easy to setup and compatible with all your smart devices. It should have a good ecosystem for you to choose devices from that can help you save money on your energy and water bills. It a device you can easily set scenes and schedules and adjusting heating and cooling and opening and closing blinds, or all the things you can do in a smart home that need to be controlled by a hub.
As you can see, you have a lot of options to consider when deciding what will be your hub or controller for your smart home. You can learn more about all these hubs on GearBrain.com. You can also use our compatibility find engine, The GearBrain to find smart devices. It's free and easy to use.
Our next episode will be on What to Do with your Smart Devices when You Move. Until then, thanks for listening and good luck building your smart home.
The GearBrain, First Compatibility Find Engine for Smart Devices www.youtube.com