Like GearBrain on Facebook
Bluetooth trackers have changed quite a lot over the years. For one, Bluetooth tracking got quite a boost back in 2019 when the technology updated to allow trackers to help people find something close to a centimeter away. Today, they can be attached to keys, bags, embedded in headphones and used to even locate a smartphone.

There are also a number of other great ways to put Bluetooth trackers to use, from tagging luggage (so you can ensure it's you who comes home with your bag), to also using these small devices to help you locate your TV remote. And there are some not so great things you should know about Bluetooth trackers before you completely depend on them as well.
Some Bluetooth trackers also work with smart assistants, from Siri to Google Assistant to Amazon Alexa. But ultimately these devices are designed to connect to a smartphone app, and be followed through that link.
Before picking one up, take a look at what your needs are, and how these four different Bluetooth trackers — Tile, Orbit, Chipolo One Spot and the Apple AirTag — compare with each other. All of them are priced similarly, and all work over Bluetooth, and all work with work with iOS devices as well.
AirTag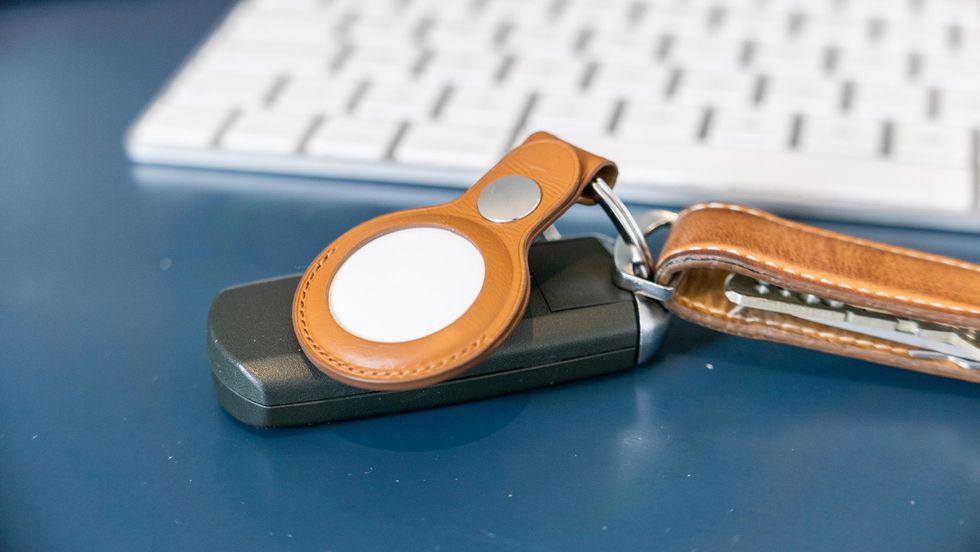 Apple AirTag GearBrain
Apple AirTag is one of the newest Bluetooth trackers, a device that was long-awaited by Apple users. It only works with iOS (sorry Android) although that's not entirely true in terms of Lost Mode, a feature that networks other smartphones together to help locate a missing AirTag. AirTag is the only one of these four that people can personalize with emoji, letters and numbers engraved on the back, and the tracker also works with Siri as well (with a caveat or two).

Be aware that to connect this tracker to anything, whether that's a key ring or a bag, you're going to have to pay extra for a case, which means you'll be spending a bit more for this device.
We spent some time playing with this tracker — and comparing it to several others as well.
Chipolo One Spot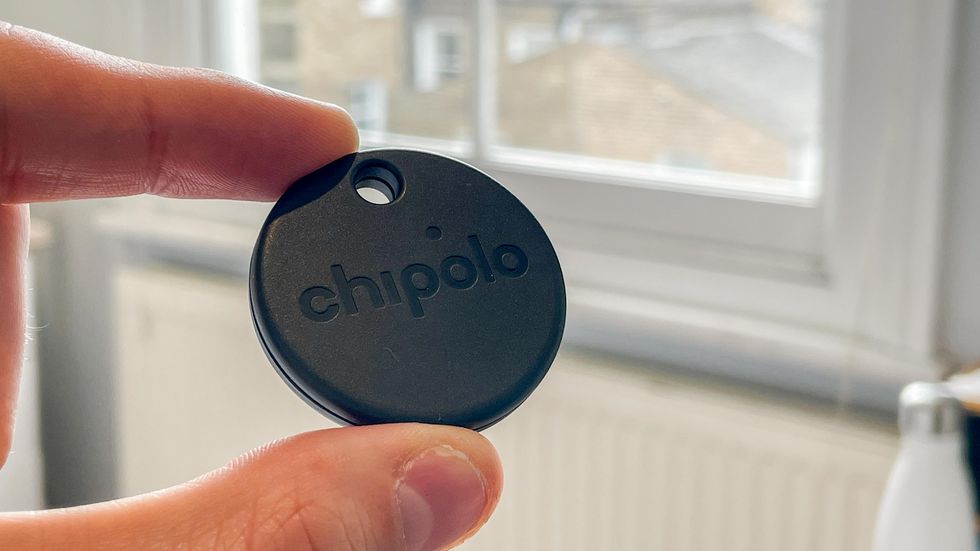 Chipolo One Spot GearBrain
Chipolo One Spot is a round Bluetooth tracker (yes, a bit like Apple's) and works on the iOS Find My network. We reviewed the Spot device, and also compared this one to the AirTag, and it's worth noting that the Chipolo One Spot does not work with Android devices.

We like the loud speaker on the tracker, although we noted it doesn't have ultra-wideband support. The design isn't as small as an AirTag, and it's not as customizable, but that doesn't mean the Chipolo One Spot isn't worth a look.
Orbit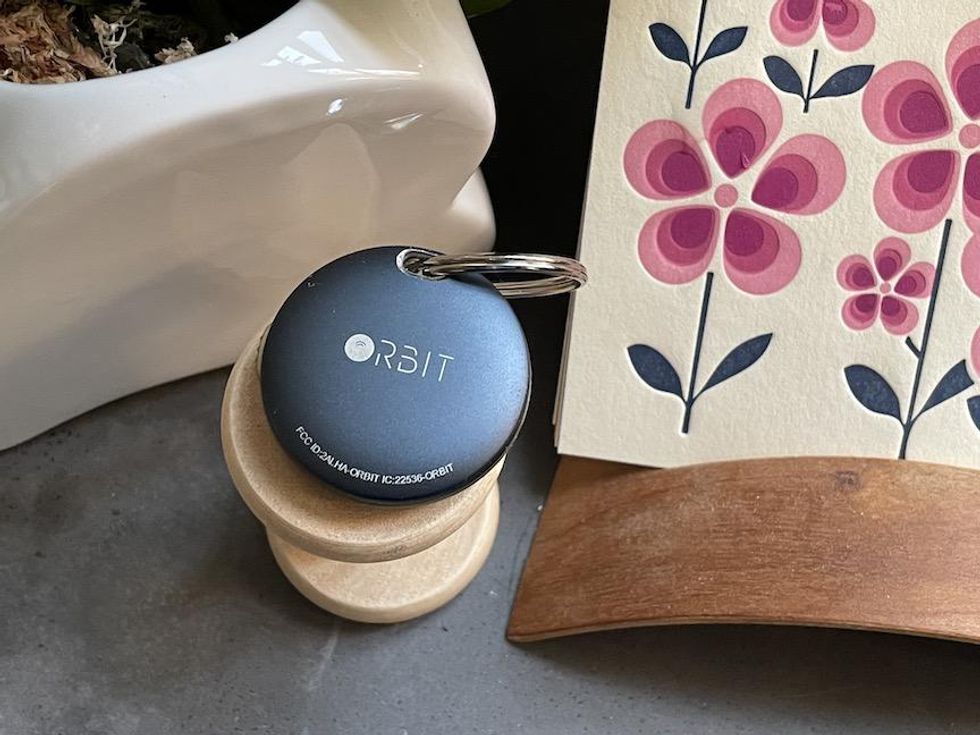 Orbit Bluetooth Tracker GearBrain
Orbit is one of the first Bluetooth trackers we ever reviewed, in 2018, a device that looks much like Chipolo One and also the Apple AirTag. We reviewed the Orbit Bluetooth tracker again in 2021 and also ran some comparisons on how it stands up to some of the more well-known competitors.

While Orbit claims to work with Amazon Alexa, we had trouble getting Amazon's voice assistant to find the tracker and the battery was dead in the new device when we received it. But we did like that Orbit could be used as a camera remote, and that we could reverse track our smartphone by clicking on the tracker.
Tile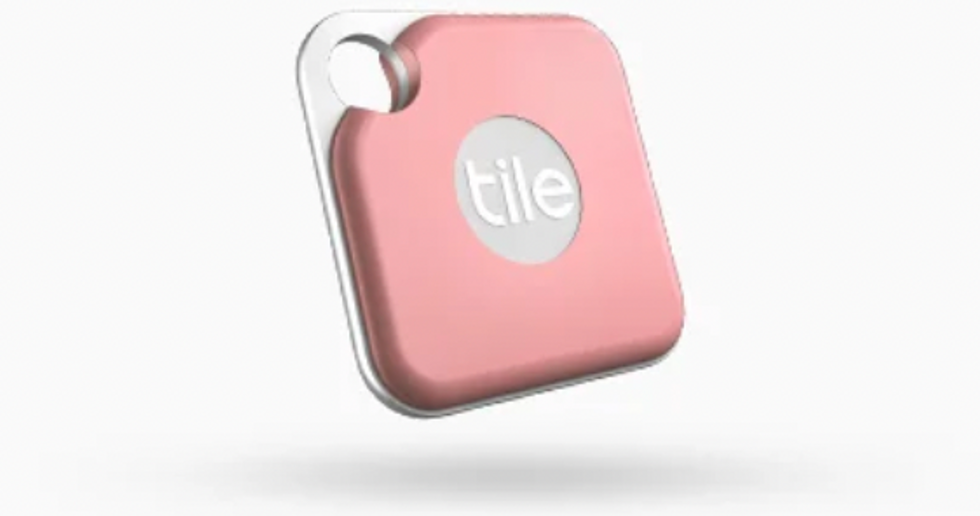 Tile Pro Tile
Tile is a Bluetooth tracker that's almost cornered the market in these devices, where the name alone is a near synonym for tracking. The device also works with smart assistants including Google Assistant and Amazon Alexa.

We've looked at a number of Tile devices at Gearbrain, from the Tile Sticker and Slim to the Tile Mate. Tile also has an advantage as being the tracker many brands use to embed into their devices, from HP laptops to Skullcandy headphones. And we've compared these trackers to a number of its competitors too, as below.
Like GearBrain on Facebook