A smart video doorbell can let you see your visitor and answer the door from any part of the world. These doorbells notify you using a smartphone app which connects to their cameras, microphones and speakers. All you need is a internet connection, plus a conventional chime fitted to a wall outlet in the home. You may then converse with the visitor via the phone app, telling them to leave a package on your doorstep or informing them you'll be there in a minute.
Video doorbells serve a dual purpose today. They work as a doorbell and a security camera. Add to it their night vision feature and you can get a recording of any movement that happened near your entryway. But keep in mind there might be a cost with storing these videos in the cloud. Many video doorbells offer a monthly service for you to subscribe and get access to all these snippets. This will allow you to view them whenever you want and from anywhere as long as you are connected to the Internet.
Some smart doorbells hook up to various smart home platforms and ecosystems, including Amazon Alexa, Google Home, Apple HomeKit, and IFTTT (If This, Then That).
Video doorbells are a worthy investment, but which video doorbell should you choose? What features should I look for in a video doorbell? And should I look for one compatible with my home security system? All good questions to ask before buying a video doorbell. GearBrain can help you with this process in two ways. You can read our article Top 5 questions to ask before buying your first smart video doorbell which will help you get started. Then check out our list of the best video doorbells that you can explore for your home below.

Ring Video Doorbell 4: Best Video Doorbell for Any Size Smart Home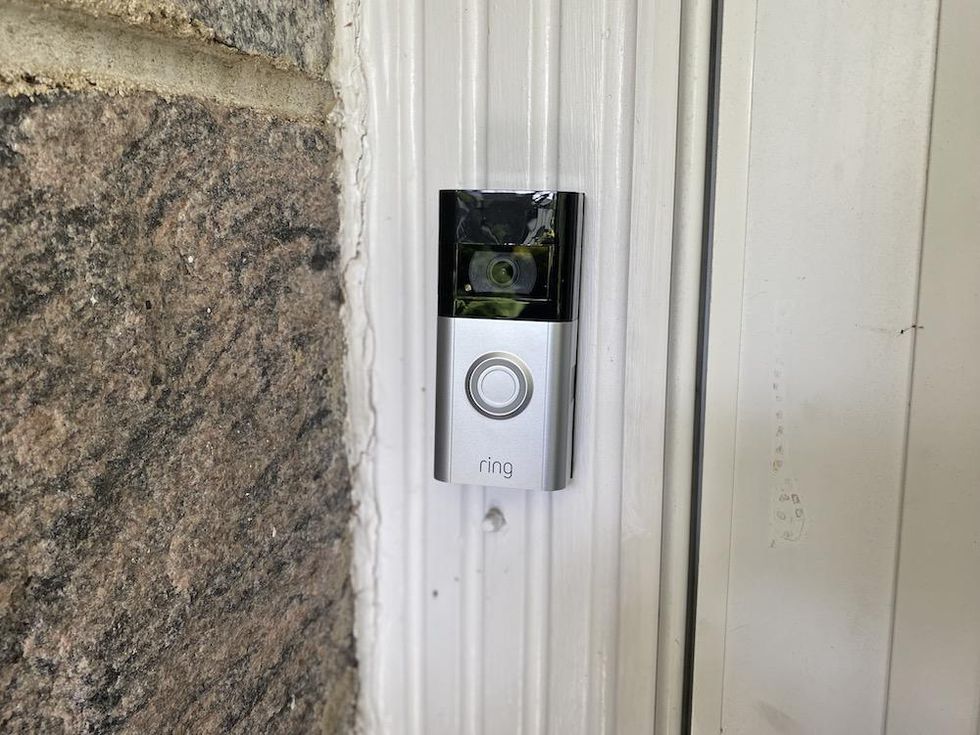 Ring Video Doorbell 4
GearBrain
The Ring Video Doorbell 4 is quite similar in its look to the Ring Video Doorbell 3 (and the battery-only Ring Video Doorbell 2), and comes with the same video resolution - 1080p.
Just like the model 3, the Ring Video Doorbell 4 can be operated on either your current doorbell wiring, or on battery power. Both these models run smoothly on dual-band Wi-Fi networks (2.4GHz and 5GHz), making the color pre-roll video reviews the exclusive additional feature in the latest model, justifying the additional price of $20.
Some interesting features of this doorbell include snapshot capture, motion-triggered pre-roll video, creation of motion-detection zones, and much more with very little impact on the product's battery life.
The Ring Video Doorbell 4 retails for $199.99 and is available on Amazon, Best Buy, the Home Depot and other home improvement retailers.
Read More:
Vivint Doorbell Camera Pro - Best Video Doorbell with Largest Field of View (FOV)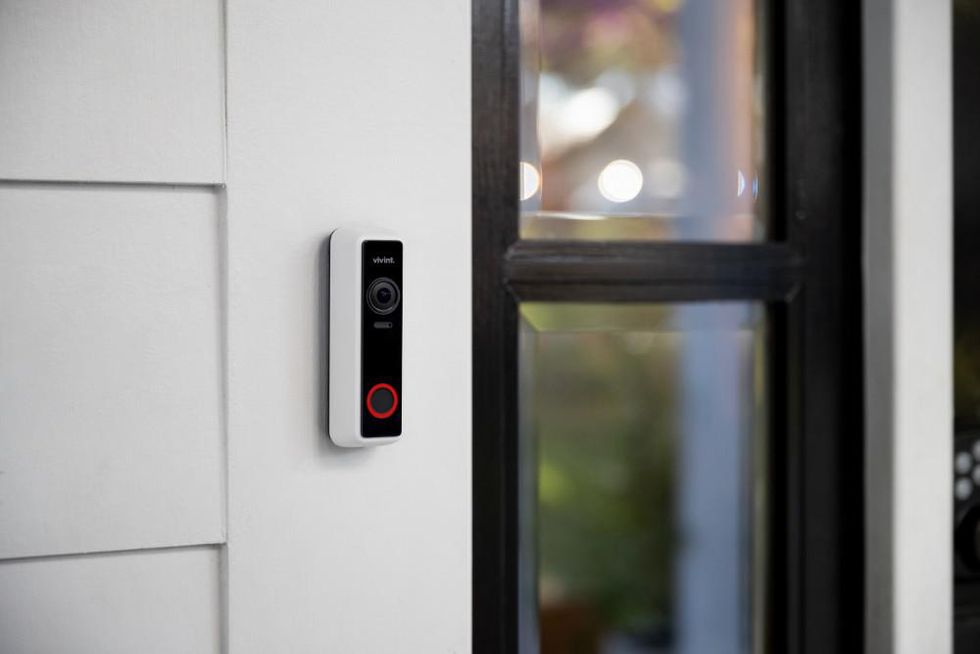 Vivint Doorbell Camera Pro
Vivint
With the similar sleek look of the original version, the Vivint Doorbell Camera Pro has a powerful camera that provides an 180 degree ultra-wide field of view (FOV) for you to see who is at your doorstep.
Measuring 4.6"x1.5"x1.3" (HWD), Vivint's doorbell has a black glossy finish with a button, microphone, and camera. The button is encircled by an LED ring that glows white in normal lighting and flashes red when Vivint's Smart Sentry technology detects someone while delivery is in progress.
The Vivint Doorbell Camera Pro, like all Vivint equipment, requires skilled installation. While there are other budget-friendly options available, the Vivint Doorbell Camera Pro is the best-in-class image quality (1080p HDR) and excellent package detection. But what separates this doorbell from others is its wide viewing angles. It also works with other Vivint devices as well as Alexa and Google voice commands.
If you already own a Vivint Smart Security System, it will be easy to add Vivint's latest video doorbell camera to your system. If you don't have one, you will not be able to use the Vivint Doorbell Camera Pro as a standalone device.
Vivint's doorbell camera costs $249 and is available only from the company. If interested in buying or learning more about Vivint doorbell, click here.
Read More:
Arlo Essential Wired Video Doorbell: Most Versatile Smart Video Doorbell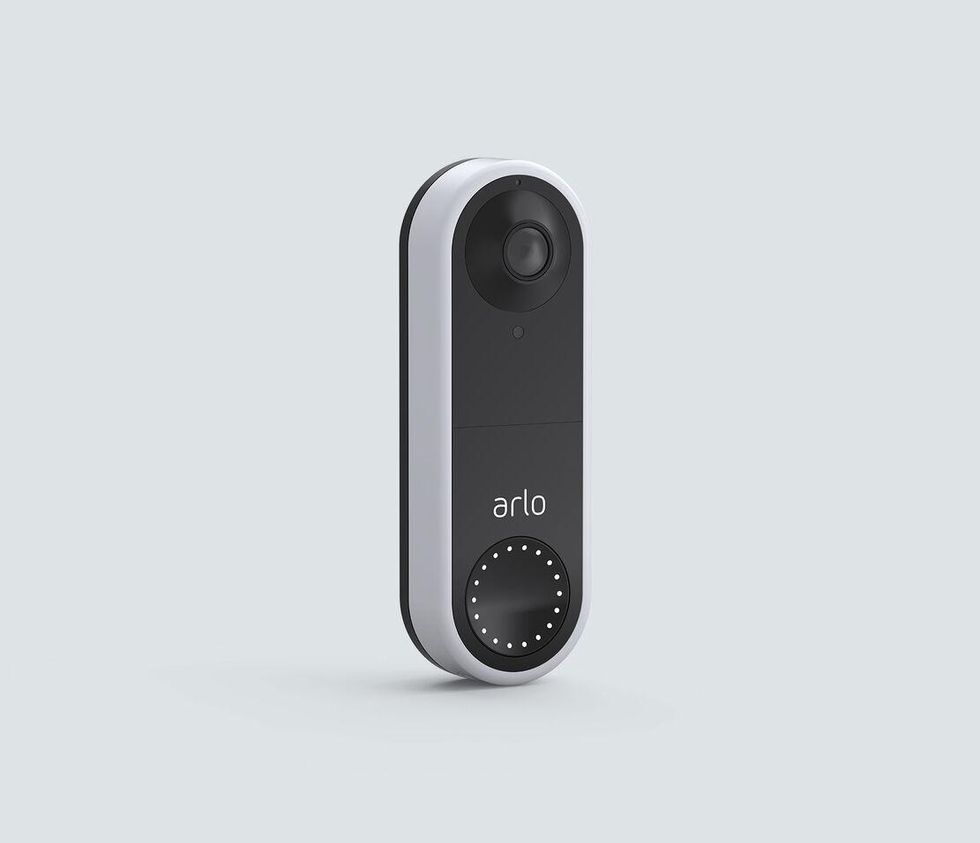 Arlo Essential Wired Video Doorbell - White
Arlo
The Arlo Essential Wired Video Doorbell is the firm's first smart doorbell. Widely appreciated for its smooth wireless outdoor home security cameras, the Arlo Video Doorbell costs only $149.99 which is a steal deal.
However, what makes this video doorbell so unique is its versatility. It seamlessly integrates with Apple HomeKit, Google Assistant and Alexa smart speakers and displays. It also works with Samsung SmartThings and If This Than That (IFTTT) applets. You can easily set up notifications on your phone when someone presses the bell. You also get a live HDR video feed, along with the option to speak to your visitor.
Arlo Essential Video Doorbell comes with a 180 degree field of view to provide head-to-toe coverage of your visitors. It has night vision and an adjustable 5 meter motion detection range.
Easily mountable, the doorbell measures 5.0"x1.7"1.0" (HWD) with a 1536p camera in the front. You do need a 16-24V wired connection which is standard with most home's existing doorbell wires. You also get a chime kit which gets connected to your current chime box. The kit includes mounting screws, wire nuts, anchors, and a release pin for removing the doorbell from the mount. You also get a simple setup sheet, but Arlo offers a more comprehensive set of instructions on its website.
The Arlo Video Doorbell is an excellent choice for anybody seeking a smart doorbell, particularly if you already have one or more Arlo security cameras monitoring your property. It's simple to set up, and although it is rather big, it is highly regarded. You can add Arlo Secure Plan to get emergency help, object detection, activity zones and store videos in the cloud. Arlo offers a free 3 month trial with purchase.
Arlo Video Doorbell is available in two colors, white and black. You can buy this doorbell on the company website, Amazon, Best Buy, Walmart and The Home Depot.
Google Nest Doorbell - Best Video Doorbell for Google Assistant Homes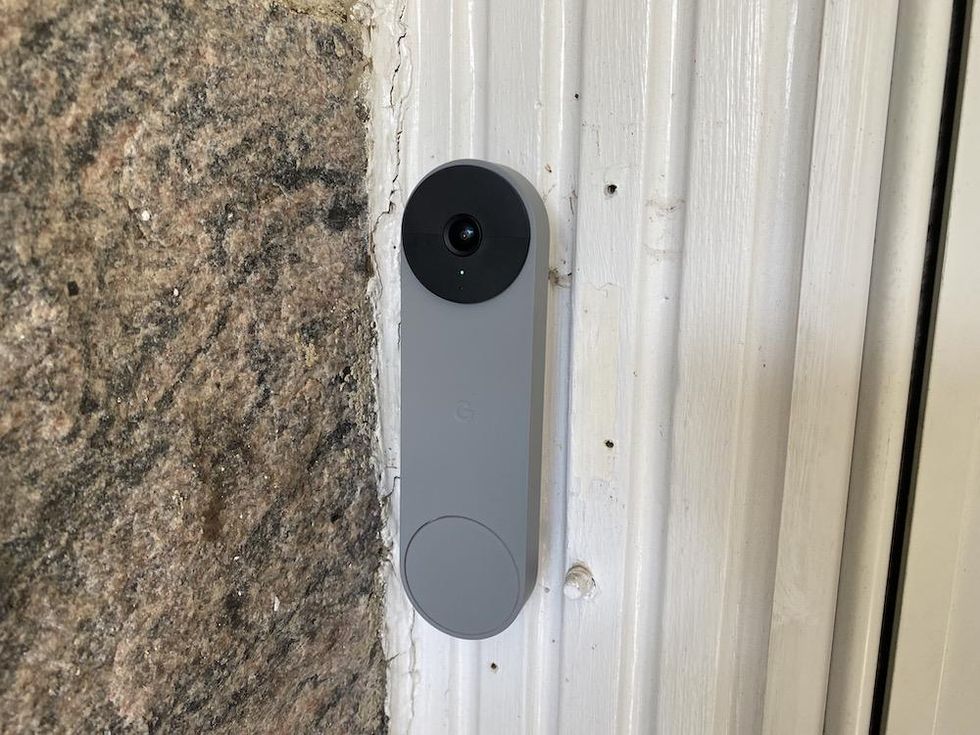 Google Nest Doorbell installed. GearBrain
Google Nest Doorbell is a wired video doorbell with facial recognition that has set standards for the entire industry to follow. This Google-made doorbell can run on battery power or a wired connection (in case you want to connect it with your existing chime).
The new Nest doorbell has a big, circular black circle with a camera in the center. The control panel has a single button that activates and deactivates the shutters. A small LED flashes when the camera is recording or processing video below it. The bottom of the doorbell contains a button equal in size to the camera circle, with a ring around it that glows when someone approaches.
The new doorbell is significantly taller than the old model due to the inclusion of a battery—6.3" (160mm), as opposed to 4.6" (117mm)—and it weighs nearly twice as much at 7.3 ounces (206g). The doorbell also works with the "familiar faces" function in other Nest devices and can identify people if their face is known and recognized. There's also a setting to only receive alerts when you're not at home. But one feature that stands out is how the live video from your doorbell is in portrait mode and not landscape. The portrait mode provides the head-to-toe view which is important when talking to a delivery man or visitor. And you don't have to turn you smartphone sideways like you do with other video doorbells.
Google Nest is an excellent choice especially when you already have a Google Assistant set up at home. Just install the video doorbell, and make use of the technological advancements that it has to offer. For instance, live stream videos from your Google doorbell to a Google Assistant smart display with voice commands. You can also add Nest Aware plans to help you store your videos.
Google Nest Smart Video Doorbell (Battery) costs $179.99 and comes in four colors: snow, linen, Ivy and ash. It's available on Google's website, Best Buy, Walmart, Home Depot and other online retailers.
Read More:
Ring Video Doorbell Pro 2: Best Video Doorbell for Alexa Users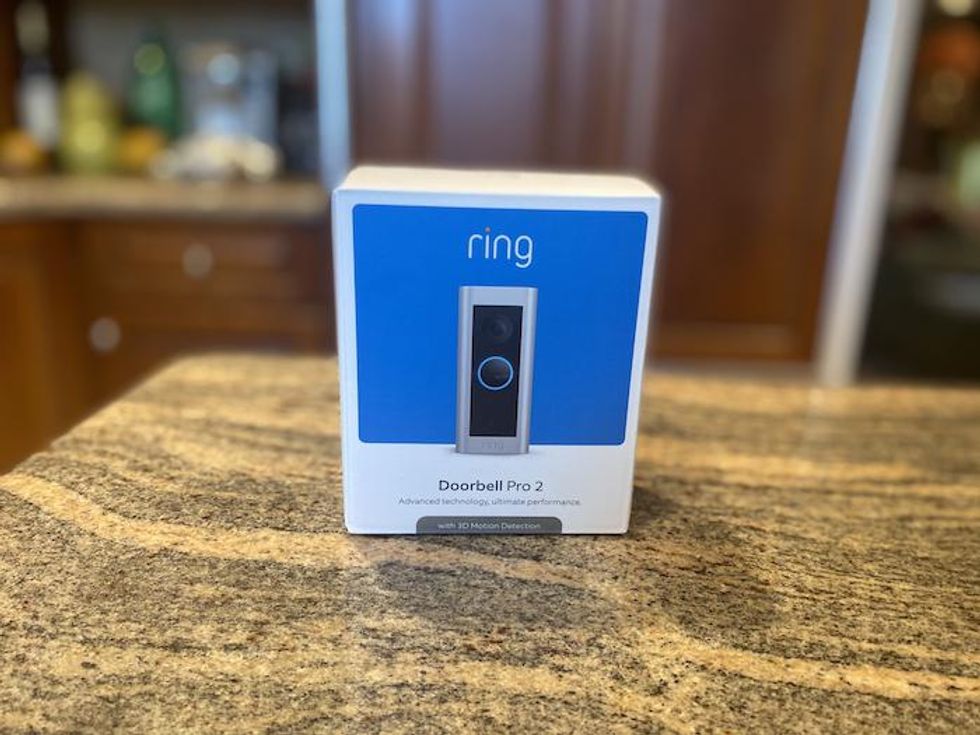 Review: Ring Video Doorbell Pro 2
GearBrain
The Ring Video Doorbell Pro 2 ($249.99) is the latest smart doorbell from the company, adding a few features to previous models that you won't find on others, including 3D motion detection and a bird's eye view of motion events. The doorbell also has extremely detailed 1080p video resolution and precise motion detection, as well as compatibility with Amazon Alexa voice commands and a variety of third-party smart home gadgets.
The Ring Video Doorbell Pro 2 measures 4.4"x1.9"x0.8" (HWD) and comes with a glossy black camera face, a plastic faceplate, mounting screws, an angled wedge adapter, a power cable adapter, a user guide, and a quick start guide. With a 150-degree horizontal and vertical field of view, the camera gives a 1:1 aspect ratio and allows you to view head-to-toe images of your visitor.
As with other Ring devices, this doorbell uses the same mobile application for easy operations. It also works well with Alexa voice commands and Alexa greetings.
The Ring Video Doorbell Pro 2 costs $249.99 and is available on Ring website as well as Amazon, Best Buy, The Home Depot and other home improvement retailers. Ring does offer special bundles which include other Ring smart devices, like Ring Floodlight cam, Ring Chime Pro and other security cameras. Note, the Ring Video Doorbell 2 does work with Ring Alarm Pro Security Kit. Also, if you plan to use Ring Video Doorbell 2 on it's own, there are only two smart locks that are compatible with Ring Video Doorbell Pro 2, Level Bolt and Level Touch smart locks. If you add it to your Ring Alarm system, any Z-Wave smart lock will work.
Read More:
Lorex 2k QHD Wired Video Doorbell - Best Video Doorbell with Local Video Storage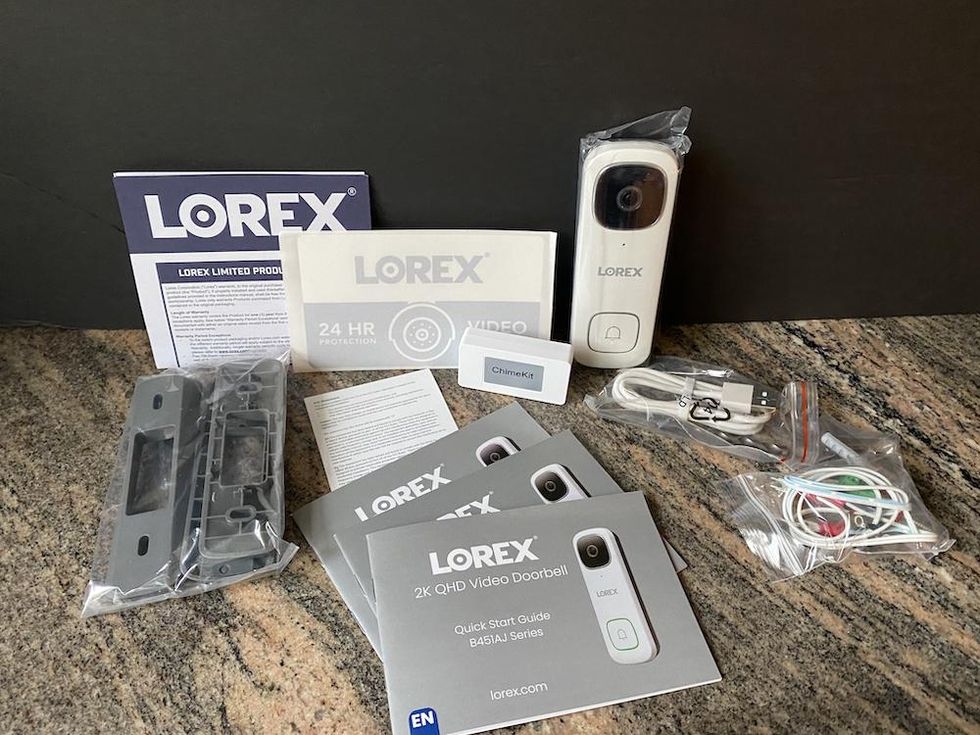 Lorec 2L QHD Wired Video Doorbell unboxed.
GearBrain
The Lorex 2K QHD Wired Video Doorbell ($179.99) is a high-resolution smart doorbell with sharp UHD image quality and a wide image of anyone who comes to your doorstep. When someone comes near or rings the bell, it will notify your phone and record footage to a microSD card that's included. It's simple to install and use and works with Alexa and Google.
The Lorex 2kd QHD Doorbell comes with the right dimensions- 5.0"x1.8"x0.7" and sports a matte-white finish and a glossy black camera. The doorbell includes a 2K HDR camera with 2,560-by-1,920 resolution, a 4:3 aspect ratio, an 8x digital zoom, and a 164-degree field of view (FOV). It's a tiny camera with night vision capabilities that can be set to record video only when someone is detected, and it has two-way communication. You can also program the Lorex to play a pre-recorded or custom quick response when the doorbell button is pressed.
When it comes to smart device integrations, Lorex offers their own smart home security ecosystems. Depending on your security needs, you can find a bundle made of Lorex security products which includes Lorex Wired Video Doorbell as well as Wi-Fi security cameras, floodlight cameras, network video recorders (NVRs) and sensors. You can customize a bundle to meet your needs and pair them including the Lorex Video Doorbell with Google Assistant and Amazon Alexa enabled devices.
For the price, the Lorex 2K QHD Wired Video Doorbell has a good range of features, including a high-definition camera with a wide field of view, voice control, and color night vision. If you are willing to spend around $180 on a video doorbell, Lorex should be one of your top choices.
Lorex Wired Video Doorbell comes in two colors, black and white. They are available on the company website, Amazon and B&H.
Video doorbells are a reality and can make your life super easy. They are also getting smarter and provide another layer of security for homes. With the list of options provided above, choose the right smart video doorbell for your smart home and attend to your guests even when you are sitting miles away.
Smart Video Doorbell Buying Guide - GearBrain www.youtube.com